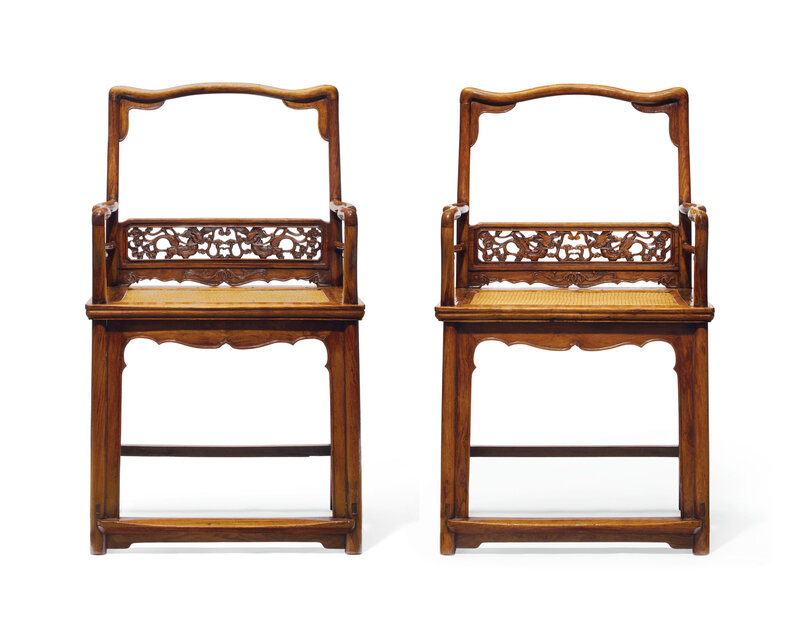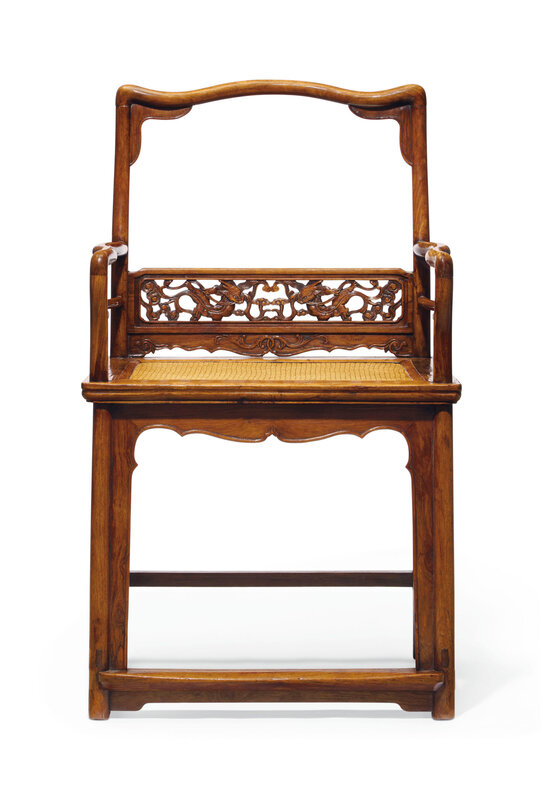 Lot 1664. A very rare pair of huanghuali low-back armchairs, fushouyi, 17th century; 38 ½ in. (97.8 cm.) high, 22 ¼ in. (56.5 cm.) wide, 18 in. (46 cm.) deep. Estimate USD 300,000 - USD 500,000. © Christie's Images Ltd 2019
Each has an elegantly curved top rail carved with high, rounded corners that continue to the curving back posts and extend through the frame of a mat seat to form the rear legs. The back posts are joined by a low horizontal back panel carved in openwork with two confronted dragons flanking lingzhi fungus above a beaded, curvilinear apron with entwining leafy tendrils. Below each elongated S-shaped arm is a stretcher of conforming shape. The legs are joined on the front and sides by beaded curvilinear aprons that continue to form the spandrels.
Provenance: First: Nicholas Grindley, London, 1993.
Second: Grace Wu Bruce, Hong Kong.
The Dr. S. Y. Yip Collection of Fine and Important Classical Chinese Furniture, Christie's New York, 20 September 2002, lot 31.
Nicholas Grindley, London, 2002.
Literature: Second:
Min Chiu Society, Selected Treasures of Chinese Art: Min Chiu Society Thirtieth Anniversary Exhibition, Hong Kong, 1990, pl. 260.
Grace Wu Bruce, Dreams of Chu Tan Chamber and Romance with Huanghuali Wood: The Dr. S. Y. Yip Collection of Classic Chinese Furniture, Hong Kong, 1991, pp. 36-39, no. 8 (and front cover).
Yip Shing Yiu, "Collecting Ming Furniture of Huang Hua-Li Wood," Arts of Asia, XXI:3 (May-June 1991), pp. 119-24.
Sarah Handler, "The Dr. S Y Yip Collection," Journal of the Classical Chinese Furniture Society, Autumn 1991, p. 11, figs. 1 and 1 a.
Exhibited: Second:
Hong Kong Museum of Art, 1990 - 1991.
Hong Kong, Art Gallery, The Chinese University of Hong Kong, 20 September - 24 November 1991.
Singapore, National Heritage Board, Asian Civilisations Museum, 1996 - 1999.
London, Institute of Contemporary Arts, 18 - 26 November 1999.
Note: There appear to be only three known examples of this specific design of armchair. The present pair represents two of the three known examples. The third example was sold at Christie's New York, 20-21 March 2014, lot 2290.
The present pair is a very rare variation on the more commonly seen rose chair. Unlike the standard rose chair (meiguiyi) which has straight top rails and arms, the present pair features high, curved top rails and elegantly S-curved arms, and stretchers of conforming shape. These design elements are more commonly found on the more grand 'Official's hat' armchairs (guanmaoyi). Another rare feature of the present pair are the finely carved openwork, slightly curved panels joining the vertical rear posts. Intricately carved with confronting chilong amidst leafy lingzhi stems, the panels beautifully complement the openwork struts carved with an animated chilong.
Christie's. Fine Chinese Ceramics & Works of Art, New York, 22 March 2019