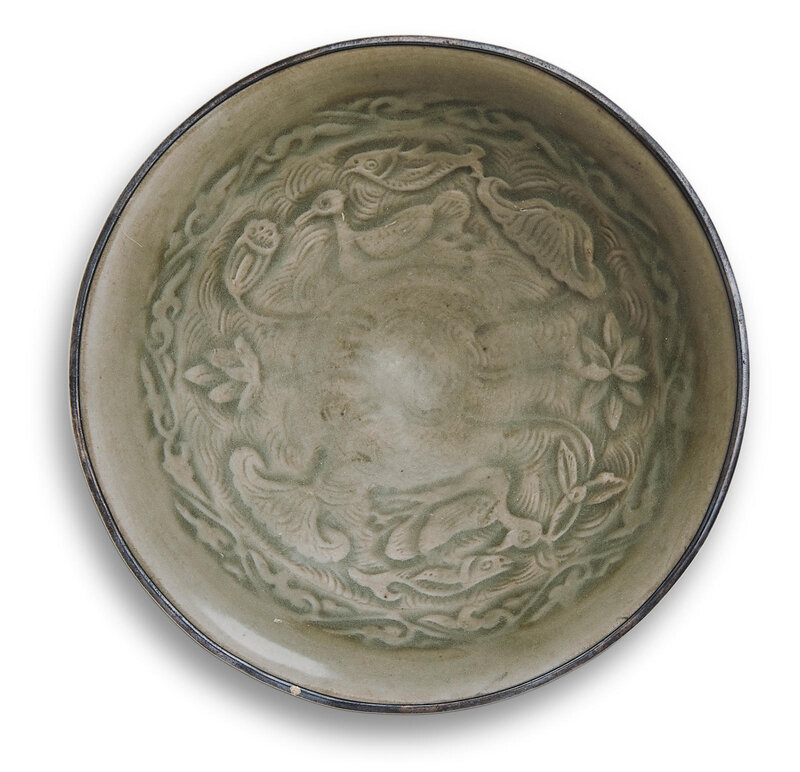 Lot 536. A Yaozhou celadon 'lotus pond' bowl, Northern Song-Jin dynasty (960-1234); 5 7/8in (15cm) diam. Estimate US$ 7,000 - 10,000 (€ 6,200 - 8,900). Sold for US$ 20,075 (€ 17,688) inc. premium. © Bonhams 2001-2019
Of wide conical form, supported on a low foot ring encircling the slightly convex foot, the interior impressed with the scene of a lotus pond with two fish and two ducks swimming among aquatic plants, below a foliate scroll band, the exterior with incised lines below the rim, covered overall with an olive-green glaze, the rim bound in silver, wood stand.
Provenance: Virginia Hobart (1876-1958), thence by descent.
Note: The decoration of a leaf scroll band above ducks in a lotus pond on this conical bowl is similar to that on a group of bowls molded with six shallow lobes. For excavated examples, dated to the middle Song period, see Shaanxi Tongchuan Yaozhou Yao, Beijing, 1965, pp.20-21, Fig. 13.2, p. 29, Fig. 18.5 and Pl. IX, 5 and 6. An example of the group in the Baur Collection was illustrated and dated to the late Northern Song dynasty by Jan Wirgin in 'Sung Ceramic Designs,' Bulletin of the Museum of Far Eastern Art, vol. 42, 1970, pp. 35-37 and Plate 8h. John Ayers dated the Bauer bowl a bit more broadly to the Song or Jin dynasty, 12th century in Chinese Ceramics in the Baur Collection, Geneva, 1999, vol. 1, no. 11, p. 53. He Li also favors a Jin dynasty date for the bowl with a goose swimming amid waves in Chinese Ceramics: A New Comprehensive Survey, New York, 1996, no. 235, p. 173 and p. 201.