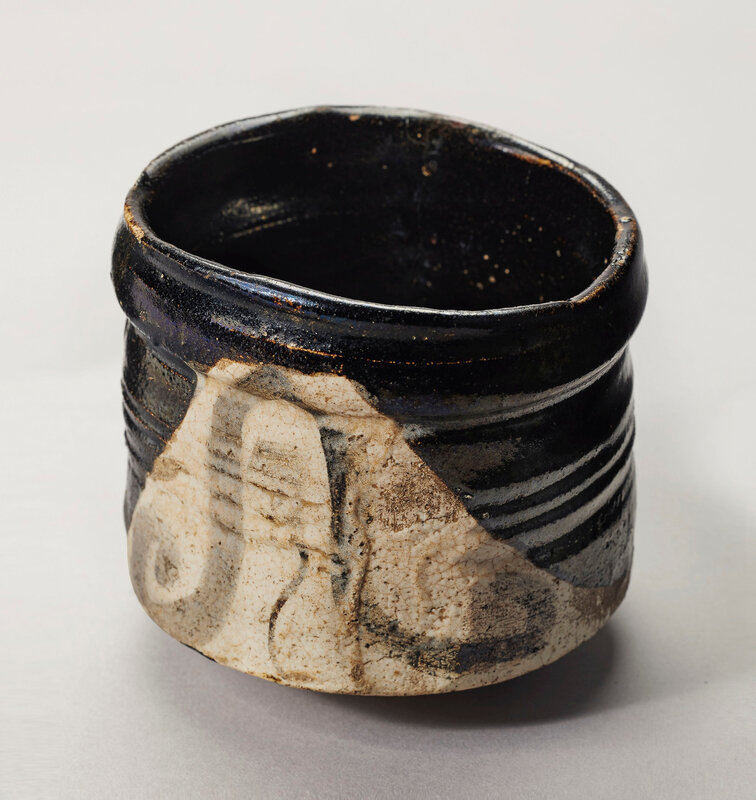 Lot 306. A Deep Teabowl with Dragon Design, named Noboriryu (rising dragon), Mino ware, Black Oribe type; glazed stoneware, Momoyama period, early 17th century; 3 ¾ in. (9.5 cm.) high; 4 1/8 in. (10.5 cm.) diameter. Estimate: US$50,000 - US$70,000. Price realised USD 62,500. © Christie's Images Ltd 2019
The deep teabowl set on a raised circular foot and scraped around the sides with horizontal striations, designed in black glaze with abstract image on one side and black bands on the opposite side and in the interior. With lacquered wood box affixed with paper label inscribed Oribe Kuro (Black Oribe) and Denshuan zo (collection of Denshuan [Maeda Seison])
Provenance: Maeda Seison (1885–1977), Nihonga painter and noted collector.
Literature: Watashino atsumeta yakimono ten mokuroku (The exhibition of ceramics in my collection) (Kamakura: The Museum of Modern Art, Kamakura, 1971), cat. no. 1.
Fujioka Ryoichi, Oribe, volume 12 of Toji taikei (Heibonsha: Tokyo, 1979), pl. 1.
Exhibited: Tekisui Museum, Ashiya, Hyogo Prefecture (date unknown)
"Watashino atsumeta yakimono ten," The Museum of Modern Art, Kamakura, 24 October-10 November 1971.
Note: Black Oribe is a stye of Oribe favored for teabowls. Tall and narrow, the body has horizontal groves that were made in the course of shaping. The potter used a bamboo spatula to sculpt the sides of the bowl in several places. The thick rim is emphasized and has a slightly uneven waviness. A similar example is in the Tokugawa Art Museum, Nagoya.
The deep, cylindrical bowl was dipped at angles into the black glaze, creating a triangular empty space that was then decorated. The glazier left a thumbprint at the base where he held the bowl when dipping it into the iron-oxide glaze. A fanciful design of a climbing dragon was freely painted with black iron wash in the reserved area, suggestive of the profile of Mount Fuji. Then, the area was covered with a whitish felspar glaze. The foot is roughly formed and features an impressed mark, a single straight line. Marks on the foot used to be identified as "potter's marks," but recent thinking is that they identify Kyoto merchants who commissioned the production. Their significance, according to Louise Cort, is not yet clear. A Black Oribe type teabowl in the Freer Gallery of Art has a similar impressed single straight line on its foot (F2014.5). Since the advent of salvage archaeology some fifty years ago, over 150 Mino-area kilns have been excavated. Six of them, all within present-day Toki City in Gifu Prefecture, fired Oribe-style ware. The clients who commissioned teabowls such as this one were Kyoto pottery merchants catering to wealthy local townsmen. Oribe ware tends to be asymmetrical, eccentric and slightly warped, exhibiting spontaneity and abstraction that suited a new set of clients.