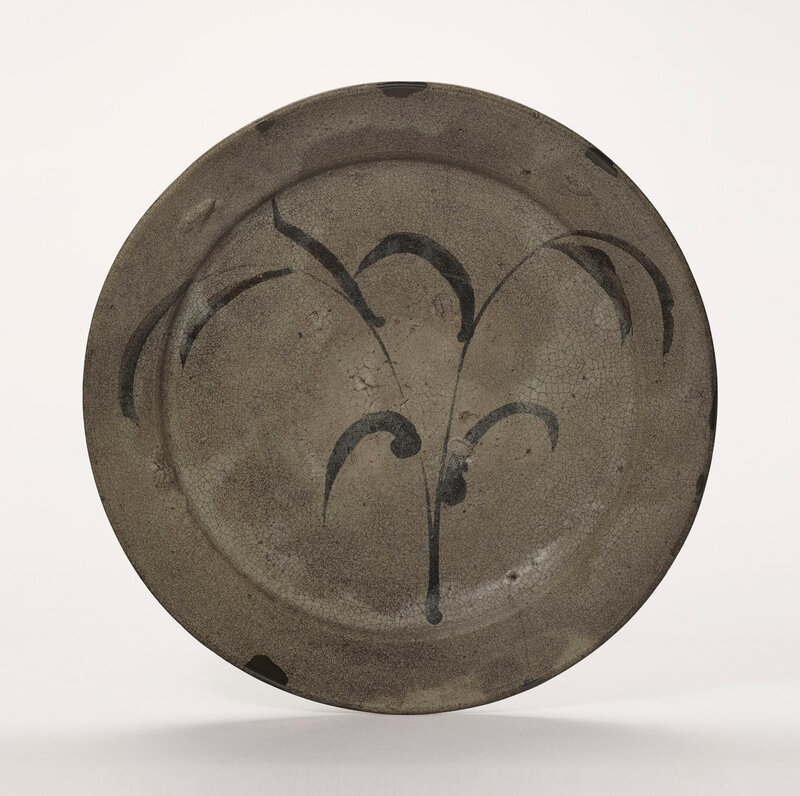 Lot 305. A stoneware dish, Karatsu ware, Okugorai type, Momoyama period, early 17th century; 10 ¼ in. (26 cm.) diameter. Estimate: US$50,000 - US$70,000. Unsold. © Christie's Images Ltd 2019
The circular dish set on a ring foot, the dark grayish body decorated in underglaze iron-oxide with freely-painted reeds on the interior.
Provenance: Todoroki Takashi (1938-2016), Tokyo. Todoroki was a famous connoisseur of Asian art, especially known for his great collection of Korean ceramics, Buddhist art and Negoro lacquer ware.
Literature: Ohashi Koji, ed., Tsuchi no bi kogaratsu: Hizen toji no subete (Kyushu: Kyushu Ceramic Museum, 2008), pl. 44.
Bi no tsubo Karatsuyaki (The mark of beauty / Karatsu ware) (Tokyo: NHK Publishing, Inc., 2008), p. 34.
François Villemin, ed., The Golden Age of Karatsu Stoneware (Pennsylvania: Schiffer Publishing, Ltd., 2013), p. 177.
Exhibited: The Kyushu Ceramic Museum, Saga Prefecture, "Tsuchi no bi kogaratsu: Hizen toji no subete / The Art of Clay: all about Hizen ceramics," 2008. 9.29-11.9.
Note: Karatsu is the name of a port in Hizen province (present-day Saga prefecture) in Kyushu, the most southerly and westerly of Japan's four main islands. It is sometimes used as a collective term describing the many stonewares that were made in Hizen during the late sixteenth and seventeenth centuries, including not only this type but also many other Kyushu wares. More strictly applied, however, Karatsu, along with other terms such as Ko-Karatsu, or Old Karatsu, and E-Garatsu, or Painted Karatsu, describes the products of a particular group of kilns in the northwestern part of Hizen that were probably founded by Korean immigrants towards the end of the sixteenth century. These kilns were of the noborigama, or "climbing kiln," type, built into the sides of hills, an arrangement that produced the strong draft necessary to reach the high temperatures required for the firing of sophisticated glazed stonewares. The pots themselves were thrown on a foot-operated kick-wheel that left the hands free to shape and model each piece.