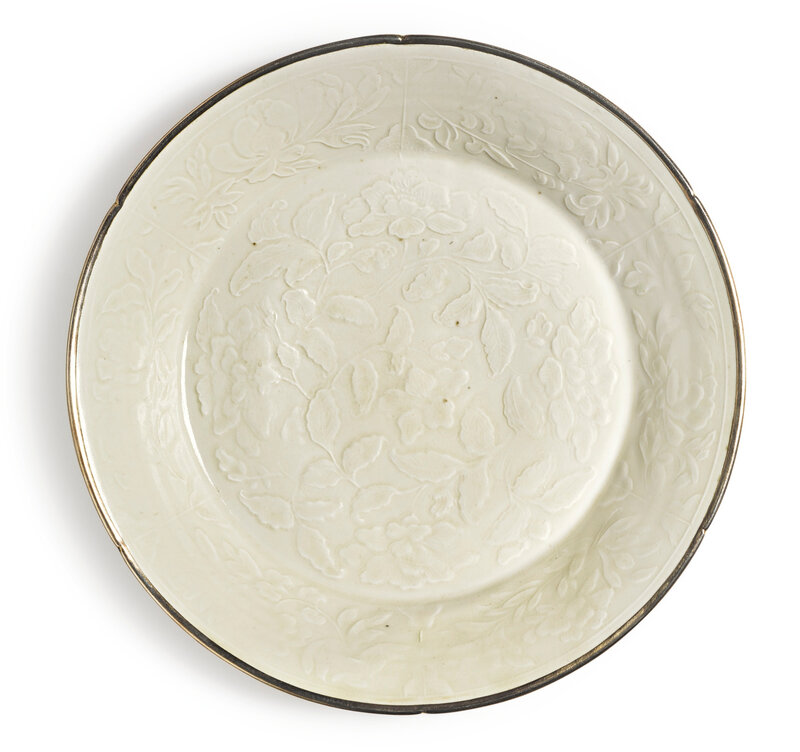 Lot 636. A finely molded 'Ding' 'peony' dish, Northern Song-Jin dynasty (960-1234). Diameter 8 5/8 in., 22 cm. Estimate: US$150,000 - US$200,000. Unsold. Courtesy Sotheby's.
the angled sides flaring to a six-lobed rim from a broad base and supported on a short straight foot, crisply molded to the interior with an intricate array of peony sprigs comprised of four leafing blossoms and buds encircling a fifth lush bloom, enclosed by six further sprays of flowering peony divided by slender fillets, the reverse undecorated, covered overall in a translucent ivory white glaze subtly pooling in the recesses emphasizing the decoration and with characteristic teardrops on the underside, the rim silver bound.
Note: The molded decoration on the present dish is particularly well defined, giving the piece a rich texture and three-dimensional feel. Although the peony motif is widely found on 'Ding' wares, the present dish is unusual in that the design is divided into separate panels around a central meandering stem. A lobed dish of similar angle-waisted form but molded on the interior with a single peony spray enclosed by a scrolling stem, is illustrated in the National Palace Museum, Catalogue of the Special Exhibition of Ting Ware White Porcelain, Taipei, 1987, pl. 78; and a related lobed bowl formerly in the Ugarte Collection was exhibited at Mostra d'arte Cinese. [Exhibition of Chinese Art], Venice, 1954, cat. no. 544, later sold in our London rooms, 13th March 1973, lot 108 and now in the Matsuoka Museum of Art, Tokyo. See also a mold with very similar decoration, dated to the sixth year of Taihe in the Jin Dynasty, corresponding to the year 1206 A.D., illustrated in Chugoku Toji Zenshu [Complete Book of Chinese Ceramics], vol. 9, Kyoto, 1981, pl. 130, and the modern replica ibid, pl. 160.
A nearly identical dish, with the same molded pattern and size, from the Edward T. Chow Collection, was sold in these rooms, 30th March 2006, lot 31. Compare also a 'Ding' bowl from the Estate of Rose D. Seligsburg molded with a central floral medallion surrounded by six shaped panels enclosing flower sprays, sold in these rooms, 13th March 1975, lot 241; another one of conical form, sold in these rooms, 6th November 1981, lot 183; and one sold in our London rooms, 21st June 1983, lot 446.