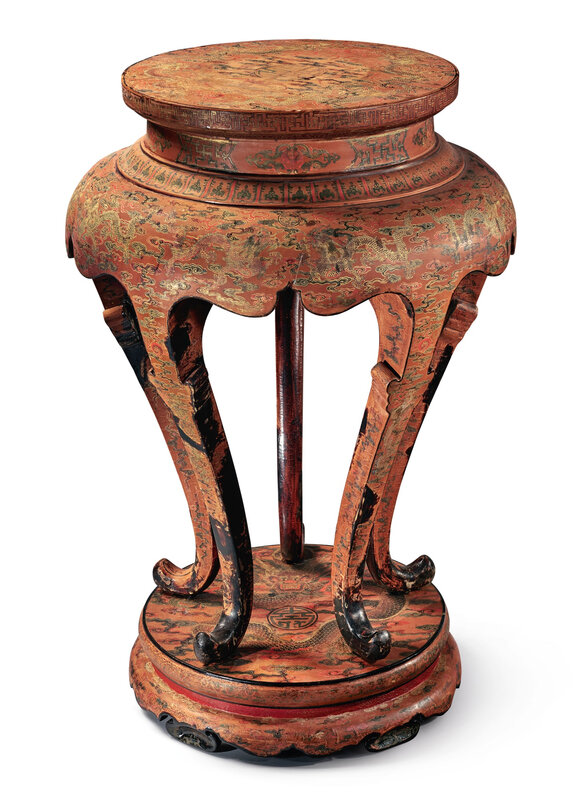 Lot 714. A rare 'tianqi' and 'qiangjin' lacquer 'Dragon' incense stand (xiangji), 17th century. Height 40 1/4 in., 102.2 cm. Estimate 50,000 — 70,000 USD. Lot sold 200,000 USD. Courtesy Sotheby's.
finely incised and colored in varying shades of red, green and burnt umber transmuting to black, all picked out with traces of gold filling within the incisions, the large circular top finely incised and gilt with two pairs of confronting writhing dragons each contesting a 'flaming pearl' centered by a circular shou and amid fiery cloud scrolls, the straight edge with a band of leiwen, the recessed waist with wanzi pattern cartouches alternating with bat and foliate motifs, surmounting a broad, flaring, cusped and barbed apron decorated with further dragons flanking shou emblems among clouds, all raised on five flanged cabriole legs, painted with clouds wisps, terminating in outward curving slipper feet, supported on a removable circular plinth with a large frontal dragon coiled around a shou emblem similarly to the top above five low ruyi-shaped feet.
Provenance: Formerly the Tanzhe Temple, Daxiaongbaodian (Hall of the Great Heroes), Beijing (by repute).
Collection of Jörg Trübner (1903-1929) acquired in Beijing in the 1920s, and thence by descent to Henry Trübner (1920-1999).
West Coast Private Collection.
Sotheby's New York, 28th-29th September 1989, lot 398.
Sotheby's New York, 23rd March 2011, lot 660.
Exhibited: On loan to the Royal Ontario Museum, Toronto, (1959-1982).
Literature: Helmut Brinker and Albert Lutz, Chinese Cloisonné: The Pierre Uldry Collection, New York, 1989, p. 53, fig. 290
Note: Incense stands such as the present example were used both in religious as well as secular contexts as contemporaneous paintings and prints illustrate. Often positioned in the center of a room, such stands supporting incense burners were designed with great attention to detail and form, pleasing to the eye from any angle. Round stands were particularly attractive and and exuded solidity and grace. The present example and the next lot, originally occupied a central position in one of the halls of the Tanzhe Temple in Beijing. Related stands of Ming date are discussed in Sarah Handler, Austere Luminosity of Chinese Classical Furniture, Berkeley and Los Angeles, 2001, pp. 295-302.
Polychrome lacquer became popular in the late Ming dynasty, either brush painted or gold-engraved and colored in the more onerous qianjin-and-tianqi technique as found on the present table. Designs incorporating both smaller side-facing dragons and a frontal dragon, convey a sense of dynamism and power which appear to have its roots in imperial textiles of the period; see a kesi tapestry, from the collection of Stephen McGuinness, included in the exhibition Chinese Textile Masterpieces. Sung, Yuan and Ming Dynasties, Uragami Sokyu-do, Tokyo, 1988, cat. no. 12.
A very similar table sharing the same provenance was sold at Christie's Hong Kong, 28th November 2018, lot 2922. See also another from this group, in the Nelson Atkin Museum, Kansas City, gifted by Mr. and Mrs. Henry Trübner, illustrated in Hai-Wai Yi-Chen Chinese Art in Overseas Collections, Lacquerware, Taiwan, 1987, pl. 180. A related pair of this type decorated with Heron and Lotus and with high, pierced waists, was sold in these rooms 12th September 2018, lot 265.
The present stand benefits from an illustrious provenance. The Tanzhe Temple, West Beijing, founded in 307 AD during the Western Jin dynasty, has a long history as one of the more important Buddhist sites for imperial visits. The Kangxi Emperor visited the Tanzhe Temple twice, naming it the Xiuyun Temple, and bestowing numerous gifts, including possibly the set (one of which is the present lot) of lacquer stands illustrated in a photograph in Bernd Melchers, China, Der Tempelbau, Hagen, 1921 and reproduced in Helmut Brinker and Albert Lutz, Chinese Cloisonné: The Pierre Uldry Collection, New York, 1989, p. 53, fig. 29.
The present stand along with the two other known examples already cited, were acquired in the 1920s by Jörg Trübner (1903-1930) who was the renowned German art dealer, Edgar Worch's brother-in-law . Worch sent him to China to oversee acquisitions for the firm. He had little training in Chinese art history but relied on his eye and developed good relationships and useful contacts. Sadly on only his third trip to China Jörg Trübner died from the measles. In the short time that he was in charge of purchases for Worch, Trübner acquired many important pieces, many of which are in important museum collections today.
His son, Henry Trübner (1920-1999), shared his father's and uncle's passion for Asian art, garnering international respect and important positions such as Curator Oriental art, Los Angeles County Museum Art, 1947-1958; curator Far Eastern department, Royal Ontario Museum, Toronto, 1958-1968; curator Asian art, Seattle Art Museum, 1968-1987; associate director and curator Asian Art, Seattle Art Museum, 1976-1987; senior curator emeritus, Seattle Art Museum, since 1987; director Son of Heaven Exhibition, Imperial Arts of China, Seattle, 1988. Member art advising committee The Asia Society, Japan Society Gallery, China Institute in American, Inc. Member American advising committee The Japan Foundation, Tokyo, 1978-1980.
Sotheby's. Important Chinese Art, New York, 20 March 2019