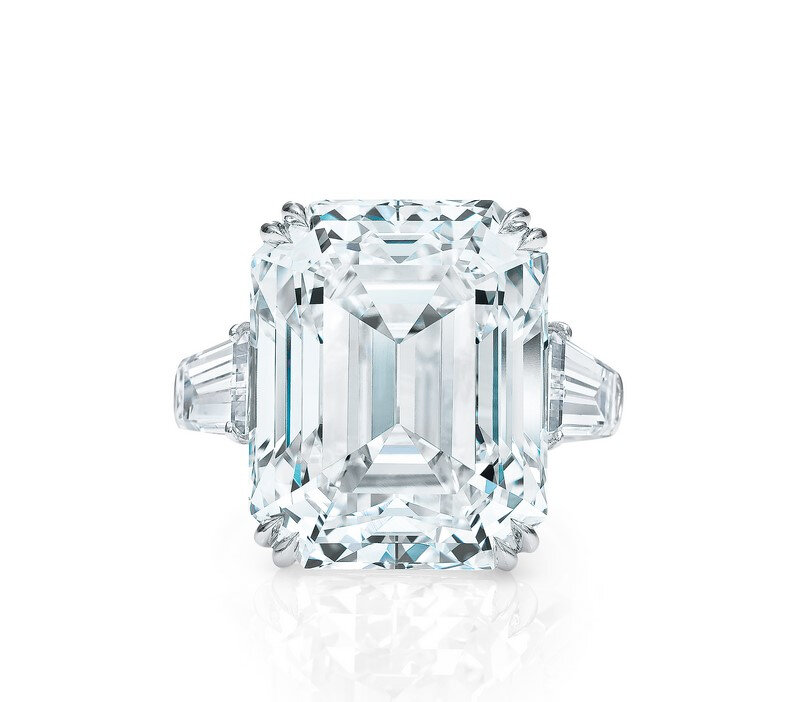 Lot 993. Impressive and rare 16.08 carat D colour VVS1 clarity type IIA diamond and diamond ring, Harry Winston. Estimate Upon Request. © 2019 China Guardian (HK) Auctions Co., Ltd.

Centring on an emerald-cut diamond weighing 16.08 carats, flanked by two trapeze-shaped diamonds together weighing approximately 1.20 carats, mounted in 18 karat white gold. Ring size: 4 3/4.
GIA report numbered 5151810081, dated 10 October 2018, stating that the diamond is 16.08 carats, D colour, VVS1 clarity; along with a diamond type classification, stating 'The 16.08 carat emerald cut diamond has been determined to be a type IIa diamond. Type IIa diamonds are the most chemically pure type of diamond and often have exceptional optical transparency. Type IIa diamonds were first identified as originating from India (particulary from the Golconda region) but have since been recovered in all major diamond-producing regions of the world. Among famous gem diamonds, the 530.20 carat Cullinan I and the 105.60 carat Koh-i-noor are examples of type IIa.'
A CLASSIC BY HARRY WINSTON
The legend of Harry Winston began in 1890 in Manhattan when he was young. He opened the Premier Diamond Company and renamed it in 1932 in New York City. His pursuit of excellence in creating exquisite high-end jewellery as well as the patronage of almost every generation of royalties and celebrities including Marie Antoinette, The Duchess of Windsor, Katherine Hepburn and Elizabeth Taylor, has earned him distinctive popularity and remain acclaimed within the industry.
Lot 993 is a 16.08 carat D-colour VVS1 clarity Type IIa diamond. Some of the best colourless diamonds with excellent transparency in the world are classified as Type IIa type. Among these well-known Type IIa type diamonds, 530.20 carats of Cullinan I and 105.60 carats of Koh-i-noor are the most renowned exemplars of Type IIa type diamonds. They were first identified in India's Golconda region.
According to the GIA laboratory report, this impressive 16.08 carat diamond has been determined as a Type IIa diamond, it contains little nitrogen and has excellent optical transparency. Type IIa diamonds are just only 1-2% of all natural diamonds, which makes it extremely rare in the market. With its superb purity and excellent optical transparency, this 16.08 carat emerald-cut diamond made by Harry Winston has a pleasant and elegant profile, showcasing the best quality and manifesting its glorified legacy in a timeless manner.
China Guardian Hong Kong, Important Jewels and Jadeite, JW Marriott Hotel, 31 March 2019, 2 pm