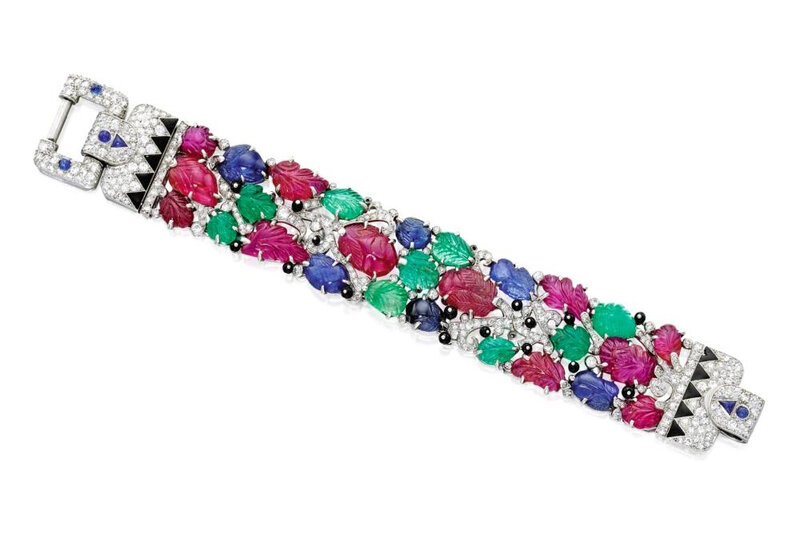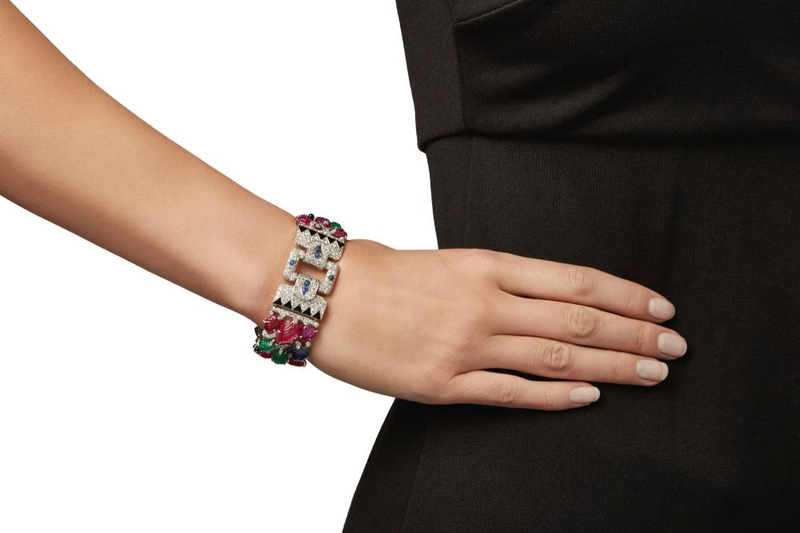 Lot 149. Colored Stone, Diamond and Enamel Bracelet, circa 1930. Estimate $100,000 - $330,000. Lot Sold 740,000 USD. Courtesy Sotheby's.
The flexible openwork foliate band set with carved sapphires, rubies and emeralds, accented by round and triangle-shaped sapphire cabochons, further set with onyx beads, highlighted by old European and single-cut diamonds, applied with black enamel, length 6¾ inches; circa 1930, four small diamonds and one onyx bead missing.
Literature: For bracelets of similar design, see Cartier: Jewelers Extraordinary (1984 edition), Hans Nadelhoffer, color plates 44 and 46.
Note: Epitomizing the marriage of Eastern exoticism to Art Deco design, tutti frutti jewels by Cartier are held up as masterpieces of the jeweler's art. After first being exhibited at the 1925 Exposition Internationale des Arts Décoratifs et Industriels Modernes in Paris, the style rapidly gained popularity among the most fashionable women and discerning jewelry collectors of the day, including Mrs. W.K. Vanderbilt, Daisy Fellowes and Mrs. Cole Porter.
Though unsigned, the bracelet offered here is notable for its preponderance of telltale elements: carved colored stones of varying shades and qualities (in-keeping with the Moghul style); scrolling diamond vines highlighted by drill-set onyx beads; enameled saw tooth patterns applied at the terminals; and a foldover tab clasp. In style and size, it is strikingly similar to the tutti frutti bracelet from the Evelyn H. Lauder Collection sold by Sotheby's New York in 2014 and featured in Hans Nadelhoffer's seminal book, Cartier: Jewelers Extraordinary. Unlike the Lauder bracelet, which had only emeralds and rubies, here we find the addition of sapphires, thereby endowing the piece with all the "fruits," or, quite literally, tutti frutti. In this regard, the bracelet more closely resembles two examples made for Mrs. Cole Porter between 1925 and 1929, also illustrated in Nadelhoffer's book. The association with Mrs. Porter continues, for this piece is known to have been in the collection of Linda Lee Colgate, the niece and namesake of Mrs. Porter, née Linda Lee. The bracelet, along with a complementary double-clip brooch (lot 150) descended through the family, first as a wedding gift and, more recently, as an inheritance.
Sotheby's has had the pleasure of offering several jewels from the collection of Mrs. Cole Porter, and we are honored to present this quintessential tutti frutti jewel from a member of her extended family.
Sotheby's. Magnificent Jewels, April 17, 2019, 10:00 AM EST, New York, NY, US