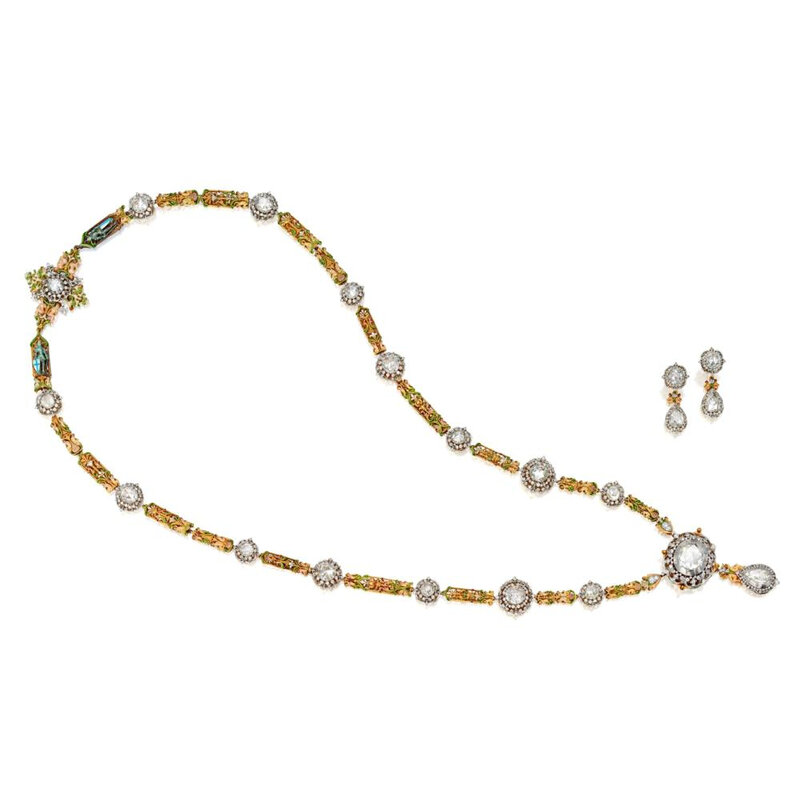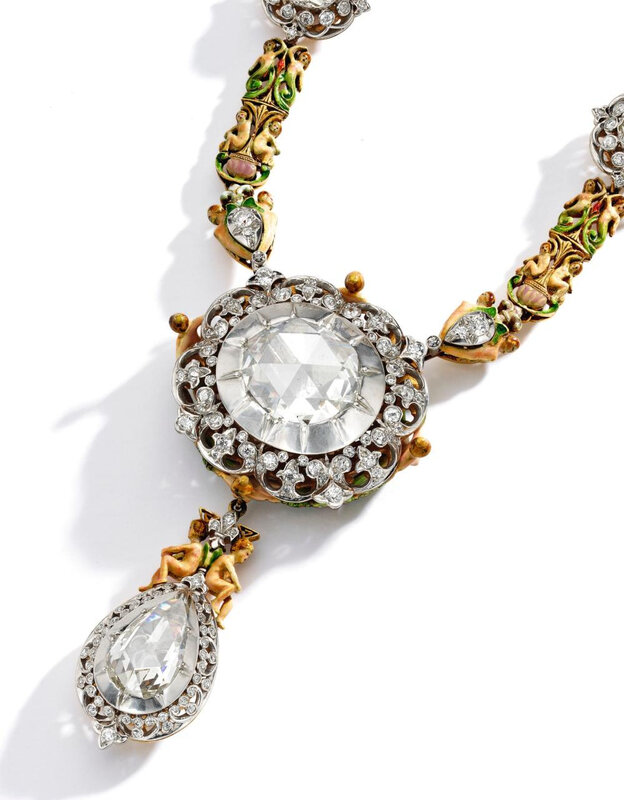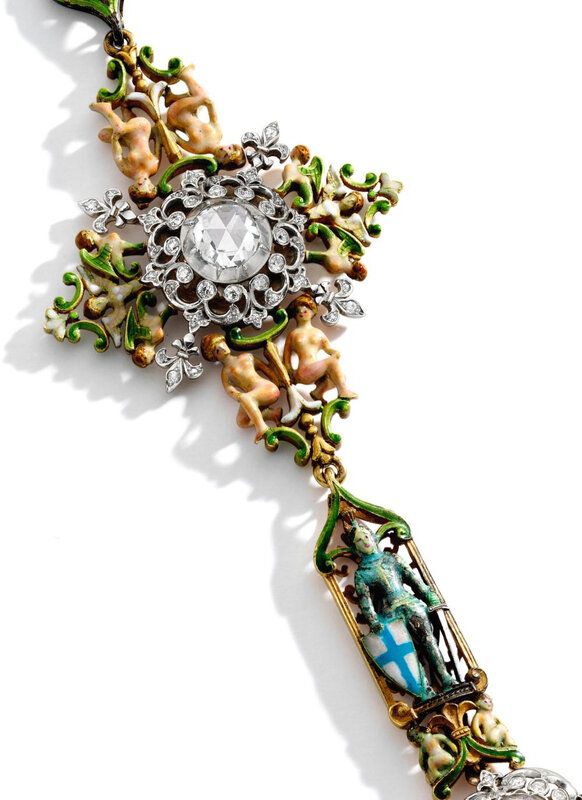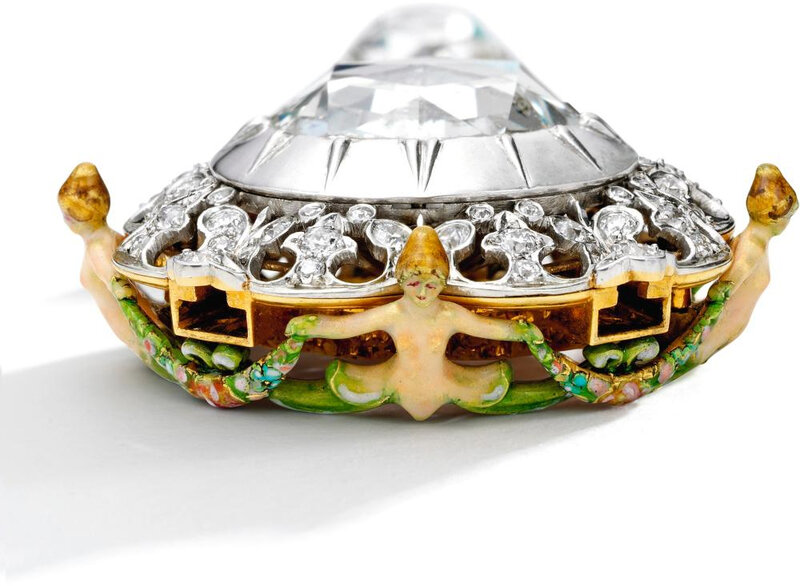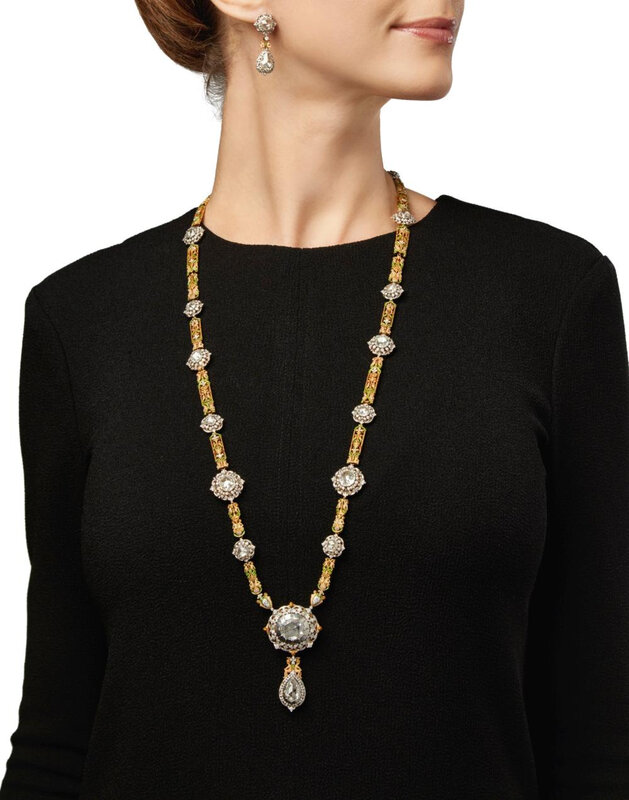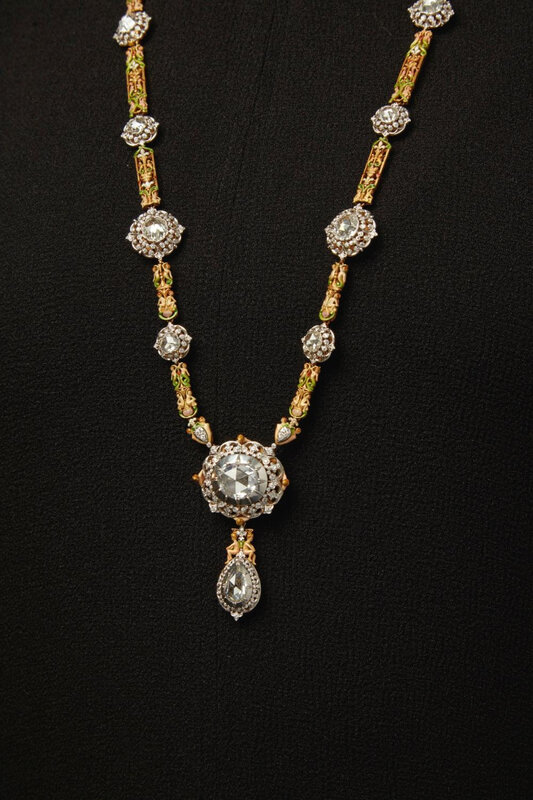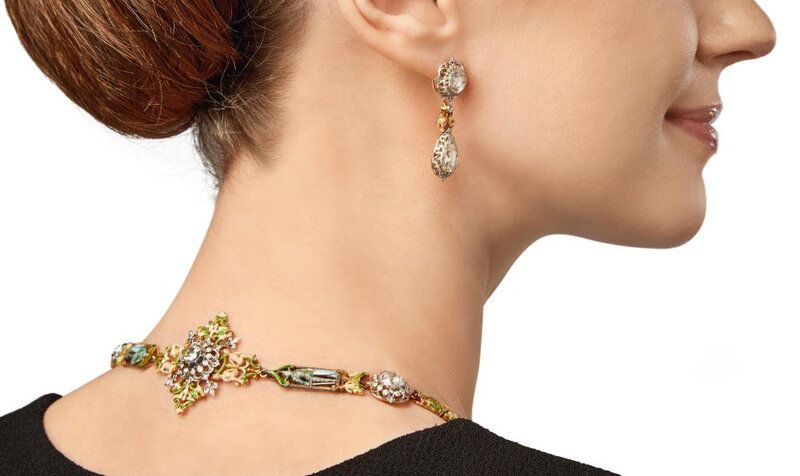 Lot 98. An Exceptionally Rare Enamel and Diamond Demi-Parure, Tiffany & Co. Estimate $200,000 - $300,000. Sold for $500,000. Courtesy Sotheby's.
Of Renaissance revival-style, comprising a sautoir and pair of earrings set with rose-cut diamonds framed with old European and single-cut diamonds, the links and mountings lavishly embellished with sculpted figures including nymphs, naiads, gargoyles, jardinières and shield shapes, with two Knights Templar, tied together with fleurs-de-lys, floral garlands and scrolls, applied with shaded polychrome enamel, length 33 inches, earrings signed Tiffany & Co., necklace unsigned, pendant detachable, necklace separates into 3 segments, earrings fitted with screw backings; circa 1904 with later modifications. With fitted and signed case.
Provenance
: This demi-parure originates from a pendant-necklace created by Paulding Farnham and exhibited by Tiffany & Co. at the 1904 Louisiana Purchase Exposition, in St. Louis. The original chain remains intact, paired with a modified pendant. The original larger pendant could be divided into smaller pendants and a pair of earrings. The current pendant is assembled from the original central diamond and one of the pear-shaped rose-cut drops. Also made from the original pendant was a seed pearl and diamond sautoir. The seed pearl sautoir was made by Tiffany & Co. in 1915, using three of the rose-cut diamonds from the St. Louis pendant. Purportedly created for silent film star Norma Talmadge (see page 147 of Loring's book
Paulding Farnham
), it was sold in 1992 by Sotheby's New York as lot 151.
Literature: This necklace appears in its original state on page 146 of John Loring's Paulding Farnham: Tiffany's Lost Genius. A detail of the original necklace along with a photograph of the current modified version appears on page 167 of John Loring's Tiffany Jewels.
For additional information on the present lot, see The Rediscovery of Paulding Farnham, Tiffany's Designer Extraordinaire, Part I: Jewelry by Janet Zapata, Antiques 139, No. 3 (1991), pages 566-567.
Note: Paulding Farnham (1859-1927) was the creative genius responsible for the original design of this necklace, which was the only jewel by him that Tiffany & Co. displayed at the 1904 St. Louis World's Fair, an exhibition to celebrate the centennial of the 1803 Louisiana Purchase. Just like the 1893 Columbia World's Exhibition in Chicago, and the 1901 Pan American exhibition in Buffalo, the St. Louis World's Fair was a combination of trade show, civic pride and cultural achievement. As the Missouri State archives describes: "The Fair showcased the grandiose ambition of the Gilded Age, forming a kind of collective tribute to the nineteenth century's international understanding of the furtherance of peace, prosperity and progress." Tiffany & Co. had participated in all of these international exhibitions and as chief designer of jewelry for the firm, Paulding Farnham contributed greatly to the international notoriety, distinction and success of the company. The Paris Exposition Universelle of 1889 became another milestone for Tiffany & Co., when Farnham presented for the first time his fabulous gold and enamel orchid jewels, the likes of which the world had never seen.
"The Rediscovery of Paulding Farnham, Tiffany's Designer Extraordinaire," was an important two-volume article by Janet Zapata in 1991 published in the magazine Antiques, followed by John Loring's book in 2000, Paulding Farnham, Tiffany's Lost Genius. Both tell the tale of a man who was extremely talented and who rose to great heights during his tenure at the firm for more than twenty years, spanning both the late 19th and early 20th centuries. At the St. Louis World's Fair, Farnham's other contributions to Tiffany & Co.'s display included his sculptures of Psyche, the White Rock sparkling water trademark, and the dog "Nipper" for the Victor Talking Machine Co.'s life size version of its world famous "His Masters Voice Trademark," but the Renaissance revival necklace offered here was however the only jewel exhibited by him. It is one of his last achievements to be celebrated by Tiffany & Co at that time. Zapata adds these footnoted accounts in 1904 about the necklace: "The chain and pendant took 3,600 hours to make and included 43 large and 980 small diamonds." She added that one reviewer called it "a jewel that might have been worn by the Queens of Charles V, Francois I, or Henry VIII." Of course now modeled into its newest version, the necklace takes on the streamlined look of a sautoir from the Art Deco period of the 1920s, but is no less grand.
At first glance the necklace appears to be decorated with a synthesis of motifs borrowed from Renaissance art and architecture. Stylized jardinières, nymphs and naiads, gargoyles, shield shapes, palmettes, acanthus leaves, scrolls and arabesques, are all gracefully combined into a harmonious flowing pattern decorated with colorful enamel. However, upon closer inspection towards the back of the necklace near the clasp, Farnham has specifically included two figures of the Knights Templar, which would likely be historical references to the French King Louis IX who lead the Seventh Crusade (1248-1254 A.D.) and after whom the city of St. Louis is named. The fleur-de-lys is another recurrent motif throughout the design of the necklace and also quarters each of the platinum settings surrounding the rose-cut diamond-set links. It is of course the symbol associated with the city of St. Louis which appears on the flag of the city to this day, and it is surely why Farnham intentionally chose it for this jewel. He continued using this motif in his silver Renaissance flatware designs patented in 1905. Drawing upon the rich heritage of historical revival jewels which became so popular in the second half of the 19th century, Farnham's en ronde bosse enamel figures conjure up images of works by famous European jewelers such as Falize and Giuliano, whose creations may have been a source of inspiration for Farnham.
Yet by 1904, the trends in jewelry design were moving in another direction, and Tiffany now had at its helm a new director, Louis Comfort Tiffany, who had his own ideas for jewelry designs. As Zapata points out "one can only speculate that he and Louis Comfort Tiffany clashed on artistic matters and that after he lost the support of his uncle Charles Cook, Tiffany's president until his death in 1907, he felt his position at the company was no longer tenable." And so it happened that Paulding Farnham, the self-described "painter, draughtsman, sculptor, expert mechanic, sailorman, traveler, writer," would eventually drift off into utter obscurity. Even in their titles, the aforementioned article and book allude to a loss which Tiffany & Co. would experience after Farnham's departure in 1908. As John Loring so aptly summarized: "In the twenty-two and a half years he spent with Tiffany & Co., Farnham won more honors at home and abroad than any other designer of his time and brought Tiffany & Co. and the United States international respect as the undisputed leader in jewelry design in the last decade of the nineteenth century."
Works by Paulding Farnham rarely appear on the market, but some important pieces have made their way into private collections and museums including the Metropolitan Museum of Art and the Cooper-Hewitt in New York, The Brooklyn Museum, The Walters Art Gallery in Baltimore and the Museum of Fine Arts, Boston. Today, the offer of this jewel on the world stage presents a rare opportunity and once again illuminates the life and work of an artist not to be forgotten or overlooked.
Sotheby's. Magnificent Jewels, April 17, 2019, 10:00 AM EST, New York