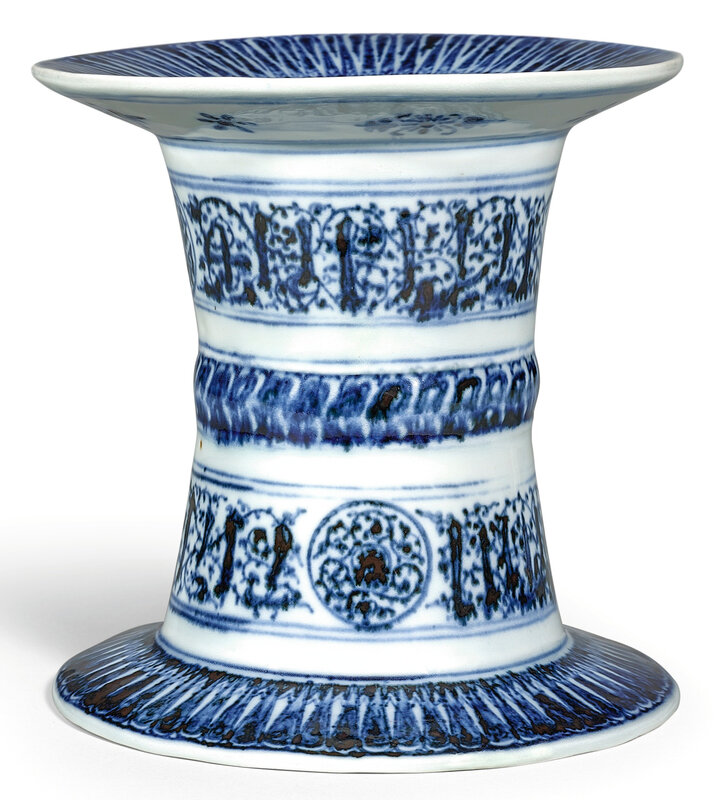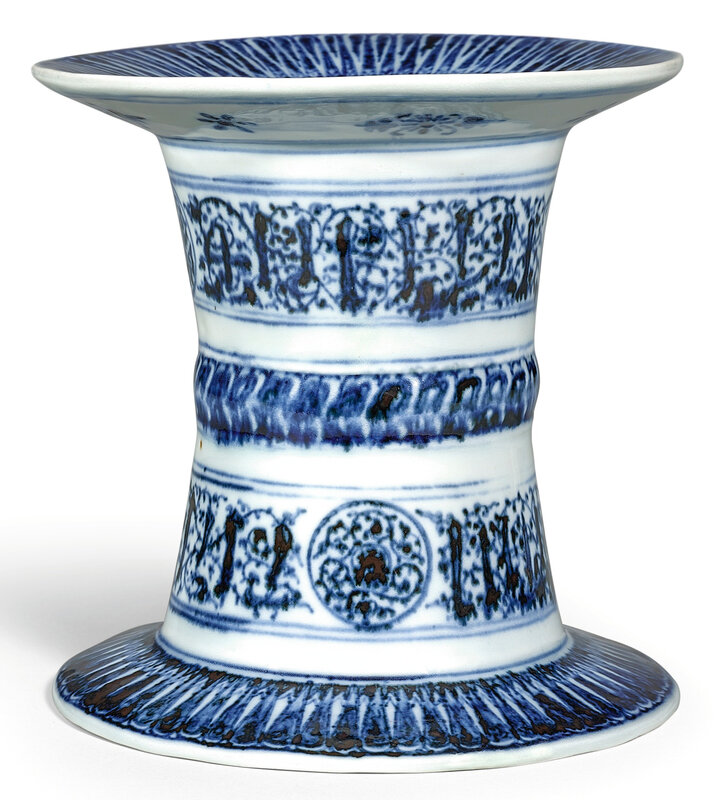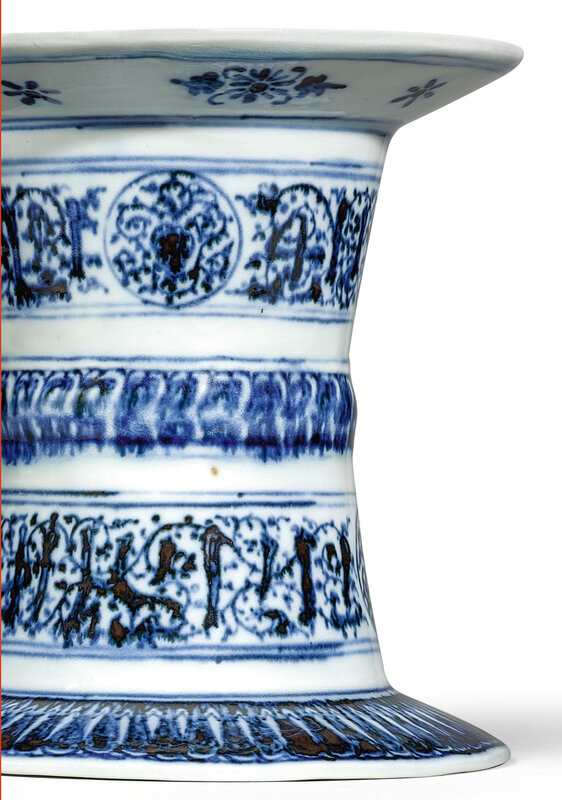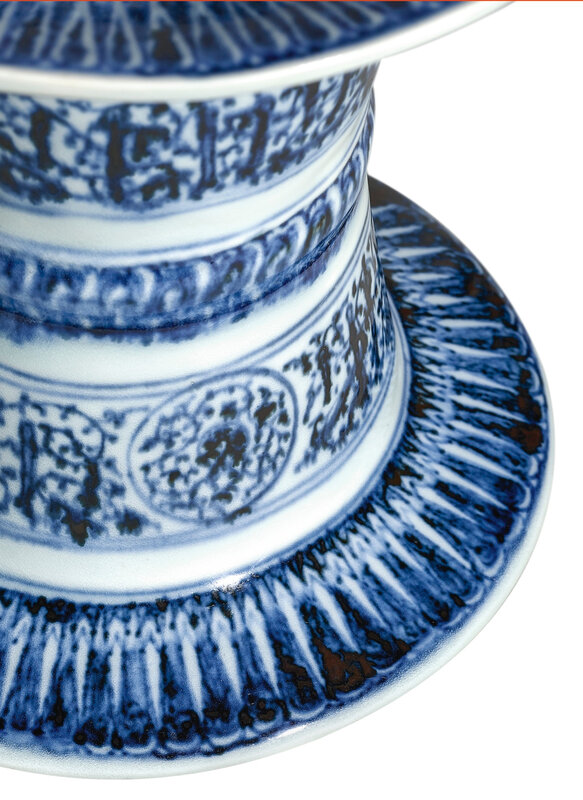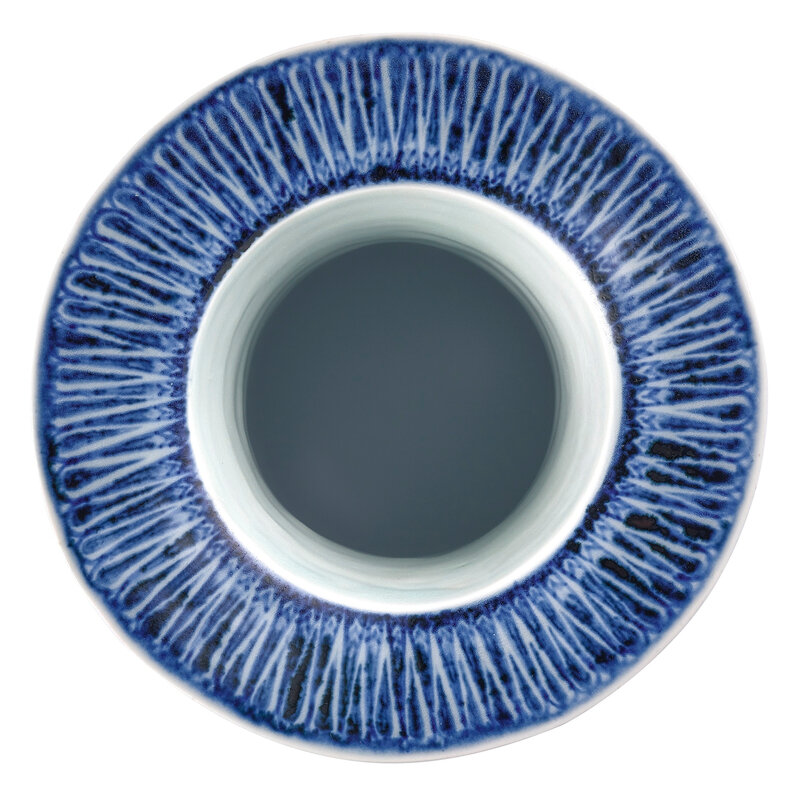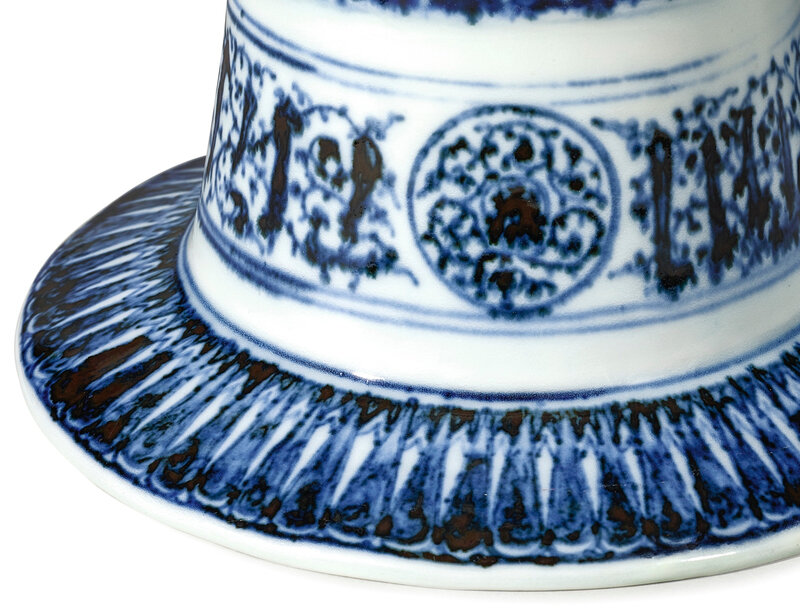 Lot 102. An extremely rare and important blue and white Middle-Eastern inspired stand, wudangzun, Ming dynasty, Yongle period (1403-1425); h. 17.2 cm, 6 3/4 in. Estimate: HK$20,000,000 — 30,000,000/ US$ 2,547,600 - 3,821,400. Lot Sold 23,575,000 HKD (3,036,696 USD). Courtesy Sotheby's.
inspired by a Middle Eastern metal prototype, well potted with a hollow, waisted cylindrical body centred by a raised horizontal rib, flaring gently towards the top and bottom to an everted rim and foot, the exterior boldly painted in rich cobalt-blue tones with two horizontal bands, each with calligraphic Arabic script interlaced with meandering foliate scrollwork and two roundels enclosing a flower wreathed by a leafy meander, divided by a lappet band encircling the raised rib on the waist, all below stylised florets alternating with detached floral sprays on the underside of the rim, the decoration divided by double-line borders, the flat top of the rim and the foot painted with radiating lotus lappets, covered overall in a transparent bluish glaze save for an unglazed ring on the base revealing the buff-coloured body.
An Exotic Object at the Chinese Court
Regina Krahl
In the Qing dynasty (1644-1911), when the Yongle Emperor's (r. 1403-1424) diplomatic missions to the Near and Middle East and to Africa were only distant episodes recorded in historic chronicles, a piece such as this must have seemed highly exotic at court. Clearly exhibiting all the cherished characteristics of Chinese porcelain from the early Ming period (1368-1644), but of intriguing shape and decoration, it was undoubtedly an object of wonder in the Qing imperial collection. It is not surprising that an astute observer such as the Qianlong Emperor (r. 1736-1795) was fascinated by what he called a 'bottomless jar' (wudangzun) and attributed to the Xuande period (1426-1435). He not only composed two poems about vessels of this type and had the porcelain copied by the imperial kilns, but the Zaobanchu records for the year Qianlong 36 (1771) state that he also commissioned a wooden stand to be made for such a piece, that in 1772 a zitan stand was submitted and he ordered it to be inscribed with one of his poems. The poem in question is probably the following (translated by Dr Richard John Lynn; fig. 1):
Song for a Xuande Ware Bottomless Jar
Second only to guan and Ru wares,
it's the Xuande and Chenghua that are praised,
For as age succeeded age,
though the making became finer,
Just as skill involved for wheeled carriages
gradually changed,
One may want to recover the start,
but, alas, who ever can!
This piece basically emulates
zun vessels and lei wine jars,
But why is it made without a bottom,
impossible to hold water!
Now, don't say this means
We should be criticised,
As when Tang Xigong had the occasion
to confront Marquis Zhao,
Who belittled a pottery goblet and
so valued the glitter of a jade,
Whose liquid when poured leaked out,
unable to hold it at all.
Then, he used the pottery one
and just set the jade one aside.
That its three folds integrate nicely,
does this surprise or not?
Though the porcelain is without a mark,
We provide it with a title.
The copper lining held inside
brings green malachite to life,
On the base of which "Xuande" is inscribed,
for the lining is from the "Great Ming".
Fitting together as do inner and outer garment,
as close as elder and younger brother,
Though several hundred years have passed.
these join well together.
Since it is treasured as a numinous object,
trust that Our words are sincere:
Not only can it store water,
it holds flowers as well,
So as the meaning of Our gentle words unravel,
may they calm all the six emotions.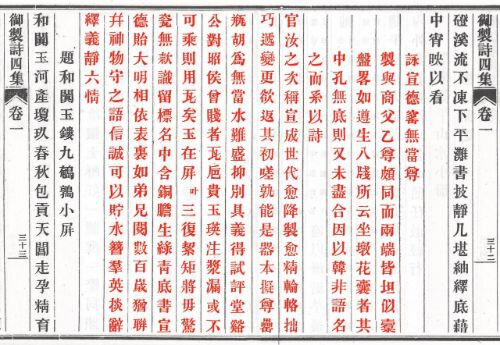 fig. 1. 'On a Xuande bottomless vase', Qing Gaozong yuzhi shiwen quan ji [Anthology of imperial Qianlong poems and prose], Yuzhi shi si ji [Imperial poems, vol. 4], juan 1, pp. 32-33.
Here, the Emperor alludes to a story in Han Feizi (Sayings of Master Han Fei), where Marquis Zhao, ruler of Han, 362-333 BC, is being asked 'Now, here is a white jade goblet without a bottom, and a pottery goblet with a bottom. Which one, my Lord, will you use to drink?. . . . To be a ruler and yet let the good words of his ministers leak away is just like having a jade goblet that lacks a bottom'.
Again, according to the Zaobanchu records, in 1775, the Emperor asked for the cloisonné liner of a piece such as this to be replaced with a new one. His second poem may have been composed for this piece, since in it he relates that a Jingtai style (i.e. cloisonné) liner was used, since no Xuande bronze example could be found.
Later entries, from the Daoguang period (1820-1850), which refer to a blue-and-white wudangzun flower vessel with a zitanstand, or a wudangzun flower vessel with a copper liner and zitan stand, suggest that these pieces were actively used in the palace, not as stands but, fitted with liners, as flower vases.
When the Yongle Emperor sent massive fleets to ports all over Asia and as far as East Africa and also dispatched overland expeditions to the Middle East, to showcase China's supremacy internationally, he distributed huge quantities of fine silks and porcelains to foreign lands. Of course, the exchange was not one-sided, as the court received foreign goods in return, and Chinese craftsmen came in contact with foreign styles and tastes. The imperial kilns at Jingdezhen, which were under complete court control and produced only to imperial order, created many new styles, among them a series of vessels in the shapes of Persian, Syrian or Egyptian metal prototypes, such as the present stand. Curiously, however, the majority of these vessels never seem to have reached any foreign destination: of the six known companion pieces to this stand, only one can be traced to Syria, while the other five are preserved in China.
Among this famous group of early Ming porcelains in foreign metal shapes, stands such as the present piece are among the rarest. That they are so well known is not due to a large number of extant examples, but probably because they are so memorable. It is not only the shape that is unique; it is also highly unusual to find Arabic inscriptions on porcelains of this period, and even the supporting borders chosen to accompany them are very special.
Metal stands of this form were made under Mamluk rule in Egypt or Syria, particularly in the first half of the fourteenth century. Generally considerably larger, they were used to support trays. They tend to be made of brass and are inlaid in gold and silver with bands of Arabic writing embedded in thin abstract scrollwork and interspersed with formal roundels. On the metal versions, the decoration tends to completely fill the surface, with no space left blank. On one example, in the Metropolitan Museum of Art, New York (fig. 2), the roundels show similar scrollwork as the porcelain version, but they are aligned on the two bands; on other stands, such as one illustrated in James W. Allan, Islamic Metalwork: the Nuhad Es-Said Collection, London, rev.ed. 1999 (1982), pl. 19, the roundels are filled with inscriptions, but are spaced at a 90 degree angle, as they are on the present piece.
fig. 2. Silver-inlaid brass tray stand, attributed to Egypt, 14th century Edward C. Moore Collection, Bequest of Edward C. Moore, 1891 Courtesy of the Metropolitan Museum, New York, accession no. 91.1.528.
While Middle Eastern shapes were reproduced in some number in the Yongle period, Persian or Arabic inscriptions are rare on early Ming imperial porcelain. The inscriptions on the Mamluk metal stands relate the names or titles of high-ranking dignitaries or rulers, probably the stands' owners, and eulogies on their virtues. On the porcelain versions, the inscriptions are no longer legible, but it is exceptional that they are copying texts of a secular nature rather than Islamic incantations, as the much more frequent Arabic inscriptions on later porcelains, particularly those of the Zhengde (1506-1521) period. Possibly the only other Yongle design with Arabic writing are small mantouxin bowls, which do not seem to copy metal vessels, and which show illegible bands of Arabic around the rim. Two such bowls were included in the exhibition Shi yu xin: Mingdai Yongle huangdi de ciqi/Pleasingly Pure and Lustrous: Porcelains from the Yongle Reign (1403-1424) of the Ming Dynasty, National Palace Museum, Taipei, 2017, pp. 148-9; another from the Edward T. Chow, T.Y. Chao and S.C. Ko collections, was published in Chinese Porcelain. The S.C. Ko Tianminlou Collection, Hong Kong Museum of Art, Hong Kong, 1987, pl. 17, and sold twice in these rooms, 25th November 1980, lot 4, and 18th November 1986, lot 41.
Of the supporting designs, particularly the cobalt-rich borders on the upper and lower rims of these stands are noteworthy. They are formed of slender loop motifs with a fine, toothed border around the inner edge, creating very delicate white reserves that evoke openwork. They were clearly challenging to render with a brush and may also have been inspired by Arab design. The slanting mirrored petal-panel border around the centre is also unusual, while the small floral sprigs under the rim are rare, but appear similarly under the everted rims of basins in the shape of Mamluk metal prototypes, such as the examples in the National Palace Museum illustrated in Shi yu xin., op.cit., pp. 129-135.
Six other stands of the present design appear to be recorded, all today in museum collections: A stand in the Palace Museum, Beijing, from the ancient Qing court collection, is illustrated in Geng Baochang, ed., Gugong Bowuyuan cang Ming chu qinghua ci [Early Ming blue-and-white porcelain in the Palace Museum], Beijing, 2002, vol. 1, pl. 29 (fig. 3), together with a Qianlong copy, vol. 2, pl. 212; another is kept in the Summer Palace, Beijing (Zhou Shangyun, 'Yiheyuan cangci jingshang [Highlights of the ceramic collection of the Summer Palace]', Forbidden City, 2008, vol. 5, p.92 top).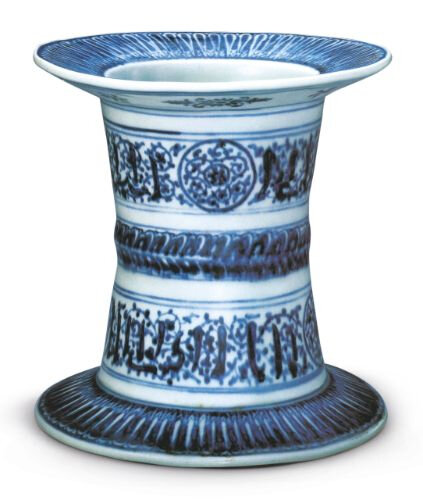 fig. 3. Blue and white Arabic-inscribed stand, wudangzun, Ming dynasty, Yongle period Qing court collection. © Collection of Palace Museum, Beijing
A stand in the Tianjin Municipal Museum is illustrated in Tianjin Shi Yishu Bowuguan cang ci/Porcelains from the Tianjin Municipal Museum, Hong Kong, 1993, pl. 79, where it is stated that copies were made in the Kangxi (1662-1722), Yongzheng (1723-1735) and Qianlong reigns; an example in the Shanghai Museum, is published in Lu Minghua, Shanghai Bowuguan zangpin yanjiu daxi/Studies of the Shanghai Museum Collections : A Series of Monographs. Mingdai guanyao ciqi [Ming imperial porcelain], Shanghai, 2007, pl. 3-23; and one that had been collected in the Xingtai region by the Hebei Cultural Relics Shop, as recorded in Wenwu 1994, no. 1, p.73, is now apparently in the Folk Art Museum of Hebei Province (Minjian cang zhen: Hebei Sheng Minsu Bowuguan cang ciqi jingpin [Highlights of the ceramic collection of the Folk Art Museum of Hebei Province], Shijiazhuang, 2006, pp. 20-21).
A very similar stand in the British Museum, London, acquired by its former owner, Dr Joseph Aractingi in Damascus and first published in John Carswell, 'An Early Ming Porcelain Stand from Damascus', Oriental Art, New Series, vol. XII, no. 3, autumn 1966, p. 176, is now in the British Museum, illustrated in Jessica Harrison-Hall, Ming Ceramics in the British Museum, London, 2001, no. 3:22, together with a Mamluk silver-inlaid brass stand of similar shape, p. 110, fig. 1. Harrison-Hall remarks on the "very dark blue blurred cobalt tones", which characterise the British Museum stand – as they do the present piece and similarly at least also the Palace Museum, Shanghai Museum and Hebei Museum examples.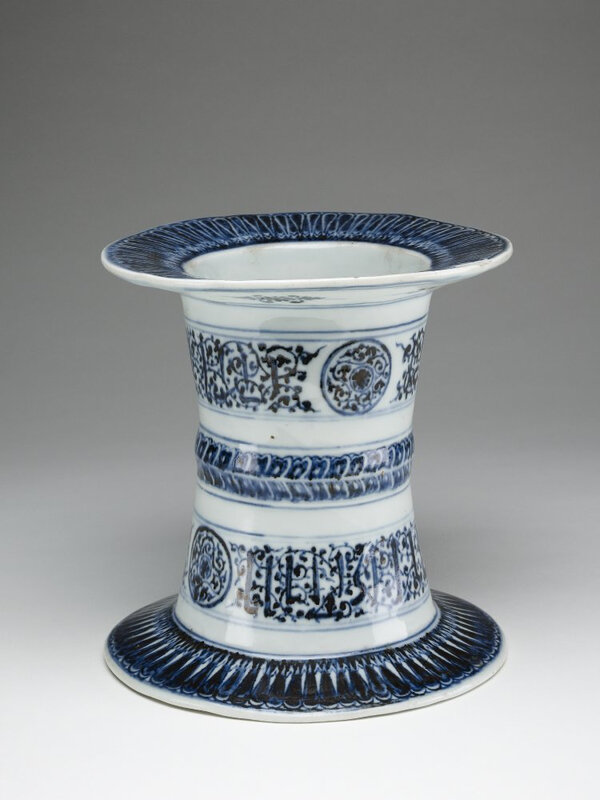 Qizuo [stand], Ming dynasty, Yongle period (1403-1424), Jingdezhen, Jiangxi Province. Porcelain with underglaze blue decoration, Height: 17.4 cm Width: 18.4 cm Depth: 17.2 cm. Purchase funded by the Brooke Sewell Bequest, 1966,1215.1. © The Trustees of the British Museum.
Fragmentary pieces of this form have been discovered at the waste heaps of the Ming imperial kilns at Jingdezhen in Jiangxi both in the Yongle stratum, but apparently only in plain white, and in the Xuande stratum, in blue-and-white but inscribed with the imperial reign mark. No complete example of either of these two versions appears to be preserved; for the former see Imperial Porcelains from the Reigns of Hongwu and Yongle in the Ming Dynasty, Beijing, 2015, no. 115; for the latter Jingdezhen chutu Ming Xuande guanyao ciqi/Xuande Imperial Porcelain Excavated at Jingdezhen, Chang Foundation, Taipei, 1998, p. 121, fig. F 14 (fig. 4); and both juxtaposed in Liu Xinyuan, 'Imperial Export Porcelain from Late Yuan to Early Ming', Oriental Art, vol. XLV, no. 3, Autumn 1999, p. 52, figs 12 a and b.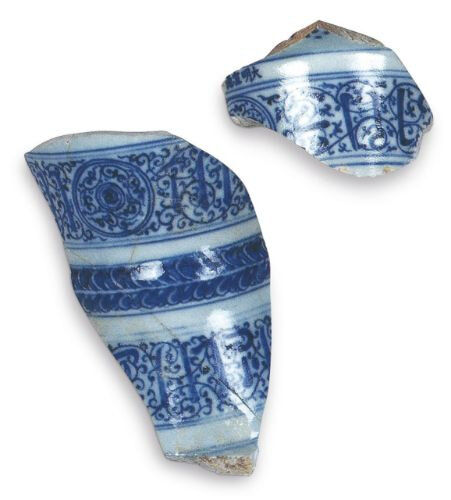 fig. 4. Blue and white sherds excavated from the imperial kiln site in Zhushan, mark and period of Xuande. Courtesy of Jingdezhen Ceramics Archaeology Institute.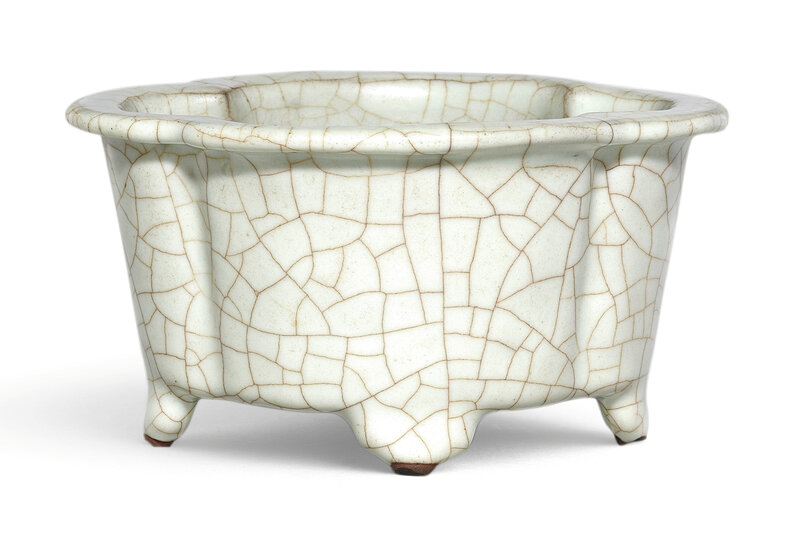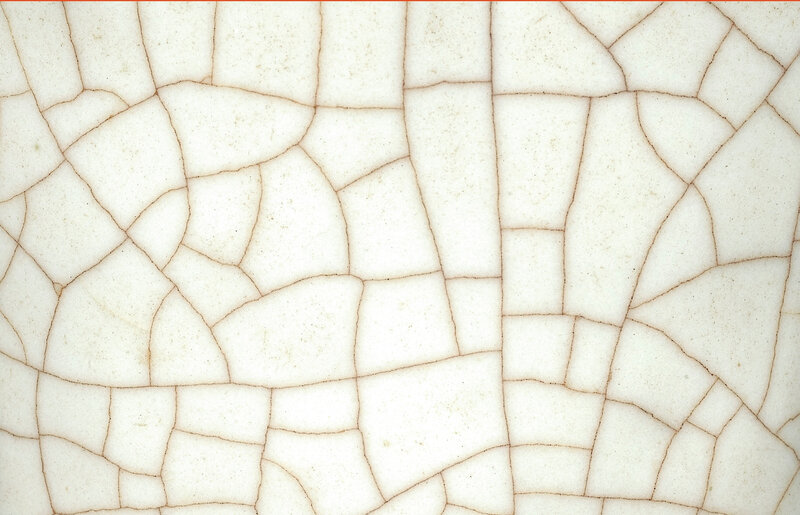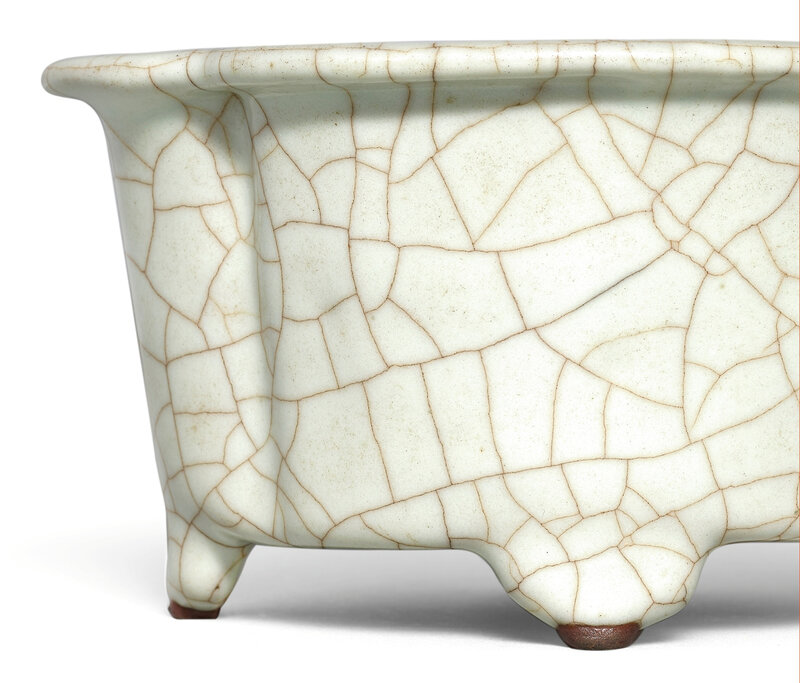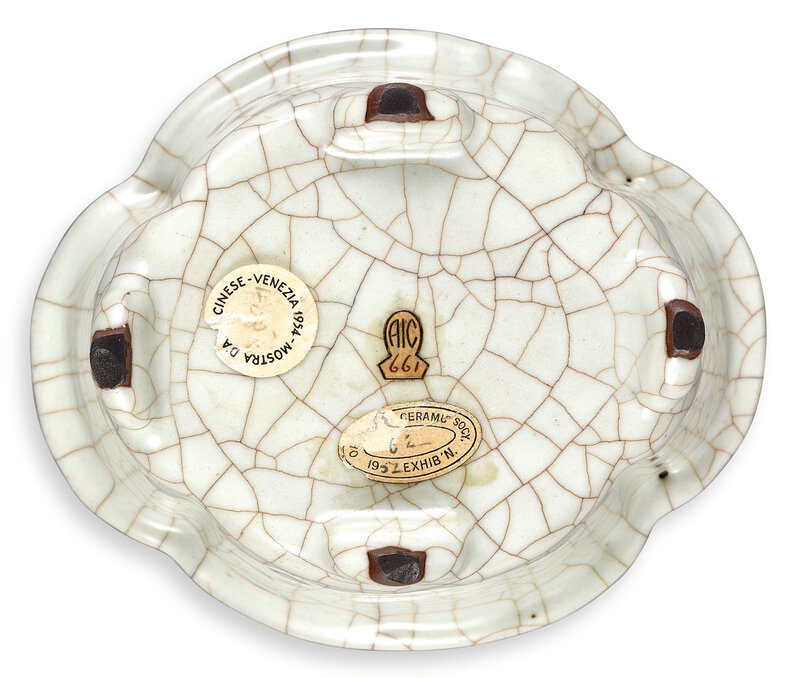 Lot 105. A rare Guan lobed jardinière, Southern Song – Yuan dynasty (1127-1368); 15 cm, 5 7/8 in. Estimate: HK$15,000,000 — 20,000,000/ US$ 1,910,700 - 2,547,600. Lot Sold 38,514,000 HKD (4,960,988 USD). Courtesy Sotheby's.
of quatrelobed section, the deep gently flaring sides divided into four lobes, rising from four ruyi-shaped feet to a wide everted rim, the dark brown body covered overall in a silky opaque glaze of greyish-celadon tone, suffused with a fine network of luminous golden-beige crackles, the interior with five fine, dark brown spur marks.
Provenance: Collection of Mrs Alfred Clark (1890-1976), no. 661.
Collection of Dr Lin, sold at Sotheby's London, 25th March 1975, lot 102.
Acquired from Sakamoto Gorō (1923-2016) in 2003.
Exhibited
:
Exhibition of Chinese Art for Chinese Medical Relief
, London, 1938, label.
The Oriental Ceramic Society Exhibition of Ju and Kuan Wares: Imperial Wares of the Sung Dynasty, Related Wares and Derivatives of Later Date
, London, 1952, cat. no. 62.
Mostra d'Arte Cinese/Exhibition of Chinese Art
, Palazzo Ducale, Venice, 1954, cat. no. 465.
Literature: Sir Percival David, Chinese Connoisseurship: The Ko Ku Yao Lun. The Essential Criteria of Antiquities, New York, 1971, pl. 22d.
'Rare as Stars at Dawn' - An Exceptional Lobed Guan Jardinière
Dr Hajni Elias
This modest, cracked, light-grey stoneware represents one of the most sought after wares in the history of Chinese ceramics – the guan ware of the Southern Song to the Yuan periods (12th-13th centuries). It is enveloped in an especially rich and smooth glaze silk-like to the touch and pleasing to the eye. Under magnification, the glaze contains millions of tiny bubbles which are referred to by scholars as the 'Accumulated Foam and Stringed Beads (jumei cuanzhu)'. This is a reference to the scattered nature of the bubbles that make the surface of the glaze lustrous with a jade-like quality. The distinct web of crackled 'veins' running through the surface of the ware appear natural, displaying the technical challenges and trials potters faced in the application of glaze and successful firing. These patterned lines represent the stylish ornamental feature known in Chinese as the 'Gold Thread and Iron Wire (jinsi tiexian)'. The dark body, visible at the foot and in the five spur marks in the interior of the jardinière, is a reminder of the iron-rich material of the body of the vessel which was considered special and much imitated by potters at the Jingdezhen kilns of Jiangxi province in the Qing period (1644-1911) when they coated white porcelain with blackish-brown slip before glazing. Scholars in the Palace Museum, Beijing, have named jardinières of this elegant shape after the beautiful four petaled flower of the Malus Spectabilis, commonly known as the Chinese crab apple (haitang). The pinkish-white blossom of the crab apple tree is distinguished by the beautiful shape of its individual flowers and long pedicels. Its name is a pun for a 'hall (tang)' which represents the home itself and in Chinese art has come to convey the message for the blessing of an honoured family home. While the floral form for a jardinière may be a reference to its use in gardens or terraces, the vessel's charming small size may also suggest that it was made to hold a miniature landscape garden, known as penjing (or bonsai in Japanese) which became a highly valued form of art in the Song dynasty. For more details on the art of penjing and its history see the essay for lot 104 in this catalogue.
While no two guan wares are ever the same, the present jardinière is related to two vessels, one in the Palace Museum, Beijing, illustrated in Li Huibing, ed., Songdai Guan yao ciqi/Official Kiln Porcelain of the Song Dynasty (960-1279), Beijing, 2013, pl. 53 (fig. 1), where it is described as 'Chinese Flowering Crabapple Form Xiuneisi Ware Jardinière (Xiuneisi yao haitang shi huapen)', and another in the National Palace Museum, Taipei, included in the exhibition Precious Morning Star: 12-14th Century Celadons in the Qing Court Collection, National Palace Museum, Taipei, 2016, cat. no. IV-11 (fig. 2), where it is dated to the 13-14th centuries and mentioned as a type of ware that was shaped in a mould and fired on a ring setter. Furthermore, in their charming four-petal lobed forms the two guan jardinières and the present example are similar to a vessel excavated from a tomb dated to 1205 at Liugongmiao, Zhangshu city, Jiangxi province, suggesting a possible manufacture date for all three in this exquisite group of wares (fig. 3). Interestingly, the National Palace Museum has a further example of a larger celadon glazed jardinière of this form, with a copper-bound rim and four cloud-shaped feet illustrated ibid., cat. no. IV-12. It is attributed to the Yuan period (1271-1368) by scholars at the Museum who have compared it with contemporaneous Jun jardinières known from the Museum's collection (to be discussed below).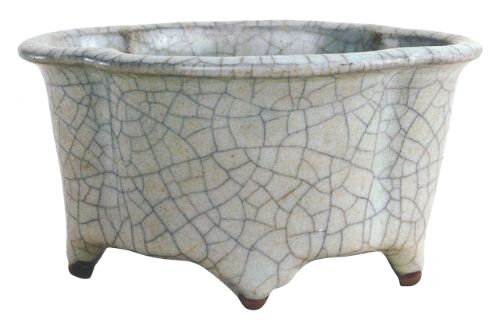 fig. 1. Guan lobed jardinière, Xiuneisi kilns, Southern Song dynasty. © Collection of Palace Museum, Beijing.
fig. 2. Guan lobed jardinière, Southern Song – Yuan dynasty. © Collection of the National Palace Museum, Taipei.
fig. 3 . Qingbai lobed jardinière, Southern Song dynasty. Excavated from a tomb dated 1205 in Liugongmiao, Zhangshu City, Jiangxi Province. Courtesy of the Zhangshu Museum
The general rarity of guan wares is highlighted by the Qianlong Emperor (r. 1735-1796) in a poem composed in 1777 and inscribed on the base of a guan-type vase, formerly in the Qing court collection and now housed in the British Museum in London. The poem is worth quoting in full as it not only sheds light on the history of the production of guan wares from the Southern Song dynasty onwards, but also mentions the personnel involved in its manufacture and the Emperor's deep appreciation for them which he labelled as 'rare as the stars at dawn'. The poem reads and translates as follows:
'Guan ware first gained renown when the Song court moved to the South. The 'Ware of the Rear Garden' was modelled on the earlier ware of Zheng He. (Shao) Chengzhang directed its manufacture solely for Imperial use, and neither ministers nor common people dared to pass or gaze upon them. More than six hundred years have passed since that time, yet one or two guan ware vessels, as rare as stars at dawn, may still be found. Who knows if the laws of former years survive today? Alas, how sad that this should be their plight – A reflection of the fate of the House of Yin in the Zhou dynasty. Composed by the Qianlong Emperor in the Spring of the cyclical year dingyou (AD 1777)'1
The Emperor in his poem identifies vessels known as the 'Ware of the Rear Garden (houyuan)' belonging to a small group of wares known as the 'Xiuneisi guan'. The Xiuneisi, known as the Palace Maintenance Office, located at today's Laohudong kiln site, was the official manufactory of imperial guan wares and was installed in the city of Hangzhou, Zhejiang province - the new capital of the Southern Song dynasty. Following the victory of the Jurchens of the Jin dynasty (1115-1234) over the northern territories of China in the beginning of the 12th century, the surviving Northern Song imperial family abandoned their base in the former capital of Kaifeng in 1127 and retreated southwards, setting up a new dynasty at the southern terminus of the Grand Canal of the Yangtze river. Thus was the beginning of the production of a 'new' guan ware modelled on the official imperial ware known from the Northern Song period (960-1127). One of the earliest references to Xiuneisi may be found in the work of the Southern Song scholar Ye Zhi, who in the Tan zhai bihen [Composed measures from the Tan Studio] wrote as follows:
'In the [new] capital a kiln for the firing and making of wares was established and the ware was named guan. [The production of guan was thus] revived crossing the Yangtze River [in the south]. There was a Shao Chengzhang who proposed the undertaking of the "Ware of the Rear Garden". His sobriquet was Shaoju. He continued the neglected production [method] of the ancient capital and established the kiln [site] at Xiuneisi. [Xiuneisi] produced celadon utensils called "inner wares" that used clear clay as standard. [These wares were] extremely fine with a glossy coloured [glaze] that was lustrous and translucent. They were treasured [by everyone] in the realm. Subsequently, a different new kiln was established at Jiaotanxia [which produced wares that were] greatly different from [that produced at the] old kiln.'2
This passage, which may have been the original source material for Qianlong's poem on the official imperial manufactory at Xiuneisi, is revealing in many ways. It not only locates the new kiln site but also names Shao Chengzhang, eunuch chief to the court of Emperor Gaozong (r. 1127-1162), in charge of the production of what came to be known as the 'inner wares', confirming the imperial patronage and sponsorship of the production of guan wares. The passage also describes the exceptional quality of the newly revived guan, how it was modelled on the official ware of the Northern Song period, and how it came to be prized in the empire. The author further mentions the kiln site at Jiaotanxia in the capital which, we are told, produced a similar but lesser quality ware. Recent archaeological discoveries have confirmed the existence of two different kiln sites, one at Wuguishan, south of the former imperial city, the other at Laohudong (mentioned in the passage above) which was located within the boundaries of the imperial city walls. Because of their locations and the different qualities of the sherds recovered, the Wuguishan kiln has been interpreted as the lesser, Jiaotanxia kiln, with the Laohudong kiln being the exalted Xiuneisi manufactory.3
The shape of the present jardinière is better known from another important imperial ware made at the Juntai kilns in present-day Yuzhou prefecture in Henan province. Known as the 'Numbered Jun' wares, they are celebrated for their shared similarities in glaze and colouration to the classic Jun vessels (Junyao), however, they are distinguished for their sophisticated forms and for the marks of a single Chinese numeral on each vessel's base, which gave the peculiar name of the ware. See a number 7 and a number 4 Jun jardinière of similar lobed form to the present vessel, in the Palace Museum, Beijing, published in Junyao yaji. Gugong Bowuyuan zhencang ji chutu Junyao ciqi huicui/Selection of Jun Ware. The Palace Museum's Collection and Archaeological Excavation, Palace Museum, Beijing, 2013, pls 63 and 64. Sir Percival David in his introduction to the 1952 Oriental Ceramics Society exhibition on Ru and guan wares, lists the present guan jardinière as having 'its opposite number in certain similarly shaped vessels and their stands of Chün ware, such as the well known example in the Freer Gallery'.4
Apart from its imperial provenance, this jardinière was formerly in the distinguished collections of Mrs Alfred Clark (1890-1976) and Mr Sakamoto Gorō (1923-2016). The former, married to Alfred Clark (1873-1950), the British-American pioneer of music recording and cinema and manager of companies such as HMV and EMI, was an enthusiastic collector of Chinese ceramics and with her husband formed one of the most important Western collections in the early 20th century. Husband and wife were both members of the Oriental Ceramic Society, with Alfred Clark on the Council of the society between 1934-1948, and lent many of their pieces to exhibitions including the Royal Academy of Arts in London in 1935-1936, and the Oriental Ceramic Society exhibition in 1952. Lady David (wife of Sir Percival David) is recorded saying how most of the Clark collection of Chinese ceramics was displayed in the living rooms, with a 'little room upstairs' where their Song dynasty pieces were displayed. She described the collection as 'small, formed by two people with extremely good taste'.5 The Japanese collector, connoisseur and antiques dealer Sakamoto Gorō, is a true legend in the world of Chinese art. His career, which spanned almost seventy years, made him an authority in the field that was far beyond simply having a good eye for art. Mr Sakamoto is remembered as an international treasure with the ability for divining the spirit or atmosphere given off by a work of art and detecting the true nature of the object.6
1 Transcription and translation of the poem is included in the British Museum website https://www.britishmuseum.org/research/ collection_online/collection_object_details.aspx?objectId=3180074&partId=1&people=162439&sortBy=imageName&page=1 [Accessed: March 2, 2019].
2 Quoted in Chuogeng lu tongjian [General guidance on retirement to the countryside], Beijing, 1950.
3 See Zhongguo Shehui, Kexueyuan Kaogusuo, eds, Nan Song guanyao [Guan ware from the Southern Song dynasty], Beijing, 1996; Du Zhengxian, ed., Hangzhou Laohudong yaozhi ciqi jingxuan [Selected masterpieces from Laohudong kiln site, Hangzhou], Beijing, 2002; and Zhang Zhenchang, ed., Nan Song guanyao wenji [A collection of essays on Southern Song dynasty guan kiln], Beijing, 2004.
4 Sir David's introduction in The Oriental Ceramic Society Exhibition of Ju and Kuan Wares: Imperial Wares of the Sung Dynasty, Related Wares and Derivatives of Later Date, London, 1952, p. 4.
5 Stacey Pierson, Collectors, Collections and Museums: The Field of Chinese Ceramics in Britain, 1560-1960, Oxford and New York, 2007, pp. 171-2.
6 Jeffey Hantover, 'Sakamoto Gorō and the Art of Mekiki,' in Chinese Art Through the Eye of Sakamoto Gorō, Sotheby's New York, March 2015, p. 12.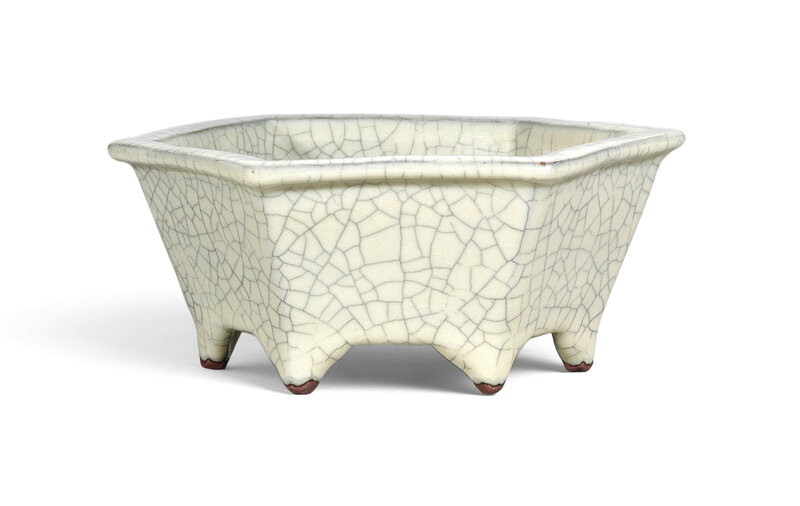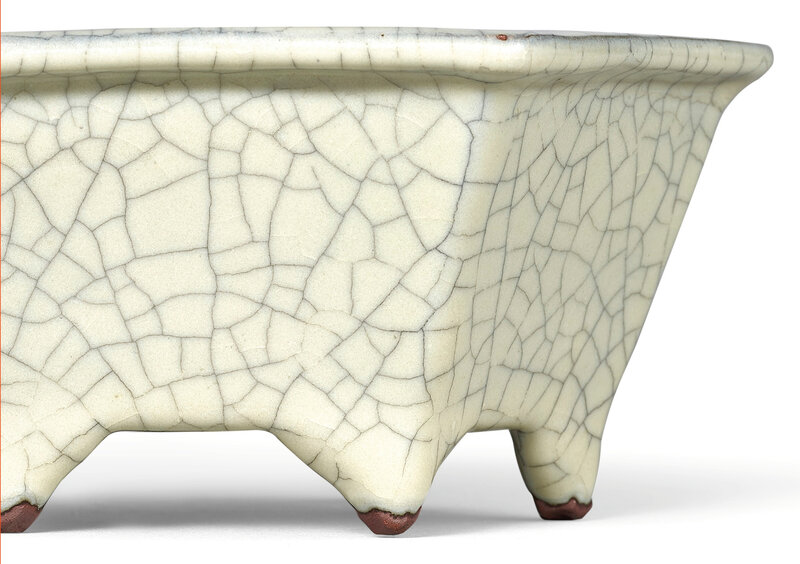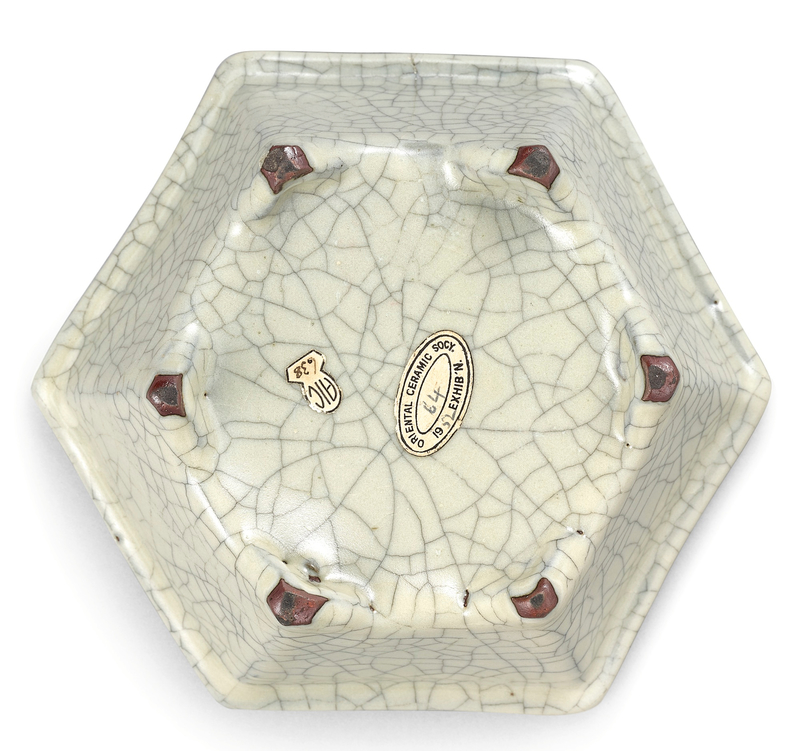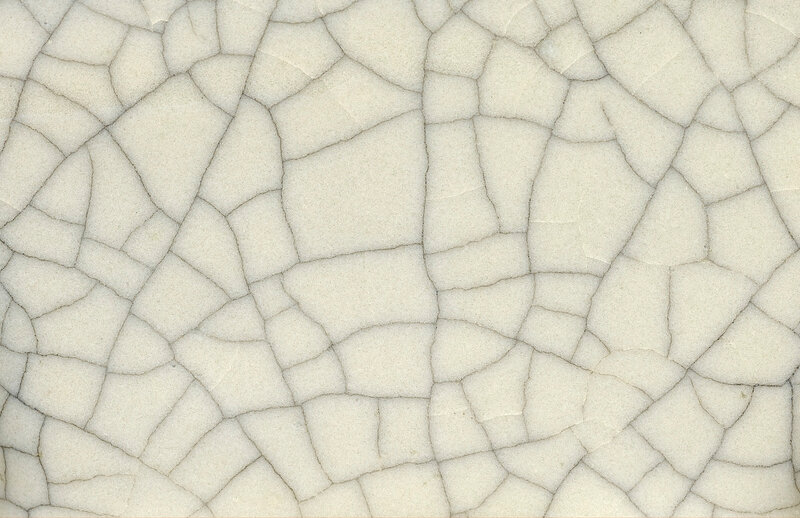 Lot 104. A rare Guan hexagonal jardinière, Southern Song – Yuan dynasty (1127-1368); 16.5 cm, 6 1/2 in. Estimate: HK$10,000,000 — 15,000,000/ US$ 1,273,800 - 1,910,700. Lot Sold 12,175,000 HKD (1,568,262 USD). Courtesy Sotheby's.
of hexagonal section, the flaring sides divided into six facets, supported on six ruyi-shaped feet at the corners and rising to a flat everted rim, the dark brown body unctuously veiled with a bluish-grey glaze suffused with a matrix of dark crackles, the unglazed feet revealing the brown-dressed dark grey body.
Provenance: Collection of Mrs Alfred Clark (1890-1976), no. 638.
Sotheby's London, 25th March 1975, lot 112.
Acquired from Sakamoto Gorō (1923-2016) in 2003.
Exhibited: The Oriental Ceramic Society Exhibition of Ju and Kuan Wares: Imperial Wares of the Sung Dynasty, Related Wares and Derivatives of Later Date, London, 1952, cat. no. 64.
Synthesis of Nature and Art: A Charming Hexagonal Guan Jardinière
Dr Hajni Elias
This hexagonal jardinière represents the much desired and rare type of ware created for the Southern Song imperial court. It is exquisitely potted and covered in a thick light-grey glaze with the dark, blackish-brown body visible at the foot. The straight but slightly sloping sides of the vessel add depth and substance to the object, accentuating its unusual hexagonal shape. The glaze itself is particularly smooth to the touch and is suffused with an attractive network of crackles. It is a fine example of the fabled Southern Song official ware and showcases the potter's ingenuity, high level of technical ability and aesthetic sophistication.
The vessel displays the characteristics of guan wares produced at Xiuneisi, located at the Laohudong kiln site, in the outskirts of Hangzhou city in Zhejiang province. Xiuneisi, set within the grounds of the Southern Song imperial city, was the Palace Maintenance Office for the official manufactory of imperial guan wares. It was established in the new capital of Hangzhou after the collapse of the Northern Song dynasty when the imperial family and the court moved from Kaifeng to South China in 1127. For more information on the Xiuneisi and the imperial manufactory of guan wares see the essay for lot 105 in this catalogue.
The magnificence and scarcity of guan wares were elaborated on by the eminent collector and connoisseur of Chinese ceramics and whose un-paralleled collection is now housed in the British Museum in London, Sir Percival David (1892-1964). In his introduction to the Oriental Ceramics Society exhibition of Ru and guan wares held in London in 1952, Sir David describes the present charming jardinière and its companions in the exhibition as follows:
'"It is impossible to foretell", says an enthusiastic late Ming writer in his discourse on Ju, Kuan, and Ko wares, "to what point the loss of these ancient wares will continue. For that reason, I never see a specimen but my heart dilates and my eye flashes while my soul seems suddenly to gain wings, and I need no earthly food, reaching a state of exaltation such as one could scarcely expect a mere hobby to produce". In the centuries that have followed the writing of those prophetic words, the destruction and disappearance of these precious wares have continued with gathering momentum. Yet despite their much diminished numbers, it is, I suppose, not to be expected, so far have we hapless moderns fallen from grace, that the visitor to the present exhibition, however keenly interested he may be, will have his feelings stirred in this same way, notwithstanding the satisfying display that has here been spread for his pleasure, his appetite and his edification.'1
In this passage, Sir David highlights the extreme rarity of imperial guan wares available for viewing and the very enthusiasm with which they were and are appreciated. Interestingly, his knowledge and trained eyes instigated a further insightful observation on this piece when he mentions the deliberate imitative efforts of Song dynasty potters in both glaze and form, especially the borrowings between the makers of the guan and Jun jardinières (we shall return to this later).
This jardinière is unusual for its hexagonal form, although vessels of this type were made in other shapes, such as the quadrangular guan jardinière of comparable dimensions, in the collection of the Palace Museum, Beijing, illustrated in Guanyao ciqi/The Guan Kilns, Beijing, 2016, pl. 32 (fig. 1). Scholars who have catalogued and researched the Palace Museum jardinière suggest that wares of this type were made to satisfy the imperial demand for miniature landscape gardens, known in Chinese as penjing and often referred to in the Western world by its Japanese name bonsai. They further note that guan wares in this special group were primarily inspired by Jun jardinières which may be found in somewhat greater numbers.2 This gives a compelling insight into the use of vessels of this type and confirms the reasons for the dimensions which are smaller than is usual for jardinières. A mural painting given the title by scholars as Courtiers and Guests discovered in the tomb of the sixth son of Emperor Gaozong (r. 649-683), Prince Zhang Huai (654-684), of the Tang Dynasty (618-907) and dated to 706, shows a servant dressed in court attire, holding with both hands in the gesture of offering a penjing with miniature rockeries and trees.3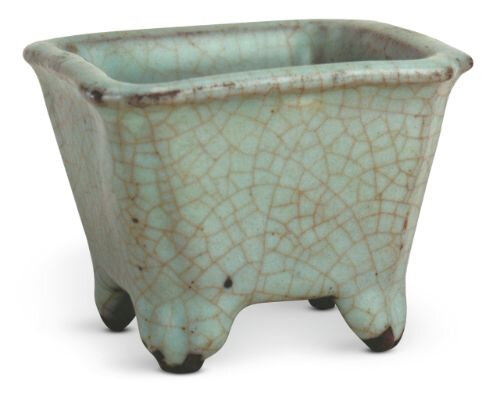 fig. 1. Guan square jardinière, Song dynasty Qing court collection. © Collection of the Palace Museum, Beijing.
Miniature landscapes became a highly developed art form that was treasured by the imperial household as well as the scholar-literati from as early as the Tang period. By the Song dynasty it was elevated to new heights with poets such as Su Shi (1037-1101) and Lu You (1125-1209) composing poems that record their joy and delight in penjing landscapes. Lu You in his poem titled 'Calamus (Changpu)' wrote as follows:
The calamus of Mount Yen and the stones from Mount Kun,
have been collected and arranged to lessen loneliness.
One cun long roots grow densely in nine nodes,
a handful of lofty value.
Crystal clear springs bring out the colour of the bluish-green pot in a manner
charming enough to impress the most eminent rustic.
With the mountain foliage in view daily,
this object sweeps the memory of cares.
The layers of roots, leaves, and shoots become better
the longer one looks at them.
Making one regret that they were not gazed at earlier.

It enables me to imbibe the wind-brought-dew,
and nourish my spirit as I myself age effortlessly. 4
Lu You's poem gives us an insight into the appreciation of miniature penjing landscapes as well as the importance of the wares made for them. He praises the beauty of the bluish-green glaze of the jardinière, and expresses his admiration for the landscape it holds. The natural landscape and the man-made 'pot' together form the perfect synthesis of nature and artefact venerated by the elite at the time. What is also apparent is that wares made for the use of penjing were either one-off pieces or were made in small numbers as their shapes depended on the nature of the landscape itself.
Amy Liang in her work on the art of penjing mentions that Song jardinières made for miniature landscapes were primarily Ru and Jun wares, many of which are now in the collection of the National Palace Museum in Taipei.5 See two hexagonal 'Numbered' Jun jardinières included in A Panorama of Ceramics in the Collection of the National Palace Museum: Chün Ware, Taipei, 1999, pls 47 and 48, both inscribed with the number 'seven (qi)' and the reference 'Made for the use of the Bright and Clear Studio in the Hall of Mental Cultivation (Yangxin dian Mingchuang yong)'. The 'Bright and Clear Studio' was located in the Eastern section of the Hall of Mental Cultivation where the New Year's Day ceremony of the emperor writing his first poem of the year, known as the 'Bright and Clear Studio First Composition Ceremony (Mingchuang kaibi dian), was held. This suggests that the two vessels were part of the furnishing of this special studio with an important literary function.
On the significance of this distinct group of flower vessels known as 'Numbered Jun' wares, that were mostly made in moulds and inscribed on the base with numerals from one to ten, related to the size of the vessel, see Li Baoping, 'Numbered Jun Wares: Controversies and New Kiln Site Discoveries,' Transactions of the Oriental Ceramic Society, vol. 71, 2006-7, pp. 65-77. The author discusses the controversy behind the dating of this group, with the emergence of two different schools of thought, one suggesting a late Northern Song dynasty (960-1127) attribution, while the other proposed a later dating, which would be more in line with the possible attribution of the present piece. However, the official status of this group is indisputable. It has recently been confirmed as such by scholars from the Palace Museum in Beijing who have identified them as the 'display type of official Jun ware' (chenshe lei Jun ci huo guan Jun).6 Thus, the imperial use of both guan and Jun jardinières belonging to this group of wares has been established by these studies.
In addition to its imperial provenance, more recently, the present guan jardinière belonged to two of the most important collectors of Chinese art in the twentieth century, Mrs Alfred Clark (1890-1976) and Mr Sakamoto Gorō (1923-2016). Ivy Clark, and her husband, Alfred Clark, formed one of the most fabled collections of Chinese ceramics in the Western world. They were active supporters of the Oriental Ceramic Society and were directly involved in the preparation of the 1935-6 Chinese art exhibition in London to which they lent five dozen pieces. When Sir David's wife, Lady David, in an interview conducted in 1992, was asked whose collection her husband admired most she replied, 'I think the Clarks'… collection, I would say, was one of the finest'.7 The Japanese art collector, connoisseur and dealer, Sakamoto Gorō, was a larger than life figure in the Chinese art world and whose extensive contribution to the collecting and appraising of Chinese art was second to none. For a detailed account of his career and legacy see Sakamoto Gorō: The Legacy, Sotheby's London, 2016.
1 Sir Percival David, 'Introduction,' in The Oriental Ceramic Society Exhibition of Ju and Kuan Wares: Imperial Wares of the Sung Dynasty, Related Wares and Derivatives of Later Date, London, 1952, p. 2.
2 See the notes in Guanyao ciqi, op.cit., pl. 32.
3 See the mural painting illustrated in Amy Liang, The Living Art of Bonsai: Principles and Techniques of Cultivation andPropagation, New York, 2005, p. 101. This is considered the oldest fresco depiction of penjing discovered to date.
4 For guidance on the translation of this poem see Liang, op.cit., pp. 102-3.
5 Ibid., p. 203.
6 See Junyao yaji: Gugong Bowuyuan zhencang ji chutu Junyao ciqi huicui/Selection of Jun Ware. The Palace Museum's Collection and Archaeological Excavation, Palace Museum, 2013, p. 168ff.
7 Anthony Lin Hua-Tien, 'An Interview with Lady David', Orientations, April 1992, pp. 56-63.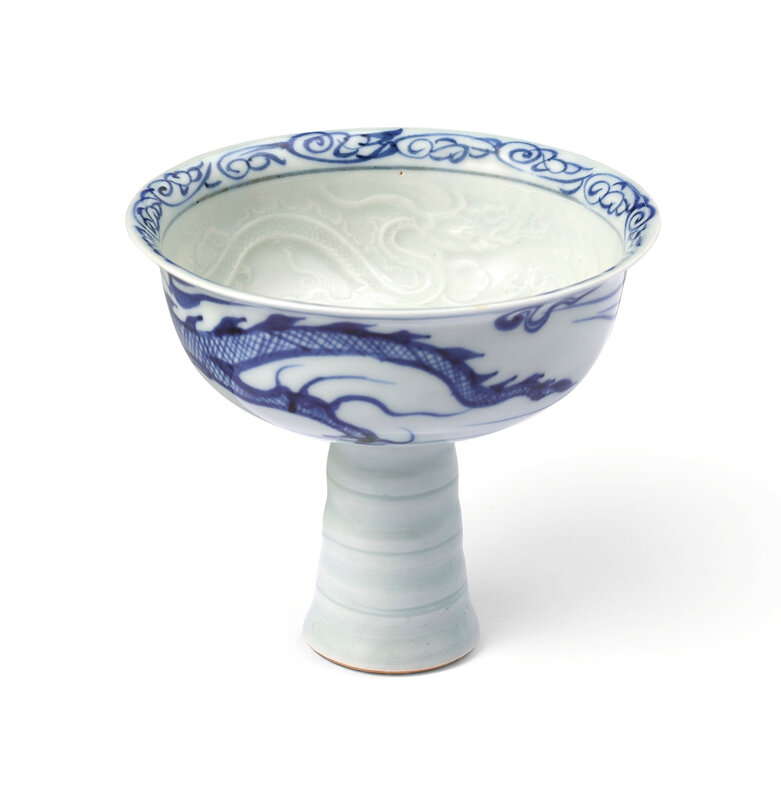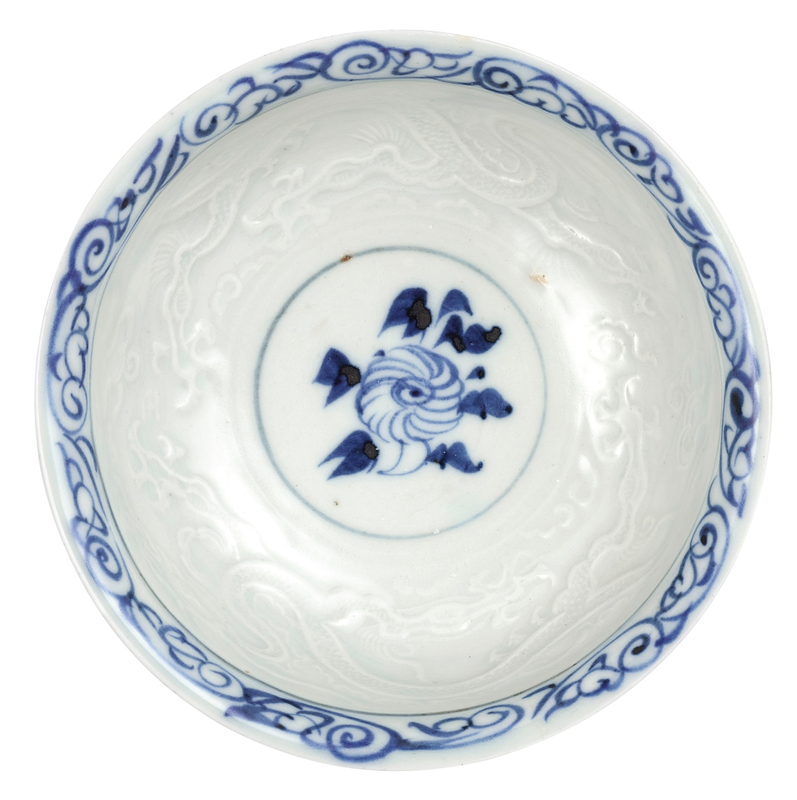 Lot 106. A superb and rare blue and white moulded 'Dragon' stem cup, Yuan dynasty (1279-1368); 1d. 11.5 cm, 4 1/2 in. Estimate: HK$6,000,000 — 8,000,000/ US$ 764,280 - 1,019,040. Lot Sold 6,175,000 HKD (795,402 USD). Courtesy Sotheby's.
the wide, flared cup with rounded sides rising to an everted rim, supported on a hollow splayed stem with horizontal bamboo-node ridges emphasised by incised lines, the interior crisply moulded around the well with two four-clawed dragons striding among flames in pursuit of a flaming pearl, one with the character yu (jade) in front of its foremost claw, set around a central medallion boldly painted in an outstanding shade of dark cobalt blue with a chrysanthemum spray within a moulded double-line border, all under a classic scroll at the rim, the exterior decorated in underglaze blue with a single three-clawed dragon with wide open jaws, a slender undulating body and scales finely detailed by cross-hatching, emitting flames and chasing a pearl between single line borders, the cup applied overall with a smooth transparent glaze slightly tinged to blue and thinning to white on the moulded designs on the interior, the interior of the stem and footring left unglazed and fired pale orange.
Provenance: Collection of Stephen Junkunc III (1905-1978).
Christie's Hong Kong, 25th October 1993, lot 718.
Exhibited: Blue-Decorated Porcelain of the Ming Dynasty, Philadelphia Museum of Art, Philadelphia, 1949, cat. no. 4.
Note: While a number of 14th century blue and white stem cups of this form and decoration are known in museums and private collections, the present example is especially fine for the lively depiction of the dragon, the expertly applied crisp glaze and the vividness of the cobalt blue. It is evident that the piece was highly prized by its owners over the past seven centuries. The artist has executed the dragon chasing 'flaming pearls' in a free and vigorous fashion, bringing this mythical creature to life. While the meaning of the yu character, found in the interior of the vessel moulded in front of a dragon's foremost claw, remains a matter of debate, it may represent a grading system with the yu, meaning 'jade', added to especially fine pieces. Some consider it part of the decoration representing the meaning 'jewel' (bao) and associated with the flaming pearl.
For related stem cups, decorated both with dragons and phoenix, see those excavated from the Yuan city site at Jininglu in Inner Mongolia included in Chen Yongzhi ed., Porcelain Unearthed from Jininglu Ancient City Site in Inner Mongolia, Beijing, 2004, pl. 46 for a dragon stem cup, pls 42-4 for three stem cups decorated with phoenix, and p. 12 for several pieces packed together in a jar as found on site. Another example, excavated from the tomb of the eminent Ming official Wang Xingzu, datable to the fourth year of Hongwu (1371), in the Nanjing Museum, is published in Wang Qingzheng, Underglaze Blue and Red, Hong Kong, 1993, pl. 33; and a third, in the Art Museum, Chinese University of Hong Kong, was included in the exhibition Yuan and Ming Blue and White Ware from Jiangxi, Jiangxi Provincial Museum, Nanchang, 2002, cat. no. 15. Compare a related stem cup, but with stiff leaves encircling the foot, in the Palace Museum, Beijing, illustrated in The Complete Collection of Treasures of the Palace Museum. Blue and White Porcelain with Underglazed Red (I), Shanghai, 2000, pl. 12.
See also a stem cup in the British Museum, London, published in Jessica Harrison-Hall, Ming Ceramics in the British Museum, London, 2001, pl. 1:24; two similar stem cups from the collections of Mrs O. Harriman and Lord Cunliffe, included in the exhibition Chinese Blue and White Porcelain: 14th to 19th Centuries, The Oriental Ceramic Society at the Arts Council Gallery, London, 1953-3, cat. nos 11 and 12 respectively; and a fourth example from the R.H.R. Palmer and Jingguantang collections, sold several times at auction and most recently in these rooms, 9th October 2012, lot 17, from the Meiyintang collection.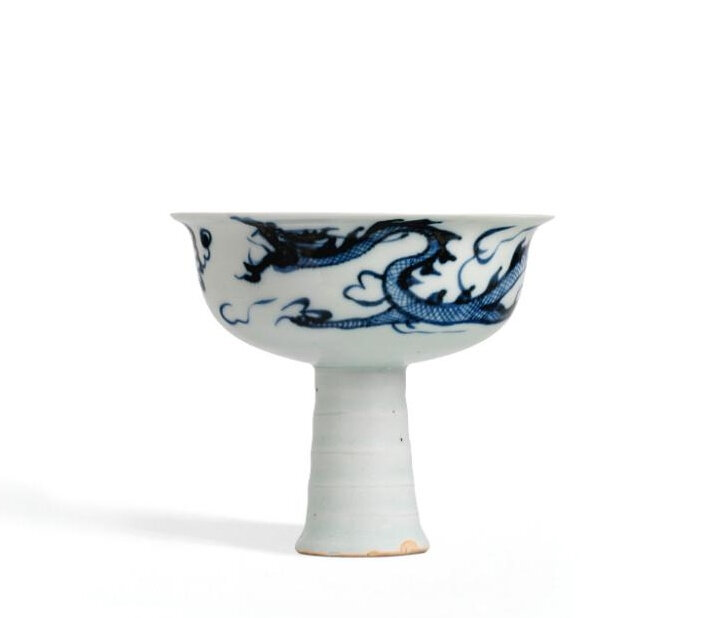 From the Meiyintang Collection. A Fine And Rare Blue And White Moulded "Dragon" Stemcup, Yuan Dynasty, Early-Mid 14th Century. Diametre: 11.5 cm. Sold for 12,420,000 HKD at Sotheby's Hong Kong, 9th October 2012, lot 17. Photo Sotheby's.
Cf. my post: Sotheby's Hong Kong to hold Fine Chinese Ceramics and Works of Art Autumn Sales on 9 October 2012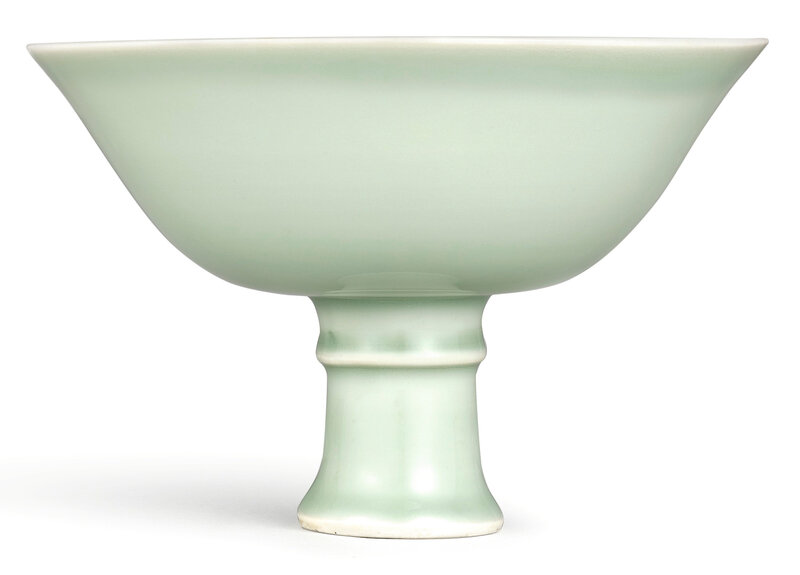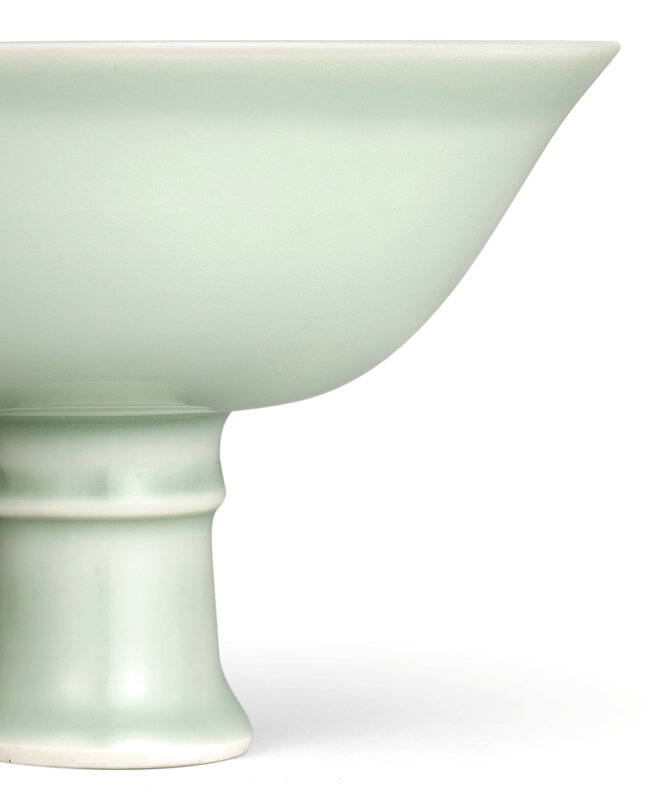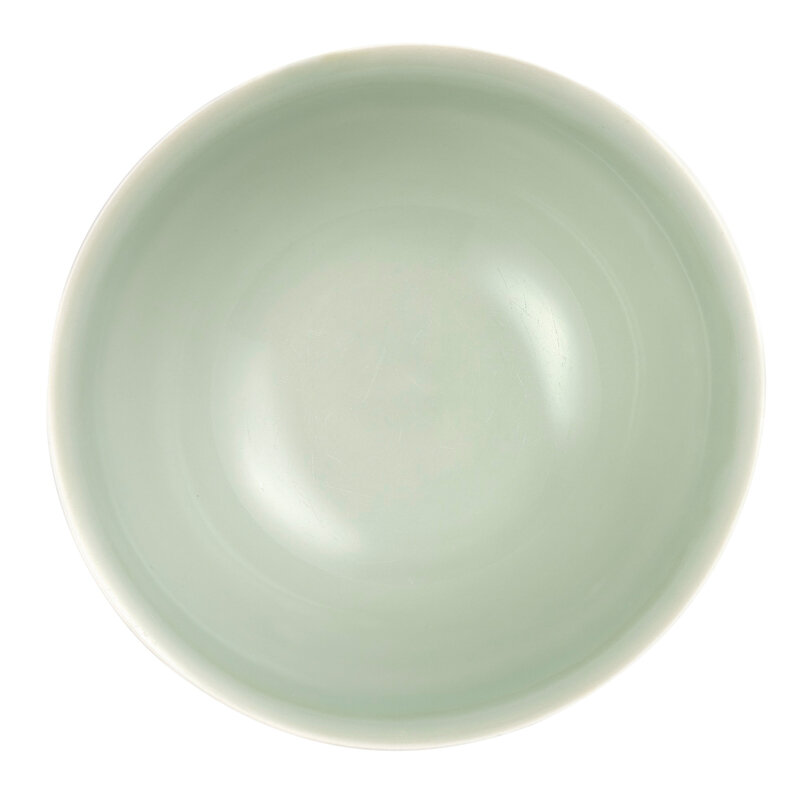 Lot 101. An outstanding and extremely rare wintergreen-glazed stem bowl, Ming dynasty, Yongle period (1403-1425); d. 16.3 cm, 6 3/8 in. Estimate: HK$3,000,000 — 5,000,000/ US$ 382,140 - 636,900. Lot Sold 3,750,000 HKD (483,038 USD). Courtesy Sotheby's.
finely potted, the bowl with steep rounded sides rising to a gently flaring rim, all supported on a splayed hollow stem with a raised horizontal ridge simulating bamboo node, delicately applied with a superbly fired flawless, translucent wintergreen glaze of ideal tone, thinning to white at the rim and subtly pooling to a darker shade above the foot, at the joint between the stem and the bowl, along the raised ridge and just below the rim, the interior of the stem applied with a transparent glaze slightly tinged to green, the footring left unglazed revealing a smooth pure white biscuit.
Wintergreen – An Auspicious Colour
Regina Krahl
'Wintergreen' (dongqing) is undoubtedly one of the rarest and most enchanting porcelain glaze colours developed by the imperial kilns of Jingdezhen. As a more poetic alternative for the word 'evergreen', 'wintergreen' and is used in China to identify many different plants, in particular the Chinese ilex, a plant also known as wannianzhi ('ten thousand year branches'). The term – and the colour – thus reverberate with good wishes for a long life.
The Yongle reign (1403-1424) is noted for the dramatic changes and innovations introduced to China's porcelain production, as the kilns came under direct supervision from the court. No other reign, except perhaps the Yongzheng period three centuries later (1723-1735), is marked by such an abundance of new shapes, styles, colours and designs, a sea change so fundamental, that thereafter no real innovation took place for centuries.
The subtle pale green hue that makes the particular charm of 'wintergreen' appears to have been devised to echo the sea-green tone of the finest contemporary celadon wares from the Longquan kilns. In the Yongle period, the kilns of Jingdezhen in Jiangxi and those of Longquan in Zhejiang were working side by side to specifications from the court, but not in direct competition with each other. While both kiln centres were recruited to produce the large, sturdy vessels that were intended to be sent abroad as diplomatic gifts, the Jiangxi workshops alone, with their pure white body material and their more exacting potting, glazing and firing, appear to have been in the business of supplying the court with the refined smaller vessels the Emperor might have come in direct contact with, such as this stem bowl.
Stem bowls of less distinctive shape and much cruder workmanship had been produced at both kiln centres at least since the Yuan dynasty (1279-1368), and those from Longquan kilns often already showed the bamboo-node detail at the stem, but simply indicated by two incised parallel lines (see Zhu Boqian, Longquan yao qingci/Celadons from Longquan Kilns, Taipei, 1998, pls 199 and 200). Yet, these predecessors have little in common with Yongle stem bowls such as the present piece. The strict supervision from the court caused not only an unprecedented refinement of material and craftsmanship, but also introduced a very intentional calibration of proportions, probably due to a design emanating from the drawing board rather than directly from the potter's wheel. The superb silhouette of the present piece, and its remarkable even colouration, with a subtle natural gradation where it pools and contrasting white edges where it drains, are features that we have come to expect from Yongle imperial porcelain.
In the Ming dynasty (1368-1644), stem bowls had a distinct Buddhist connotation. The strong belief of the Yongle Emperor in Tibetan Buddhism initiated an unprecedented flowering of works of art ordered from various imperial workshops for use in Buddhist ceremonies, from Buddhist gilt-bronze sculptures over lacquer sutra cover to many other accoutrements and votive items in different media, including porcelain. Stem bowls were either used in Buddhist ceremonies in the imperial palaces, or bestowed on high-ranking Tibetan Buddhist clerics and their monasteries. Several fine early Ming stem bowls are still preserved in Tibet, where they may have been used together with monk's cap ewers; see Xueyu cangzhen. Xizang wenwu jinghua/Treasures from Snow Mountains. Gems of Tibetan Cultural Relics, Shanghai Museum, Shanghai, 2001, cat. nos 93-97. Elaborate fitted cases made for transport or storage, are testimony to the high esteem in which they were held (ibid., cat. nos 95 and 99).
At the Qing court (1644-1911), early Ming stem bowls were valued as objects of beauty and displayed sitting in sizeable wooden stands, encompassing and completely hiding their stem, but protecting them against toppling. A monochrome white stem bowl, almost certainly also of the Yongle period, is depicted with its stand in the Guwantu [Pictures of antiquities] of 1729, preserved in the Victoria and Albert Museum, London, and illustrated in China. The Three Emperors. 1662-1795, Royal Academy of Arts, London, 2005, cat. no. 169, p. 255 bottom right.
Only two other stem bowls of this 'wintergreen' colour and with this 'bamboo-node' stem appear to be recorded, one in the Palace Museum, Beijing, illustrated in The Complete Collection of Treasures of the Palace Museum. Monochrome Porcelain, Hong Kong, 1999, pl. 124 (fig. 1), the other sold in our London rooms, 7th April 1981, lot 252, and again in these rooms, 11th May 1983, lot 105.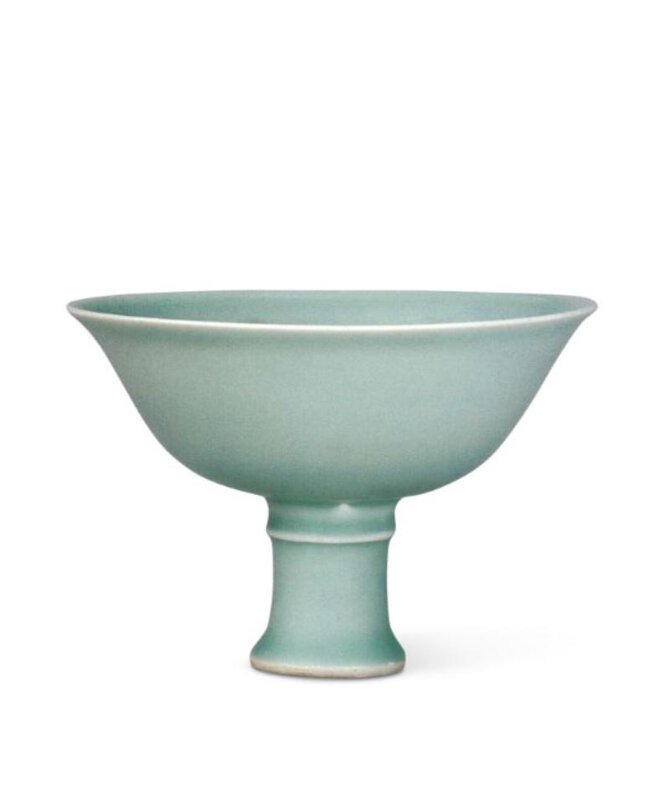 fig. 1. Wintergreen-glazed stem bowl, Ming Dynasty, Yongle period (1403-1425). © Collection of Palace Museum, Beijing.
A few 'wintergreen' stem bowls lacking the 'bamboo-node' detail are also recorded from the Yongle reign: one in the Tibet Museum, see Xizang Bowuguan cang Ming Qing ciqi jingpin/Ming and Qing Dynasties Ceramics Preserved in Tibet Museum, Beijing, 2004, pl. 26; another, with slight damage, in the Palace Museum, illustrated in Geng Baochang, ed., Gugong Bowuguan cang gu taoci ciliao xuancui [Selection of ancient ceramic material from the Palace Museum], Beijing, 2005, vol. 1, pl. 88; and one was sold in these rooms, 19th November 1986, lot 215, and again 8th October 2013, lot 3028. A single 'wintergreen' example also exists with anhua dragons around the interior and a four-character Yongle mark incised in the centre inside, sold in these rooms 24th November 1981, lot 133, and again in our New York rooms, 22nd March 2001, lot 90.
A fine and extremely rare 'Wintergreen' glazed stembowl, Ming Dynasty, Yongle Period (1403-1424); diameter 15.1 cm, 6 in. Sold for 7,840,000 HKD at Sotheby's Hong Kong, 8th October 2013, lot 3028. Photo: Sotheby's
Cf. my post: A fine and extremely rare 'Wintergreen' glazed stembowl, Ming Dynasty, Yongle Period (1403-1424)
After the Yongle period, this subtle coloration, which requires impeccably prepared materials and utmost control of the firing, was soon abandoned and properly revived only in the Yongzheng reign. The imperial kilns also developed some other related pale green glaze colours in this period, such as the more bluish cuiqing ('kingfisher green') colour seen on small jars (as sold in these rooms, 8th October 2009, lot 1624), but these different shades seem to have been designated to particular shapes and were fired to incredible precision. Only in the Yongzheng reign had the potters once more regained the ability to create at will such closely related, but clearly distinguishable glaze tones.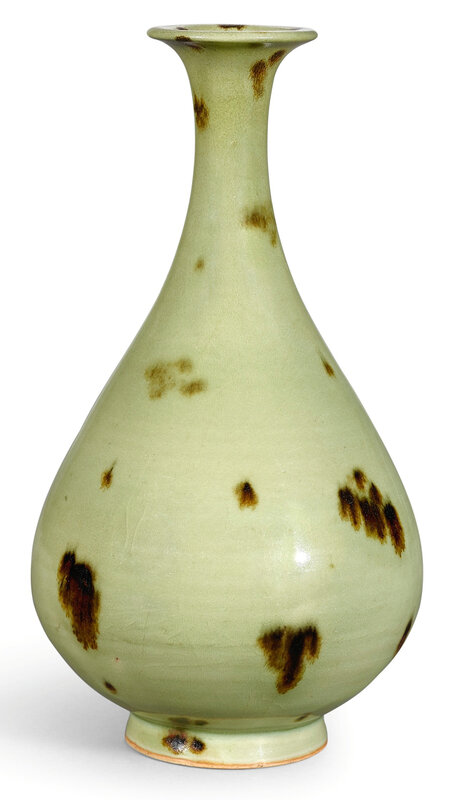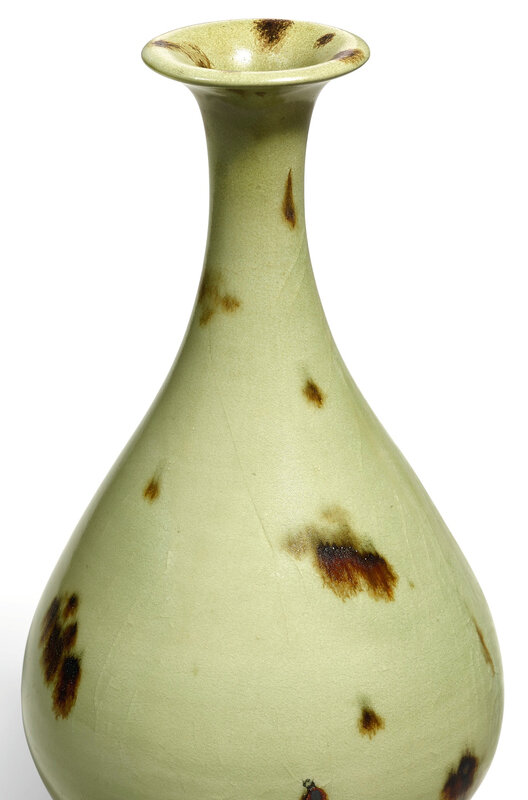 Lot 103. A rare Longquan celadon tobi seiji pear-shaped vase, yuhuchunping, Yuan dynasty (1279-1368); 26 cm, 10 1/4 in. Estimate: HK$2,000,000 — 3,000,000/ US$ 254,760 - 382,140. Unsold. Courtesy Sotheby's.
delicately potted with a pear-shaped body rising from a splayed foot to a waisted neck and elegantly sweeping up to a flared rim, covered overall in a thick sage-green glaze whimsically applied with dabs of irregular iron-brown splashes, the glaze stopping neatly at the unglazed footring revealing the light grey body.
Note: The elegance of the present vase is captured in its long slender neck and gentle curves outlining its attractive silhouette. The spontaneous dabs of russet spots, distributed neither evenly nor randomly, softly dissolve into the bright sea-green glaze. These iron-decorated Longquan celadon wares, despite their subtle elegance, were produced only during the Yuan dynasty, and the present vase is extremely rare, with only four other known examples.
The history of the Longquan kilns can be traced back to at least the Song dynasty (960-1279). By the Yuan dynasty (1271-1368), the kilns successfully produced wares in a range of bright jade-green tones, which set themselves apart from the muted celadon colour spectrum dominant in the preceding era and developed into the signature product of the kilns. Spreading over a large part of Zhejiang province, the Longquan kilns were conveniently located within reach of the trade ports of Wenzhou and Quanzhou, from where merchandise could be shipped to foreign markets in the Far East, Southeast Asia, India and the Middle East. This advantage was fully exploited in the Yuan dynasty and large quantities of wares were made for foreign markets. A huge quantity of large-scale vessels was produced to satisfy export demand. At the same time, new decorative techniques were deployed to revitalise traditional forms, as seen in the present example. Although the use of iron spots on celadon wares was observed on Yue wares from the late Western Jin dynasty (256-316), it was discontinued and only revived by the Longquan kilns in the Yuan dynasty. The russet spots effect is achieved by applying iron-rich pigment to the thick layer of celadon glaze before firing. The tea-brown patches, scattered like a shower of petals, are praised by the Japanese tea masters as tobi seiji – a term probably referring to the random distribution of the brown spots (see Kobayashi Hitoshi, 'Guobao feiqingci huasheng kao [On the National Treasure tobi seiji hanaike]', Chen Xin, trans., Zhongguo gu taoci yanjiu. Longquan yao yanjiu/The Research of Longquan Kiln, Beijing, 2011, p. 403). Despite its simplicity and beauty, the production of this type of wares lasted only for a short period of time, and the iron spots soon became much smaller and their distribution more restrained and regular.
Only four other examples of comparable form, size and decoration from the Yuan dynasty are known. The most famous among them is the National Treasure tobi seiji hanaike. Formerly in the collection of the Konoike family, it is now in the collection of the Museum of Oriental Ceramics, Osaka (accession no. 00556), and included in the catalogue to the exhibited Yūkyū no kōsai. Tōyō tōji no bi. Osaka shiritsu tōyō tōji bijutsu kan korekushon/The Museum of Oriental Ceramics, Osaka Collection: The Eternal Beauty and Luster of Oriental Ceramics, Tokyo, 2014, cat. no. 21 and cover (fig. 1). Another related vase from the Eumorfopoulos collection, is preserved in the Victoria and Albert Museum and published in Stacey Pierson, Chinese Ceramics: A Design History, London, 2009, pp. 88-89, fig. 128 (accession no. C.24-1935). A further example is in the Baur collection, reputed to originate from Japan, illustrated by John Ayers, Chinese Ceramics in the Baur Collection, Geneva, 1999, vol. 1, pl. 42 (A104). The fourth example, designated as an 'Important Cultural Property' in 1935, belongs to a Japanese private collection and is included in Koyama Fujio, ed., Sekai tōji zenshū/Catalogue of World's Ceramics, vol. 10: Sung and Liao Dynasties, Tokyo, 1955, pl. 49.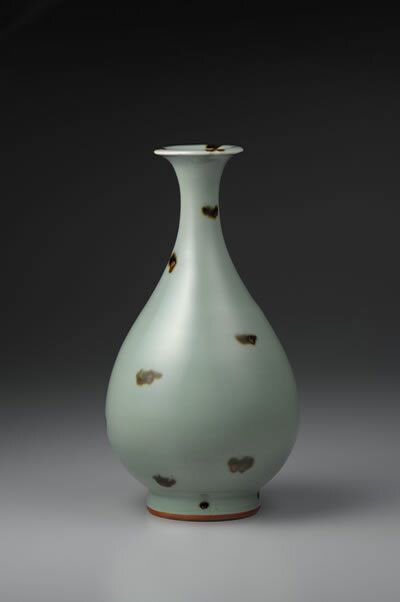 fig. 1. Longquan celadon tobi seiji pear-shaped vase, yuhuchunping, Yuan dynasty (1279-1368). Photo by Tomohiro Muda, Ataka collection. © The Museum of Oriental Ceramics, Osaka.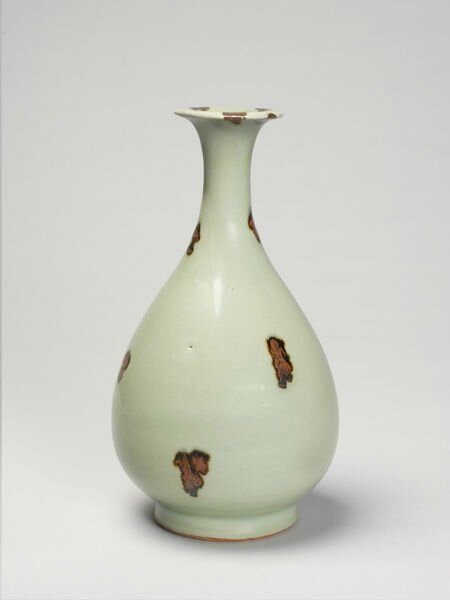 Stoneware bottle with iron spot decoration and green 'celadon' glaze, Longquan ware, China, Yuan dynasty (1279-1368). Purchased with the assistance of The Art Fund, the Vallentin Bequest, Sir Percival David and the Universities China Committee, C.24-1935 © Victoria and Albert Museum, London 2016.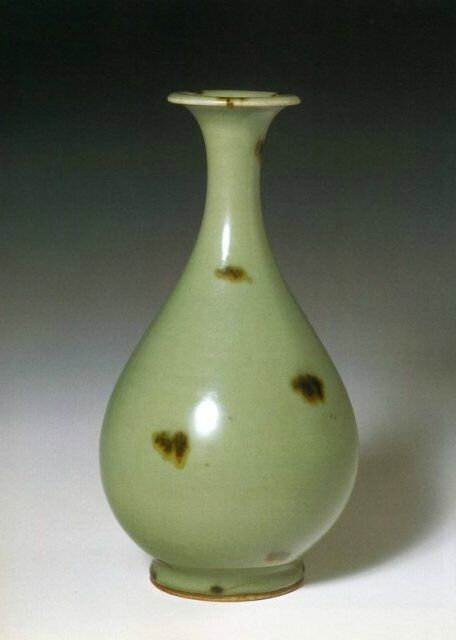 A tobi seiji pear-shaped vase, yuhuchunping, Yuan dynasty. Bauer Collection Geneva.
All the above examples are preserved outside of China. A few related yuhuchun vases of similar size have been excavated from cellars in China, but they, without the iron spots, belong to the more common celadon group; see Zhongguo taoci quanji [Complete series on Chinese ceramics], vol. 10: Yuan dynasty (I), Shanghai, 2000, pls 27-28 and 30.
Compare also Longquan iron-decorated wares of other forms. A related ring-handled vase is in the collection of the Shanghai Museum and published by Zhu Boqian, Longquan yao qingci/Celadons from Longquan Kilns, Taipei, 1998, pl. 155. A yenyen vase from the Sir Percival David Foundation, said to be formerly in the Sakai family collection in Japan, is now in the British Museum and included in Regina Krahl and Jessica Harrison-Hall, Chinese Ceramics: Highlights of the Sir Percival David Collection, London, 2009, pl. 20. See also a garlic-mouth vase in the Ise Cultural Foundation, included in Chūgoku tōji meihin-ten: Ise korekushon no shihō/Masterpieces of Chinese Ceramic Art Exhibition: Treasure of Ise Collection, Ishikawa Prefectural Museum of Art, Kanazawa, 2012, cat. no. 41, and a related pair from the Yangdetang collection, sold at Christie's Hong Kong, 30th November 2016, lot 3133. Compare also a dish in the Baur collection, included in Ayers, op.cit., pl. 43 (A105). A related pouring vessel yi and a tripod stand, both dated to the 14th century, are preserved in the National Palace Museum, Taipei, and exhibited in Tsai Mei-fen, ed., Bilü – Mingdai Longquan yao Qingci/Green – Longquan Celadon of the Ming Dynasty, Taipei, 2009, cat. nos 157-158 (accession nos Gu ci 17375, 17829). Related vessels of various forms were also recovered from a ship that, on its way to Japan in 1323, sank off the coast of Korea. Two examples among this group are a biscuit-decorated dish and another yi pouring vessel, now in the National Museum of Korea and included in The Sunken Treasures off the Sinan Coast, Tokyo, 1983, cat. nos 22-23.
This type of tobi seiji vessel, as discussed above, is extremely rare, and most of the extant examples are either kept in Japan or have arrived overseas by way of Japan. Kobayashi suggested that this group of Longquan wares was in fact made for the Japanese market. His hypothesis can explain the popularity of iron-decorated Longquan celadon in Japan and the small quantity of relevant excavated and heirloom pieces in China (op.cit., p. 413). In fact, during the Yuan dynasty, Qingbai wares with brown spots were also produced for export, but they are generally less refined than their Longquan counterparts; see Ye Peilan, Yuandai ciqi [Porcelain of the Yuan dynasty], Beijing, 1998, pp. 247-8, pls 428-437.
Sotheby's. Six Treasures from an Important Private Collection, Hong Kong, 03 Apr 2019, 10:35 AM