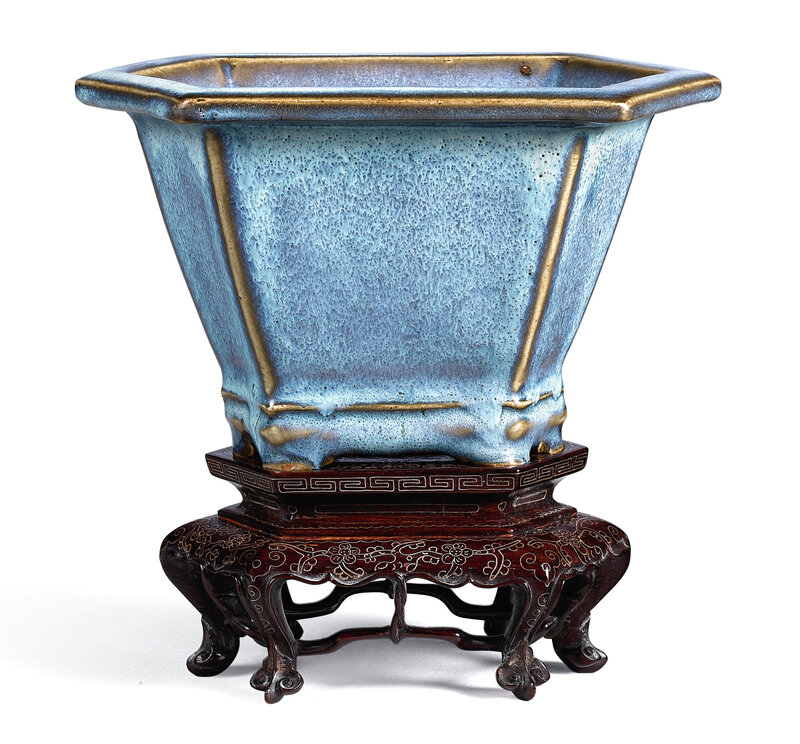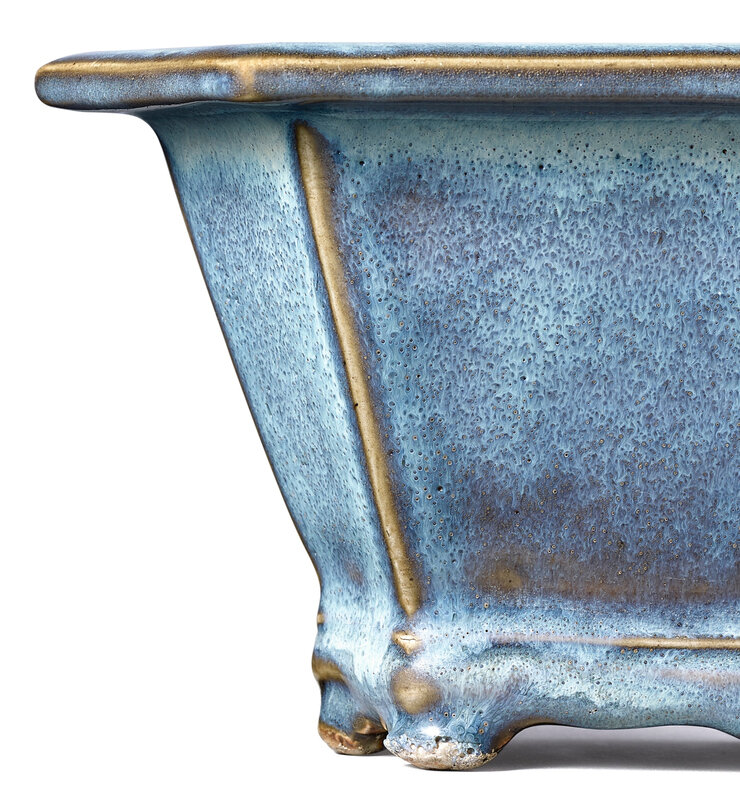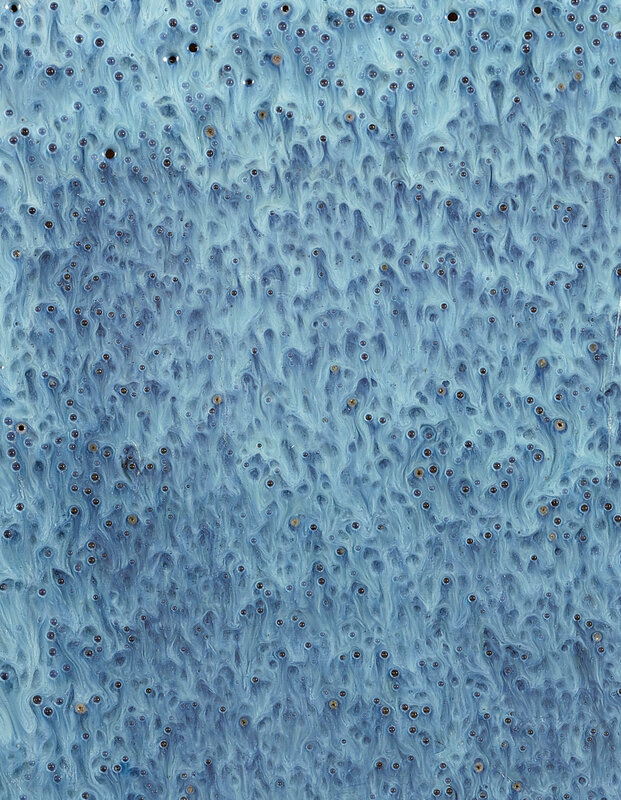 Lot 3308. An Extremely Rare Jun Blue-Glazed Hexagonal Flower Pot, Early Ming Dynasty; 16.4 cm, 6 1/2 in. Estimate: HK$10,000,000 - 15,000,000/ US$ 1,280,000 - 1,920,000. Lot Sold 12,175,000 HKD (1,568,262 USD). Courtesy Sotheby's.
of hexagonal section, the straight sides flaring steeply to an everted rim, all supported on a stepped base with six short feet, covered overall with a rich cascading lavender-blue glaze thinning to pale olive-green at the edges, the base pierced with five small circular apertures and incised with a shi character (ten), silver-inlaid wood stand.
Provenance: A Hong Kong private collection.
Sotheby's London, 9th November 2011, lot 365.
Note: Jun ware, which derives its beauty from the striking and thick opaque glaze of varied bright blue coloration, was made in Junzhou Prefecture (present Yuzhou), Henan province. Among the products of these kilns are a small number of flower pots such as the present piece, which were inscribed on the underside before firing with a Chinese numeral ranging from one (the largest) to ten (the smallest), indicative of their size and matching stands; hence their name 'Numbered Jun' wares.
Traditionally ascribed to the Northern Song dynasty, there has been much debate on the dating of numbered 'Jun' wares, however recent research seems to confirm a 15th century date. As explained in Jessica Harrison-Hall, Ming 50 Years That Changed China, British Museum, London, 2014, pp. 92-97, examples of this numbered group have not been found in any context other than the Beijing palace. None have been discovered elsewhere in China or farther afield, nor have any been excavated from tombs. Additionally the method of construction using double moulds did not exist until the early 15th century when it was created by potters at the Henan kilns. The author concludes that they were commissioned by the Yongle and Xuande Emperors for the new imperial palace where they were displayed and admired throughout the Ming and Qing dynasties.
A slightly larger flower pot of this hexagonal form inscribed with the Chinese numeral ba (eight) on the base, from the Qing court collection and now preserved in the Palace Museum, Beijing, is illustrated in The Complete Collection of Treasures of the Palace Museum. Porcelain of the Song Dynasty (I), Hong Kong, 1996, pl. 22 (fig. 1). Shards of these six-footed hexagonal pots, were also excavated in 1974 at Juntai, Yuzhou, and illustrated in Selection of Jun Ware. The Palace Museum's Collection and Archaeological Excavation, Beijing, 2013, pl. 81. Flower pots of this hexagonal shape is extremely rare, as they are usually known in deeper, lobed mallow-shaped forms, such as one sold in these rooms 8th April 2013, lot 3046.
fig. 1. Jun sky-glazed hexagonal flower pot, late Ming dynasty. © Collection of the Palace Museum, Beijing.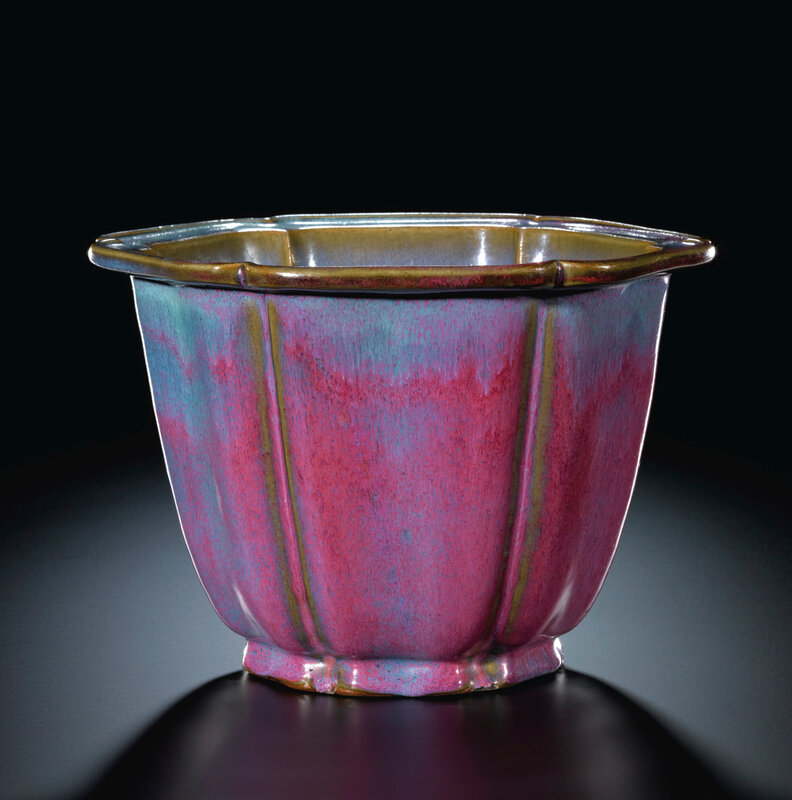 A magnificient and rare 'Jun' mallow-shaped lavender-glazed Imperial flowerpot, Ming dynasty, early 15th century; height 19 cm., 7 1/2 in.; diameter 27.3 cm, 10 3/4 in. Sold for 16,840,000 HKD at Sotheby's Hong Kong, 8th April 2013, lot 3046. Photo Sotheby's
Cf. my post: A magnificient and rare 'Jun' mallow-shaped lavender-glazed Imperial flowerpot, Ming dynasty, early 15th century
Much admired from the Qing dynasty onwards, these Jun flower pots continue to elicit appreciation as well as provocation. The Yongzheng and Qianlong Emperors were great admirers of these fascinating vessels of opalescence. According to the records of the Imperial Palace Workshops (Zaobanchu) dated to the 21st year of the Qianlong reign (1756), the Emperor would command original numerals engraved on these flower pots to be effaced and incised with new numbers. There are currently about 20 vessels with these later engraved numbers known, all dispersed amongst the Emperor's studies, residences and gardens. A hexagonal stand of this form but in larger size, with its original numeral qi (seven) effaced and engraved later in the Qianlong period with a Yangxindian (Hall of Mental Cultivation) mark, from the National Palace Museum, Taipei, is included in the museum's exhibition, The Enchanting Splendor of Vases and Planters: A Special Exhibition of Flower Vessels from the Ming and Qing Dynasties, Taipei, 2014, pl. I-07.
Sotheby's. Fine Imperial Porcelain from a Distinguished Private Collection, Hong Kong, 03 Apr 2019, 10:20 AM