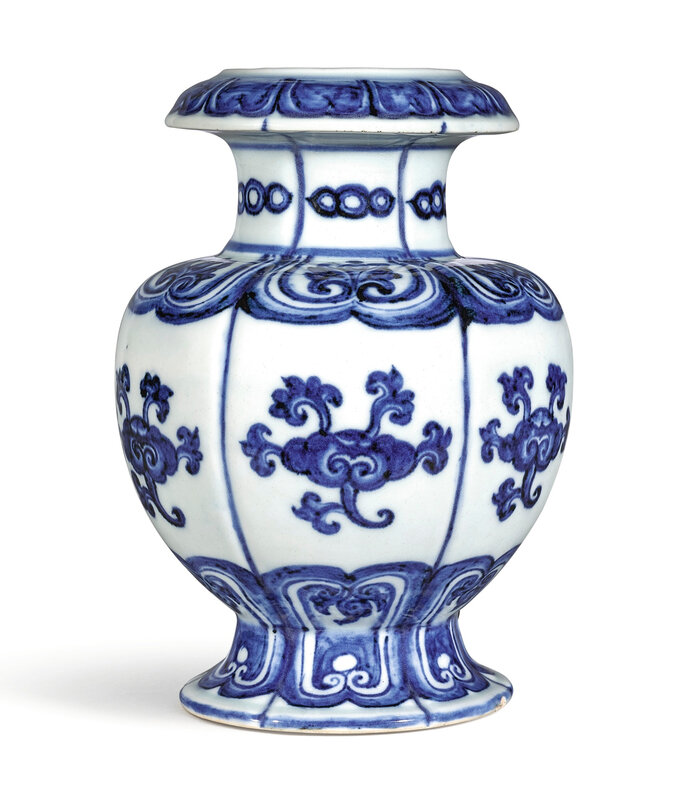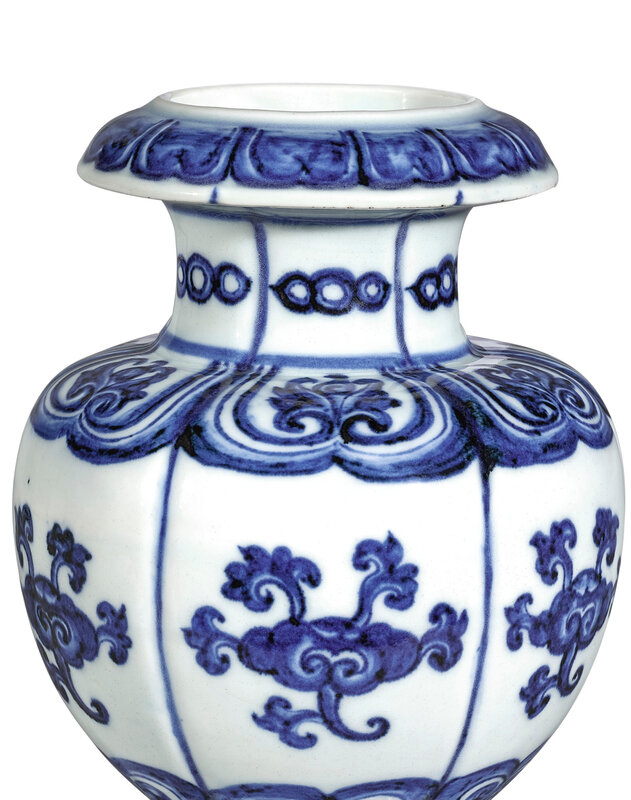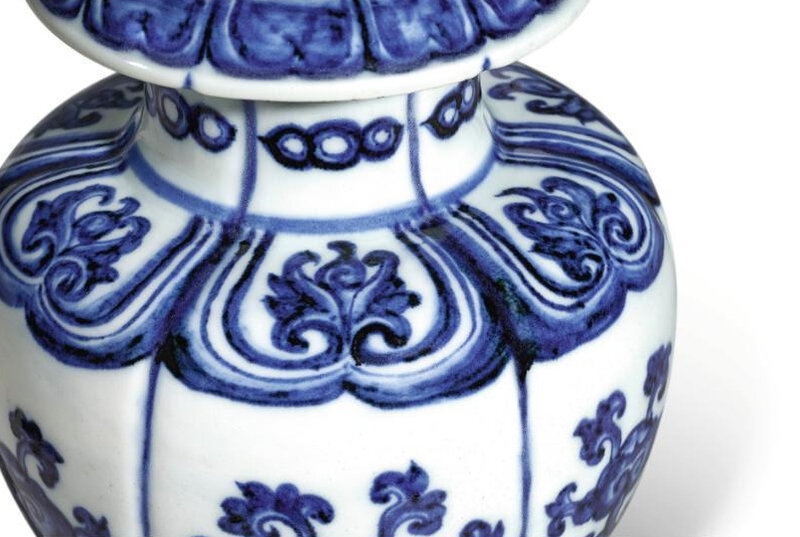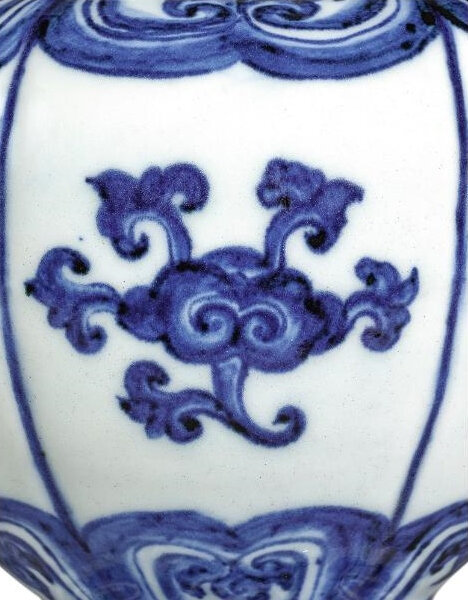 Lot 3629. An Outstanding And Rare Blue And White 'Pomegranate' Vase, Ming Dynasty, Yongle Period (1403-1425); 18.7 cm, 7 3/8 in. Estimate: HK$18,000,000 - 25,000,000. Lot sold 22,015,000 HKD (2,835,752 USD). Courtesy Sotheby's.
modelling after a metal prototype, superbly potted with a baluster body divided into six lobes, rising from a tall splayed foot to a waisted cylindrical neck, elegantly sweeping up to an out-turned rim with rolled lip simulating a pomegranate fruit, the exterior painted in rich cobalt-blue tones in the 'heaped and piled' effect, depicting on each lobe a lingzhi spray with radiating trefoil leaves between lappet bands, the neck similarly decorated with three joined circles, all divided by vertical line borders at the ribs, the everted rim and the foot encircled by broad pendent lappets, covered overall in a thick transparent glaze save for the unglazed footring.
Provenance: Sotheby's Hong Kong, 30th October 2000, lot 101.
Literature: Sotheby's: Thirty Years in Hong Kong, Hong Kong, 2003, pl. 240.
Julian Thompson, The Alan Chuang Collection of Chinese Porcelain, Hong Kong, 2009, pl. 8.
The 'Treasure Vase': An Archetypal Yongle Design
Regina Krahl
This unusual form appears to have been produced at Jingdezhen only under the Yongle (r. 1403-1424) and Xuande (r. 1426-1435) Emperors and the preference of this design in these two reigns may be related to these rulers' active patronage of Buddhism. Vases of similar form with a prominent galleried rim and high foot, similarly decorated with lotus petals and with the same triple pearl or jewel motifs at the neck, but flower instead of lingzhi sprays, are in the Yongle period often depicted in a Buddhist context. Draped with knotted ribbons and holding a triple flaming jewel on top, they are identified as the 'treasure vases' (bum-pa) of Tibetan Buddhism and represent one of the Eight Buddhist Emblems. 'Treasure vases' are considered inexhaustible vessels and as such symbolize the spiritual abundance of the Buddha. Vases of this type are depicted, for example, on gilt-engraved (qiangjin) lacquer sutra covers of the Yongle period; compare a detail from a sutra cover from the Baoyizhai collection, sold in these rooms, 8th April 2014, lot 38 (fig. 1).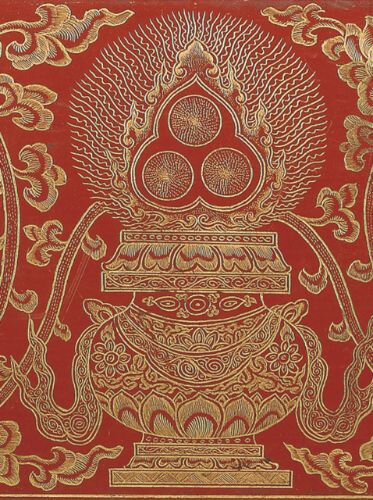 'Qiangjin' laquer sutra cover, Ming dynasty, Yongle period, detail. Sotheby's Hong Kong, 8th April 2014, lot 38.
With its downward pointing rim, the shape is very unusual and otherwise rarely seen in Chinese porcelain. Equally rare is the decoration of lingzhi sprays, pearl motifs and petal panels only. In China, the form is known as a 'pomegranate vase' (shiliu zun), probably on account of some likeness of the rim to the crown of sepals of a pomegranate. The form is reminiscent of earlier melon-shaped vases which, however, are lacking the distinctive rim and the splayed foot. Compare a silver vase discovered as part of a Southern Song (1127-1279) hoard of gold and silver wares at Pengzhou, Sichuan province, and now in the Pengzhou Municipal Museum, illustrated in Sichuan Pengzhou Songdai jin yin qi jiaocang [A Song dynasty hoard of gold and silver vessels at Pengzhou in Sichuan], Beijing, 2003, col. pl. 42, and p. 125, fig. 167.
Blue-and-white porcelain vessels of this design are known both without reign mark and inscribed with a Xuande mark. As happened frequently between the Yongle and Xuande periods, examples from the two reigns vary in detail. Julian Thompson, who discussed this vase in the Alan Chuang collection catalogue, states (op.cit., p. 52) that the design of these vases was adjusted when the mark was introduced, and that "the unmarked vases have a more domed mouth, shorter neck and a plain curved interior to the foot, whereas the marked vases have a flatter mouth, longer neck and a distinct glazed step inside the footring".
Another unmarked vase of this design in the National Palace Museum, Taiwan, was included in the Museum's exhibition Mingdai Xuande guanyao jinghua tezhan tulu/Catalogue of the Special Exhibition of Selected Hsüan-te Imperial Porcelains of the Ming Dynasty, Taipei, 1998, no. 13. An example excavated in Beijing and today in the Capital Museum, Beijing, is illustrated in Shoudu Bowuguan cang ci xuan [Selection of porcelains from the Capital Museum], Beijing, 1991, pl. 103. Two similar vases from the Wu Lai-hsi collection were sold in our London rooms, 26th May 1937, lots 31 and 32, the former again 16th June 1939, lot 106, from the collection of Major L.F. Hay; one of the Wu Lai-hsi vases is now in the Sir Percival David Collection in the British Museum, London, and was discussed and illustrated together with the Pilkington vase listed below in Margaret Medley, 'Regrouping 15th Century Blue and White', Transactions of the Oriental Ceramic Society, vol. 34, 1962-63, pl. 9; another from the collection of H.R.N. Norton, sold in our London rooms, 5th November 1963, lot 163, was included in the exhibition Mostra d'Arte Cinese/Exhibition of Chinese Art, Palazzo Ducale, Venice, 1954, cat. no. 630.
Vases of this design of Xuande mark and period are in the Palace Museum, from the Qing court collection, and in the National Museum of China, both in Beijing, the former illustrated in Geng Baochang, ed., Gugong Bowuyuan cang Ming chu qinghua ci [Early Ming blue-and-white porcelain in the Palace Museum], Beijing, 2002, vol. 1, pl. 100; the latter published in Zhongguo Guojia Bowuguan guancang wenwu yanjiu congshu/Studies on the Collections of the National Museum of China. Ciqi juan [Porcelain section]: Mingdai [Ming dynasty], Shanghai, 2007, pl. 33; and an example from the collections of Derek G. Ide (d. 1979) and Roger Pilkington (1928-1969) was sold in these rooms, 6th April 2016, lot 19 (fig. 2).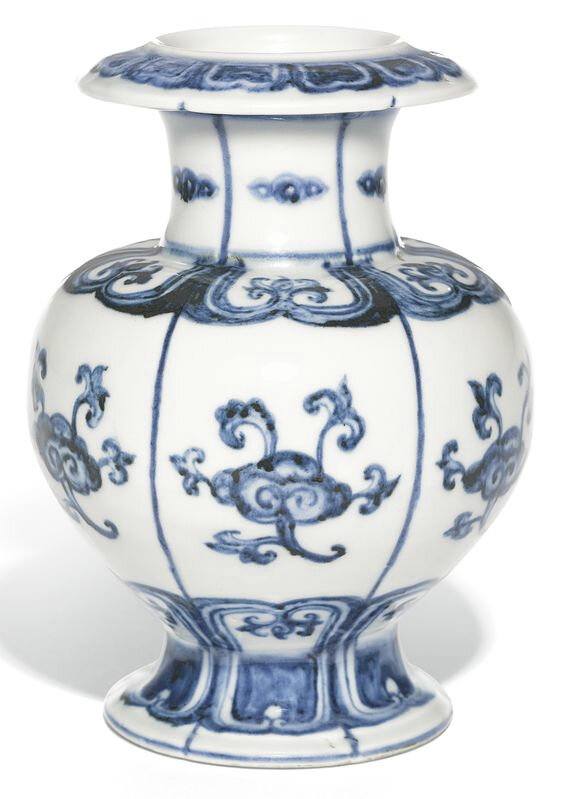 From the collections of Derek G. Ide (d. 1979) and Roger Pilkington (1928-1969). A rare blue and white 'pomegranate' vase, Mark and period of Xuande; 18.2 cm, 7 1/8 in. Sold for 44,440,000 HKD (5,729,649 USD) at Sotheby's Hong Kong, 6th April 2016, lot 19. Photo Sotheby's.
Cf. my post: A rare blue and white 'pomegranate' vase, Mark and period of Xuande
These porcelain vases may have inspired later cloisonné examples, perhaps studded with jewels; see a vase shown to the left of the Tianqi Emperor (r. 1621-7) in an official court portrait, included in the exhibition Power and Glory: Court Arts of China's Ming Dynasty, Asian Art Museum, San Francisco, 2008, p. 262, cat. no. 149.