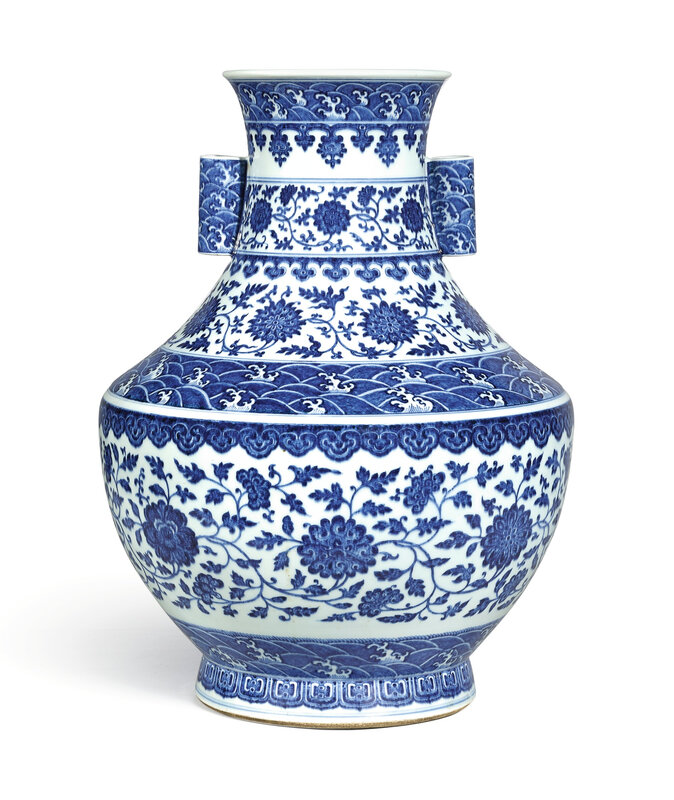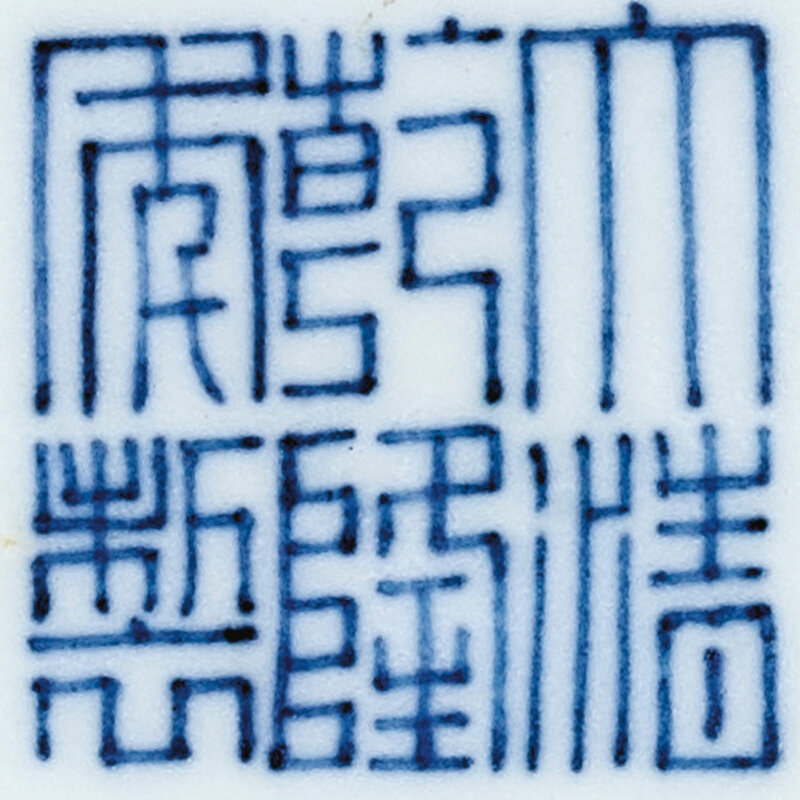 Lot 3633. A fine and large blue and white 'floral' vase, hu, seal mark and period of Qianlong (1736-1795); 52 cm, 20 1/2 in. Estimate 3,000,000 — 5,000,000 HKD. Lot sold 8,335,000 HKD (1,073,631 USD). Courtesy Sotheby's.
robustly potted with deep rounded sides rising to an angled shoulder and surmounted by a tall flaring neck flanked by a pair of tubular handles, richly decorated in brilliant cobalt tones around the sides with floral blooms borne on a continuous foliate stem, between bands of ruyi lappets around the shoulder and crashing waves interspersed with foam around the base, the neck divided into five main friezes, including two enclosing floral scrolls, two depicted with crashing waves and one rendered with pendent lappets, the handles further painted with crashing waves, all above a border of pendent lappets skirting the foot, the base inscribed with a six-character seal mark.
Provenance: Sotheby's Hong Kong, 15th May 1990, lot 169.
Note: The present vase is notable for its impressive size, fine potting and skilfully executed varying decorative bands, and represents the expertise of craftsmen working during the Qianlong reign. In order to satisfy his own flamboyant taste, the Qianlong Emperor is known to have commissioned artists working in the Imperial kilns at Jingdezhen to make pieces that were highly challenging and unconventional, often placing more emphasis on the showier aspects of production and on the virtuosity of craftsmanship. The refinement of the material allowed for the making of such large vessels, which provided a platform for artists to be ambitious in their repertoire.
The form of this vase required considerable expertise from the potter and is an adaptation of the Han ritual bronze vessel, hu. During the Han dynasty (206BC-AD220) vessels were produced in highly prized material such as bronze and were intended for use during ancestor worship rituals. This reference to archaic forms would also have been much appreciated by the emperor who was a great connoisseur and a keen collector of archaic pieces.
Further reference to China's celebrated past is seen in the intricately painted floral scrolls which were inspired by 15th century Ming dynasty blue and white porcelain. Painted in a brilliant deep blue glaze which reflects the high level of technical achievement by Qing craftsmen, Qing painters employed the 'heaping and piling' technique in the intention to simulate the stippled effect of the cobalt glaze typically found on early Ming pieces.
A closely related Qianlong vase sold in these rooms, 16th May 1977, lot 90, now in the Hong Kong Museum of Art, was included the Museum's exhibition The Wonders of the Potter's Palette, Hong Kong Museum of Art, Hong Kong, 1984, cat. no. 63. Compare also a vase from the collection of Sir Ralph Harwood, K.C.B., K.C.V.O., at one time Financial Secretary to King George V and Controller of the Royal Household, and believed to have been presented to him by Queen Mary, out of the Royal collections at Windsor Castle, sold in our London rooms, 7th June 1994, lot 358. Another vase of this type was sold in these rooms, 8th April 2009, lot 1604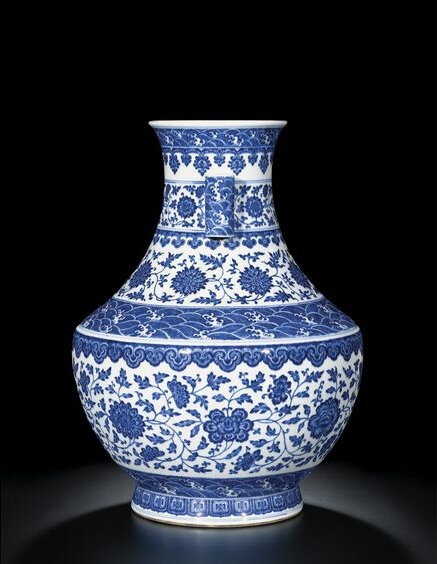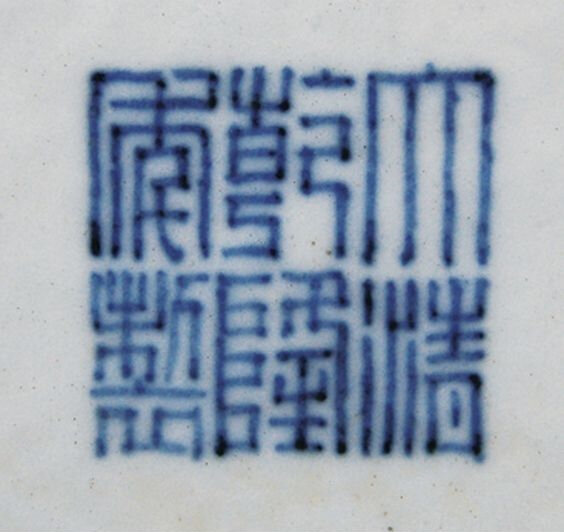 A Fine Large Blue and White Hu Vase with Handles, Seal Mark and Period of Qianlong (1736-1795); 52 cm, 20 1/2 in. Sold for 4,820,000 HKD at Sotheby's Hong Kong, 8th April 2009, lot 1604. Courtesy Sotheby's
modeled after a Han Dynasty archaic bronze vessel, the robust middle section meticulously painted in bright shades of cobalt blue with eight varieties of large peony blooms, each borned on a continuous scrolling tendril vine with attendant blooms, set between a ruyi head band draping the shoulders and a turbulent wave band around the base, the broad shoulders luted to the body with a subtle indentation sweeping up to a flaring neck flanked by a pair of tubular lug handles, the wave band decoration further repeated around the shoudlers, mouth and handles, with two registers of lotus flowers filling out the decoration around the neck, each containing scrolling foliate vines punctuated by large blooms, the base inscribed with a six-character reign mark in underglaze blue.
Provenance: Acquired in Europe in the 1960s.
Large vases of this type, but with a long cylindrical neck and no foot that derived from Xuande arrow vases, were produced during the Yongzheng reign. This Yongzheng form appears to have been copied by potters early in the Qianlong period before developing into a new form as exemplified by the present piece. Compare a Yongzheng vase similarly decorated with flower scrolls in the Palace Museum, Beijing, illustrated in Qingdai yuyao ciqi, vol. 1, pt. II, Beijing, 2005, pl. 178; and a rare Qianlong vase of related form but decorated with lotus flowers, sold at Christie's Hong Kong, 27th May 2008, lot 1579. For a Ming blue and white prototype, see a vase from the Qing court collection and still in the Palace Museum, Beijing, published in Geng Baochang ed., Gugong Bowuyuan cang. Ming chu qinghua ci [Early Ming blue and white porcelain in the Palace Museum], Beijing, 2002, vol. 1, pl. 82.