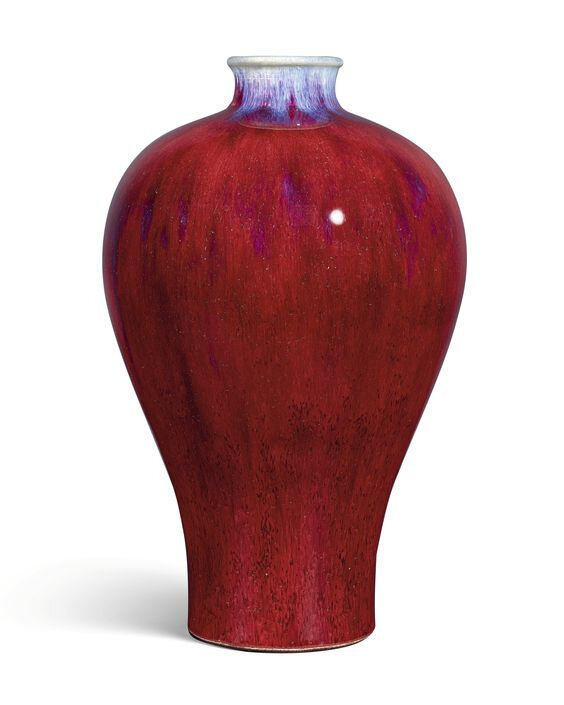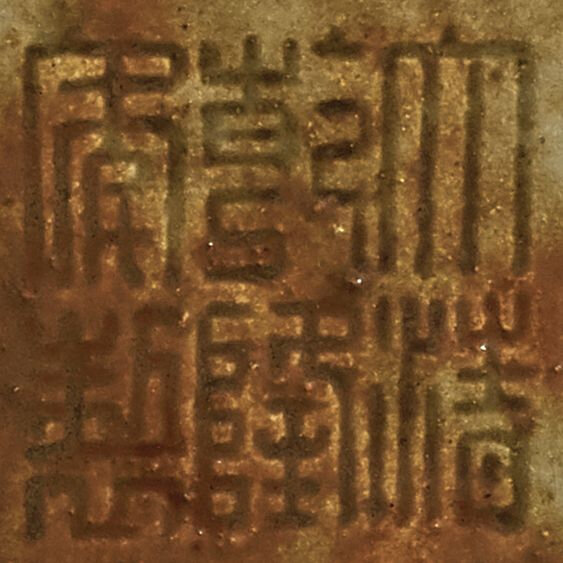 Lot 3653. An exceptional flambé-glazed vase, meiping, Incised seal mark and period of Qianlong (1736-1795); 34.9 cm, 13 3/4 in. Estimate 4,000,000 — 6,000,000 HKD. Lot sold 4,735,000 HKD (609,915 USD). Courtesy Sotheby's.
superbly potted with a tapering body sweeping up to a broad rounded shoulder, surmounted by a short waisted neck and lipped rim, covered overall with a brilliant rich deep red glaze with milky-blue and lavender streaks, thinning to pale sky-blue along the rim and stopping neatly around the unglazed footring, the base incised with a six-character seal mark and covered with a pale brown wash.
Provenance: Presented to Mr Gardner in 1908, and thence by descent.
Christie's New York, 17th September 2008, lot 496.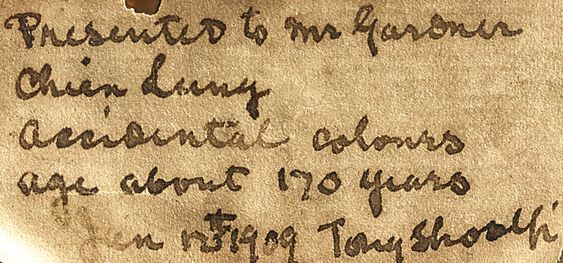 Note: The elegant form of this vase, with its gently swelling shoulders and tapering body, provides a perfect canvas for showcasing the striking hues of the streaky flambé glaze. Jun wares of the Song dynasty were held in high regard by countless generations, including at the Manchu court of the Qing dynasty. The Yongzheng and Qianlong Emperor were particularly attracted by this glaze and commissioned the then Superintendent of the Imperial kilns in Jingdezhen, Tang Ying (1682-1756) to create copies.
The technical ingenuity and high level of experimentation of the potters working at the imperial kilns in Jingdezhen is evident in the successful revival of Song glazes. Tang Ying is known to have gone to considerable lengths to emulate this glaze, even sending his secretary, Wu Yaopu and selected craftsmen to Junzhou in 1729, in order to work with local potters and obtain the recipe for reproducing Jun wares. The official list from 1735 on the Taocheng jishi bei ji (Commemorative stele on ceramic production), inscribed by Tang Ying, records no less than nine varieties of Jun glazes, of which five were based on Song originals that had been sent from the palace in Beijing to the imperial kilns in Jingdezhen.
The stunning glazes that were created at Jingdezhen in imitation of Jun wares were considered by contemporaries even more attractive than the original. Lan Pu in his Jingdezhen tao lu (Account of ceramics in Jingdezhen), published in 1815, exclaims: "the glaze is multi-coloured and has 'hare's fur' markings. The best is red like cosmetic rouge, then comes blue-green like spring onions or kingfisher feathers and purple like ink black… Jun ware red pieces that the ancients made were composed of rough, coarse-grained clay tinged with yellow, and though the glaze colour is lively they are not fine pieces. Today, Jingdezhen selects clean, fine, white clay to mould the body, and then applies red glaze. In this way the red colour has a much richer appearance" (Rose Kerr, "Jun Wares and their Qing Dynasty Imitation at Jingdezhen", The Porcelains of Jingdezhen. Colloquies on Art & Archaeology in Asia No. 16, London, 1992, p. 155).
Lan Pu notes the great difference in appearance between Song dynasty Jun glaze and its Qing copy, and in fact the two diverge in their composition. While the opalescent glaze of Song Jun wares was achieved by a chemical reaction that happened in the kiln during firing, the vibrant and thick flambé glazes of the Qing dynasty were created by the application of three differently coloured glazes. Furthermore, the use of a fine porcelain body enhanced the luminosity of the glaze.
Qianlong mark and period vases of this form and glaze are unusual, although a similar example from the Zande Lou collection, now in the Shanghai Museum, is illustrated in Qing Imperial Monochromes, Hong Kong, 2005, pl. 49; and two smaller examples in the Huaihaitang collection were included in the exhibition Ethereal Elegance. Porcelain Vases of the Imperial Qing, Art Museum, Institute of Chinese Studies, The Chinese University of Hong Kong, Hong Kong, 2007, cat. nos 69 and 70, illustrated together with a section of Tang Ying's Taoye tu (Illustrations of the manufacture of porcelain), where two flambé-glazed meiping are depicted.