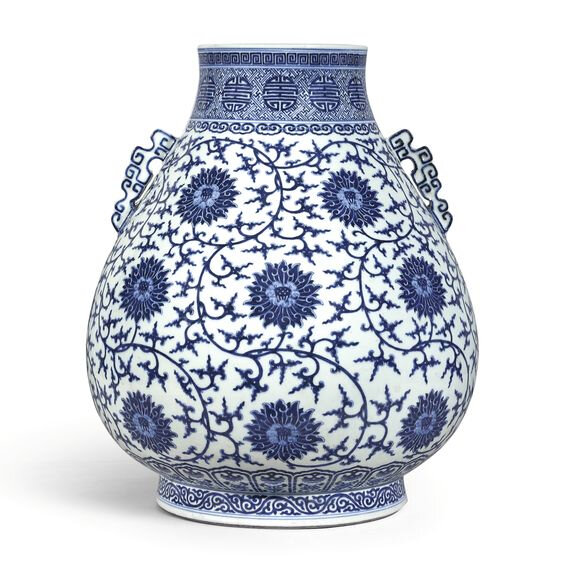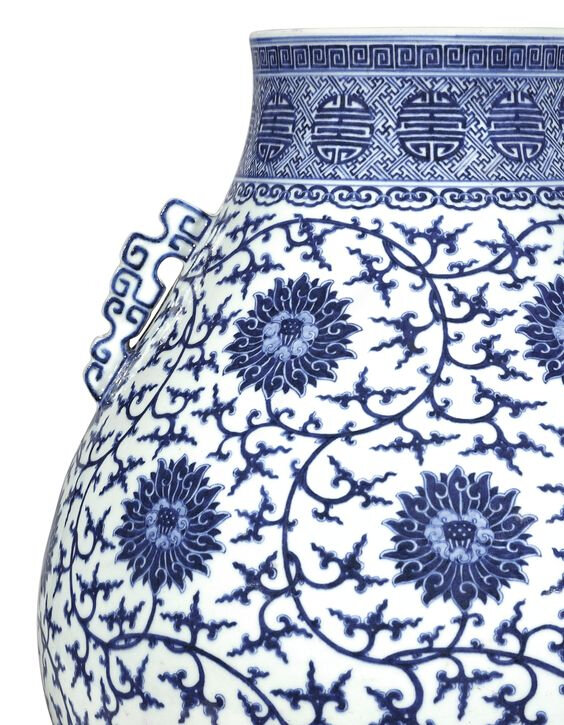 Lot 3630. A large blue and white 'lotus' vase, hu, Seal mark and period of Qianlong (1736-1795); 45.5 cm, 17 7/8 in. Estimate 3,000,000 — 5,000,000 HKD. Lot sold 3,750,000 HKD (515,240 USD). Courtesy Sotheby's.
robustly potted with a pear-shaped body rising from a short spreading foot to a short waisted flaring neck flanked by a pair of archaistic scroll handles, painted around the exterior in rich cobalt-blue tones with a broad scrolling lotus band, all between ruyi, lotus lappet and classic scroll bands, the neck adorned with a band of shou medallions on a wan diapered ground, the base inscribed with a six-character seal mark.
Provenance: Christie's London, 16th December 1981, lot 35.
Note: Stately in its form and design, this vase is impressive for its large size which has been flawlessly potted and covered in finely executed motifs. It represents the Qianlong style in its amalgamation of influences which draw from Ming ceramic patterns that have been adapted to contemporary taste, as well as textiles and archaic bronzes. The decoration is also notable for the brilliance of the blue cobalt, which reflects the high standard of resources available to the potters who excelled in both technical and creative capabilities.
The creation of this hu demanded considerable expertise and the potter has borrowed extensively from archaic styles and forms while creating a piece that is both steeped in tradition yet innovative. The handles are also inspired by the animal handles of the Zhou period but have been abstracted to a mere silhouette of the original, thus endowing the vessel with a sense of contemporaneity.
This large form was first transposed from bronze into porcelain during the preceding Yongzheng period under the guidance of China's most famous Superintendent of the imperial kilns in Jingdezhen, Tang Ying (1682-1756), who served both the Yongzheng and Qianlong Emperors. Encouraged to look to archaic forms and designs for inspiration, this trend for archaism continued to flourish throughout the reign of the Qianlong Emperor, who was also a great connoisseur and collector of bronzes, jades and works of art.
Particularly notable on this vase are the large stylised lotus blooms tucked within dense C-scrolls and the band of shou characters encircling the neck. More commonly rendered in the 'heaped and piled' technique to mimic early Ming blue and white wares, the present design has replaced the thin, delicate scrolls and flowers with a much thicker, bold design to result in an intensity that accentuates the robustness of the vessel. This effect is heightened by the broad band of shou medallions on a diaper ground, which has clearly been inspired by textile designs; see a large embroidered shou wall panel included in the exhibition China: The Three Emperors 1662-1795, The Royal Academy of Arts, London, 2005, cat. no. 303. The dexterity of the craftsman is evident in the arrangement of the composition, where the negative space has been treated as crucial to the overall design in successfully creating a sense of splendour.
A closely related vase in the Shanghai Museum, Shanghai, is illustrated in Selected Ceramics from the Collection of Mr and Mrs J.M. Hu, Shanghai, 1989, pl. 62; another is included in Geng Baochang, Ming Qing ciqi jianding [Appraisal of Ming and Qing porcelain], Hong Kong, 1993, pl. 455; one of a pair from the T.Y. Chao collection, sold in these rooms, 19th May 1987, lot 272, was included in the exhibition Ch'ing Porcelain from the Wah Kwong Collection, Art Gallery, The Chinese University of Hong Kong, Hong Kong, 1973, cat. no. 68; another, from the collection of Marchese Giuseppe Salvago Raggi, was sold in our London rooms, 16th May 2012, lot 129.
Sotheby's. Important Chinese Art, Hong Kong, 03 Apr 2019.