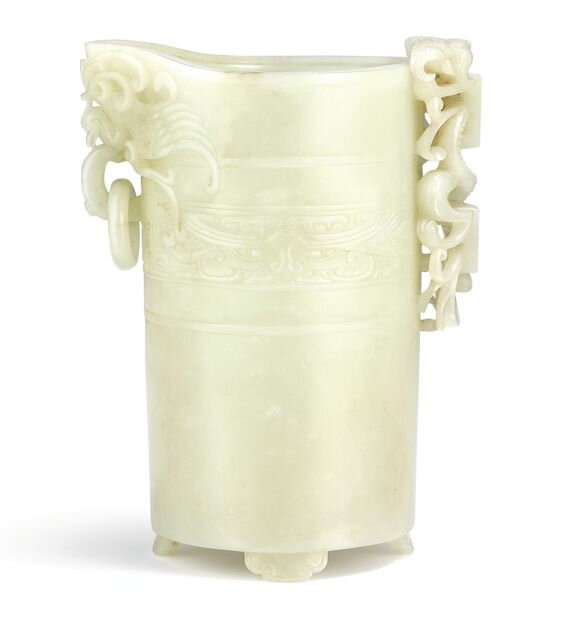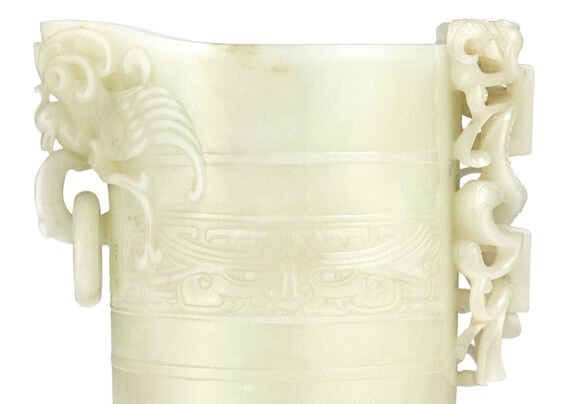 Lot 3621. An exceptional, large and rare white jade archaistic cylindrical ewer, Qing dynasty, 18th century; 18.7 cm, 7 3/8 in. Estimate 1,500,000 — 2,500,000 HKD. Lot Sold 3,750,000 HKD (483,038 USD). Courtesy Sotheby's
the substantial boulder well hollowed into a thick-walled cylindrical vessel resting on four ruyi-shaped feet, rising to a gently everted rim, the straight sides set with a handle carved in openwork with a clambering chilong, its sinuous body lancing between two squared scrolls, with the head perched atop the rim, clutching in its mouth a spray of flowering lotus, opposite a swooping phoenix just under the flared spout on the other side of the rim, the mythical bird skilfully worked with its wings wide stretched and finely detailed with exuberant feathers, its head bent downwards towards a loop suspending a loose ring, the exterior encircled by a band of stylised archaistic taotie masks between horizontal fillets, the stone of an even pale celadon tone with occasional russet flecks.
Provenance: Collection of Sir Henry Price (1877-1963), Wakehurst Place, England.
Sotheby's London, 22nd November 2000, lot 354.
Note: This ewer is remarkable for the fine level of craftsmanship evident in the exquisitely carved details of the vessel, ranging from the low-relief archaistic decoration on the body to the ornately modelled 'dragon' handle and ringed 'phoenix' spout. The interior and exterior are both polished to the same level of perfection. The form of this ewer is loosely modelled after archaic bronze zun vessels from the Han dynasty. However the compressed form of the original has been elongated in a more elegant manner, the mouth tapering to the spout in the form of a heart or ruyi head, all supported on superbly articulated ruyi feet. The form could also be seen as a fusion of two traditions, that of archaic bronzes and horn-shaped vessels.
For other jade vases of similar fine workmanship, sharing the iconography of dragons and phoenix, emblematic of the emperor and empress, see a large pale green jade vase in the Palace Museum, Beijing, worked with a long chilong depicted clambering over the rim of the vessel, illustrated in Zhongguo yuqi quanji [Complete series on Chinese jades], vol. 6, Hebei, 1991, pl. 148. See also a smaller Qianlong reign-marked yellow jade vase with similar iconography, illustrated ibid., pls 146-147. All three vases share the same bold craftsmanship, with almost identical depiction of the dragon's muscular body, ferocious expression and poise, suggesting they all emanate from the same workshop. For another jade vessel attributed to the early 18th century, similarly fusing the traditions of an archaic bronze and a rhyton, see one decorated with a chilong clambering onto the rim, sold in these rooms, 8th October 2014, lot 3671.
Sir Henry Philip Price, 1st Baronet (1877-1963) was an English businessman and philanthropist who innovated the tailoring business in the early 20th century. He used his fortune to promote botany and was a key donor to Kew Gardens, which named a garden after him. In 1938, he bought Wahehurst Place, an Elizabethan mansion, which he decorated under the guidance of his close friend Frank Partridge. His collection was sold to great acclaim at Sotheby's London in November 2000.
Sotheby's. Important Chinese Art, Hong Kong, 03 Apr 2019