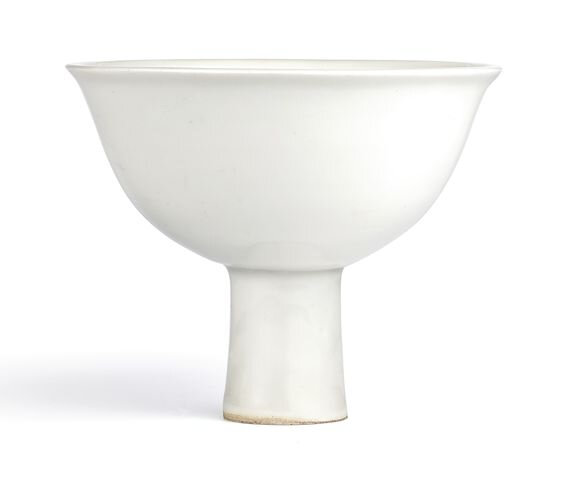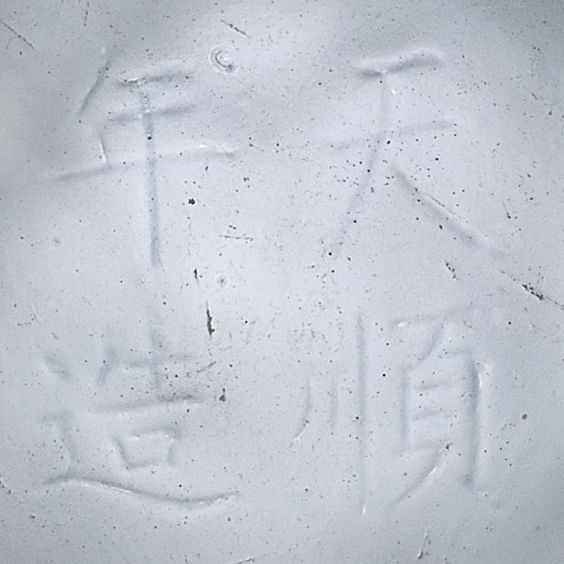 Lot 3659. An extremely rare anhua-decorated white-glazed stem cup, Mark and period of Tianshun (1457-1464); 13.8 cm, 5 3/8 in. Estimate 400,000 — 600,000 HKD. Lot Sold 2,375,000 HKD (305,924 USD). Courtesy Sotheby's.
well potted with deep rounded sides rising to a slightly everted rim, all supported on a tapering hollow cylindrical stem, the exterior decorated in anhua with an elephant, a lion and a galloping horse, the centre of the interior incised with a four-character reign mark within a double circle.
Provenance: Collection of Wu Lai-hsi (1881-1951).
Collection of George Eumorfopoulos (1863-1939).
Collection of Peter Boode (1887-1972).
Sotheby's London, 12th July 1960, lot 115.
Sotheby's London, 5th July 1977, lot 191.
Sotheby's London, 7th April 1981, lot 251.
Christie's London, 14th June 1982, lot 101.
Literature: Soame Jenyns, Ming Pottery and Porcelain, London, 1953, pp. 78-9.
Note: This extraordinary stem cup appears to be unique, the only recorded Tianshun reign-marked porcelain vessel. Emanating from the legendary collection of Wu Lai-hsi, it was later in the collections of George Eumorfopoulos and Peter Boode, and discussed in Soame Jenyns, Ming Pottery and Porcelain, London, 1953, pp. 78-9, where the author notes:
"There is in the possession of Mr Peter Boode an interesting white stem cup which was originally sent to the Eumorfopoulos Collection by Wu Lai-hsi. This piece has a bluish-white glaze turning faintly yellow at the footrim. The unglazed flat base of the hollow stem shows a paste that has been discoloured by firing. The outside of this stem cup is decorated with an elephant, a lion and a horse, in delicately drawn white slip; on the inside of the bowl is the incised mark of T'ien Shun. If this piece is a genuine example of the imperial ware of this period it would according to the records of Kiangsi have been made between the ting chao year of T'ien Shun, which was 1457 when the manufacture of imperial porcelain is said to have been resumed, and the emperor's death in 1464."
The stem cup has had an eventful auction history. When it appeared for the first time at auction in July 1960, it sold for the princely sum of £2,600, rising to £12,000 in 1977. The next time it appeared in 1981, there was some doubt over it, and it was catalogued as 15th century with a later added mark. However, the following year it was accepted again as mark and period. Clearly the mark is under the glaze, which is consistent with the vessel, and the form and structure is completely distinct from early 15th century stem cups of the Yongle and Xuande period. Furthermore, the eccentric design of galloping winged horses and elephants corresponds closely to those found on Chenghua tian jars created several years later, such as the one sold in our London rooms, 14th November 2001, lot 102, strengthening the case that this extremely rare stem cup is in fact a unique product of the Interregnum period, where ongoing excavations continue to transform our knowledge of this relatively unexplored period of Chinese ceramics.