Lot 150. A Timurid cut mosaic tile panel, Central Asia, late 14th-early 15th century; 54 by 86cm. Estimate 60,000 — 80,000 GBP (69,648 - 92,864 EUR). Lot Sold 75,000 GBP (86,955 EUR). Courtesy Sotheby's.
the rectangular panel composed of polychrome fritware including white, blue, orange, green and light blue, featuring a central calligraphic design within a foliated border, some old restoration.
Provenance: Ex-collection Henry René d'Allemagne (1863-1950).
This tile was once installed in the Oriental house of the eminent French travelogue, historian and collector, Henri René d'Allemagne (1863-1950). Henri René d'Allemagne was also an avid writer having authored several works which centred on niche topics as far afield as the history of playing cards, locksmithing and the nineteenth century political philosophy of the Saint-Simonians. Of particular significance was his four volume Du Khorasan au Pays des Bakhtiaris which documented his travels in Persia. It was this fascination with the Orient that inspired the interior of d'Allemagne's house whose walls contained a number of Timurid tiles and panels, including the present example.
Literature: Henry René d'Allemagne: La maison d'un vieux collectionneur, présentée par Guillaume Janneau, Paris, Librairie Gründ, Tome 2, 1948.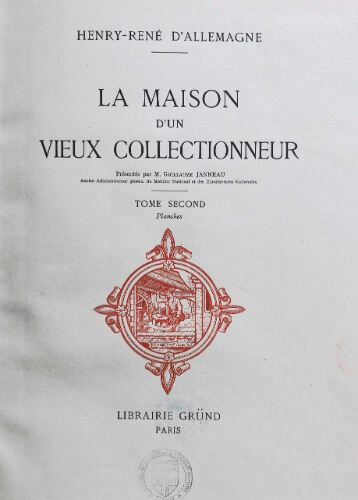 Henry René d'Allemagne, La maison d'un vieux collectionneur, présentée par Guillaume Janneau, Paris, Librairie Gründ, Tome 2, 1948.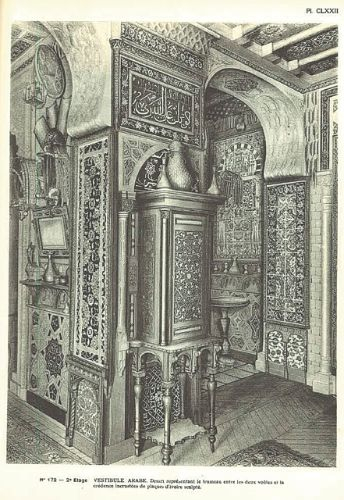 inscriptions:
The main part in Thuluth (restorations):
'I put my trust in God, my Lord'
The Kufic, repeat of:
'The Rule is God's'
Note
: The Timurid Dynasty, established in 1370, was named after its eponymous founder Timur (or Tamerlane). Belonging to a Turco-Mongol tribe which traced its origins to Genghis Khan, Timur successfully conquered most of present day Central Asia, Iran, Iraq, parts of modern day Russia and the Indian Subcontinent. Despite Timur's Empire being short lived, his descendants ruled Transoxania as leading patrons of Islamic art. In this period the city of Herat, presently in Afghanistan, became the cultural capital of the Timurid world.

Due to politico-religious considerations, many Timurid princes became patrons of numerous religious institutions such as mosques, madrasas, mausoleums and Sufi shrines. Craftsmen were brought over from all over the conquered lands, with a particular emphasis on Persian culture resulting in a flowering of Central Asian Islamic art (Yalman 2002). By the fourteenth century sophisticated techniques were developed in the Persian world which utilised pieces of cut-tiles joined with plaster to form complex multi-coloured mosaic panels (Wade 2006). Such techniques would be enhanced and used in the adornment of Timurid religious architecture.

Due to its overtly religious nature in praising God, comparisons can be seen in other Timurid tiles used in religious contexts. Particular examples include a prayer niche currently in the Metropolitan Museum of Art, New York (inv.no. 39. 20) and a collection of tiles sold in these rooms, 25 April 2018, lots 106-110. A further example is a calligraphic panel in the State Hermitage Museum in St. Petersburg (inv.no. AFR-4992). Such tiles exemplify the combination of the fluid naskhcalligraphic style with the more angular Kufic. There are also similarities in the floral motifs and the contrasting use of blues, turquoise, yellow and ochre.
Sotheby's. Arts of the Islamic World including Fine Rugs and Carpets, London, 01 May 2019, 10:30 AM.