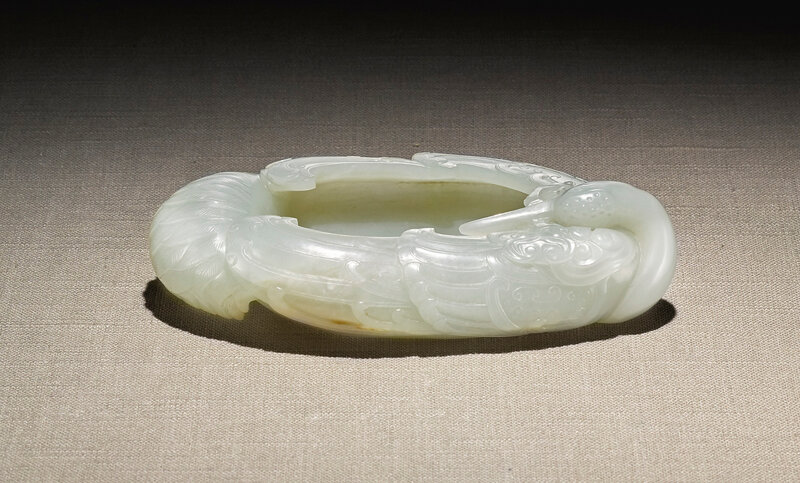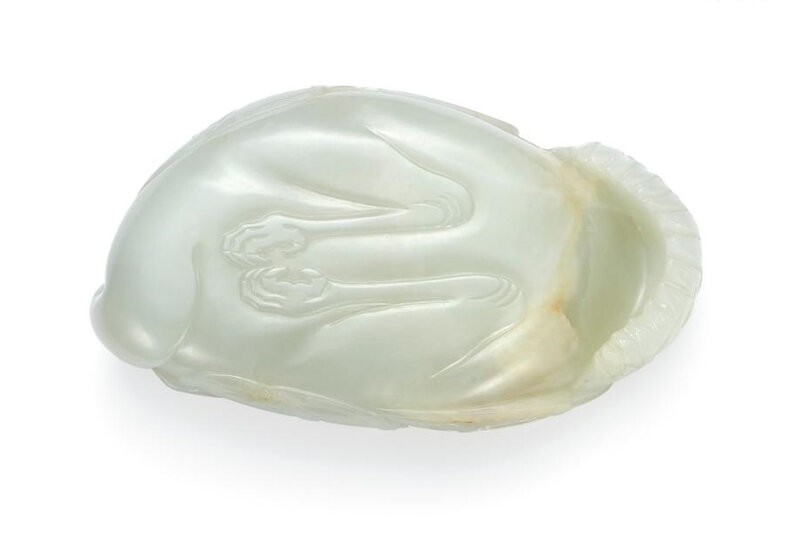 Lot 3406. A superb white jade 'crane' brush washer, Qing dynasty, Kangxi period (1662-1722); 13.7 cm., 5 3/8 in. Estimate 600,000 — 800,000 HKD. Lot sold 775,000 HKD (99,828 USD). Courtesy Sotheby's.
well hollowed to form a coup, the recumbent bird with wings folded on either side and clawed legs tucked underneath the body, its long neck curled backwards with head rested atop, carved with rounded eyes, a long pointed beak and an oval stippled crown, its body delicately worked with exuberant plumage and incised feathers, the attractive stone of an even white tone.
Provenance: Alvin Lo Oriental Art Ltd, New York.
Note: This white jade 'crane' brush washer is finely worked from the highest quality white jade. Of elegant oval form, it is skilfully conceived, with the crane's head extending up to the rim, the wings flanking the bowl, and the feet intriculately articulated on the underside. The interior and exterior are both polished to the same level of perfection, and the details are perfect. By carving the crane's splendid features in the round, the craftsman has created a visually striking and tactile vessel for the scholar's studio. Respect for and taking inspiration from the natural world are fundamental attitudes in Confucianism, and this vessel would have provided not only the functional use as a brush washer, but would also have been a source of reflection and meditation beyond the restrictive walls of officialdom.
The superb workmanship and the delicate articulation of the feathers, legs and beak grasping a sprig of lingzhi point to the vessel being a product of the early 18th century, and most likely the Kangxi period. The design motif of a crane with splendid feathery plumage was popular as a design motif in the Kangxi period, as seen on roundels in porcelain, such as on a Kangxi famille-verte jardinière from the Jie Rui Tang collection, to be offered in our New York rooms, 19th March 2019, lot 355. See also examples of cranes used on civil official's rank badges, such as one bequested by William Christian Paul to the Metropolitan Museum, New York, accession number 30.75.830, and another originally in the collection of Valery M. Garrett, sold at Christie's Hong Kong, 30th May 2012, lot 4032.