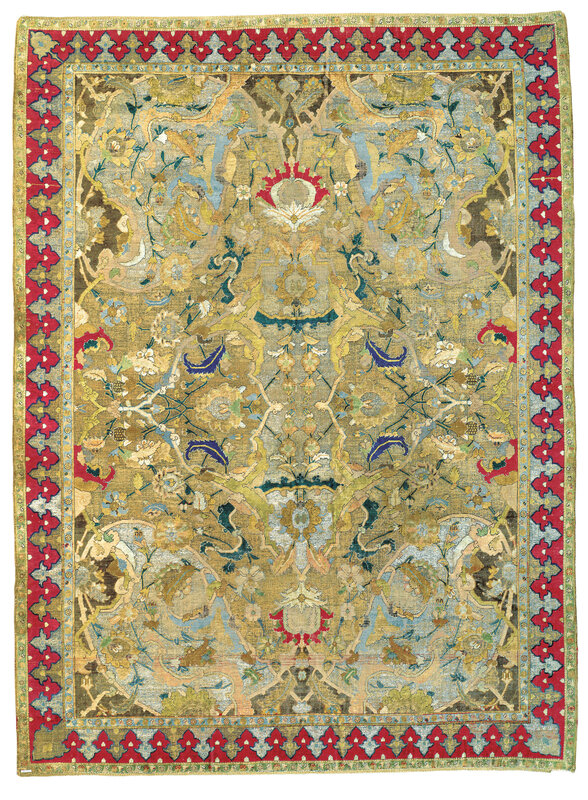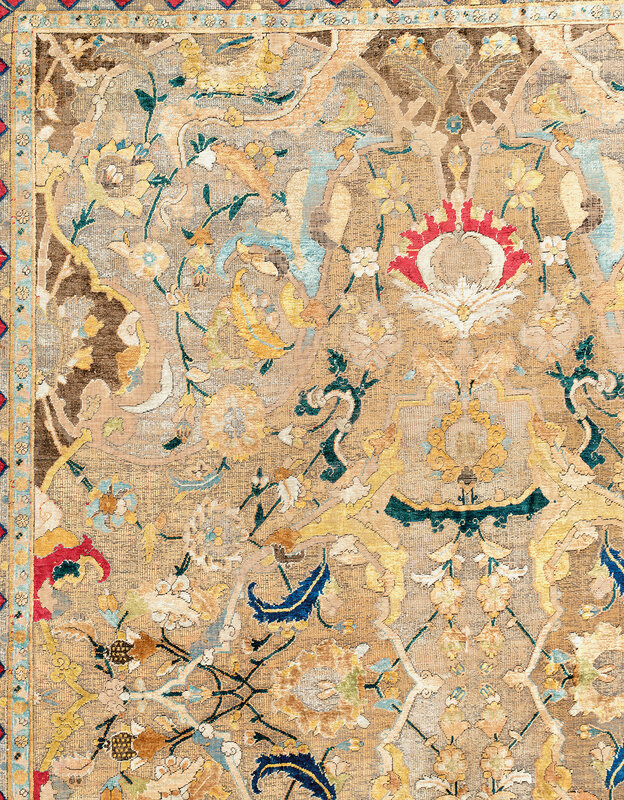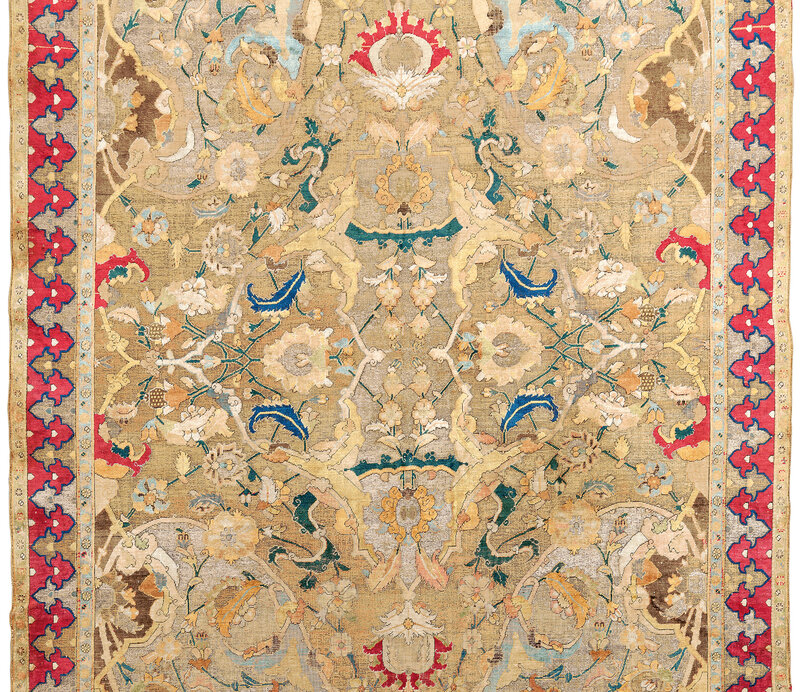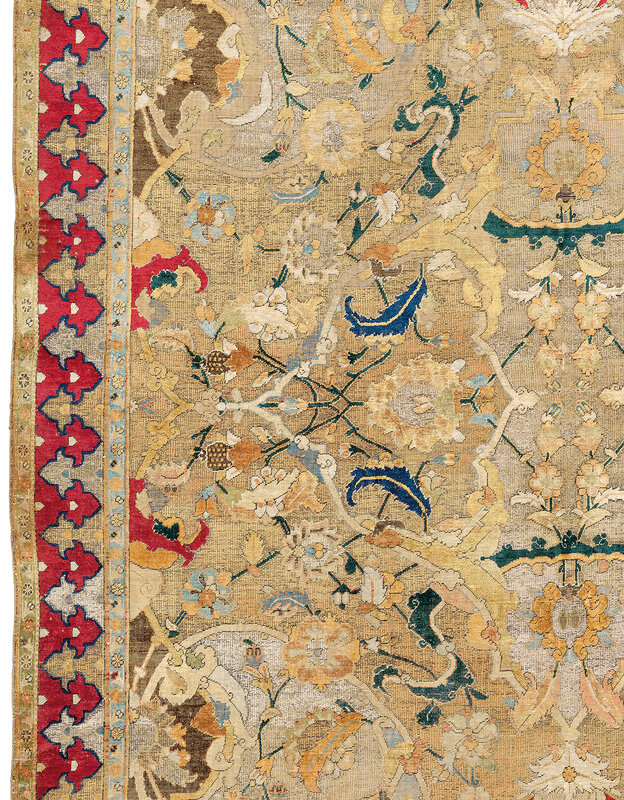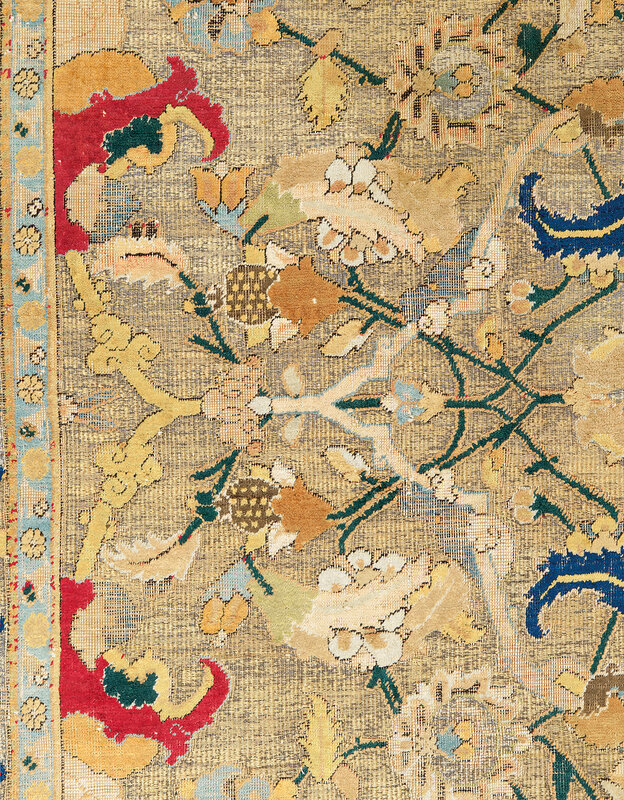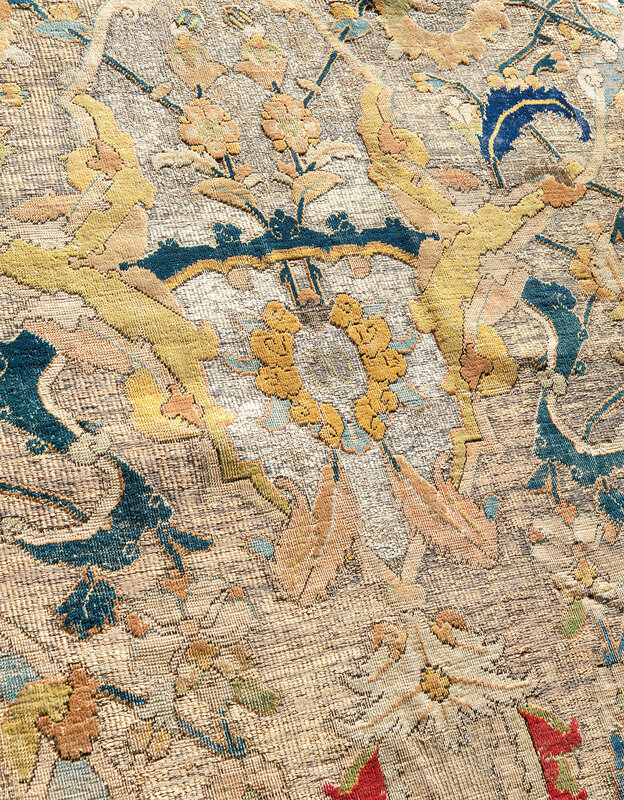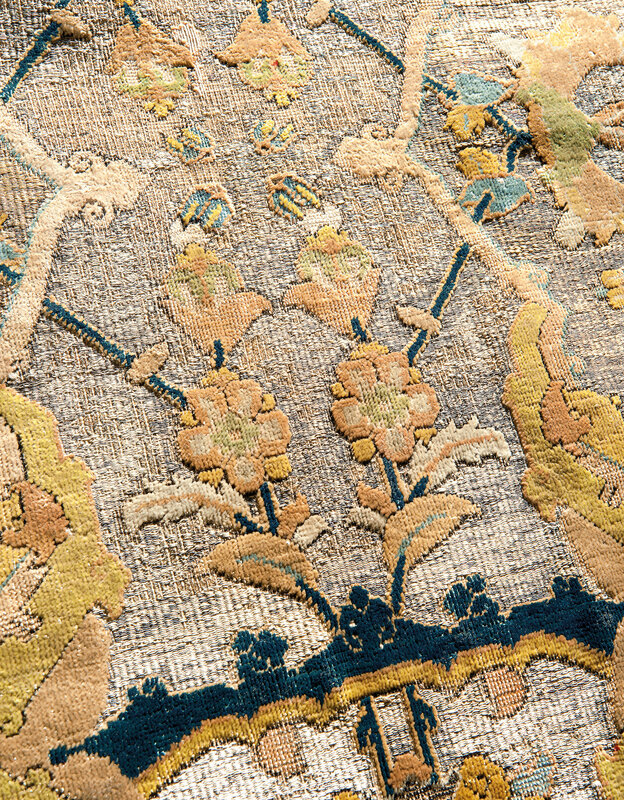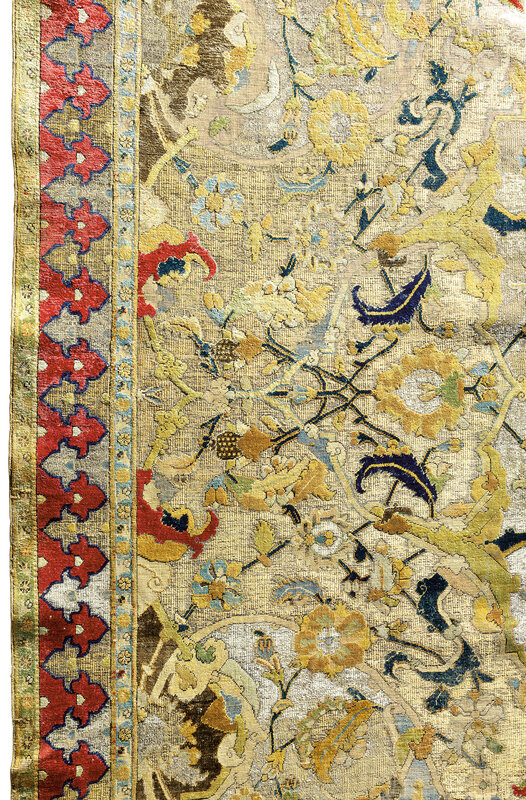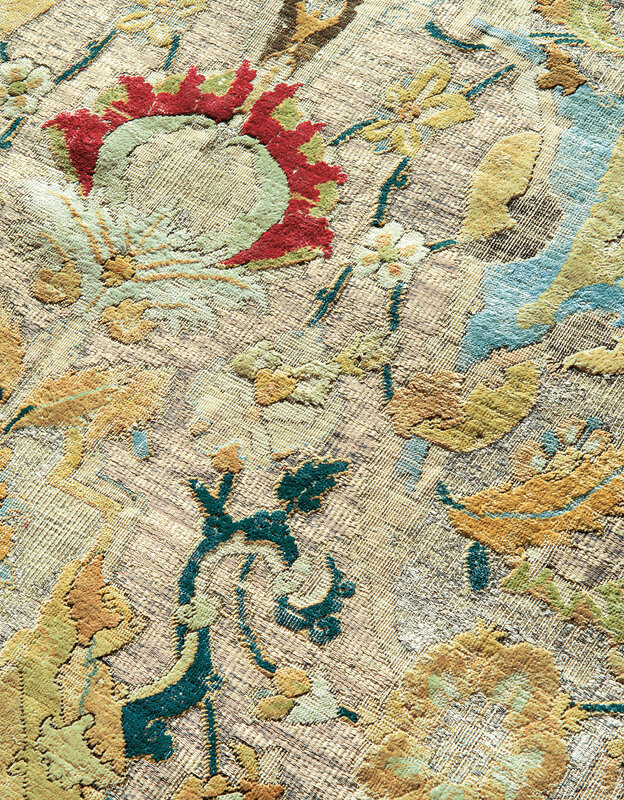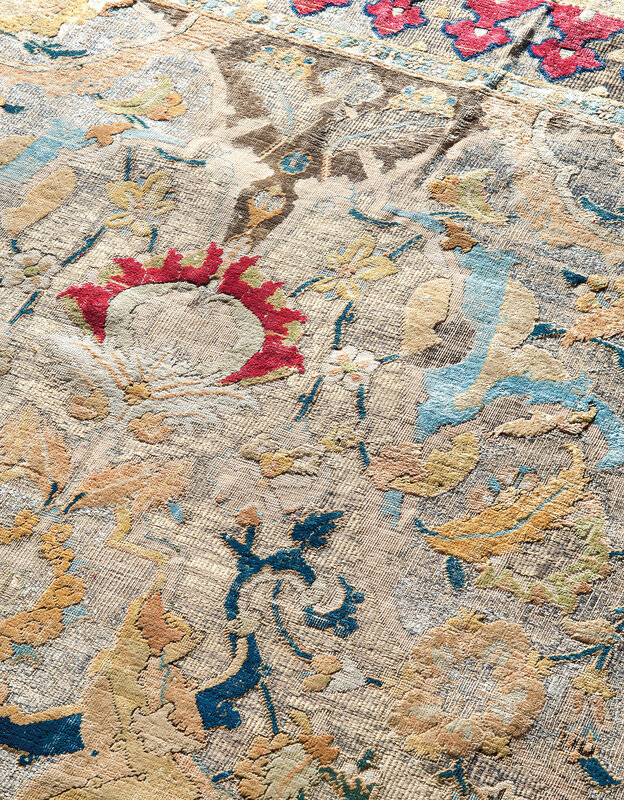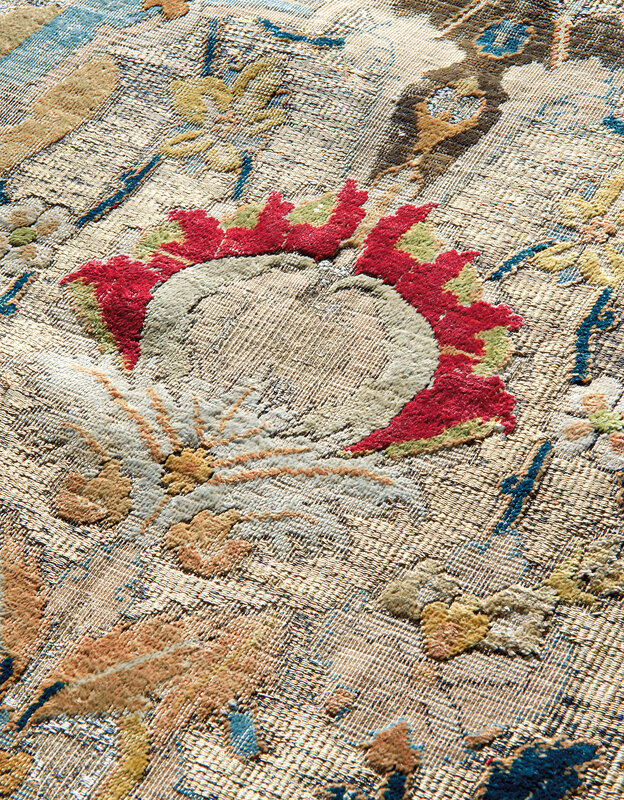 Lot 255. An important Safavid silk and metal-thread 'Polonaise' carpet, Isfahan, Central Persia, first quarter 17th century; 6ft.7in. x 4ft.6in. (205cm. x 141cm.) Estimate: £550,000 - GBP 750,000 (US$717,750 - USD 978,750). Sold for: £3,724,750 / €4,331,884 / $4,857,074. © Christie's Images Ltd 2019
Considerable silk pile, corroded and oxidised silver and gold metal-thread, original selvages, each end with complete braided and metal embroidered kilims, overall very good condition.
Provenance:

With the Saxon Elector and later King of Poland Augustus the Strong




Reputedly gifted in 1695 to Lothar Franz von Schonborn, Prince-Elector and Archbishop of Mainz, Archchancellor of the Holy Roman Empire.




Collection of the princely Counts of Schönborn-Wiesentheid in Schloss Weißenstein, Pommersfelden, Bavaria




On loan to the Royal Ontario Museum Toronto, Canada, from the 1970's




Private Swiss Collection.
Literature: Wilhelm Schonath (Hg.), 250 Jahre Schloß Pommersfelden (1718 - 1968). Mit einem Lebensbild des Kurfürsten Lothar Franz von Schönborn von Max H. von Freeden, Würzburg 1968 (AK Schloß Pommersfelden, 14.6.-15.9.1968).
Alois Riegl, 'Beschreibung der abgebildeten Teppiche», in: Orientalische Teppiche. Mit Unterstützung des k.k. Handelsministeriums und des k.k. Ministeriums für Cultus und Unterricht [bearbeitet von Alois Riegl], K.K. Handels-Museum (Hg.), Wien-London-Paris 1892 [1894], 1-22.
Friedrich Spuhler, Seidene Repräsentationsteppiche der mittleren bis späten Safawidenzeit. Die sog. Polenteppiche, Berlin 1968 (Diss.: Freie Universität).
Exhibited: O¨sterreichisches Handelsmuseum, Katalog der Ausstellung orientalischer Teppiche K.K. O¨sterr. Handels-Museum, 1891.
Note: There is a major development of carpet design in 'Polonaise' carpets. Until this point Persian carpets would have one colour for the ground of the field, maybe another for the medallion, and maybe another, or, rarely, a reciprocal design of two colours, for the border. The earliest Kashan silk and metal thread carpets follow the same concept, usually with monochrome metal-thread fields (Arthur Upham Pope, A Survey of Persian Art, Oxford, 1938, pls.1242 and 1243 for example). Very shortly after this the designers began using the irregularly shaped panels formed by the scrolling arabesques to create different fields, each of which would have a different ground colour, a technique already long established in manuscript illumination. The field design of this carpet demonstrates this feature very well. The bisected cartouche panels around the edges are filled with a mushroom-brown silk while the remaining field is a complex arrangement of silver and gold interlocking segments that are overlaid with a fine lattice of leafy vine and delicate arabesques. These differently coloured metal brocaded segments were probably more marked when the rug was first made but is more clearly visible in the hand coloured illustration in Riegl, 1982, pl. XXIII; Nr. 32 (Beschreibung in vol. I, Tafel in vol. II).

The reciprocal trefoil pattern border seen here is relatively common amongst the group however the striking appearance of the contrasting red silk, which remains in remarkably high pile is most unusual. In many instances, the red dye used at the time has proved fugitive and in many cases has faded to a pale tan colour. A carpet with a very similar field design and the same coloured reciprocal border can be seen in the Museo Nazionale del Palazzo de Venezia, Rome, gifted by a Mrs Henrietta Tower Wurts in 1933, (I. Sabatini, 'Polonaise Carpets in Baroque Rome', Oriental Carpet & Textile Studies, VII, ICOC, 2011, pp.100, fig.1). Other examples that display the same border are in; the Museum für Angewandte Kunst in Vienna (F. Sarre and H. Trenkwald, Altorientalische Teppiche, Österreichisches Museum für Angewandte Kunst, Vienna/Leipzig, 1926/28, vol.1, pl.71, pp.204-5; the Museum of Islamic Art, Berlin (F. Sphuler, Oriental Carpets in the Museum of Islamic Art, Berlin, London and Boston, 1988, no.85, p.84, ill.p.226) and in the Rosenborg Castle, Copenhagen, (F.R.Martin, A History of Oriental Carpets before 1800, Stockholm, 1908, pl.12).
Christie's. Art of the Islamic and Indian Worlds Including Oriental Rugs and Carpets, London, 2 May 2019