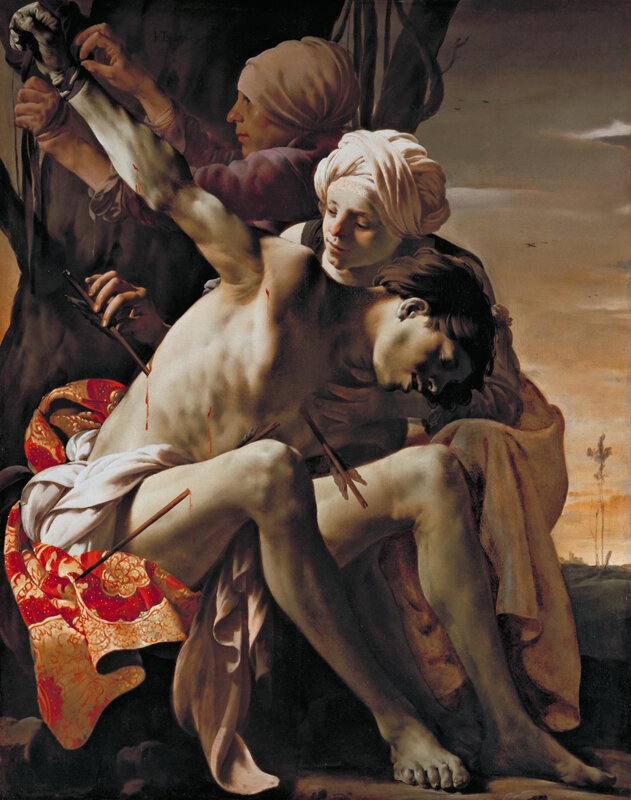 Hendrick ter Brugghen (1588 - 1629), St. Sebastian Tended by Irene, 1625. Oil on Canvas, 150.2 x 120 cm © Allen Memorial Art Museum, Oberlin College, OH. R. T. Miller Jr. Fund, 1953.256.
MUNICH.- Caravaggio's paintings must have seemed both breathtaking and unorthodox to Hendrick ter Brugghen (1588–1629), Gerard van Honthorst (1592–1656) and Dirck van Baburen (c. 1592/93–1624) when the three young painters from Utrecht encountered his works for the first time in Rome. With their innovative realism and mysterious lighting, Caravaggio's works broke with existing traditions and exerted a powerful formative influence on many artists from Italy, France, Spain and the Netherlands.

The exhibition at the Alte Pinakothek shows 75 of the finest paintings by the most eminent 'Caravaggisti', including Orazio Gentileschi, Bartolomeo Manfredi, Jusepe de Ribera, Valentin de Boulogne and Caravaggio himself. The works were created during the height of European Caravaggism, from 1600 to 1630, either by artists who had direct contact with Caravaggio in Rome or arrived in the Eternal City shortly after his death in 1610.
The majority of the spectacular loans from some 50 international museums, ecclesiastical institutions and private collections are being shown in Germany for the very first time. These include Caravaggio's celebrated 'Saint Jerome' from Montserrat Monastery near Barcelona, Gerard van Honthorst's 'The Concert' from the National Gallery of Art in Washington and his 'Beheading of St John the Baptist', an altarpiece that until today is still in its original setting in the church of Santa Maria della Scala in Rome. Especially noteworthy is the magnificent loan to the exhibition of Caravaggio's 'The Entombment of Christ' from the Vatican Museums in Rome. The painting will be on view in Munich until 20 May.

The exhibition highlights the unique style of the Dutch painters in a particularly impressive way, juxtaposing their works with those of their European counterparts. The figure paintings of Gerard van Honthorst, with their stage-like orchestration and dramatic lighting by torch and candlelight, are unmistakable. The widely emulated, highly successful painter was later known in Italy by the nickname of 'Gherardo delle notti' (Gerard of the Night Scenes). Carrying Caravaggio's realism to new extremes, the Dutch painters dared even to pursue ugly details, including bulbous noses and rotting teeth. By virtue of their strong cultural identity, their paintings stand out significantly from those of the French, Flemish, Italian and Spanish Caravaggisti. While previous exhibitions have covered the similarities between these painters and the great painter of the Italian Baroque Caravaggio, this exhibition offers unique insight by focusing on the differences.

Curator: Dr. Bernd Ebert
Research Associate: Dr. Susanne Hoppe.
UTRECHT, CARAVAGGIO AND EUROPE, Alte Pinakothek, 17.04.2019 ‐ 21.07.2019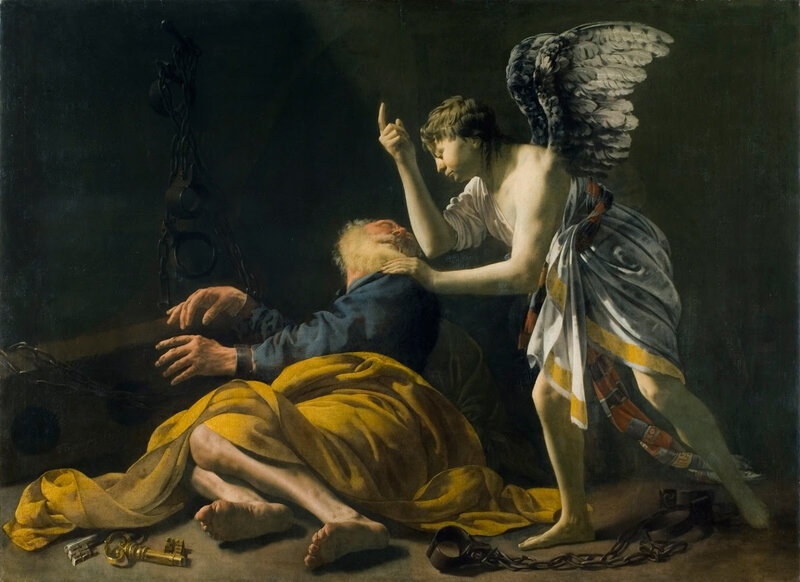 Hendrick ter Brugghen (1588 - 1629) The Liberation of Saint Peter, 1629 Oil on Canvas, 152 x 210 cm , Staatliches Museum Schwerin © bpk / Staatliches Museum Schwerin / Gabriele Bröcker