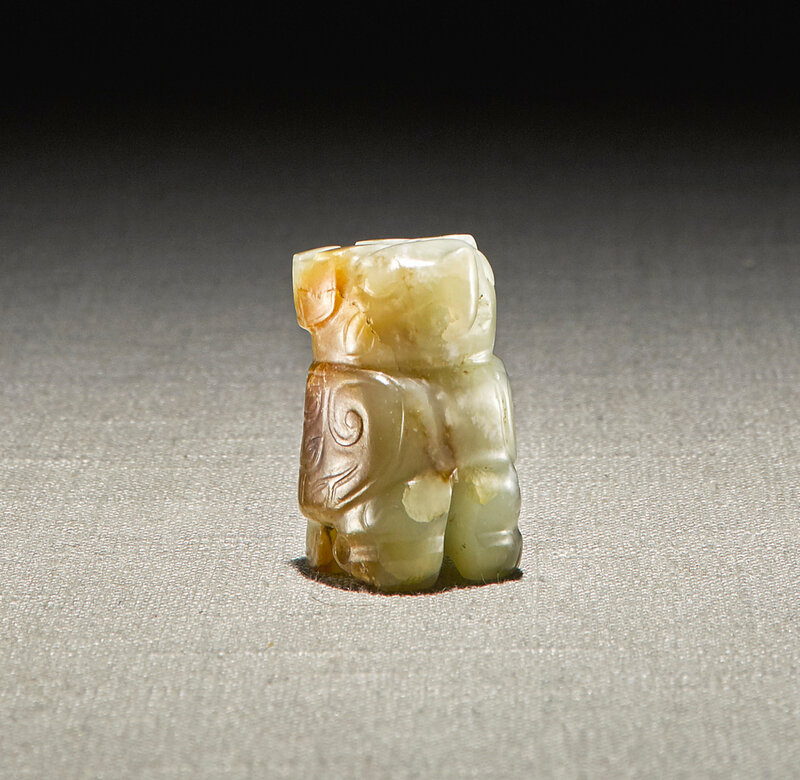 Lot 3416. A celadon and russet jade figure of an owl, Shang dynasty; 3.5 cm, 1 3/8 in. Estimate 350,000 — 450,000 HKD. Lot sold 350,000 HKD (45,084 USD). Courtesy Sotheby's
worked in the round and depicted standing on its feet with the head held high and accentuated with a pair of raised round eyes and sharp hooked beak, the breast rendered rounded and decorated with elaborate plumage, further portrayed with a pair of wings curving to the back of the figure above a tail, the back of the neck pierced with an aperture, the stone of a pale celadon colour with light brown patches.
Provenance: Alvin Lo Oriental Art Ltd, New York.
Literature: Robert P. Youngman, The Youngman Collection of Chinese Jades from Neolithic to Qing, Chicago, 2008, pl. 31.
Note
:
Depictions of owls feature prominently among the arts of the Shang dynasty. The bird's nocturnal and binocular vision and its binaural hearing and hunting skill were revered from the Neolithic period, when the earliest jade carvings of owls were made. The owl's terrifying screech would have fit the perception of abnormality in ritual and magic, and it is most likely that the bird played a significant role in Shang belief. It has been suggested that the mythical black-bird (
xuanniao
) from which the Shang people were believed to have originated was in fact an owl. Alternatively, Sun Xinzhou has suggested that the mythical ancestor Di Jun (also known as Di Ku, Shun) can be identified with the owl deity protector of agriculture (Sun Xinzhou, 'Chixiao chongbai huaxia lishi wenming' [On the strigidae worship and historical civilization in China],
Journal of Tianjin Normal University
(Social Sciences),
no. 5, 2004, pp 31-7).
Jade owls were excavated from the Tomb of Fu Hao in modern-day Anyang, Henan province, and illustrated in Tomb of Lady Hao at Yinxu, Beijing, 1980, pl. 137, nos 1-3, together with a further related beaked bird with horns, pl. 134 no. 3; and another was included in the exhibition Chinese Jade Animals, Hong Kong Museum of Art, 1996, cat. no. 17. See also two marble owls, excavated from the Shang royal cemetery at Xibeigang, on the northern bank of the Huan river, one of which is illustrated in Cheng Te-K'un, Archaeology in China, vol. 2, Shang China, Cambridge, 1960, pl. Xa.