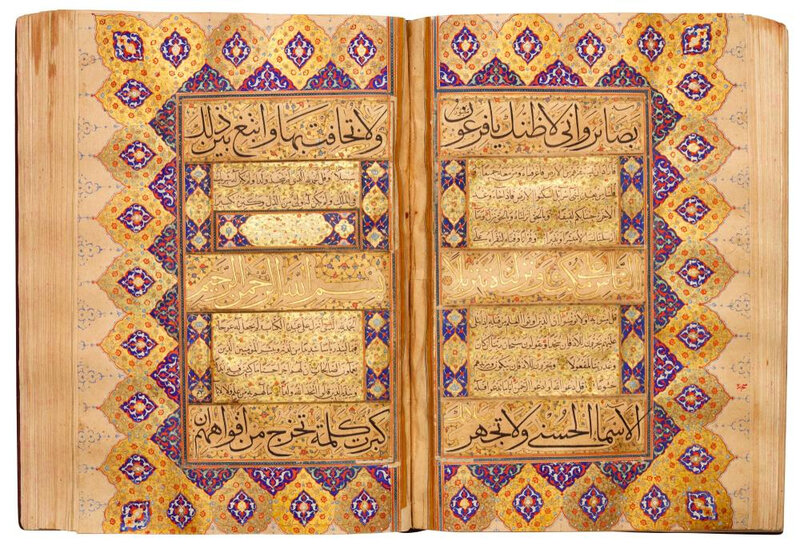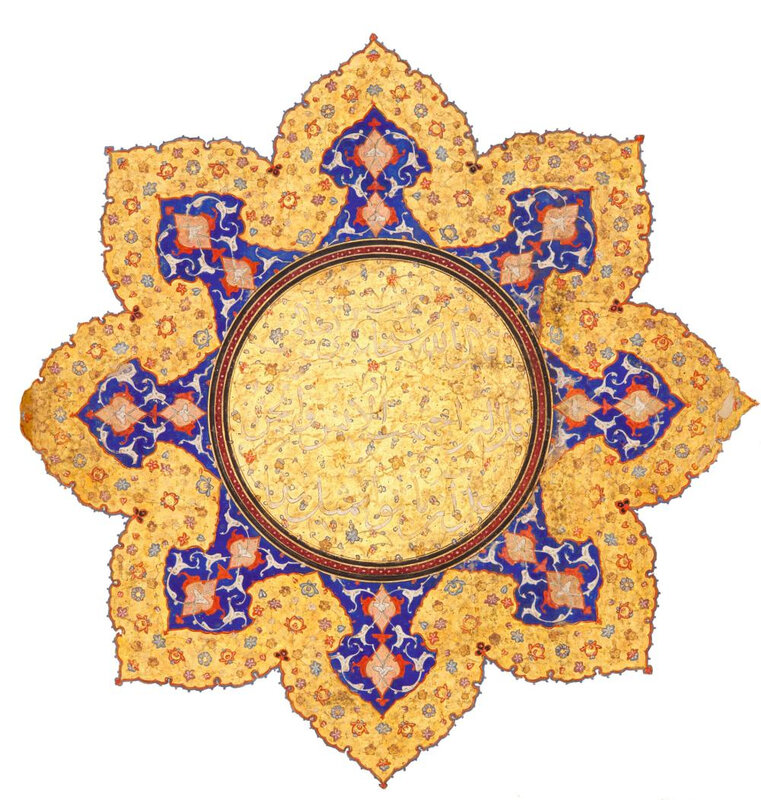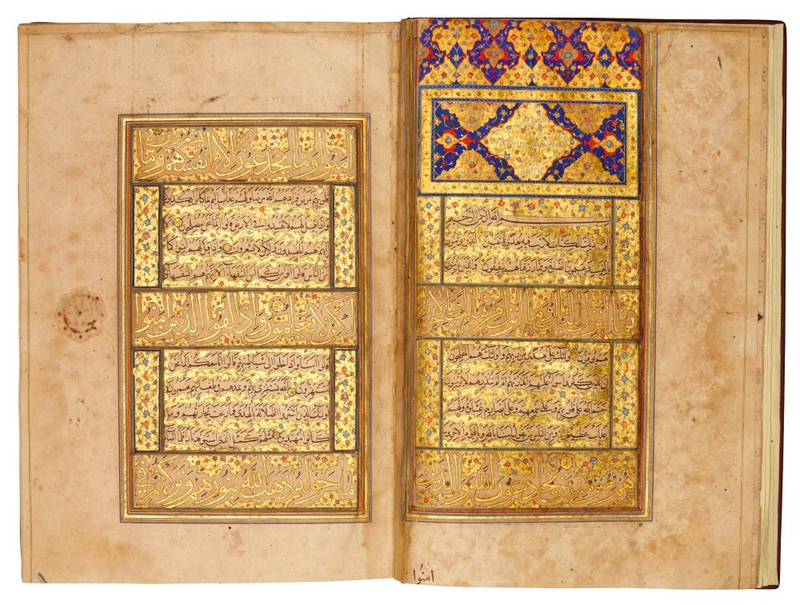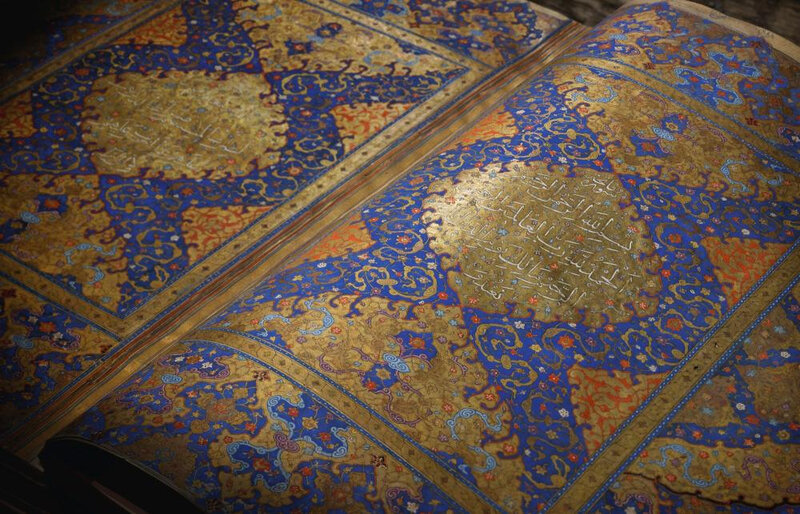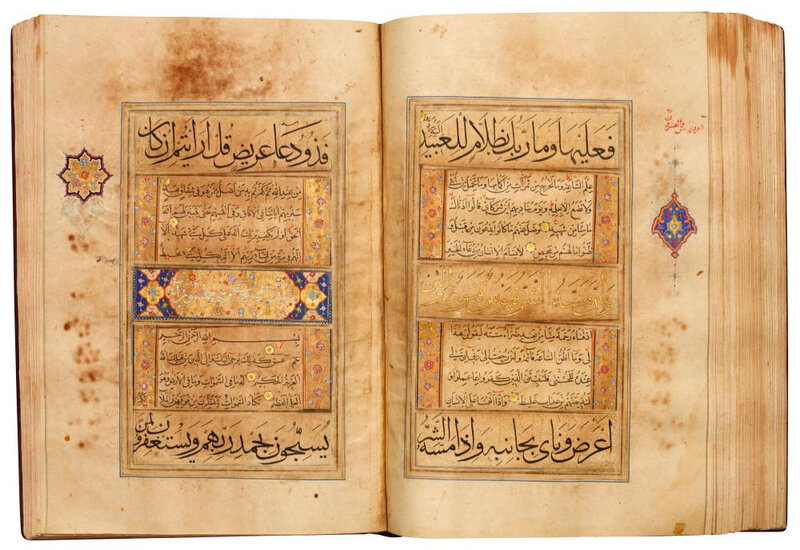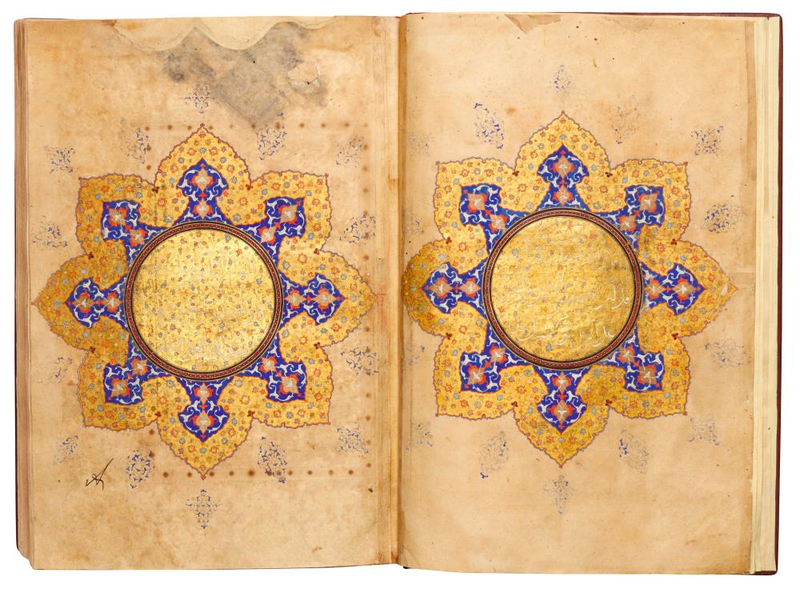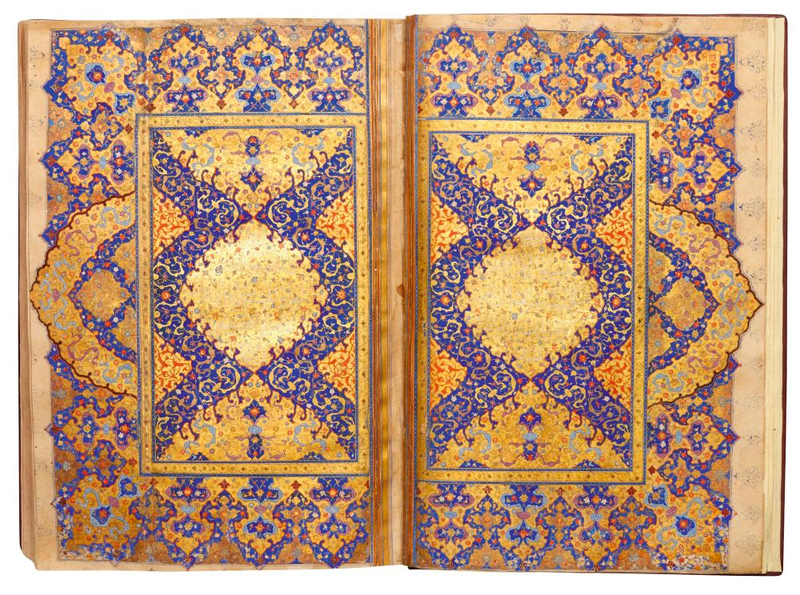 Lot 20. A large illuminated Qur'an, Persia, probably Shiraz, Safavid, second half 16th century; 35.5 by 24.5cm. Estimate 80,000 — 120,000 GBP. Lot sold 93,750 GBP (108,694 EUR). Courtesy Sotheby's.
Arabic manuscript on paper, 439 leaves plus 4 fly-leaves, 11 lines to the page, comprising 2 lines of large muhaqqaq script in black at the top and bottom, a middle line of large gold muhaqqaq outlined in black, 8 lines of black naskh against a gold speckled ground, bordered with cartouches with polychrome scrolls on a gold background, ruled in polychrome and gold, verses separated by gold dots, surah headings in white thuluth within polychrome scrolls against a gold ground, numerous verse markers on the margins, opening double page frontispiece decorated with floral gold and polychrome interlace, further double illuminated page with surah al-Fatihah, in stamped leather binding.
Note: This impressive Qur'an has all the hallmarks of the most refined manuscripts of the Safavid period, and is noteworthy for several reasons, including the lavishness of the illuminations as well as the controlled and balanced hand. It stands as a testament to the artistic achievements of the Safavid manuscript tradition in the sixteenth century.
Copies of the Qur'an, as well as illustrated manuscripts, formed part of the trade that passed over the Ottoman-Safavid border in spite of the hostile relations between the two empires that continued for much of the sixteenth century. That Safavid Qur'ans such as this one were particularly cherished in the Ottoman realms is demonstrated by their inclusion among the list of objects brought as gifts by Safavid envoys to the Ottoman court.
A comparable Qur'an to the present manuscript was included in the exhibition Ink and Gold at the Museum für Islamische Kunst, Berlin and published in the accompanying catalogue (See Fraser & Kwiatkowski 2006, pp.118-121, no.35). The structure of the opening bifolium with surah I and II is directly comparable with that found in a Qur'an sold in these rooms, 9 April 2014, lot 50 and copied during the same period. Other similar Qur'ans were sold in these rooms 27 April 1994, lot 19; 1 April 2009, lot 12; 6 October 2010, lot 15, and 5 October 2010, lot 27.
Sotheby's. Arts of the Islamic World including Fine Rugs and Carpets, London, 01 May 2019, 10:30 AM