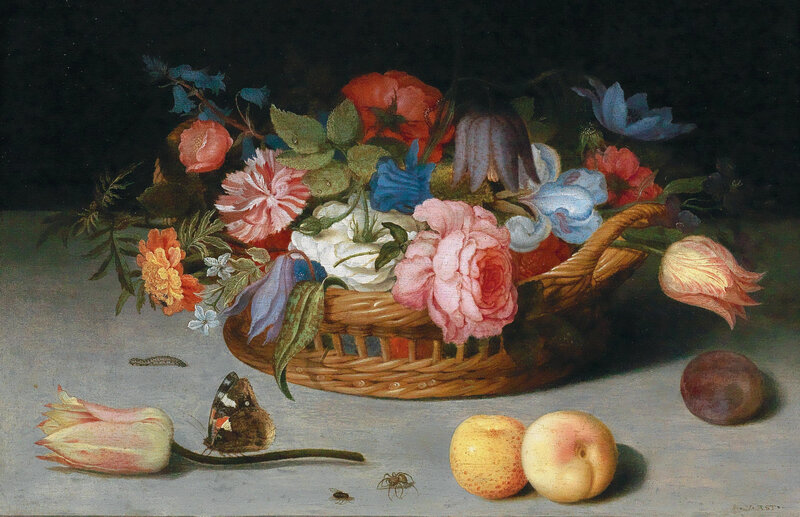 Lot 345. Balthasar van der Ast (Middelburg 1593/94–1657 Delft) Roses, tulips, irises and other flowers in a wicker basket, with fruit and insects on a ledge, signed lower right: B. V. AST, oil on panel, 26 x 36 cm, framed. Estimate: EUR 80,000 - EUR 120,000 (USD 90,000 - USD 140,000 ). Unsold. © Dorotheum
Provenance: sale, Hugo Helbig, Munich, 16 December 1908, lot 2;
Collection of Gaston von Mallmann (1860–1917), Berlin and Blaschkov;
sale, Christie's, New York, 10 January 1980, lot 112;
with David M. Koetser, Zurich;
Private collection, 1980;
sale, Sotheby's, London, 3 December 2014, lot 143;
where purchased by the present owner.
Exhibited: Aachen, Suermondt-Ludwig Museum, Die Stillleben des Balthasar van der Ast, 10 March – 5 June 2016, no. 6, ill. p. 113.
Literature: I. Bergström, Baskets with Flowers by Ambrosius Bosschaert the Elder and Their Repercussions on the Art of Balthasar van der Ast, in: Tableau, vol. 6, no. 3, December 1983, pp. 70/71, fig. 7;
S. Segal, Masters of Middelburg, Amsterdam 1984, p. 50, fig. 12.
Note: The present painting is an example of the artist's early oeuvre, dating from the period when, after the death of his tutor and brother-in-law Ambrosius Bosschaert, van der Ast took over their workshop. It shows the same painterly effects, compositional ingenuity and diverse motifs employed by his late master, under whom he trained in Middleburg before being admitted himself to the Utrecht Guild of St Luke in 1619, following Bosschaert's move the city.

The inclusion of specific details such as a pair of overlapping golden peaches, the single dark plum and tulip lying on the ledge, the pale pink rose spilling over the front of the basket, and the flowers poking through the wicker handle just visible through the arrangement, are all elements that were commonly employed by Bosschaert in the first decades of the seventeenth century before his death in 1621.

While van der Ast later developed a more naturalistic style, the present picture still reflects the clear colouring and linear style of his mentor. The composition can be compared to the 1614 Still Life of Flowers in a basket in the J. Paul Getty Museum, Los Angeles.
Specialist: Damian Brenninkmeyer
Vienna | Palais Dorotheum, Old Master Paintings, 30.04.2019, 17:00