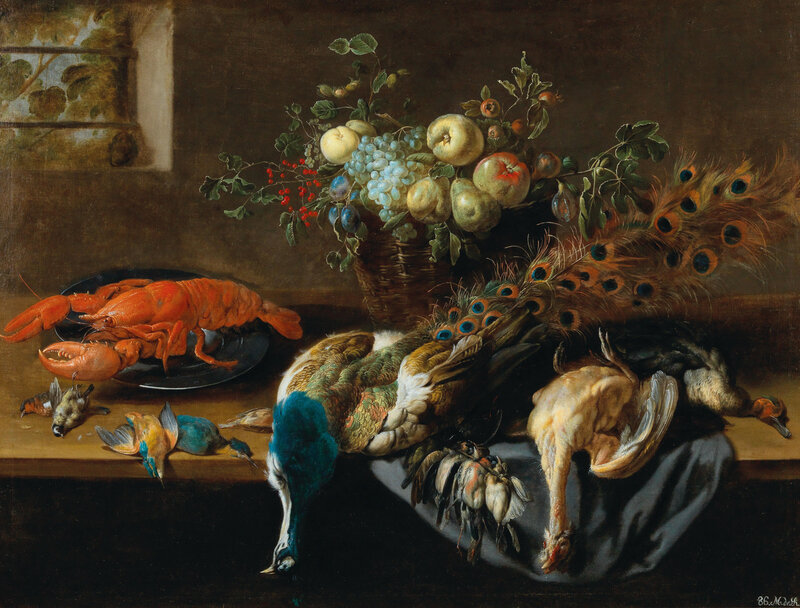 Lot 363. Adriaen van Utrecht (Antwerp 1599–1653) A peacock, fruit, boiled lobster and a prey of birds, oil on canvas, 116 x 152.5 cm, framed. Estimate: EUR 50,000 - EUR 70,000 (USD 57,000 - USD 79,000 ). Unsold. © Dorotheum
Provenance: Collection of Don Gaspar de Remisa y Miarons, Marqués de Remisa y Vizconde de Casa Sans, Madrid, in 1846;
Private collection, Madrid;
art market, Spain;
where acquired by the present owner

We are grateful to Fred Meijer, who fully endorsed the attribution of the present painting to Adriaen van Utrecht on the basis of a high-resolution photograph. A written certificate (March 2019) is available. He dates it to the first half of the 1640's and compares it with a painting by Adriaen van Utrecht in the Museo del Prado, dated 1642, and another work which has been sold at Lempertz, Cologne, 17 November 2001, as lot 1161.
Specialist: Dr. Alexander Strasoldo.