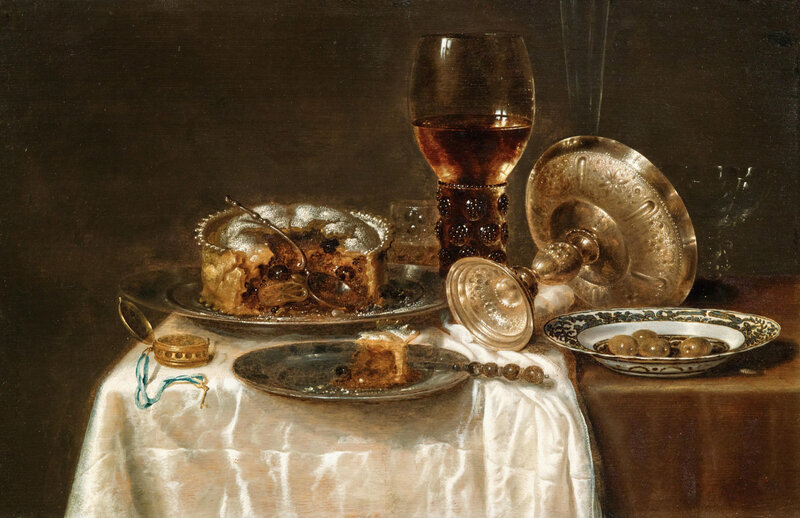 Lot 313. Willem Claesz. Heda (Haarlem 1594–1680) Olives in a blue and white porcelain bowl, a roemer, wine glasses, an overturned silver tazza and a meat-pie, signed and dated center right: HEDA•F•165., oil on panel, 50.5 x 77 cm, framed. Estimate: EUR 40,000 - EUR 60,000 (USD 45,000 - USD 68,000 ). Realized price EUR 100,300 (USD 110,000 ). © Dorotheum
Provenance: with Douwes Fine Art, Amsterdam, 1968;
H. Terry-Engell Gallery, London, in 1971;
Private collection;
sale, Christie's, New York, 10 January 1990, lot 220 (as Willem Claesz Heda, sold for $ 209,000);
where acquired by the present owner

Note: The present painting is registered in the Fototeca Zeri under no. 90864 (as Willem Claesz Heda).

Willem Claesz Heda is famous for his still lives representing breakfast tables. These works are characterised by delicate, carefully balanced and sober tones that have a wilfully contained palette, tending to monochrome and ranging from silver-grey to brown in which the whites serve as highlights. Willem Claesz Heda's canvases are very precisely executed and the artist lends especial importance to the handling of light and the creation of atmosphere.

The objects in his 'monochrome banquets' are described in every detail as is the rendering of their materials – especially glass and metals. Heda includes precious objects in his paintings like richly worked roemer glasses, Venetian glasses, ornamental silver objects like chalices, often overturned, pewter plates, knives with decorated handles and valuable oriental porcelains. These items are completed with foodstuffs such as lemons, opened cakes or pies and olives and they are arranged on a table only partially covered by a starch-white tablecloth. Moreover, very rarely in Heda's paintings do we find representations of flowers, leaves or vine tendrils. The painter tends to play on the horizontal format of his paintings which are animated by diagonals resulting from the placement of certain objects like a spoon of a chalice, in relation to the table edge. The effect is such that we might imagine someone had just left the table, interrupting their meal for a moment during which Heda has begun his painting.

Willem Claesz Heda was the brother of Cornelis Heda and the father of Gerrit-Willemsz Heda, he may have been the pupil of Floris van Dyck and he was influenced by Pieter Claesz (with whom he was on occasion confused). Alongside Claesz, Heda was one of the leading exponents of the school of Haarlem for his 'monochrome banquets'. His first known work is a Vanitas conserved in the Museum Bredius at The Hague (inv. no. 52-1946) and in 1631 Heda became a member of the Guild of Saint Luke at Haarlem. During these years Heda's style matured as he increasingly studied the balance between vertical and diagonal lines in his compositions.