Lot 168. An Egyptian wooden and bronze Hathor head, Third Intermediate Period, 21st-22nd Dynasty, circa 1069-715 B.C. Tête d'Hathor en bois et bronze, Égypte, 3e période intermédiaire, XXIe-XXIIe dynastie, vers 1069-715 Av.J.C. Applique en bois en forme de tête féminine. Haut. 22,2 cm; Larg. : 6,5 cm. Estimation : 25 000 - 28 000 €. Courtesy Artcurial
PARIS.- On May 15th, Artcurial will disperse the Bouvier collections during its auction dedicated to archeology and Oriental Arts. Gathered mainly between 1930 and 1960 when Maurice Bouvier taught law in Alexandria, this set is comprised of 250 lots.

It represents all facets of Egyptian civilization: from the Predynastic Period, with arrowheads and black top vases dating from the 4th Millennium BC, from the Muslim period of the 12th century, with jewelry and textiles, in parallel with the Pharaonic and Coptic period.

Maurice Bouvier, a pronounced taste for ancient and Muslim civilization
For the majority of his working life, Maurice Bouvier (1901-1981), a lawyer from the Jura region of France, works at the University of Alexandria where he teaches law between 1930 and 1960. He nurtures his love for antique and Muslim civilisation in Egypt where he starts to collect, acquiring objects from simple peddlers or occasional vendors as well as from Cairo and Alexandria's greatest antique dealers.

During these years, he acquires various types of artefacts: Oushebtis, Coptic era terra cottas terra cottas, Islamic textiles, bronzes or jewellery. These rich and varied collections bears witness to his astuteness, his desire to submerge himself into ancient civilisations and an aesthetic and scientific interest for the pieces, far from any speculative consideration. As evidence of the quality of the pieces, certain works purchased in the 1930's, then unknown, were then exhibited across Europe.

Collection of more than 50 Oushebtis
Artcurial will present a collection of impressive Oushebtis. Including close to 50 diverse models in wood, ceramic or alabaster, the set traces the stylistic and symbolic evolution of these Egyptian funerary items.

Called Shaouabtis (in wood) before the year 1000 BC, initially image of the deceased, these statuettes are then renamed Oushebtis (respondent) and hold agricultural tools allowing them to substitute for the deceased in the accomplishment of farm work in the afterlife. Over time, the deceased brought an increasing amount of the figures, usually one for each day of the year or for each task (sowing, harvesting, grinding...)

An Oushebti representing Neferibresaneith, royal chancellor of Lower Egypt and administrator of the palace, will be part of the set. In light green ceramic, represented standing, holding the two tilling tools and coiffed with the tripartite wig, this 26th dynasty statuette (circa 664 to 525 BC) belongs to a broader set of 336 Oushebtis found in 1929 during the discovery of the tomb of Neferibresaneith, high official of the Saïte court by British Egyptologist Cecil Mallaby Firth. All sold individually by the Museum of Cairo, they are now part of the greatest museums and private collections (estimate: €8,000 - 10,000).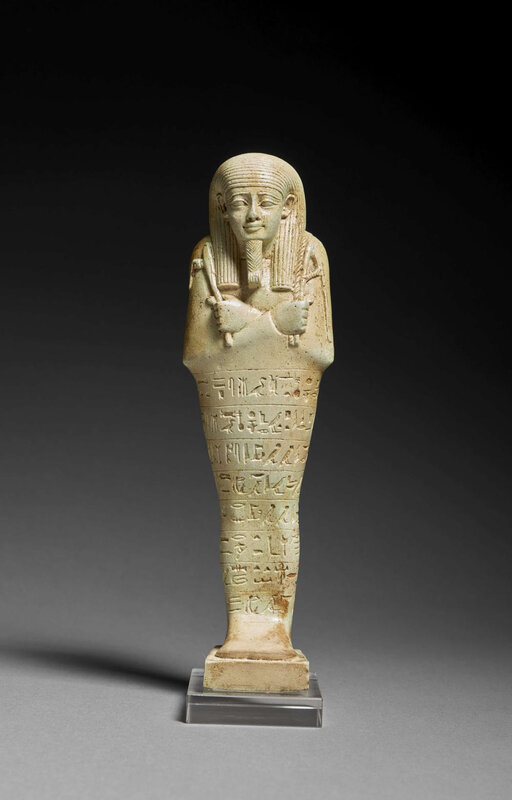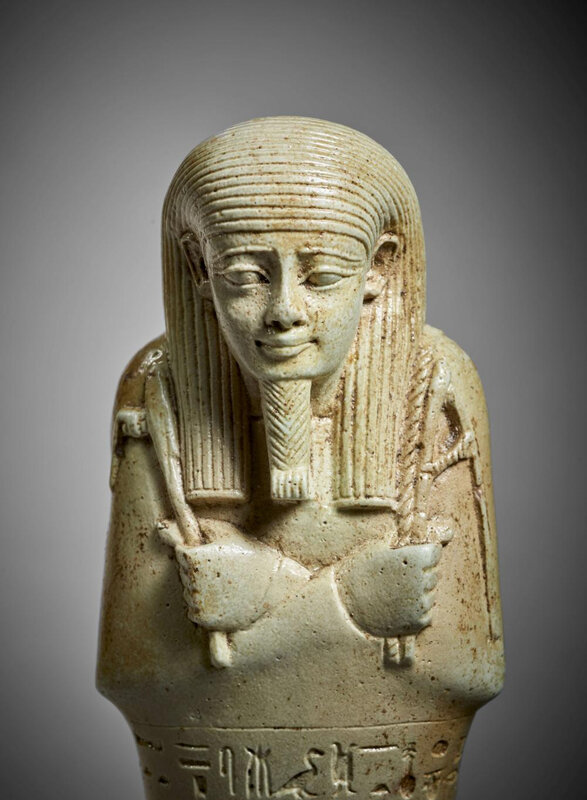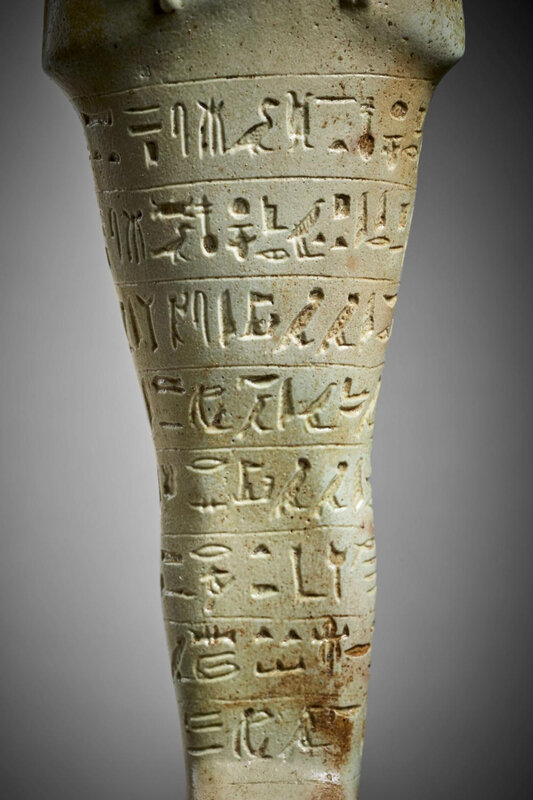 Lot 177. An Egyptian light green-glazed faience ushabti for Neferibresaneith, Saqqara, 26th Dynasty / Oushebti de Neferibresaneith, Égypte, Saqqarah, XXVIe dynastie. Haut.: 18,3 cm. Estimation : €8,000 - 10,000. Courtesy Artcurial.
Statuette en faïence vert clair, coiffée de la perruque tripartite, debout sur une base quadrangulaire, bras croisés, tenant les deux instruments aratoires. Huit bandeaux d'inscriptions hiéroglyphiques gravées à l'avant au nom de Nefer-ib-ré-sa-neith, fils de la dame Chem-(en)-bastet.
Inscription manuscrite sous le socle : " n°3 " et à l'encre rouge dans le dos " n°2 46 (?)7 ".
Provenance : Dispersion par le Service des Antiquités, acquis à cette occasion par Maurice Bouvier.
Ancienne collection Maurice Bouvier, Alexandrie ; puis à compter de 1959, Suisse
Collections Bouvier
Exposition : Égypte, Moments d'éternité,
Antikenmuseum Basel und Sammlung Ludwig, 18 mars - 13 juillet 1997
Musée d'Art et d'Histoire (lieu d'exposition : Musée Rath), Genève, 26 septembre 1997 - 11 janvier 1998
Publication : M.Page-Gasser - A.B.Wiese, Égypte Moments d'éternité, Mainz, Catalogue d'exposition, Musées d'Art et d'Histoire, Musée Rath, Genève, 1997-1998 : n°160C
Bibliographie en rapport : J.F. et L.Aubert, Statuettes Égyptiennes, Paris, 1974 : pp.229-230
J.L.Chappaz, Les figurines funéraires égyptiennes du Musée d'Art et d'Histoire et de quelques collections privées, Genève, 1984 : 139.
Note : Les statuettes de Neferibresaneith, chancelier royal de Basse Égypte et administrateur du palais, comptent de par leur raffinement parmi les plus beaux oushebtis de l'époque saïte.
Cette statuette se rattache à un ensemble plus large de 336 oushebtis trouvés en 1929 lors de la découverte par Cecil Mallaby Firth, égyptologue anglais, de la tombe d'un haut responsable de la cour saïte Neferibresaneith. Vendus par le Service des Antiquités, ceux-ci agrémentent aujourd'hui les plus grands musées et collections privées. Réalisée en faïence vert clair, cette œuvre se veut un précieux témoignage de la production artistique de la période saïte au cours de laquelle les ouchebtis connaissent un certain renouveau. Ces œuvres d'une grande qualité d'exécution reflètent une maîtrise complète de la technique et du traitement de la faïence.
De plus, la période de paix et de prospérité que traverse alors l'Égypte transparaît sur les statues qui se parent d'un sourire dit " saïte". Ces diverses caractéristiques confèrent à cette œuvre une qualité remarquable.
This statuette is part of a large collection of 336 ushabtis found in 1929 by the English Egyptologist Cecil Mallaby Firth in the tomb of a high-ranked official from the Saite court : Neferibresaneith. Sold individually by the "Service des Antiquités", these pieces found their way into the most renowned museums and private collections. Made out of pale green earthenware these statuettes are precious testimonies to the artistic output of the Saite period across which ushabtis experienced a revival. Indeed, the complete control of earthenware techniques enabled the craftsmen to produce pieces of an incredible finesse. Furthermore, the period of peace and prosperity which Egypt experienced at the time provides these statuettes with a subtle smile commonly known as 'Saite'. All of these characteristics bestow a remarkable quality upon this piece.
Egyptian votive statuettes
Maurice Bouvier and the custodians of his collections also gathered a set of Egyptian bronze votives. Made in small quantities prior to the 1st Millennium BC, they multiply during the New Empire, when Egyptian sculptors and goldsmiths develop great dexterity in bronze-working techniques. These statues are the representation of the divinity from whom the faithful seek attention. The practice is based on the principle of gift and counter-gift: By offering to the Divinity a body through which it will be venerated, the mortal hopes that in return he will be granted prosperity on Earth and in the Afterlife.

A statue of Neith, goddess and creator of the world with the help of her seven arrows, Mistress of weaving, domestic arts and of women, the protector of sleep, of sarcophagi and canopic jars plays an important part in this chapter of the auction. Made in dark brown patina bronze and inlaid with gold and silver, this exhibit dated from the 26th dynasty (toward 664 to 525 BC) was exhibited in several Swiss museums (estimate: €20,000 - 25,000).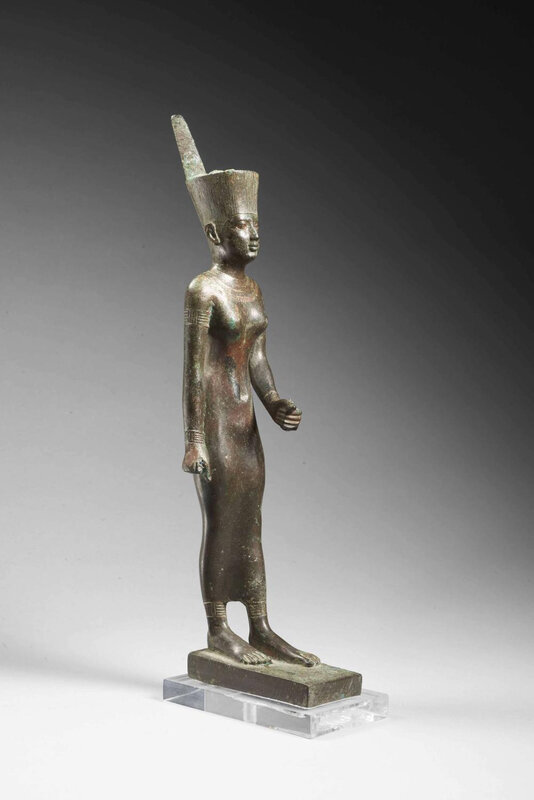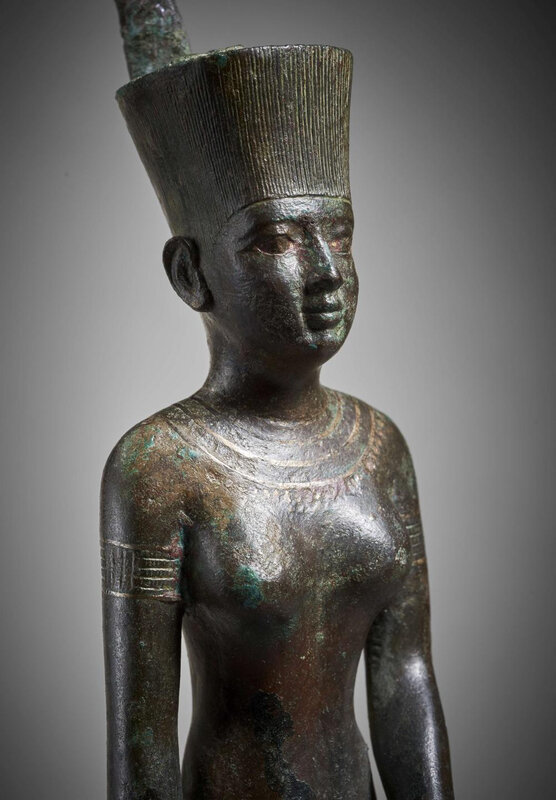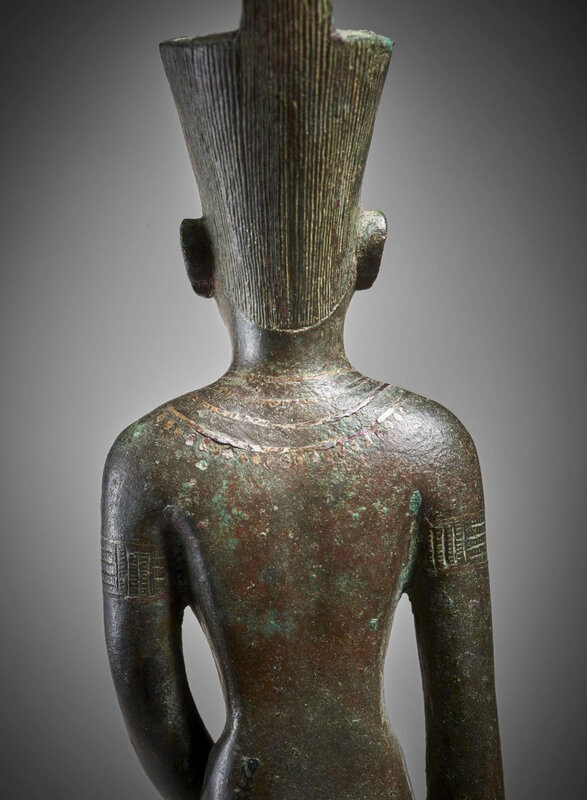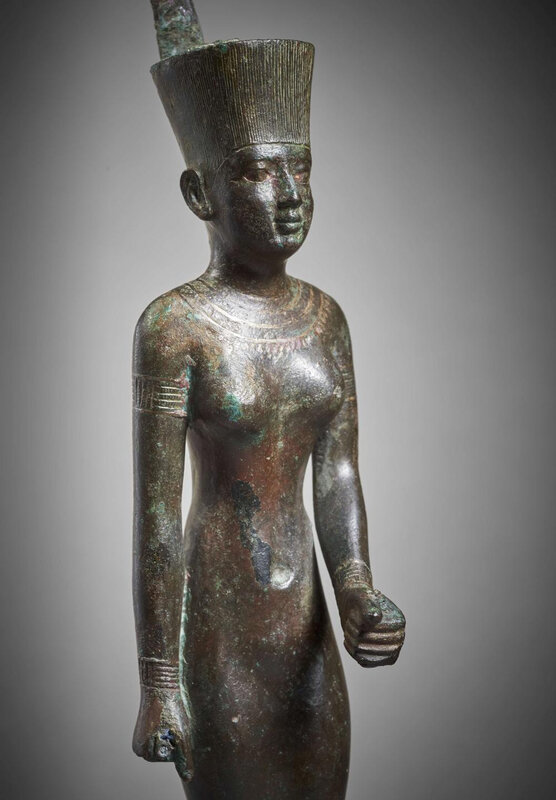 Lot 172. An Egyptian bronze statue of Neith, 26th Dynasty, circa 664-525 B.C. / Neith en bronze, Égypte, XXVIe dynastie, vers 664-525 Av. J.C. Haut. 24,4 cm. Estimation : 20 000 - 25 000 €. Courtesy Artcurial.
Statue représentant la déesse debout, jambe gauche légèrement en avant, portant la couronne de Basse-Égypte et vêtue d'une longue robe moulante qu'enveloppent au bas du corps deux longues ailes d'oiseaux. Ses bras, poignets et chevilles sont parés de bracelets. Le bras gauche tombe le long du corps ; le bras droit, dont le poing serré tenait des flèches et un arc, attributs de la déesse, est légèrement fléchi vers l'avant. Patine brune. Incrustations d'or et d'argent. Spirale de la couronne lacunaire.
Provenance : Ancienne collection Maurice Bouvier, Alexandrie ; puis à compter de 1959, Suisse
Collections Bouvier
Exposition : En prêt à l'Antikenmuseum Basel und Sammlung Ludwig
Publications : A.Wiese, Antikenmuseum Basel und Sammlung Ludwig Die Ägyptische Abteilung, Mainz, 2001 : n°117.
Bibliographie en rapport : M.Page-Gasser - A.B.Wiese, Égypte Moments d'éternité, Mainz, Catalogue d'exposition, Musées d'Art et d'Histoire, Musée Rath, Genève, 1997-1998 : n°179
Note: La déesse Neith est originaire de la ville de Saïs, dans le delta du Nil.
Déesse créatrice du monde à l'aide de ses sept flèches, maîtresse du tissage, des arts domestiques et de la femme, protectrice du sommeil, des sarcophages et des vases canopes, son culte est perpétué de la préhistoire à la fin de l'Ancien Empire puis perd de sa vigueur jusqu'à l'avènement des souverains saïtes sous la XXIVe dynastie. Sa faveur fut particulièrement grande sous la XXVIe dynastie, en raison de l'ascension des princes de Saïs dans le Delta

Patroness of the city of Sais in the Nile River delta, the goddess Neith is regarded as the prime creator, thanks to its seven arrows; the one who gave life to humanity and invented birth. Also known as the goddess of weaving, domestic life and women, as well as the protector of sleep, sarcophagi and canopic jars; her worship lasted until the end of the Old Kingdom. Her cult then loses momentum until the reign of the Sais pharaoh in the 24th Dynasty through the rise to prominence of the Sais prince in the Delta.
Coptic Art Objects
The Bouvier collections present all the facets of Egyptian civilization including the Coptic period located between pharaonic Egypt and Muslim Egypt (3rd to the 12th century). Objects bearing witness to this civilization have for the most part been discovered in funerary context deposited in the graves to accompany the deceased into the Afterlife. These vestiges of a long local tradition have thus revealed a vast quantity of everyday objects: jewels, toiletry objects, work tools, musical instruments, etc...

Stonework among the Copts marks a break with ancient statuary. Sculpture in the round is indeed abandoned for the benefit of relief sculpture. However, Antiquity remains a constantly renewed source of inspiration for the Copts. Such is the case of the 6th century limestone Papnouthis funerary stele which reveals a pronounced taste for decorative ornamentation (geometric, plant and animal patterns) to the detriment of human figuration and narration (estimate: €6,000 - 8,000).
Lot 257. An Egyptian limestone stela of Papnouthis, Coptic period, 6th-7th century / Stèle de Papnouthis en calcaire, Égypte, Art copte, 6e-7e siècle. Haut. : 36,5 cm ; Larg. : 27,5 cm ; Prof. : 6 cm. Estimation : 6 000 - 8 000 €. Courtesy Artcurial.
Stèle funéraire en forme de bloc rectangulaire, sculpté en relief d'un édifice à fronton triangulaire, bordé de bandeaux feuillagés. La partie inférieure renferme une croix pattée dans une niche à conque, à voûte hémicirculaire soutenue par deux colonnes. L'architrave se compose d'un bandeau gravé d'une inscription : Jesus Christ Viens à Papnouthis.
Le fronton renferme une seconde croix pattée, plus petite, flanquée de deux lettres grecques sculptées (alpha et omega). Les angles supérieurs du panneau sont sculptés de feuillages.
Provenance : Ancienne collection Maurice Bouvier, Alexandrie ; puis à compter de 1959, Suisse
Collections Bouvier

Exposition : En prêt à l'Antikenmuseum Basel und Sammlung Ludwig, de 1998 à 2003

Publication : A.Wiese, Antikenmuseum Basel und Sammlung Ludwig, Die Ägyptische Abteilung, Basel : p.232, n°161

Bibliographie en rapport : D.Zuntz, Koptische Grabstelen, MDAIK 2, 1932 : Taf.IV-VI
Note: Le travail de la pierre chez les Coptes marque une rupture avec la statuaire antique. La ronde-bosse est en effet délaissée au profit du relief sculpté. Comme c'est le cas de cette stèle, les reliefs de pierre révèlent un goût prononcé pour les ornements décoratifs (motifs géométriques, végétaux et animaliers) au détriment de la figuration humaine et de la narration.

Coptic stone sculpture marked a break from ancient statuary.
Sculpture in the round was abandoned in favour of relief sculpture.
As is the case with this stele : the carving in the stone reveals a pronounced taste for decorative ornamentation (geometric, plant and animal patterns) at the expense of portraying human figures and story-telling.
Egyptian jewellery from the foremost Cairote antique dealers
The symbols of the evolution of styles and civilization values, jewellery logically take an important place in this set. With nearly 60 carefully chosen and itemized lots, this selection reflects the infinite diversity of production (rings, necklaces, amulets, etc...) and the dexterity of Egyptian, Achaemenids, Greek, Roman and Islamic craftsmen.

Purchased from Cairo's foremost antique shops such as Khawam, Tano, Nahman, or having a renowned provenance as the Kettaneh collection, these jewels are for the most part in gold and silver. Important to note, in ancient Egypt, silver was rarer and more expensive due to the absence of nearby deposits.

Among these jewels, Artcurial dispersed a 5th century gold fibula. Utilitarian and ornamental, the brooch was used to clip, maintain and adjust pieces of clothing (estimate: €4,000 - 6,000).
Lot 218. A Greek gold fibula and A pair of gold earrings, 5th century B.C. / Fibule et paire de boucles d'oreilles en or, Art grec, 5e siècle avant J.C. Poids brut: 12,30 g Long. : 1,1 et 5,9 cm. Estimation : 4 000 - 6 000 €. Courtesy Artcurial.
Fibule ansée de type à sanguisuga, ornée de losanges grenetés et paire de petites boucles en forme de médaillon ovale convexe greneté. Soudure moderne.
Provenance : Collections Bouvier.
Islamic fabrics
According to the historian Maurice Lombard, Muslim civilisation was the textile civilization; indeed, Muslim civilization demonstrated a rich and unique production throughout the centuries. The sumptuous character of this craft did not escape Maurice Bouvier who, as early as the 1930's, began to acquire Islamic fabrics.

The set presented here mainly focuses on the Abbasid (750-1258) and the Fatimids (9091171) caliphates period under which the textile industry experienced unprecedented affluence. At the time, the major cities of Egypt, Iran or Iraq are equipped with private workshops devoted exclusively to the production of fabrics for the caliph. The pieces issued from these productions are recognizable by their inscriptions naming the reigning caliphate.

The Tiraz, from the Persian word for embroidery, refers to the woven, embroidered or painted decorative bands which adorned the turbans and robes of honour. These prestigious textiles were worn by the Sovereign or offered as a gift to distinguished guests. Artcurial will present an early 10th century Abbasid Tiraz from the caliph AlMuqtadir Al-Qadir. In cotton and silk fabric, it is embroidered with two lines of dark blue coufiques inscriptions and carries and estimate of €8,000 - 10,000.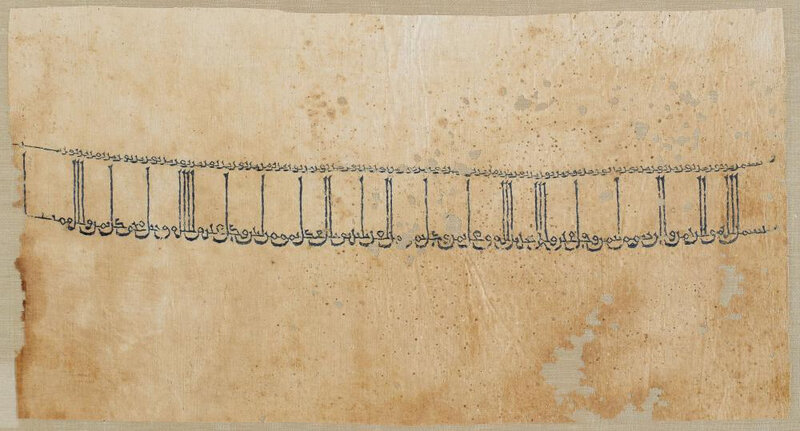 Lot 295. An Abbasid cotton and silk tiraz made for Caliph Al-Muqtadir or Al-Qadir, early 10th century / Tiraz Abbaside, Calife Muqtadir ou Al-Qadir, Début du 10e siècle. Dim.: 22,4 x 43 cm. Estimation : €8,000 - €10,000. Courtesy Artcurial.
Toile de coton et soie brodée de deux lignes d'inscriptions coufiques bleu foncé, l'une en petits caractères.
Provenance : Ancienne collection Carl Leonhard Burckhardt (1902 - 1965), Alexandrie
Collections Bouvier

Exposition : Tisserands et teinturiers d'Égypte, textiles de la collection Bouvier, exposition dossier, Institut du Monde Arabe, Paris, 26 juin 2002 au 19 janvier 2003

Bibliographie en rapport : Tissus d'Égypte - Témoins du Monde Arabe, Collection Bouvier, Musée d'Art de d'Histoire de Genève et Institut du Monde Arabe de Paris, 1993 : nos.99 et 107
K.von Folsach, Art from the World of Islam, The David Collection, Copenhague, 2001: n°625.
Note: Le tiraz, dont le nom vient du mot persan signifiant broderie, désigne les bandes décoratives, tissées, brodées ou peintes, qui ornaient les turbans et robes d'honneur depuis l'époque omeyyade, particulièrement sous les califes abbassides et fatimides d'Orient et d'Egypte jusqu'à l'époque mamelouke.
Ces textiles prestigieux, confectionnés dans les ateliers royaux qui en avaient le monopole, étaient soit portés par les souverains ou offerts en cadeau à des hôtes de marque ou à des proches qui avaient les faveurs de la cour pour les récompenser de leurs services. La plupart portent des inscriptions en caractères coufiques ou, à partir du 11e siècle, en graphie cursive naskhi, mentionnant pour certains le nom du calife.

The tiraz, whose name comes from the Persian word meaning embroidery, signifies the decorative woven, embroidered or painted strips which decorated the turbans and robes of honour of the Umayyad period, especially during the Abbasid and Fatamid Caliphates of the East and Egypt up to the Mamluk period.
These prestigious textiles, made in the royal workshops which held the monopoly, were either worn by the sovereigns or offered as gifts to important guests or as a reward to those in favour at the court. Most of them carry inscriptions in Kufic characters or, starting in the 11th century, in Nashki cursive script, in some case mentioning the name of the Caliph.
Lors de sa vente dédiée à l'Archéologie et aux Arts d'Orient le 15 mai prochain, Artcurial dispersera les collections Bouvier. Réuni principalement entre 1930 et 1960 lorsque Maurice Bouvier enseignait le droit à Alexandrie, cet ensemble se constitue de 250 lots. Il représente à lui seul toutes les facettes de l'Egypte et de ses civilisations: de la période prédynastique, avec des pointes de flèches ou des vases black top datant du 4e millénaire av. J-C, à la période musulmane du XIIe siècle, avec des bijoux et textiles, en passant par la période pharaonique et copte.
Artcurial présentera ainsi une collection impressionnante d'Oushebtis. Comptant près de 50 exemplaires variés, en bois, en faïence ou en albâtre, cet ensemble retrace l'évolution stylistique et symbolique de ces statuettes funéraires égyptiennes.
Maurice Bouvier et les dépositaires de ses collections ont également réuni un ensemble de statuettes égyptiennes votives en bronze. Parmi les pièces phares de ce volet, notons une statue de Neith, déesse créatrice du monde à l'aide de ses 7 flèches, maîtresse du tissage, des arts domestiques et de la femme, protectrice du sommeil, des sarcophages et des vases canopes. Réalisée en bronze à patine brune et incrustée d'or et d'argent, cette pièce datée de la XXVIe dynastie (vers 664 à 525 av. J-C) fut exposée dans plusieurs musées suisses (estimation: 20 000 - 25 000 €).
Des bijoux égyptiens provenant des plus grands antiquaires cairotes seront également présentés. Symboles de l'évolution des styles et des mœurs d'une civilisation, les bijoux tiennent logiquement une place de choix au sein de cet ensemble. A travers près de 60 lots judicieusement constitués et consciencieusement répertoriés, cette sélection reflète l'infinie diversité de production (bagues, colliers, amulettes, etc...) et la dextérité des artisans égyptiens, achéménides, grecs, romains mais aussi islamiques.
Considérée, selon les dires de l'historien Maurice Lombard, comme civilisation du textile, la civilisation musulmane s'est illustrée au fil des siècles par une production riche et unique. Le caractère somptueux de cet artisanat n'échappa pas aux yeux avisés de Maurice Bouvier qui, dès 1930, se mit à acquérir des tissus islamiques. L'ensemble présenté ici est essentiellement centré sur la période des califats abbassides (750-1258) et fatimides (909-1171) sous lesquels l'industrie du textile a connu une importance sans précédent. À l'époque, les grandes villes d'Egypte, d'Iran ou d'Irak sont dotées d'ateliers privés exclusivement consacrés à la production de tissus pour le calife. Les pièces sorties de ces derniers sont reconnaissables à leurs inscriptions donnant le nom du califat régnant.