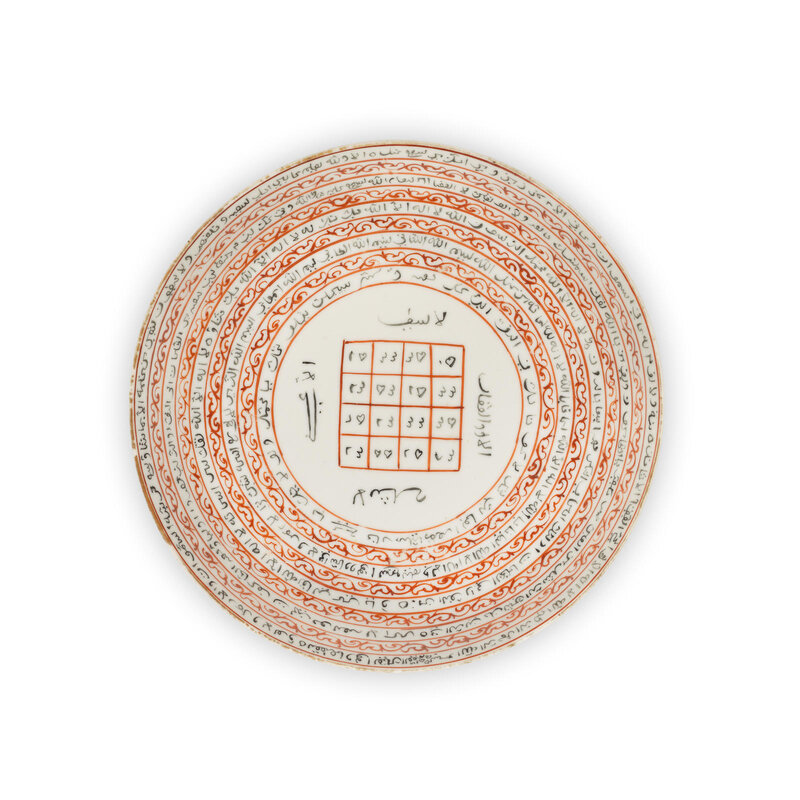 Lot 44. A porcelain magic bowl for the Islamic Market, China, late 18th Century; 20.2 cm. diam. Estimate £ 2,000 - 3,000 (€ 2,300 - 3,500). © Bonhams 2001-2019
of shallow rounded form on a short foot, decorated in red and black enamel with a central roundel containing a magic square surrounded by concentric bands containing inscriptions interspersed by bands containing undulating vines.
Inscriptions: in the bands Qur'an, sura II, al-Baqarah, verse 255; Qur'an, sura II, al-Baqarah, verses 256 and 257, and the shahadah; the nada 'ali quatrain; in the centre, la fata/illa 'ali/lasaf/ illadhu'l-faqar, 'There is no youth [as brave as] 'Ali, no sword [as sharp as] dhu'l-faqar'.
Bonhams. Islamic and Indian Art Including The Lion and the Sun, Art from Qajar Persia, London, 30 Apr 2019, 11:00 BST