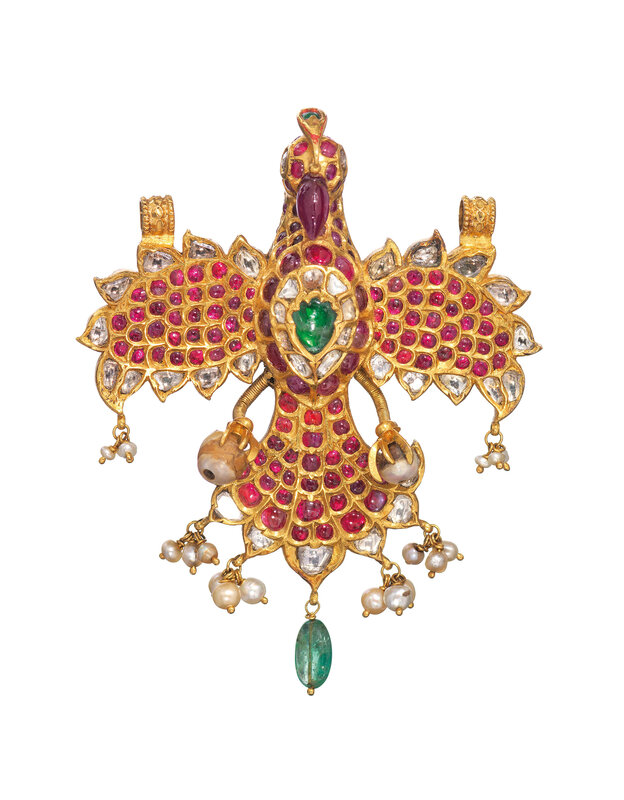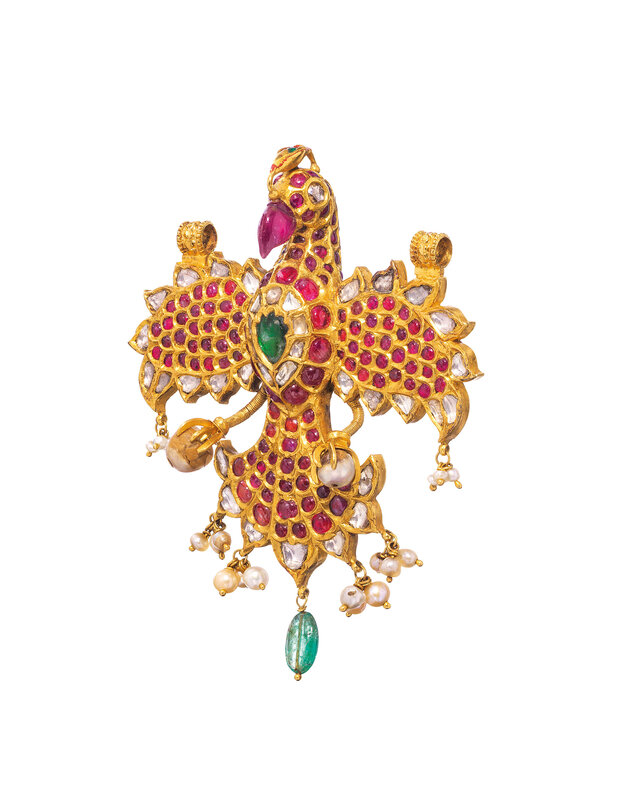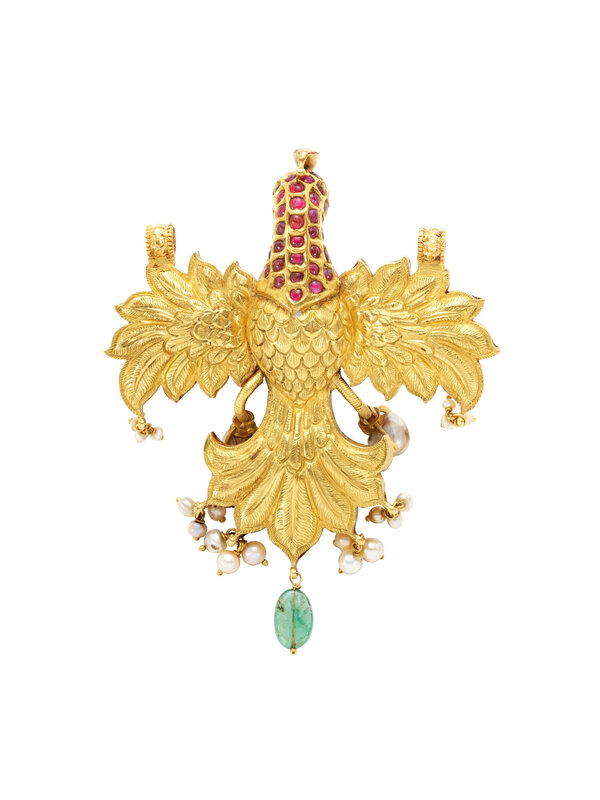 Lot 121. A gem-set gold pendant in the form of an eagle, Deccan or South India, 19th century; 3 ½ in. (9cm.) high. Estimate GBP 20,000 - GBP 30,000 (USD 25,840 - USD 38,760). Price realised GBP 106,250. © Christie's Images Ltd 2019.
The bold heraldic eagle holding pearls in its claws, the body set with a foiled emerald surrounded by table cut diamonds and foiled cabochon rubies, the beak formed of carved ruby, the wings and flaring tail bordered with similar diamonds, a fringe of seed pearls and an emerald bead below, the reverse with incised naturalistic details.

Provenance: UK private collection since 1979, acquired from Mehdi Mahboubian collection.
Note: This impressive gem-set pendant in the form of a bird of prey, with spread wings and fanned tail, is part of a small group of bird pendants dating from the 17th to the 19th centuries. The birds hold large pearls in their claws and all have suspension loops on their wings and head confirming that they were worn as pendants. There are known examples in the Al-Sabah Collection, Kuwait (LNS 28 J; Keene, 2001, cat.no.8.38, p.108); the Musée Guimet, Paris (MA 6768; Okada, 1992, p.147); two in the Nasser D. Khalili Collection (JLY 2151, JLY 2154; Carvalho, 2010, no.20, 21, pp.76-77); and two in the Al-Thani Collection (Jaffer (ed.), 2013, no.56, 57, pp.187-188).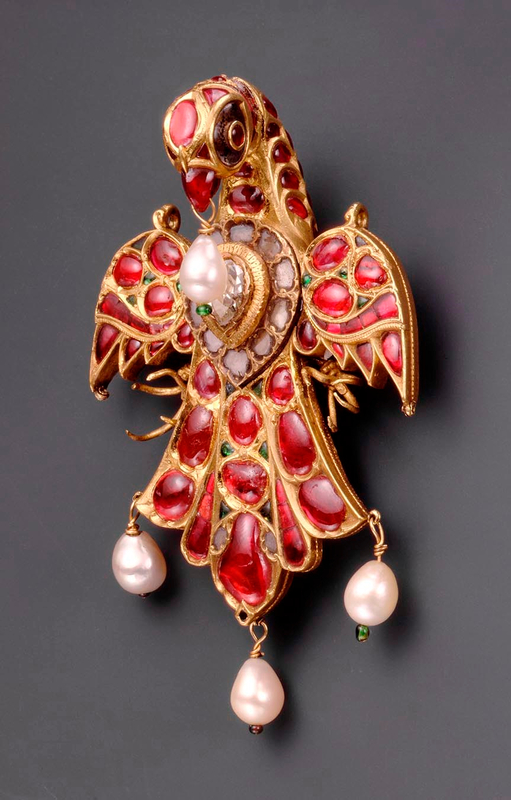 India, Bird Pendant, late 16th–early 17th century, gold set with gems, The al-Sabah Collection, Dar al-Athar al-Islamiyyah, Kuwait.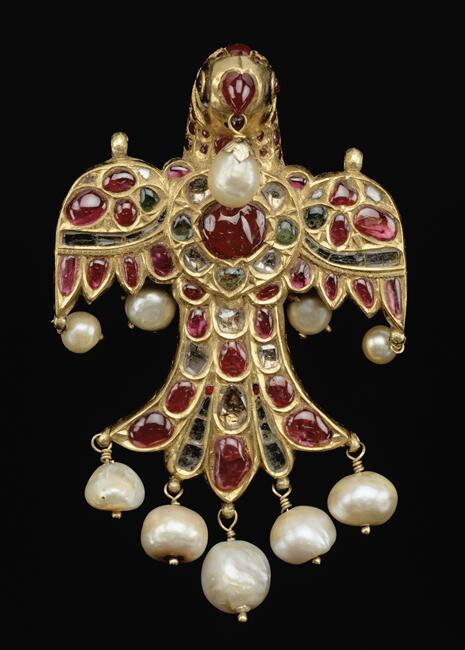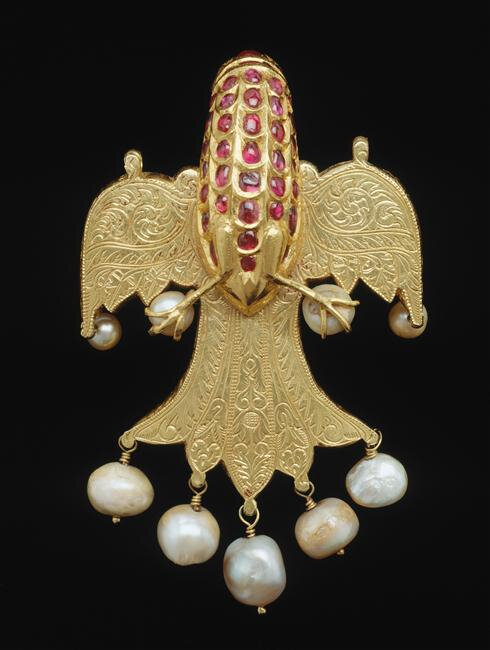 Pendentif en forme d'oiseau, 17e siècle, Inde, Empire moghol (1526-1857), cristal de roche, émeraude, or, perle et rubis, Paris, musée Guimet - musée national des Arts asiatiques, donation Jean et Krishnâ Riboud, MA6768. Photo © RMN-Grand Palais (MNAAG, Paris) / Thierry Ollivier
Pendant in the Form of an Eagle Displayed, Deccan or Southern India, early 17th century, gold, cast (or possibly sheet on a lac core), chased, set with foiled diamonds, rubies, emeralds and sapphires in gold kundan and wired pearls, 8.5 x 6.5cm, JLY 2151. © Khalili Collections
A diamond and multi-gem bird pendant with variously shaped table-cut diamonds, oval and triangular-shaped cabochon rubies and emeralds, pearls, black, blue, green, white, red and yellow enamel, foil, gold on a lac core, mid- to late-18th century. © The Al Thani Collection.
Pedro Moura Carvalho suggests that bird-shaped pendants derive from Christian representations of the dove and the spread wings symbolise the Holy Spirit. It is possible that dove representations had arrived at the Mughal court in the late 16th century with the first Jesuit mission presenting a copy of the Polyglot Bible to Akbar in 1580. The iconography of the dove is widely used by Christians around the world and would have been familiar to the Catholics living in India. Local Christian women in Goa are known to have replaced the marriage necklace worn by Hindu women (mangal sutra) with one in the form of a dove. This tradition disappeared in the 19th century when the dove was replaced by a crucifix. For a full discussion of bird pendants of this type, see Carvalho, ibid., pp.76-77.

Michael Rogers suggests that the image of the heraldic bird was popular in Europe in the 16th and 17th centuries and was introduced to the Mughal court by Italian jewellers working for the Mughal Emperors (Jaffer (ed.), 2013., p.187). The form then found its way to the Rajput and southern Indian courts along with other forms of Mughal jewellery. Birds pendants appear in a few 18th century paintings from Jaipur and Mewar in Rajasthan. These include a standing portrait of Maharana Amar Singh II of Mewar (r.1698-1710), painted in about 1735-40, in which the Maharana has a bird suspended on a chain around his neck, worn as a single pendant rather than part of a larger necklace. The portrait is in the collection of the Victoria and Albert Museum, London (IS.55-1997). The painting suggests that these pendants were popular in Rajasthan. Examples with some enamel decoration seen along the edges and on the tails of the birds were probably made in North India. The lack of enamel on our pendant and the prominent use of small cabochon rubies set in gold suggests a Deccan or South Indian origin (Jaffer (ed.), 2013., p.187).
Christie's. Art of the Islamic and Indian Worlds Including Oriental Rugs and Carpets, London, 2 May 2019