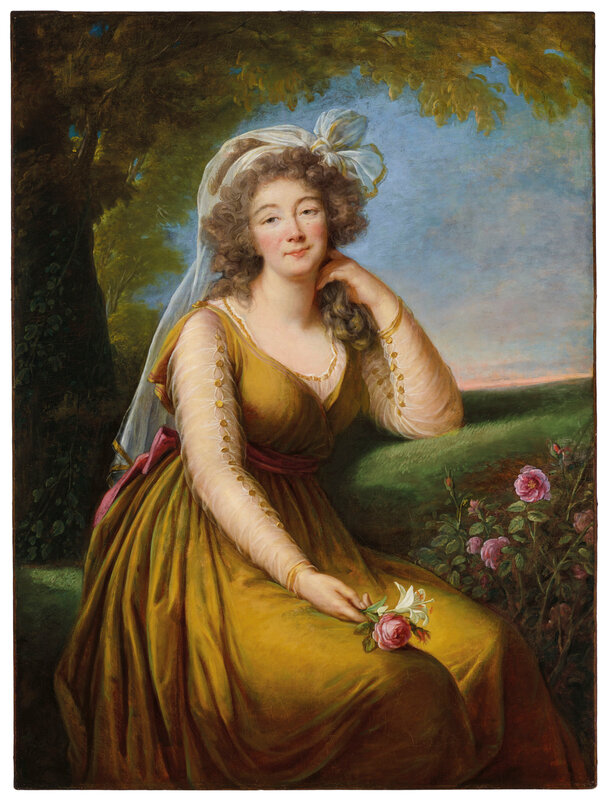 Lot 33. Élisabeth-Louise Vigée Le Brun (Paris 1755-1842), Portrait of Madame du Barry (1743-1793), three-quarter-length, seated in a landscape, oil on canvas, 51 3/8 x 38 ½ in. (130.4 x 97.8 cm.) Estimate USD 1,000,000 - USD 2,000,000. Price realised USD 975,000. © Christie's Images Ltd 2019.
Provenance: The sitter, by whom commissioned at the old Château de Louveciennes in summer 1789, but left unfinished and presumably entrusted to
Louis Hercule Timoléon de Cossé (1734-1792), Duc de Brissac, and perhaps retrieved at his residence with other portraits of Madame Du Barry in September 1793 by
Louis Antoine Auguste de Rohan-Chabot (1733-1807), later 6th Duc de Rohan
Louis Marie Jacques Amalric, comte de Narbonne-Lara (1755-1813), by whom restored after 1802 to
Madame Vigée Le Brun (1755-1842), Hôtel Le Brun, rue du Gros-Chenet, Paris, later completed by her and after her death, described in the estate inventory drafted in her Paris residence in the Château du Coq on the rue Saint-Lazare as 'Un Portrait de Mad. Dubarri a mi jambe en costume de fete & tenant une fleur assise au milieu d'un Parterre dans son cadre de Bois doré', and by inheritance to her niece
Caroline Vigée (1791-1864) and her husband Jean-Nicolas-Louis de Rivière (1778-1861), Paris and Versailles, and by whom presumably sold circa 1845 to
Charles Maurice de Talleyrand-Périgord (1754-1838), Prince de Bénévent (1754-1838), Paris and Château de Valençay, Valençay; (†) his sale, Hôtel des Ventes Mobilières, Paris, 9-10 March 1847, lot 69, where presumably acquired by
Justin Tripier Le Franc (1805-1883) and his wife Françoise-Élisabeth ('Eugénie') Le Brun (1797-1872), Paris and Passy; (†) his estate sale, Paris, Hôtel Drouot, 5-7 June 1883, lot 5.
A Prince of Hohenlohe, possibly Chlodwig Carl Viktor (1819-1901), Prince of Hohenlohe-Schillingsfürst, Prince of Ratibor and Corvey.
with Eugène Kraemer, Paris, from whom acquired for 150,000 francs on 18 January 1911 by
Eugène-Charles-Joachim Fould (1876-1929), Baron Fould-Springer and his wife Maria Cécilia von Springer (1886-1978), Paris, and by descent to their daughter
Baroness Élie de Rothschild, née Liliane Fould-Springer (1916-2003), Paris, and by descent to the present owners.
Literature: É.-L. Vigée Le Brun, Souvenirs, Paris, 1835, I, pp. 168-169.
É.-L. Vigée Le Brun, 'Extrait des souvenirs autobiographique de Mme Vigée-Le Brun', Prince F.A. Kourakine, ed., Souvenirs des voyages de la princesse Natalie Kourakine, Moscow, 1903, p. 474.
P. de Nolhac, Madame Vigée-Le Brun: peintre de la reine Marie-Antoinette, 1755-1842, Paris, 1908, pp. 81, 82, 85, 97, and 139.
P. de Nolhac, Madame Vigée-Le Brun: Peintre de la reine Marie-Antoinette, Paris, 1912, pp. 141-142.
W.H. Helm, Vigée-LebBrun, 1755-1842: Her Life, Works, and Friendships, Boston, 1915, p. 188.
Douglas Cooper, ed., Great Private Collections, Paris, 1963, p. 177, illustrated.
J. Baillio, 'Identification de quelques portraits d'anonymes de Vigée Le Brun aux États-Unis', Gazette des Beaux-Arts, 6, XCVI, November 1980, pp. 159-160, 167-168, fig. 6.
Musée-promenade de Marly-le-Roi-Louveciennes, Madame du Barry: De Versailles á Louvenciennes, Paris, March-June 1992, pp. 155, 186, and 189, cited under no. 88.
S. Moehring, L'orignal était fait pour les Dieux! Die Comtesse Dubarrry in der Bildkunst, Ph.D. dissertation, 1995, pp. 100-105, fig. 81.
É.L. Vigée Le Brun, Souvenirs, Paris, 2015, I, p. 113, illustrated.
J. Baillo and X. Salmon, Élisabeth Louise Vigée Le Brun, Paris, 2015-2016, pp. pp. 72, 86, 169, 334, and 347, no. 54.
C. Devauxtreis, 'La beauté est toujours reine?: bildiche Legitimationsstrategien königlicher Mätressen Ludwis XIV. und Ludwigs XV', Wissenschaftliche Beiträge aus dem Tectum Verlag: Reige Kunstgeschichte, Baden-Baden, 2017, VII, p. 186, fig. 120.
Exhibited: Paris, Galerie Charpentier, Célébrités Françaises, 1953-1954, no. 185.
London, Royal Academy of Arts, European Masters of the Eighteenth Century, 27 November 1954-27 February 1955, no. 342.
Note: The subject of this elegant portrait, Jeanne Du Barry (1743-1793), was one of the courtesans of the eighteenth century that EÉlisabeth Louise Vigée Le Brun painted in the course of her long career. What is known of her life reads like a cautionary tale. Jeanne Bécu was born out of wedlock into the servant class of Vaucouleurs, a town on the Meuse river in the province of Champagne near the frontier separating France from the duchy of Lorraine. The child's mother, Anne Bécu-Cantigny (1713-1788), was a seamstress, while her father is usually presumed to be Jean Jacques Gomard de Vaubernier (1715-1804), called père or frère Ange, a monk of the tertiary order of St. Francis (Picpus) in whose institution Anne was occasionally employed. With her young daughter, Anne Bécu, travelled to Paris in the company of a financier and supplier to the royal army who had interests in the area, a certain Billard du Monceaux, entrusting them to the care of his mistress, "Mademoiselle Frédéric," with whom they lived both in the city and in a country house at Courbevoie.
When Jeanne was six, her mother married a servant, Nicolas Rançon, who was given employment in a warehouse on the island of Corsica that had recently become a French possession. Over a period of eight years, Jeanne received a sound education in a convent school for indigent or wayward girls run by the nuns of Sainte-Aure not far from the church of Saint Étienne du Mont. She later served for a brief time as a companion to the widow of a tax concessioner, Madame de Delley de La Garde, one of whose sons became infatuated with her, causing her to be dismissed. She had a brief dalliance with a hairdresser named Lametz, the result of which may have been the birth of a young girl called Betzi. For a time Jeanne apparently made her living as a shop girl under the signboard À la Toiletteon the rue Neuve-des-Petits-Champs.
Eventually the lovely "Mademoiselle Lange" or "Mademoiselle de Beauvernier," as she was then alternately calling herself, worked as a prostitute and may even have been employed for a brief spell in the brothel kept by the maquerelle, Marguerite Gourdan or in the gambling den of the so-called "marquise" Dufresnoy. She was ultimately taken up by a notorious sharpster belonging to the minor aristocracy of Gascony, comte Jean Du Barry de Céres (1723-1794), who was known to the Paris police as le Roué (the Rake). He quickly turned his lodgings into a place where he could hire out his "protégée" to men who could pay the exorbitant prices she could garner, among them the duc de Richelieu and the Treasurer of the royal navy, Maximilien Radix de Sainte-Foix.
By the spring of 1768 Jean Du Barry had contrived to present the young woman to Louis XV's premier valet de chambre, Dominique Lebel, who for years had served his master as a procurer of girls lodged in a house in the town of Versailles, the Parc-aux-Cerfs. Through the intrigues of Richelieu and Lebel, Jeanne was introduced to the monarch, who was immediately smitten with her charm. These famously included an exquisite complexion, a beautiful bosom — as can be seen from the marble bust of her carved by Augustin Pajou, (Musée du Louvre, Paris)—, a profusion of ash-blonde hair, blue eyes that were often half closed and a pronounced lisp, which gave her speech a childlike innocence.
Until this time, Louis's official mistresses had been either of the highest aristocracy or, in the case of Madame de Pompadour – who had recently died at the age of forty-three of physical exhaustion and tuberculosis – of the highest ranks of the moneyed class. Once Jeanne she had been stealthily married off to Du Barry's younger brother Guillaume – who was quickly dispensed with – and titled "comtesse Du Barry," Jeanne was formally presented at Court in the third week of April 1769. She was assigned luxuriously appointed apartments in Versailles and other royal residences and was immediately surrounded by a coterie of courtiers, male and female alike, military officers and state officials.
The comtesse du Barry immediately incurred the intense loathing of the royal family (the king's spinster daughters, his grandson and heir, the Dauphin, and especially the latter's wife, Marie Antoinette) and the Minister of Foreign Affairs, the duc de Choiseul. She found herself in the crosshairs of much of the Court and the representatives of the underground press, for whom she was easy prey.
The comtesse, who was clever beyond her years and quickly assimilated the tastes, manners and conventions of the aristocracy, was installed in great opulence at Versailles, and her official presentation took place on 22 April 1769. Considerably less grasping and meddlesome than the Pompadour, she did exercise some influence in the realms of fashion and the arts. The painters Joseph Vernet, Jean Baptiste Greuze, Jean Honoré Fragonard and François Hubert Drouais, the sculptor Augustin Pajou and the architect Claude Nicolas Ledoux all derived considerable benefit from her largesse. Undeniably, the finest work of art she ever owned was Sir Anthony van Dyck's full-length Portrait of King Charles I of England at the Hunt (Musée du Louvre, Paris), a painting she sold to Louis XVI after her fall from grace. In the area of politics, she finally brought about the banishment from Court of her nemesis, the powerful Choiseul, who was unrelenting in his hostility to her. Through some of her allies — notably Choiseul's replacement, the duc d'Aiguillon (old Richelieu's kinsman), the Comptroller General of Finance and head of the fine arts administration, the abbé Terray, and the Chancellor of France and Keeper of the Seals, René Nicolas Maupeou — she may have had an impact on the conduct of affairs of state, but less than her higher-born predecessors had had.
That being said, she was profligate and lavished great sums of money provided to her by the royal bankers on herself, her Du Barry relations and the favorites who paid court to her. The king purchased for her the Château de Luciennes (the eighteenth-century spelling of Louveciennes), and she commissioned Ledoux to design and construct an exquisite little neo-classical pavilion for which Jean Honoré Fragonard painted the four-panelled Progress of Love in the Hearts of Young Girls (The Frick Collection, New York). She foolishly rejected these masterpieces and replaced them with a set of more fashionable but rather insipid neo-Greek compositions by Joseph Marie Vien. (See Colin B. Bailey, Fragonard's Progress of Love at the Frick Collection, New York and London, 2011.)
The four years of her tenure as official mistress of the king were the highpoint of Madame Du Barry's life. After Louis XV died of smallpox in 1774, Jeanne Du Barry was disgraced and banished from Court. After a period of confinement in a convent, she lived in retirement at Luciennes, where she was visited by new lovers, most prominent among them Hyacinthe Hugues Timoléon de Cossé, duc de Brissac (1734-1792), the Governor of Paris.
As the Revolution approached, Madame Du Barry remained unswervingly loyal to the monarchy. She eventually came under the scrutiny of agents of the local revolutionary clubs. The reported theft of her jewels in 1791 was the pretext she used to make several crossings to England where French spies noted her close contacts with exiled supporters of the old regime. She even wore morning in London when Louis XVI was guillotined. In early September of 1792, Brissac, whom Louis XVI had appointed commander of his Swiss Guards, was killed by a mob as he and other prisoners were crossing through Versailles; it is said that his head was carried to the château at Louveciennes.
Denounced for crimes of aristocracy and treason, the comtesse Du Barry was arrested on September 22, 1793. At first incarcerated in the prison of Sainte-Pélagie; she was later transferred to the Conciergerie. At her trial some of her servants, notably her cook Salanave and her Bengali groom Zamor, betrayed her (J. Baillio, 'Un portrait de Zamor, page bengalais de Madame Du Barry,' Gazette des Beaux-Arts, vol. CXLIV, no. 1065, October 2002, pp. 233-242). On receiving the death sentence, the distraught woman revealed the location of many of the valuables she had hidden on her estate. On 8 December 1793—18 Frimaire an II of the revolutionary calendar—Jeanne Du Barry and her Flemish bankers, the Vandenyvers, father and two sons, were executed.
How Vigée Le Brun originally became acquainted with Madame Du Barry is unknown. It could have been through the latter's brother-in-law, Jean Du Barry, whose portrait the artist had executed when she was only eighteen. Or, more likely, it could have been upon the recommendation of the duc de Brissac, whose portrait "en costume de cérémonie" she had executed in pastel in the early 1780s, a work exhibited at Pahin de la Blancherie's Salon de la Correspondance in 1781 and 1782. In the dated list of portraits and subject pictures done between 1768 and 1789 that she appended to vol. I of her memoirs, the painter accounts for a number of likenesses of Du Barry: a copy of a portrait of her by another artist done in 1778 (unlocated or unidentified); a portrait done from life in 1781, which is either the half-length in which she is shown wearing a white muslin chemise or peignoir and a straw hat, a work that exists in two more or less well preserved autograph versions (figs. 1 and 2), or the almost knee-length portrait showing the comtesse wearing a creamy white satin dress à l'espagnole holding a wreath of flowers and leaning on a porphyry column, a work completed and signed and dated the following year (fig. 3); and a full-length portrait (1787), which either never existed or has not survived, and one of the aforementioned portraits of her wearing a peignoir.
There is no mention however in the lists of the present portrait, which she began at the Château de Louveciennes during at the end of September 1789, leaving it unfinished only weeks before she felt obliged to leave France. She does however refer to it in the text of the Souvenirs:
"The third portrait that I did of Mme Dubarri is in my house. I began it around the middle of September 1789. From Louveciennes, we heard incessant cannonades, and I remember the poor woman telling me. 'If Louis XV were still alive, certainly none of this would be happening.' I painted the head and sketched the body and the arms, then I was obliged to make a trip to Paris. I hoped to be able to return to Louveciennes to finish my work, but Berthier and Foulon had just been assassinated [22 July 1789]. I was out of my mind with fear, and I could only think of fleeing France. I therefore left this painting half finished. I know not how by some fluke comte Louis de Narbonne came into possession of it during my absence. Upon my return to France, he returned it and I have just finished it."
Madame Le Brun left Paris with her daughter in October of 1789, the same night that the royal family was forcibly removed by a mob from the Versailles and made to take up residence in Paris at the Palais des Tuileries, a major step in the eradication of the centuries-old monarchy. She settled in Rome and on July 2, 1790, after a financially profitable stay in Naples, she wrote to Madame Du Barry that she was hoping to return to Louveciennes to complete the portrait in October of that year. "I was hoping to stay here only six weeks, but I have so many paintings to do that I am staying six months. That postpones my beloved project for Louveciennes, that of finishing your portrait, but I will come back with pleasure, because there everything is lovely, everything is fine…"
This is undoubtedly the unfinished portrait of the comtesse Du Barry which the duc de Rohan Chabot found in the Paris townhouse on the rue de Grenelle, of the murdered duc de Brissac, reporting in a letter to her, "I picked up the three portraits of you which were at his house. I kept one of the smaller ones. It's the original of the one which shows you wearing a white chemise or a peignoir and a hat with a plume, the second is a copy of the one in which the head is finished, but the clothing is only sketched in. Neither of them is framed" (C. Vatel, Histoire de Madame du Barry d'après ses papiers personnels et les documents des archives publiques, Versailles, 1883, III, pp. 201-202).
Here Madame du Barry is shown seated on a bench in a garden next to a tree with an ivy-covered trunk. The skin tones of her face are florid, and there is a beauty spot under her left eye. Her left hand fondles a thick braid of her unpowdered tresses, while the rest of her hair is arranged in curls around her face or falls to her shoulders. The artist has woven a gold bordered transparent veil into this coiffure in the manner of a turban knotted at the top and falling onto her back. Over a filmy long-sleeved shift attached with gold buttons running down the arms to the wrists, she wears a golden ochre gown shot with green reflections which is caught up under her ample bosom with a sash of pink silk tied at the rear into a large bow. In her right hand she holds a nosegay composed of a white lily—a symbol of Madame Du Barry's royalist convictions—and a pink rose she has just picked from the flowering bush at the lower right of the portrait.
Vigée Le Brun returned to Paris after her twelve-year exile from France during the period of the Émigration and took up once again residence in the Hôtel Le Brun on the rue du Gros-Chenet. Sometime after this event, the portrait was restored to her by the comte de Narbonne-Lara, the son of a lady-in-waiting to Louis XV's daughters, Louise Élisabeth de France, Duchess of Parma and Piacenza (1727-1759) and Madame Adélaïde de France (1732-1801).
On December 15, 1802, eleven months after Madame Le Brun's return from exile, the Prussian composer Johann Friedrich Reichardt (1752-1814) visited the French artist's studio with a group of friends the French artist's studio. Among the many works he noticed were unfinished portraits of Marie Antoinette (undoubtedly a bust-length picture) and the comtesse Du Barry, the work under discussion. It inspired him with sorrowful thoughts: "Melancholic reflections in which I did not expect to indulge myself in the cheerful studio of the genial artist were inspired by the view of two unfinished portraits placed near each other: that of Mme du Barry and that of the unfortunate queen of France. How many thoughts does a similar, rather strange, juxtaposition by Mme Lebrun, not elicit, it seems to me." (J.F. Reichardt, Vertraute Briefe aus Paris Geschrieben in den Jahren 1802 und 1803 […], A. Laquiante, ed., Paris, 1896, pp. 148-151.)
Details of why or precisely when Vigée Le Brun returned to the present portrait and finished it are few. As Vigée Le Brun began writing her celebrated Souvenirs in the early 1820s—the first volume was published in 1835—one may presume that she resumed work on the painting and completed it in the early to mid-1820s, a dating that accords with the style of much of the drapery and landscape setting.
The finished portrait was hung in the second of Vigée Le Brun's two salons that contained the most important of her paintings that she had retained, rooms overlooking the garden of the house she occupied at the end of her long life, the so-called Hôtel du Coq, which was located at 99 rue Saint-Lazare across from the construction site of the locomotive station that later became the Gare Saint-Lazare.
A red-chalk copy of the bust by the engraver Alexandre-Vincent Sixdeniers (1795-1846) is today preserved in a private Swiss collection. A pastiche of the painting showing Madame Du Barry wearing a green silk dress over a short-sleeved undergarment, which is usually attributed to Vigée Le Brun's niece by marriage, Eugénie Tripier Le Franc, formerly in the collection of the subject's biographer Charles-Joseph Vatel (1816-1885), is today in the Musée Lambinet, Versailles.

Joseph Baillio

We are grateful to Alexis Merle Du Bourg for his additional research. This work will be included in the catalogue raisonné of the works of Vigée Le Brun being prepared by Joseph Baillio, the author of the present entry.