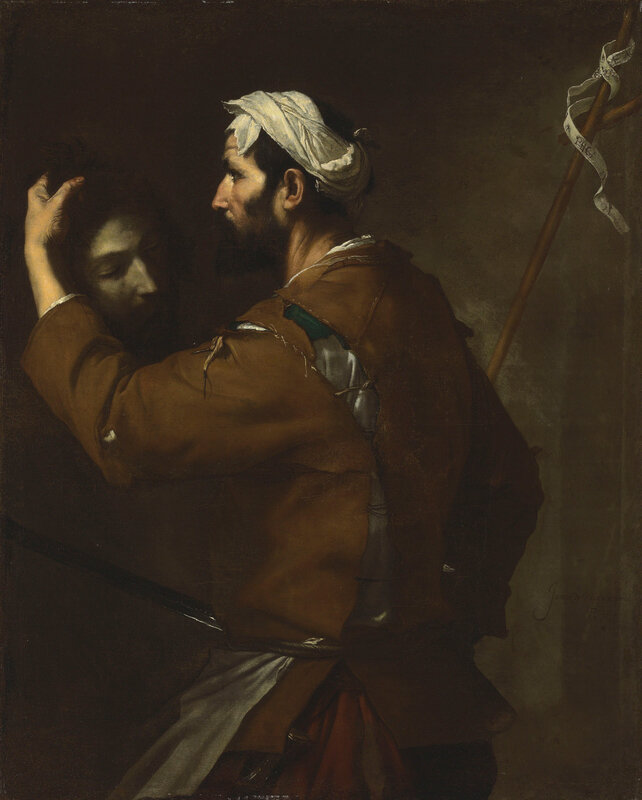 Lot 19. Jusepe de Ribera (Xàtiva 1591-1652 Naples), The Executioner with the head of Saint John the Baptist, signed and dated 'Jusepe de Ribera español / F. 1639', oil on canvas, 49 7/8 x 39 5/8 in. (126.8 X 100.6 cm.) Estimate USD 300,000 - USD 500,000. Price realised USD 300,000. © Christie's Images Ltd 2019.
Provenance Private collection, Milan.
Literature: N. Spinosa, Ribera, Naples, 2006, p. 348, no. A247.
N. Spinosa, Ribera: La Obra Completa, Madrid, 2008, p. 436, no. A268.
A. Orlando, Pietro Bellotti e Dintorni: Dipinti Veneti e Lombardi tra Realtà e "Genere" dalla Collezione Koelliker, exhibition catalogue, Brescia, 2007, pp. 6-7, fig. 3.
P. Zelenková, 'Princ Ruprecht, Jusepe de Ribera a Kat', Ars Linearis, VIII, 2018, pp. 109 and 112, note 4.
Exhibited: Turin, Palazzina di Caccia di Stupinigi, Il Male: Esercizi di Pittura Crudele, 19 February-26 June 2005, no. 61.
Naples, Museo di Capodimonte, Salvator Rosa tra mito e magia, 18 April-29 June 2008, no. 96.
Cesena, Galleria Comunale d'Arte - Biblioteca Malatestiana, La Croce, la testa e il piatto: Storie di San Giovanni Battista, 12 June-24 October 2010, no. 29.
Note: Jusepe de Ribera's signed Executioner with the Head of Saint John the Baptist showcases his expert command of light. A somewhat unusual treatment of this subject, his composition was widely known through copies, including one in the Alte Pinakothek, Munich, and the mezzotint made after the latter, this compelling composition has been celebrated for centuries.
Executioners appear frequently throughout Ribera's oeuvre in various scenes of martyrdom; in The Martyrdom of Saint Bartholomew of 1644 (Museu Nacional d'Art de Catalunya, Barcelona), the bare-shouldered executioner is shown carrying out the act itself, marked out by the white kerchief around his head, his coarse features contorted into a grotesque laugh as he flays the skin from the saint. But in the case of Saint John the Baptist's martyrdom, iconographical tradition often casts Salome as the protagonist of the scene; the beautiful temptress who danced for Herod and was granted the head of Saint John as her reward. On some occasions, the role of the executioner is reduced to a simple arm, grasping the saint's severed head and reaching into the frame to place it upon Salome's platter, or in an example by Ribera, removed entirely, the head depicted simply lying on the plate, as in that sold in 2006 (Christie's, London, 6 July 2006, lot 48).
The present work, by contrast, throws intense focus on to the executioner himself, with his sword alluded to with a mere glint of metal, its blade mostly hidden by shadow. His simple, earth-coloured clothes are held together with beautifully rendered, ragged stitching, and he turns away from from the viewer, his gaze averted from the saint's head. Rather than the grotesque stock character Ribera so often cast as his executioner, he is depicted as a young man, his pink and red flesh tones contrasting with the gaunt grey of Saint John's lifeless head, half-cloaked in deep shadow. The saint's staff leans against the upper right corner of the picture plane, its banderole revealing fragments of the phrase that heralds Christ as the Lamb of God, but also prefigures his death: ecce agnus dei, ecce qui tollit peccata mundi.
Seventeenth-century painting in Naples, along with many of Italy's other artistic capitals, had been markedly influenced by the Caravaggesque aesthetic. By 1639, when the present work was painted, Ribera was well-established in Naples and had a thriving, successful workshop. He had broadened his colour palette somewhat, but remained loyal to his tenebrist roots, creating works of drama and violence using dramatic chiaroscuro. Like many of the artists who had seen Caravaggio's work while passing through Rome and Naples, Ribera was struck by his technique, and experimented with the effects of raking light and radical contrast, even persuading his landlord to let him install a roof window in his house in Rome. Never a slavish follower however, he expanded on Caravaggio's theatrical naturalism to develop his own brand of visceral, often brutal realism, which was discernibly Spanish in essence, perhaps influenced by polychrome sculpture.
The Pinakothek painting is a faithful copy after the present work, executed by one of Ribera's many followers. Its provenance can be traced back to 1780, where it appears in an inventory of the Mannheim Collection, owned by the Electors Palatinate of the Rhine, where it is listed as by Giorgione. In the first half of the nineteenth century, the work was given to Ribera, then reattributed to a follower in the 1880s, a view still supported to the present day. That copy was the subject of a masterwork in mezzotint from 1658 by Prince Rupert of the Rhine (Prague 1619-1682 London), a founding figure in the development of the medium, once known as the "black art". Entitled The Great Executioner, this large-scale, ambitious print was celebrated as the Prince's masterpiece; rare and important, only a handful have survived. Only one has appeared on the market in the last thirty-five years, which is now preserved in the Metropolitan Museum of Art (sold Christie's, London, 3 December 2014, lot 81). While the present work was at that time unknown to Prince Rupert, its composition was widely reproduced, disseminated and celebrated across Europe fewer than twenty years after its creation.