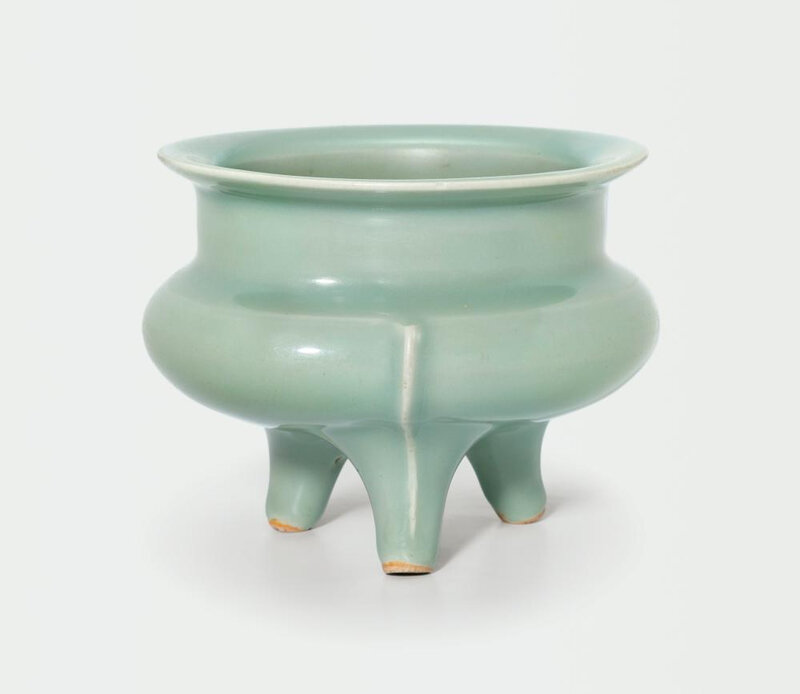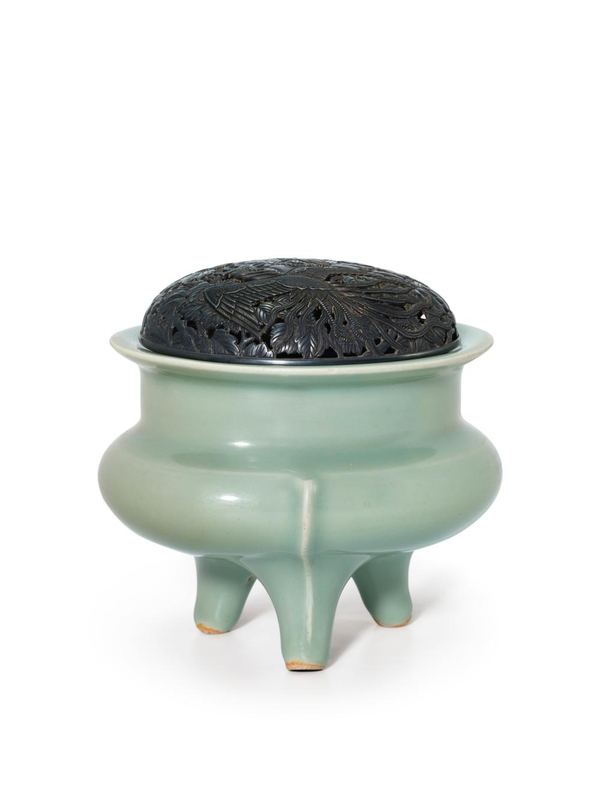 Lot 19. A 'Longquan' celadon tripod censer and cover, Southern Song dynasty (1127-1279); 14 cm, 5 1/2 in. Estimate £60,000 - £80,000. Lot Sold 106,250 GBP (137,286 USD). Courtesy Sotheby's.
of compressed globular form with a straight neck and a broad everted rim, supported on three splayed legs each moulded with a vertical flange, covered overall with a rich, lustrous sea-green glaze, the later Japanese silver domed cover pierced with a pair of phoenix amongst foliage.
Property from the Rui Xiu Lou Collection.
Provenance: Collection of Ichiro Hayashibara.
Sotheby's London, 7th November 2012, lot 220.
Note
: This elegant and quite large tripod censer emulates the form of an archaic bronze. Censers of this form enjoyed great popularity in the Song dynasty and illustrate the major influence on the arts of the rise of Neo-Confucianism. In a drastic political shift during the early Song dynasty a centralised bureaucracy governed by scholar-officials selected through civil service examinations began to emerge resulting in an increased interest in the study of history as a guiding principle in the pursuit of virtue and rulership. This led to a revival of antiquarianism, the study of archaic bronzes and jades, their forms and designs, which Song potters skillfully adapted and incorporated into their artistic repertoire. The particular form of this superb tripod censer from the Longquan kilns is directly adapted from an archaic bronze food vessel known as
liding
, with a tri-lobed body supported on three legs often emphasized with flanges. See for example a bronze
li
attributed to the Western Zhou dynasty (c. 1046-771 B.C.), excavated from Qijiacun, Fufeng, Shaanxi province, and illustrated in Jessica Rawson,
Western Zhou Bronzes from the Arthur M. Sackler Collections
, Washington D.C., 1990, fig. 28.2. While the archaic vessels of this type were decorated with complex cast designs and set with a pair of loop handles, the tripod censers made in the Longquan kilns are plain and without handles. It is the simplicity of its clearly defined form and the subtlety of the brilliantly hued sea-green glaze that expresses the aesthetic appeal of this particular Longquan censer whose barely visible ridges around the shoulders and ribs along the legs only emphasize its pure form while the glaze that thins to white around these ridges and ribs emphasizes the exquisite bluish-green tone of the lustrous glaze.
Censers of this form are held in important museums and private collections worldwide; two censers in the Palace Museum, Beijing, are illustrated in The Complete Collection of Treasures of the Palace Museum. Porcelain of the Song Dynasty (II),Hong Kong, 1996, pls 121 and 122; one in the National Palace Museum, Taipei, was included in the Museum's Special Exhibition of Incense Burners and Perfumers Throughout the Dynasties, Taipei, 1994, cat. no. 13; another in the Tokyo National Museum is published in Oriental Ceramics, The World's Great Collections, vol. 1, Tokyo, 1982, pl. 97; and a further censer from the Sir Percival David collection now in the British Museum, London, is published in Margaret Medley, Illustrated Catalogue of Celadon Wares in the Percival David Foundation of Chinese Art, London, 1997, col. pl. 34. An even larger Longquan censer of this shape is in the collection of the Harvard Art Museums (1997.122), and a related censer of similar size was sold in Christie's New York, 17th and 18th September 2015, lot 2344.
Sotheby's. Important Chinese Art, London, 15 May 2019, 10:30 AM