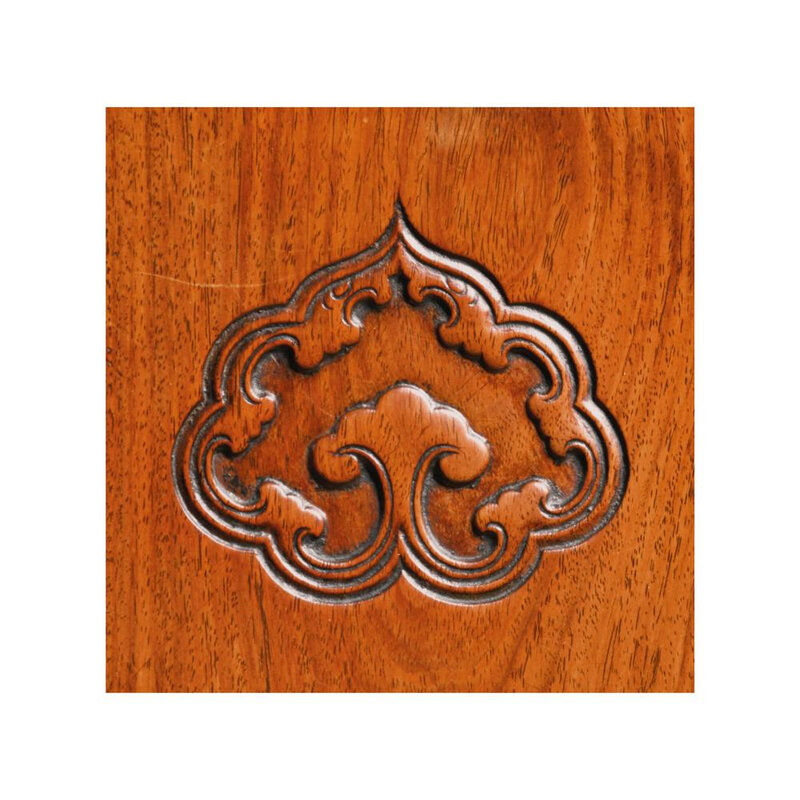 Lot 154. A good huanghuali horseshoe-back armchair, quanyi, late 16th-early 17th century; 100.8 by 58.7 by 45.5 cm, 39 5/8 by 23 1/8 by 17 1/2 in. Estimate £80,000 — 120,000. Courtesy Sotheby's.
with curving toprail sloping down to the arms supported on serpentine side posts and terminating in a curved hook beyond the corner posts set with shaped spandrels, the backsplat carved with a ruyi-shaped panel enclosing dragons, the back corner posts continuing below the rectangular frame, with mat seat, to the back legs joined by stretchers and a footrest with plain shaped apron.
Provenance
:
Purchased from Grace Wu Bruce, 22nd June 1998
.
Note: Chairs of this elegant design are strikingly modern in their seeming simplicity. The fluidity of their form, achieved through the continuous curved crest rail that functions as both a back and an arm rest, has ensured the continued popularity of this design. Commonly referred to as quanyi and "horseshoe-back chair", these armchairs were seats of honour and, when draped with sumptuous textiles, they gave their sitters a commanding presence. Frequently depicted in Ming and Qing dynasty woodblock illustrations, they were also used informally while dining, painting or receiving guests, and with the addition of two carrying poles, they became sedan chairs reserved for officials of high rank.
This elegant and light-weight design derives from chairs made of pliable lengths of bamboo, bent into a 'U'-shape and bound together using natural fibres. Cabinet makers cleverly adapted this design to hardwood furniture by developing ingenious joinery techniques. In order to create the continuous back, members were fitted together with a cut-out to accommodate a tapered wood pin that would lock them firmly in place when inserted. The complexity of the design required utmost precision, as a slight error in the tilt of any of the joins would be magnified by the adjoining members.
Two closely related pairs of chairs were sold in our New York rooms, the first, 14th September 2011, lot 140, and the second, 25th April 1987, lot 564, later sold again at Christie's New York, 15th September 2011, lot 1335; another pair was sold in our Hong Kong rooms, 3rd October 2017, lot 3641; and two chairs were sold at Christie's New York, one 21st March 2004, lot 18, and the other, from the collection of Robert H. Ellsworth, 18th March 2015, lot 139. See also a pair of chairs of this type but carved on the splat with a slightly more elongated ruyi head, sold in our New York rooms, 3rd June 1992, lot 325.
Sotheby's. Important Chinese Art, London, 15 May 2019, 10:30 AM