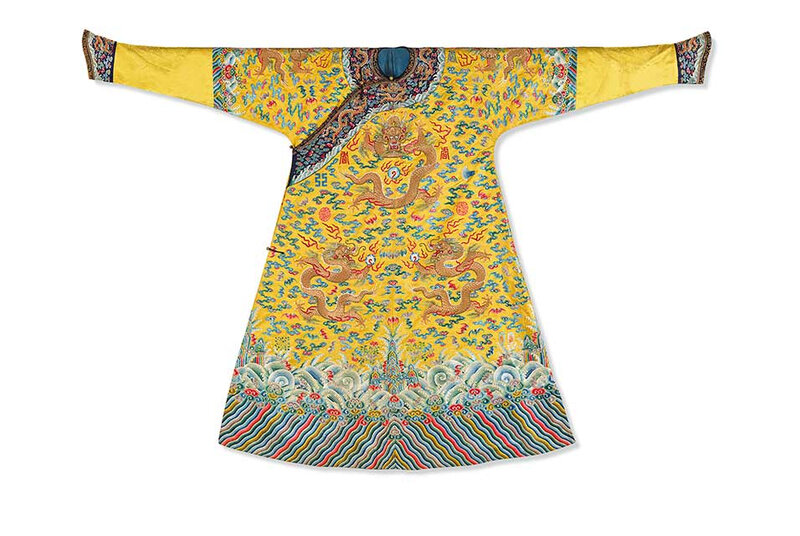 © Christie's Images Ltd 2019.
Paris – Le 12 juin prochain, Christie's Paris présentera sa vente d'Art d'Asie, toujours très sélective, où seront proposés des objets de grande qualité, dont la majeure partie est issue de collections privées.
La section dédiée à la Chine proposera un magnifique vase couvert 'double-gourde' en jade blanc et rouille. Datant de l'époque Qianlong (1736-1795), sixième empereur de la dynastie Qing, il est méticuleusement sculpté et repose sur un délicat pied circulaire. Ce vase est orné d'une double anse à décor de chauves-souris volant parmi des nuages, les parties supérieure et inférieure sont respectivement agrémentées des caractères 'da' et 'ji', formant ainsi le terme 'da ji', qui signifie 'grande chance'. Le col est flanqué par deux anses tenant un anneau mobile surmontées par une chauve-souris sculptée en relief aux ailes déployées tenant un lingzhi (champignon auspicieux). La décoration de ce remarquable objet comprend des symboles de bon augure comme sa forme en double-gourde, associée à la prospérité et à l'abondance (estimation : €150,000-200,000).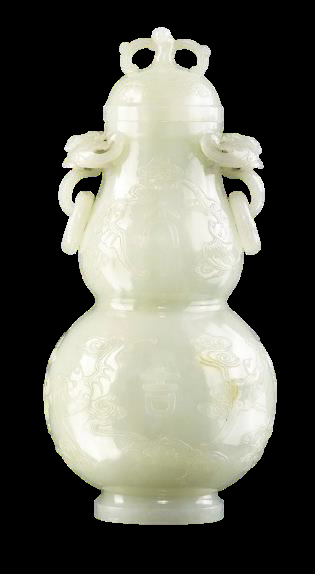 © Christie's Images Ltd 2019.
La vente offrira un vase impérial en émaux cloisonnés d'une beauté saisissante provenant de l'époque Kangxi (1662-1722). De forme balustre, reposant sur un pied évasé à décor de dragons archaïsants, l'ensemble est rehaussé d'arêtes crénelées en bronze doré. La panse est agrémentée de rinceaux de lotus stylisés, tout comme le pied et le col. Ce dernier est mis en valeur par trois têtes de bélier en bronze doré et des clous ciselés disposés entre des feuilles de bananier (estimation : €70,000-90,000).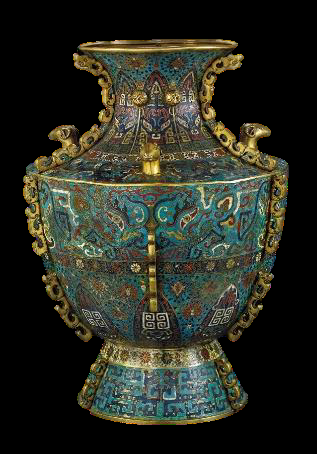 © Christie's Images Ltd 2019.

Les amateurs d'art asiatique auront la chance d'admirer une exceptionnelle robe impériale en soie brodée datant de la fin de l'époque Qianlong (1736-1795), début de l'époque Jiaqing (1796-1820). Les broderies qui ornent cette pièce sont extrêmement délicates, comme en témoigne les neufs dragons à cinq griffes à la poursuite de la perle enflammée en fils d'or et d'argent ; ainsi que les subtiles nuances de couleurs et les nuages stylisés évoquant des têtes de ruyi en fils multicolores. Le tout est brodé sur un fond jaune éclatant surplombant un diagramme terrestre qui émerge des flots tumultueux en dessous duquel apparaît une large bande de lishui que l'on retrouve au niveau des manches. Le col est pour sa part souligné d'une bordure brodée de dragons sur fond noir (estimation : €80,000-120,000).
Issu d'une collection privée française, ce vase en porcelaine émaillée céladon à décor moulé datant de la dynastie Qing, doté d'une marque moulée à six caractères en cachet et d'époque Qianlong (1736-1795) sera également offert dans la vente. Le pied sur lequel repose ce superbe vase est orné d'une frise grecque, tandis que la panse est magnifiée par des décors moulés de pivoines épanouies parmi des rinceaux feuillagés élégamment disposés. Séparé par une frise de ruyi et une bande de fleurs stylisées, le col tubulaire est agrémenté de pétales et de feuillages (estimation : €100,000-150,000).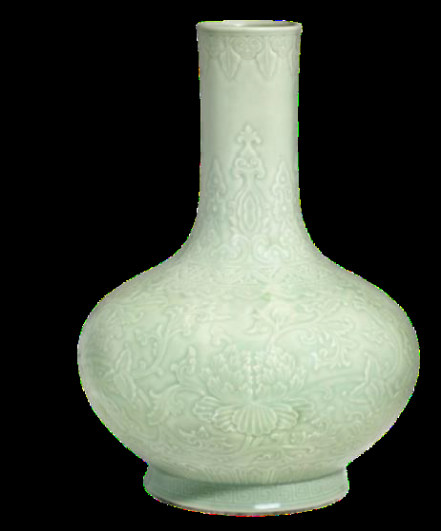 © Christie's Images Ltd 2019.
Autre perle de la vente, un magnifique cabinet en zitan de l'époque Qianlong (1736-1796). Il est de forme rectangulaire et composé de deux vantaux très finement travaillés. Quatre dragons, à la poursuite de la perle enflammée, semblent voler sur fond de nuages stylisés évoquant des têtes de ruyi. Les charnières en bronze doré sont finement incisées de dragons également sur fond de nuages ; la ferrure centrale est quant à elle décorée par des caractères shou stylisés et de deux petites plaques mobiles agrémentées de chauves-souris (estimation : €100,000-150,000).
© Christie's Images Ltd 2019.
La section dédiée au Japon présentera une très belle armure de samouraï datant de la deuxième moitié de la période Edo, fin du 18ème siècle. Sont visibles deux armoiries, l'une représentant le caractère ue, la seconde figurant une fleur d'oxalis (katabami) appartenant probablement au clan des Sakai. L'armure comprend également un casque de type eboshi réhaussé de deuxwakidate en forme de cornes stylisées en bois laqué. L'ornement frontal dépeint un soleil en bois doré. La cuirasse est en fer naturel de type yokohagi-dô, les parties hautes de l'avant et de l'arrière de cette dernière ainsi que les épaules de l'armure sont recouvertes de cuivre incrusté en hira zogan d'or à décor de rinceaux et d'armoiries. Estimée €30,000-50,000, cette fabuleuse armure est un savant mélange de matières, de symboles et d'attributs.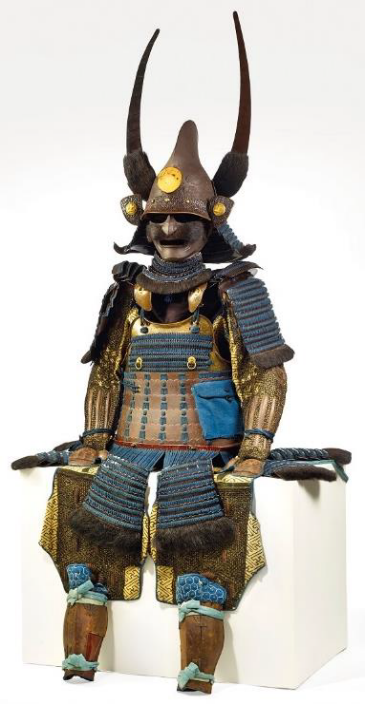 © Christie's Images Ltd 2019.
Enfin, le département est heureux de présenter un daim en cristal de roche provenant de l'ancienne collection personnelle de Mademoiselle Chanel. Exécuté sous la dynastie Qing, l'objet représente un daim assis, la tête tournée sur le côté, tenant un branchage de lingzhi dans la gueule (estimation : €2,000-3,000). Protégé par sa cloche en verre, l'animal auspicieux symbolisant la longévité a orné la table basse de la suite de Coco Chanel au Ritz pendant de nombreuses années.
Tiphaine Nicoul et Camille de Foresta, spécialistes au département Art d'Asie : « Nous sommes très heureuses de présenter ce daim en cristal de roche qui a séjourné dans le salon de Coco Chanel pendant des années. A en croire le résultat obtenu par le singe en biscuit vendu l'année dernière, ce daim en cristal de roche saura certainement séduire les amateurs d'art asiatique mais également les nombreux admirateurs de Coco Chanel, témoignage de son goût raffiné, éclectique et intemporel ».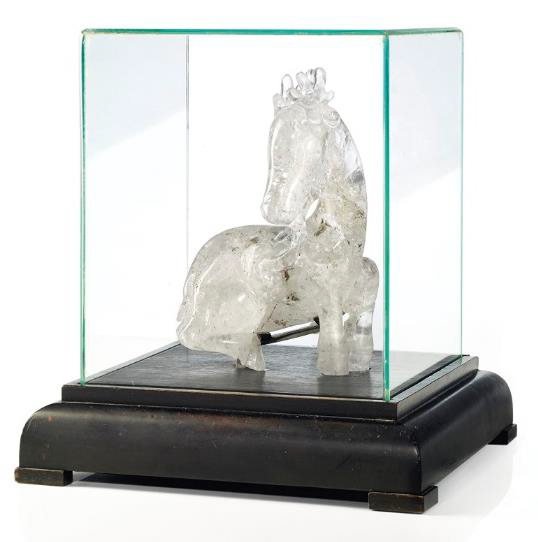 A rock crystal deer. Previously in the personal collection of Coco Chanel (1883-1971), thence by descent to the present owner. Estimate: €2,000-3,000. © Christie's Images Ltd 2019.
PARIS.- On 12 June, Christie's Paris will present its Asian Art sale, always very selective, which will offer high quality items, including a large range of works of art coming from European private collections.

The section dedicated to China will offer a beautiful white jade and rust 'double-gourd' vase. Dating from the Qianlong period (1736-1795), sixth emperor of the Qing dynasty, this vase is meticulously carved and stand on a delicate circular foot. It is adorned with a double handled decorated with bats flying among clouds, the upper and lower parts are respectively embellished with the characters 'da' and 'ji', thus forming the term 'da ji', which means 'great luck'. The neck is flanked with two handles holding a mobile ring with a bat carved in relief with outstretched wings holding a lingzhi (auspicious mushroom). The decoration of this remarkable object comprises promising symbols such as its double-gourd shape, associated with prosperity and abundance (estimate: €150,000-200,000).

The sale will also offer an imperial vase made of cloisonné enamel of striking beauty from the Kangxi period (1662-1722). Baluster-shaped, resting on a flared foot decorated with archaic chilong, the whole is enhanced with crenellated ridges in gilt- bronze. The body is decorated with stylized lotus, as well as the foot and the neck. The latter is highlighted by three gilt-bronze ram heads and chiseled nails intersected with banana leaves (estimate: €70,000-90,000).

Asian art lovers will have the chance to acquire an exceptional imperial embroidered silk robe dating from the end of the Qianlong period (1736-1795) and the early Jiaqing period (1796-1820). The embroideries adorning this item are extremely delicate, as evidenced by the nine "five-claw" dragons in the pursuit of the flaming pearl represented in gold and silver threads. In addition, the subtle shades of colors and the stylized clouds evoking ruyi heads are shown in multi-colour threads. The whole is embroidered on a bright yellow background, above a terrestrial diagram which emerges from tumultuous waves below which appears a large band of lishui, echoed on the sleeves as well. The neck is highlighted by a border embroidered with dragons on a black background (estimate: €80,000-120,000).

Coming from a French private collection, a celadon-glazed vase with molded decoration with a Qianlong impressed six-character seal mark and from the period (1736-1795) will also be offered at auction. The body is magnified with molded decoration of blooming peonies among elegantly arranged foliage leaves. Separated by a band of ruyi and a band of stylized flowers, the tubular neck is embellished with petals and foliage (estimate: € 100,000-150,000).

Other highlights include a superb zitan cabinet from the Qianlong (1736-1795) period. This cabinet is composed of two very finely worked door panels. Four dragons, in pursuit of the inflamed pearl, seem to fly on a background of stylized clouds evoking ruyi heads. The gilt-bronze hinges are finely incised with dragons also represented on a background of clouds; the central fitting is decorated with stylized shou characters and two small mobile plates adorned with bats (estimate: €120,000-150,000).

The section dedicated to Japan will offer a stunning samurai armor dating from the second half of the Edo period, end of the 18th century. Two coats of arms are visible, one representing the character ue, the other figuring an oxalis (katabami) flower probably belonging to the Sakai clan. The armor also includes a eboshi style helmet topped by two wakidate in the shape of lacquered wood horns. The frontal ornament depicts the sun in gilded wood. The breastplate is made of yokohagi-dô natural iron while its upper front and back parts as well as the shoulders are covered with brass inlaid of gold hira zogan decorated with coat of arms and foliages. Estimated at €20,000-30,000, this fabulous armor is a beautiful mix of different materials, symbols and attributes.

Finally, the Asian Art department will be pleased to present, in its next sale, a rock crystal deer from the former personal collection of Coco Chanel. Executed during the Qing dynasty, the statuette represents a seating deer with its head turned to the right, holding a branch of lingzhi in its mouth (estimate: €2,000-3,000). Presented under a glass protection, the auspicious animal symbolizing longevity has adorned the coffee table of Coco Chanel's suite at the Ritz Hotel for years