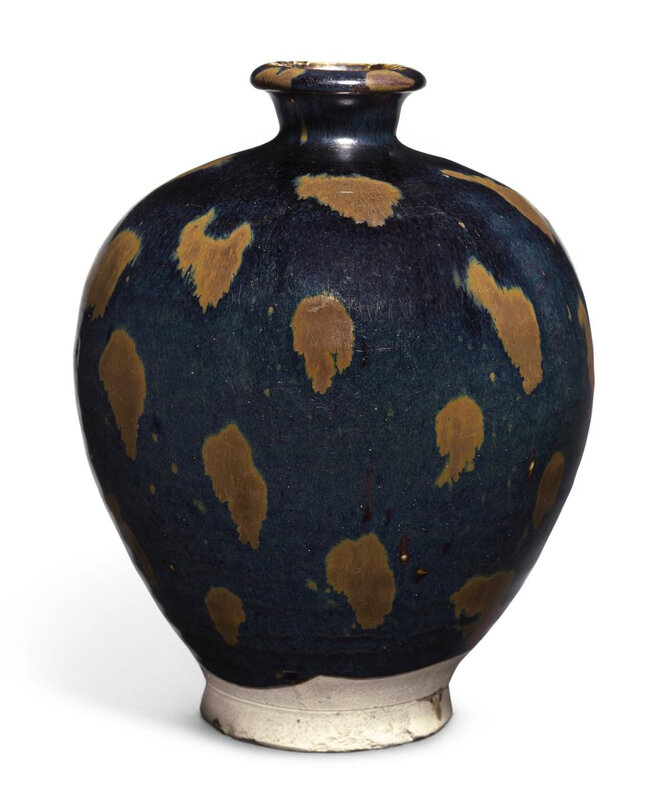 Lot 83. A russet-splashed black-glazed meiping, Northern Song dynasty (960-1127); 23 cm, 9 1/8 in. Estimate 80,000 — 120,000 GBP. Courtesy Sotheby's.
the broad-shouldered tapering baluster body rising from a short spreading foot to a narrow flaring neck with rolled rim, the body and neck covered with a lustrous black glaze irregularly splashed in reddish-brown, the glaze falling short of the foot to reveal the buff body.
Note
: This vase is striking for its vibrant and translucent black glaze which stops above the foot, revealing the cream-coloured body. Russet splashes were spontaneously applied throughout the vessel, creating a dramatic contrast with the brilliant black ground. Black-glazed wares decorated with russet splashes were appreciated for their serendipitous nature, which must have appealed to the Song literati.
Compared to other famous wares of the Song dynasty, black-glazed ware represents a more adventurous type of early ceramic production. The russet-coloured splashes are thought to have evolved from experiments carried out by competing Song dynasty kilns, which produced black and brown-glazed wares for the thriving tea market. The iron-rich glazes of black wares began to be made in large numbers in the Tang dynasty (618-907), and by the Song period wares decorated with splashed and painted design, or with raised parallel lines of white slip emerged. Black-glazed wares with irregular russet splashes were made at numerous kilns in Northern China from the 11th century onwards, most notably in the provinces of Henan, Hebei and Shandong.
A russet-splashed vase of similar form, but modelled with a straight foot, in the British Museum, London, is illustrated in British Museum Guide to Pottery and Porcelain of the Far East, London, 1924, pl. 32; one featuring smaller splashes around the shoulders, in the Cleveland Museum of Art, is illustrated in Howard C. Hollis, 'Pottery of the Sung Dynasty', Bulletin of the Cleveland Museum of Art, vol. 28 (October 1941), p. 131; and another is published in Fujiō Kōyama, Tōji taikei: Temmoku[Outlines of ceramics: Temmoku], vol. 38, Tokyo, 1974, fig. 55. Further related examples were sold at auction; a vase from the collection of Winifred Gray Whitman was sold in our New York rooms, 30th May 1973, lot 318; a slightly smaller vase from the collection of Warren E. Cox was sold in these rooms, 12th December 1977, lot 13; and another from the collection of William Stephen Serri was sold at Christie's New York, 20th November 1979, lot 148. See also a larger vase of this type but of a more elongated form, in the Art Institute of Chicago, included in the exhibition Hare's Fur, Tortoiseshell, and Partridge Feathers, Harvard University Art Museums, Cambridge, 1995, cat. no. 35.