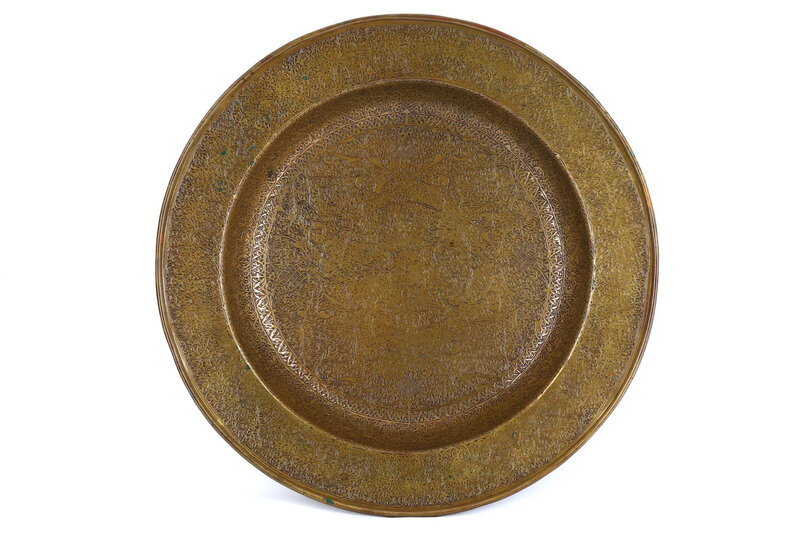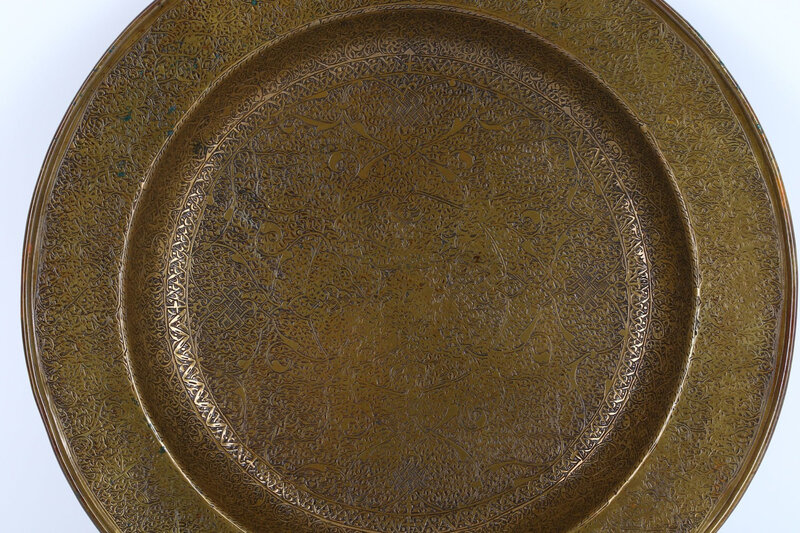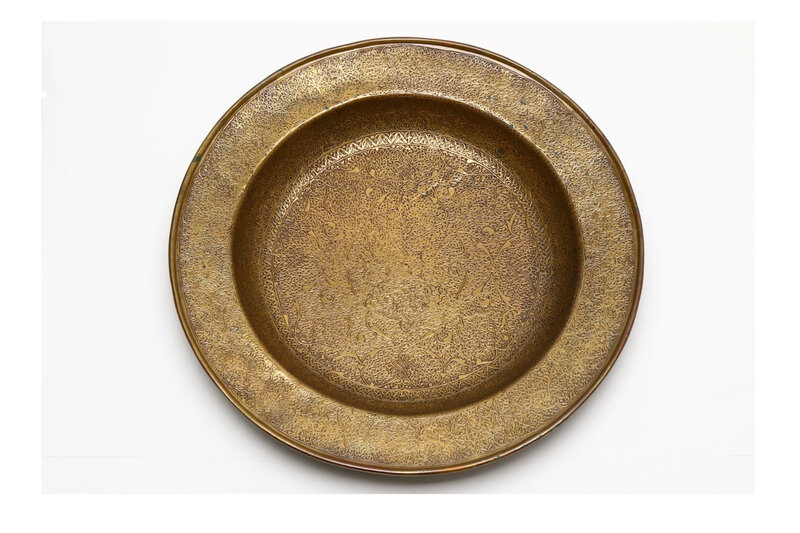 Lot 47. A large Veneto-Saracenic dish, Venice, Italy, 16th century; 40.4cm diam. Estimate £5,000 - £7,000. Courtesy Chiswick Auctions.
Of circular shape, with wide sloping rim and rounded lip, deep cavetto and flat centre, the interior completely covered with intricate engraved decoration comprising floral arabesques, interlocking split palmette tendrils, stylised lotus flowers, polylobed medallions and endless knots, the cavetto framed by a band of fretwork and another continuous floral scrolls with interspersed vertical crosses.
Provenance: Christie's London, 5 October 2010.
Note: The term Veneto-Saracenic to describe engraved and often inlaid metalwares such as ours seems to have been coined by Stanley Lane-Pool (1886), who followed the 19th-century conviction that these objects were made by Muslim craftsmen working in Venice called azzimini (Stefano Carboni, Venice and the Islamic World 828 – 1797, France, 2007, p. 213 and 224). This thesis, however, was heavily contested and rejected in the 1970s. Indeed, scholarship now agrees that Veneto-Saracenic metalwares should be divided in three main groups: the Mamluk group, produced in Egypt and Syria and decorated in distinct bands of knots, roundels and scrolling stems clearly demarcated from each other by narrow fillets; the Mahmud al-Kurd group, produced in North Western Iran and Eastern Anatolia, even more decorated, inlaid and ornate than the Mamluk exemplars; and last but not least the Western group, mostly produced in Northern Italy and Germany, with much thinner inlays and with designs not following a circular or geometric grid (p. 218). Our example belongs to this third group.
Similarly to another Veneto-Saracenic dish now preserved at the Victoria and Albert Museum (inv. no. 259-1894), our lot shows a few Westernised features such as its shape with the broad flat rim; its elaborate arabesques and knotwork decorations, finer that the ones normally present in the Mamluk group; and a more liberal arrangement of the decoration without following a mirror-like pattern or geometric grid.
Salver, Venetian-Saracenic; early 16th century. Brass, engraved and inlaid with silver. Diameter: 49.5 cm, Height: 5. Museum no. 259-1894. © Victoria and Albert Museum, London
Chiswick Auctions. Islamic & Indian Art including Fine Rugs & Carpets, 3 May 2019