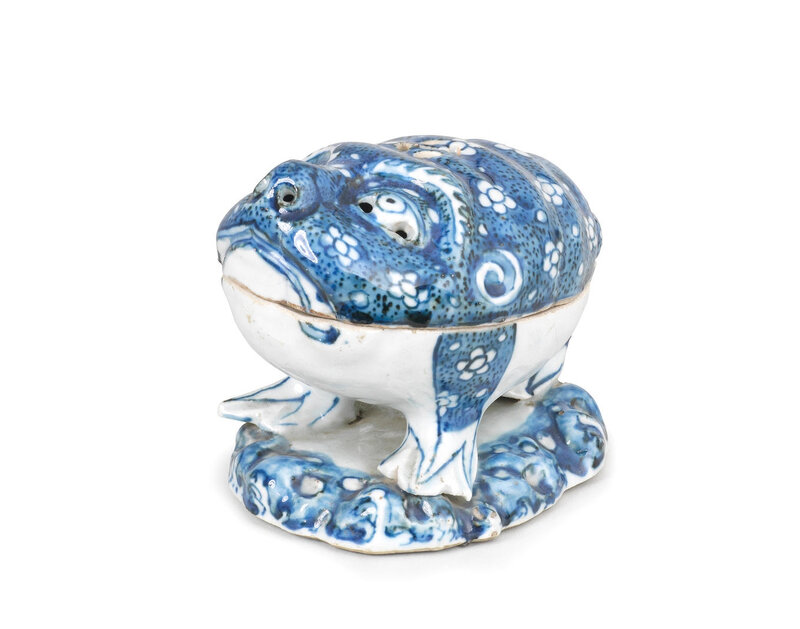 Lot 86. A rare blue and white 'Three-legged toad' incense burner and cover, Late Ming Dynasty. 15cm (5 8/9in) long. Estimate £ 15,000 - 20,000€ (17,000 - 23,000). © Bonhams 2001-2019
Moulded in the form of a three-legged toad standing above crashing waves, the pierced cover forming the top half and head of the animal, all decorated in reverse technique with prunus flower heads on a speckled-blue ground, the lower section with three feet, the interior and recessed base glazed, the rims unglazed, Japanese wood box.
Note The present incense burner is among the so-called Ko-sometsuke porcelain wares which were produced by the potters of Jingdezhen for the Japanese market between the 1620's and about 1645. This period coincided with the rise in popularity of the tea ceremony in Japan, which required a number of different utensils, thus prompting the flourishing of Chinese porcelain trade in Japan at this time. Ko-sometsuke wares were manufactured in a great variety of asymmetrical and often humorous forms, and were deliberately potted in a rough manner bearing some flaws and imperfections.

The auspicious form, relating to Liu Hai's three-legged toad, of the present incense burner can be compared with the features of a small blue and white incense container and cover, kogo, 1621-1627, moulded in the form of a three-legged toad, illustrated by Masahoko Kawwahara, Ko-sometsuke Monochrome Section, Kyoto, 1977, p.129, no.108.
Bonhams. Fine Chinese Art, London, 16 May 2019