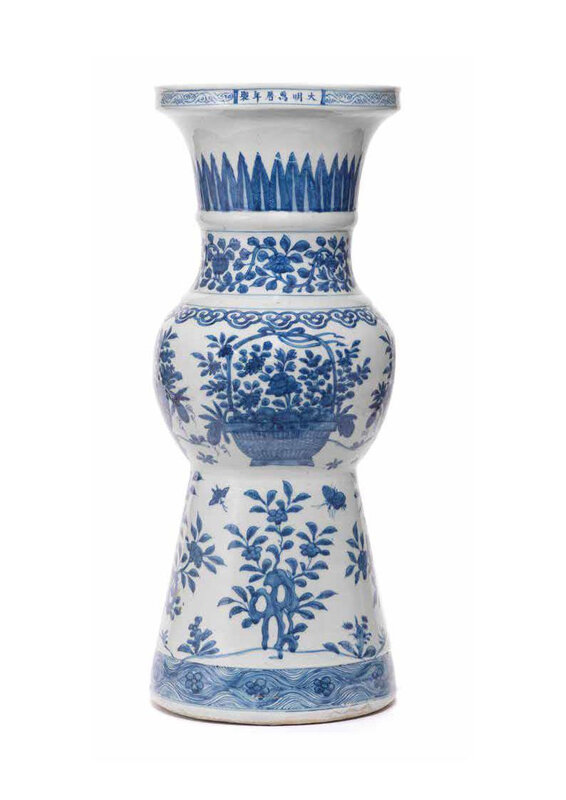 Lot 88. A rare and large blue and white beaker vase, Gu, Wanli six-character mark and of the period (1573-1620); 57.5cm (22 5/8in) high. Estimate £ 100,000 - 150,000 (€ 120,000 - 170,000). © Bonhams 2001-2019
Deftly painted around the central globular body with alternating baskets and bowls containing flowers, the conical lower body with insects in flight amidst flowering plants above a band of prunus blossoms on a wave ground, the tall neck encircled by a wide bow-string band separating a band of composite floral scroll and a band of upright plantain leaves, the rim with a band of classic scroll interrupted by the reign mark written in a rectangular panel.
Note Gu vases enjoyed a great popularity during the reign of the Wanli emperor, and were produced in numerous variations of size and decoration. Large vases such as the present example, however, appear to be quite rare. In addition to its exceptionally large size, the present vase is notable for the flowing and naturalistic brushstrokes and the balanced interplay between elegance and archaic stateliness.

A similar blue and white gu vase, Wanli mark and period, of slightly larger size, is illustrated in the Enlightening Elegance. Imperial Porcelain of the Mid to Late Qing Period. The Huanghuaitang Collection, Hong Kong, 2012, pp.388-391. A related wucai gu vase, Wanli, decorated with dragons and peonies, is illustrated in The Complete Collection of Treasures of the Palace Museum. Wucai Doucai, Shanghai, 199, p.37, no.34.
Bonhams. Fine Chinese Art, London, 16 May 2019