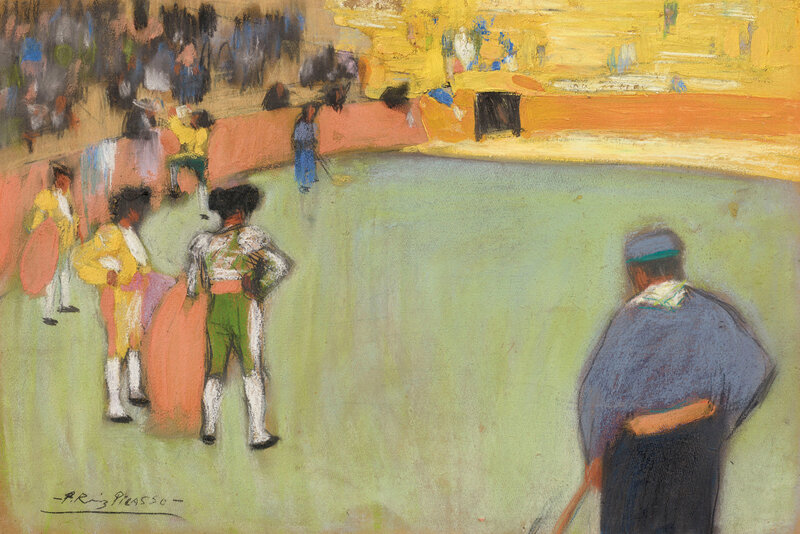 Lot 6. Pablo Picasso (1881-1973), Course de taureaux, signed '-P. Ruiz Picasso-' (lower left), gouache and pastel on board, 18 ½ x 27 ½ in. (47.1 x 70 cm.) Executed in Barcelona, 1900. Estimate USD 3,500,000 - USD 5,500,000. © Christie's Image Ltd 2019.
Provenance: (Possibly) Berthe Weill, Paris (acquired from the artist).
(Possibly) Adolphe Brisson, Paris (acquired from the above).
Anon. sale, Maître Maurice Rheims, Galerie Charpentier, Paris, 18 March 1959, lot 24.
Acquired at the above sale by the late owner.
Literature: P. Daix and G. Boudaille, Picasso: The Blue and Rose Periods, A Catalogue Raisonné, 1900-1906, London, 1967, p. 120, no. II.6 (illustrated; titled Bullfight and with incorrect medium).
C. Zervos, Pablo Picasso, Paris, 1969, vol. 21, no. 148 (illustrated, pl. 58; with incorrect medium).
A. Davis, "Sutton Place Townhouse: Italian Designer Blends Fine Art and Décor" in Architectural Digest, December 1977, pp. 38-47 (illustrated in color in situ in Drue Heinz's home, p. 39).
J. Palau i Fabre, Picasso: The Early Years, 1881-1907, New York, 1981, pp. 194 and 530, no. 452 (illustrated, p. 194; titled The Open Bull-pen and with incorrect medium).
F. Rodari, Un dimanche avec Picasso, Geneva, 1991, p. 42 (illustrated in color).
E. Vallès, Picasso i Rusiñol: La cruïa de la modernitat, Barcelona, 2008, p. 197 (illustrated in color, p. 150, fig. 104; with incorrect medium).
L. Folgarait, Painting 1909: Pablo Picasso, Gertrude Stein, Henri Bergson, Comics, Albert Einstein, and Anarchy, London, 2017, p. 155 (illustrated, fig. 57; with incorrect medium).
Exhibited: New Haven, Yale University Art Gallery, Paintings, Drawings and Sculpture Collected by Yale Alumni, May-June 1960, p. 185, no. 191 (illustrated).
New York, M. Knoedler & Co., Inc., Picasso: An American Tribute, April-May 1962, no. 6 (illustrated).
The Art Gallery of Toronto and The Montreal Museum of Fine Arts, Picasso and Man, January-March 1964, p. 26, no. 5 (illustrated).
Forth Worth Art Center Museum, Picasso: Drawings, Watercolors, Gouaches, February-March 1967, p. 101, no. 142.
New York, Museum of Modern Art, Pablo Picasso: A Retrospective, May-September 1980, p. 30 (illustrated in color, p. 31; with incorrect medium).
Washington, D.C., National Gallery of Art and Boston, Museum of Fine Arts, Picasso: The Early Years, 1892-1906, March 1997-January 1998, p. 119, no. 33 (illustrated in color; detail illustrated in color, p. 20; titled Bullfight and with incorrect medium).
Málaga, Museo Picasso, Picasso: Toros, April-July 2005, pp. 150 and 196, no. 34 (illustrated in color, p. 150; with incorrect medium).
Note: A lifelong aficionado of the heroism and pathos of the bullfight, Picasso in the present Course de taureaux captured the brief, electrifying moment immediately before the bull charges into the corrida, its every nerve-ending fired with the anticipation of combat. In mid-1900 when he rendered this scene, laying down pastel in vivid hues and with a material density that conjures the physicality of the impending encounter, Picasso was just eighteen years old, ablaze with youthful ambition and preparing for his own dramatic entry into a new arena. The previous year, he had returned home to Barcelona after a brief stint at the prestigious but stiflingly traditional Real Academia de Bellas Artes de San Fernando in Madrid; now, ever more forceful and independent, he was just months away from his first trip to Paris, determined to prove his worth in the very center of the art world.
The new century had opened most auspiciously for Picasso. In January 1900, he moved into his first proper studio with the fellow painter Carles Casagemas, who would eventually accompany him to Paris. The next month, he had the inaugural solo exhibition of his career, showing as many as 150 portraits on paper—a veritable gallery of Barcelona's bohemians—at the cabaret El Quatre Gats, the unofficial headquarters of Catalan Modernisme. As soon as the show closed, he turned his attention to Paris, the apogee of every young Spanish painter's dream. Over the course of the spring and summer, he wore down his father's staunch resistance to the proposed trip, finagled much-needed funds from Casagemas's parents, and hustled to find commercial work to raise additional money—all the while reveling in the seemingly infinite entertainment available to an adventurous young man in Barcelona, including the theaters on the Paralelo, the brothels in the Barri Xino, and the newly opened corrida Las Arenas.
Picasso created during these high-spirited, aspirational months no fewer than ten scenes of the bullring, principally in pastel, which in the brilliance of their color and the confidence of their handling represent a remarkable leap forward for the young artist. "These works seem to reveal a complete renewal in Picasso's spirit," Josep Palau i Fabre has written, "either because the Quatre Gats show had somehow liberated him, or because he was looking forward so eagerly to his trip to Paris. These open-air spectacles, the bullring flooded with sunlight, are in violent contrast to the tenebrous paintings he had been doing so recently" (op. cit., 1981, p. 192). "Never before had Picasso done his afición such credit," John Richardson declared. "These scorched bullfight scenes are a tremendous advance not only in bravura but in color. This is now as shrill and sharp as the trumpets heralding the rush of the bull into the ring. Picasso has finally discovered how to paint light" (J. Richardson, A Life of Picasso, 1881-1906, New York, 1991, vol. 1, p. 151).
The present Course de taureaux is an illustrative case in point, dazzling in shades of gold and green. Three slim, elegant toreros in the left foreground, capes in hand and backs turned to the viewer, stare with fixed concentration at the small, square doorway from which the bull will burst forth; so too does the pair of burly, blue-clad workers flanking them, perhaps the areneros charged with tending the sand. The figures are disposed with apparent informality to either side of center, leaving a clear channel for the beast to barrel forth, directly toward the viewer. The black portal stands out sharply against the yellow sweep of the podium wall, evoking the explosive crossing of the bull from the cramped, dark holding pen or toril into the open, sunlit arena, where the matador in his embroidered traje de luces (suit of lights) awaits. Picasso articulated the seating area too in terms of light and dark, schematically demarcating the boundary between the more expensive, shady sector and the cheap seats in full sun.
"It is the edge between sol y sombra," Fred Licht has written, "and it provides the dramatic background against which the bullfight attains its true intensity. Sol y sombra is not only indicative of a social division between rich and poor but also represents the shadow of death at the very heart of the bullfight itself. It is a metaphor of uncompromisingly opposed forces pitted against each other without the possibility of any neutral ground between them" (The Thannhauser Collection of the Guggenheim Museum, New York, 2001, p. 63).
In July 1900, Picasso exhibited four bullfight pastels—there is no record of which ones—at El Quatre Gats, where they elicited a stellar review in the local paper Las Noticias. "The effect of the blinding light beating down on the rows of seats is unbelievable: so are the silhouettes of the bullfighters and the clusters of spectators in the stands" (quoted in J. Richardson, op. cit., 1991, p. 154). The ultimate market for this eye-catching new work, however, was not Barcelona but Paris, where Spanish themes were then very much in vogue. The Catalan painter Ricard Canals had recently won favor in France with his picturesque Spanish scenes, and Picasso packed his own corrida pastels with him when he set out for the capital. "He was not going to arrive in the city where he hoped to find fame," Richardson has noted, "without saleable samples of his work" (ibid., p. 153).
It was an excellent strategy, as it turned out. Picasso arrived in Paris with Casagemas in October, just a few days shy of his nineteenth birthday; Manuel Pallarès, another companion, joined them soon after. The painter Isidre Nonell generously offered the trio use of his studio in Montmartre, as well as tendering an introduction to the small-time dealer Pere Mañach, who was always on the look-out for promising new arrivals from Spain. Mañach was impressed with the bullfight pastels that Picasso showed him at their first meeting and took three on consignment. Within days, he had sold the lot to the gallerist Berthe Weill for a hundred francs; Weill marked them up fifty percent and flipped them to Adolphe Brisson, the editor of Annales Politiques et Littéraires. The present pastel—one of the few corrida scenes, as Daix has noted, that are not known to have passed through a Barcelona collection—may well have been part of this historic transaction, Picasso's inaugural sale in Paris (op. cit., 1967, p. 120).
More good news quickly followed. On the strength of Weill's success with the pastels, Mañach offered Picasso a contract of 150 francs per month. Both he and Weill brought collectors to the young artist's studio, yielding a respectable stream of sales; after Picasso left Paris for the Christmas holiday, Mañach busied himself arranging for shows of his work. By the time the artist returned in the spring—now without Casagemas, who had taken his own life in February over a love affair gone bad—Mañach had persuaded the enterprising dealer Ambroise Vollard to host an exhibition of Picasso's recent production, which included a trio of new pictures on the theme of the corrida (nos. IV.5-6, plus one now lost). It was an extraordinary break for a talented up-and-comer, which effectively launched Picasso's international career.
Next to painting and women, the bullfight would remain the greatest passion of Picasso's life. He attended his last contest during summer 1970, at the age of 88, and he painted his valedictory toreros that fall, endowing them with his own huge, mirada fuerte eyes. "The best matador who ever existed," the Spanish poet Rafael Alberti wrote about Picasso. "His paintbrush is like a sword dipped in the blood of all the colors" (A Year of Picasso Paintings, New York, 1971, p. 150).
Christie's. Impressionist and Modern Art Evening Sale, New York, 13 May 2019