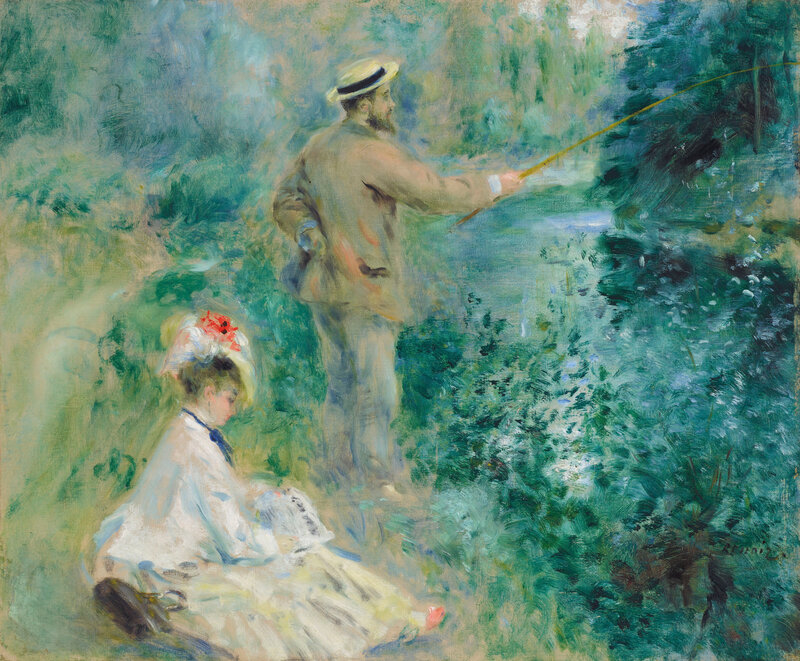 Lot 38 A. Pierre-Auguste Renoir (1841-1919), Le pêcheur à la ligne, signed 'Renoir.' (lower right) oil on canvas 21 ¼ x 25 5/8 in. (54.1 x 65.2 cm.) Painted in 1874. Estimate USD 8,000,000 - USD 12,000,000. © Christie's Image Ltd 2019.
Provenance: The artist; sale, Maître C. Pillet, Hôtel Drouot, Paris, 24 March 1875, lot 48.
Georges Charpentier, Paris (acquired at the above sale); Estate sale, Maître P. Chevalier, Hôtel Drouot, Paris, 11 April 1907, lot 22.
Raymond Elois Tournon, Paris (acquired at the above sale).
Georgette Tournon-Charpentier, Paris (by descent from the above and then by descent); Estate sale, Christie, Manson & Woods, London, 6 July 1971, lot 30.
Mr. and Mrs. Nigel Broackes, London (acquired at the above sale); sale, Sotheby Parke Bernet & Co., London, 4 July 1979, lot 78.
Acquired at the above sale by the familly of the present owner.
Literature: J. Meier-Graefe, Auguste Renoir, Paris, 1912, p. 53.
L. Rebatet, "Une admirable galerie en vingt toiles des maîtres du XIXe siècle" in Le Petit Parisien, 10 June 1942, p. 2.
M. Drucker, Renoir, Paris, 1944, pp. 128, 151 and 184 (illustrated in color, pl. 45; dated 1877).
M. Robida, Le salon Charpentier et les impressionnistes, Paris, 1958, pp. 45-46 (illustrated, p. 40, pl. VIII; dated 1875).
F. Fosca, Renoir. His life and Work, Englewood Cliffs, 1962, p. 88 (titled The Angler).
M. Bodelsen, "Early Impressionist Sales 1874-94 in the Light of Some Unpublished 'Procès-Verbaux'" in The Burlington Magazine, June 1968, vol. 110, no. 783, p. 335, no. 48.
F. Daulte, Auguste Renoir: Catalogue raisonné de l'oeuvre peint, figures, 1860-1890, Lausanne, 1971, vol. I, no. 103 (illustrated).
F. Daulte, Renoir, New York, 1973, p. 76 (illustrated).
K. Wheldon, Renoir and His Art, New York, 1975, p. 68 (illustrated in color, pl. 48).
W. Gaunt, Renoir, Oxford, 1982, no. 18 (illustrated in color; titled The Angler).
B.E. White, Renoir: His Life, Art, and Letters, New York, 1984, p. 54 (illustrated).
E. Fezzi and J. Henri, Tout l'œuvre peint de Renoir: Période impressionniste 1869-1883, Paris, 1985, no. 138 (illustrated; illustrated again in color, pl. XIV).
N. Wadley, Renoir: A Retrospective, London, 1987, p. 97 (illustrated in color, pl. 33).
A. Distel, Impressionism: The First Collectors, New York, 1990, p. 143 (titled Fisherman).
G. Néret, Renoir: Painter of Happiness, New York, 2001, p. 81 (illustrated in color).
G. P. and M. Dauberville, Renoir: Catalogue raisonné des tableaux, pastels, dessins et aquarelles, 1858-1881, Paris, 2007, p. 313, no. 263 (illustrated).
Exhibited: Paris, Galerie Bernheim-Jeune et Cie., Auguste Renoir, January-February 1900, no. 18.
Paris, Galerie Paul Rosenberg, Le grand siècle, June-July 1936, no. 46 (dated 1879).
Paris, Galerie Alfred Daber, Rétrospective des Maîtres du XIXe siècle, June 1942.
Paris, Galerie Charpentier, La vie familiale: Scènes et portraits, February 1944, no. 120 (illustrated).
London, Christie, Manson & Woods International Inc., Fanfare for Europe: The British Art Market, January, 1973, p. 15, no. 73.
London, Royal Academy of Arts, Impressionism: Its Masters, its Precursors, and its Influence in Britain, February-April 1974, p. 48, no. 98 (illustrated, p. 78, pl. XVIIIa).
Note: This work will be included in the forthcoming Pierre-Auguste Renoir Digital Catalogue Raisonné, currently being prepared under the sponsorship of the Wildenstein Plattner Institute, Inc.

An emerald-toned mirage of soft color and shimmering light, Pierre-Auguste Renoir's Le pêcheur à la ligne was painted in 1874, a momentous year that witnessed the birth of Impressionism. Likely painted in the summer of this seminal year, while Renoir was working with his friend Claude Monet at his home in Argenteuil, this painting shows the artist working en plein air, using swift, spontaneous brushstrokes to capture an immersive impression of this idyllic corner of the landscape, evoking the soft light, hazy warmth and gentle reverie of this summers' day.
Picturing a well-dressed couple enjoying the rural French countryside, here Renoir achieves a masterful synthesis of figure and landscape, bathing both of these components in a vaporous light and conveying them in a palette of harmonious, fresh color. One of a small series of works of this time, all of which present couples within the secluded landscape, Le pêcheur à la ligne sees Renoir conceive a new kind of genre of painting, transforming the classical subject of the pastoral idyll into modern times and portraying it with a radical new pictorial language. Exhibited in public shortly after its completion at the inaugural Impressionist auction, held at Hôtel Drouot in March 1875, this painting was the very first Renoir acquired by the publisher, Georges Charpentier, who would become the artist's greatest patron and lifelong friend.
The summer of 1874 was a crucial moment in the history of Impressionism. A few months earlier, Renoir, along with Monet, Degas, Pissarro and Morisot, as well as a number of other artists, had exhibited together for the first time in what would become known as the First Impressionist Exhibition. Held in the former studios of the experimental photographer Nadar, the landmark exhibition included a range of work in various media and was the very first time that a group of artists had joined together to exhibit their work independently from the state-sanctioned Salon system.
Following this epoch-making show, Monet returned to his home in Argenteuil, the picturesque Parisian suburb that sat on the banks of the Seine. Soon joined by Renoir, as well as Manet, together these artists consolidated their newly showcased Impressionist style, painting en plein air, often side by side as they continued to forge ahead with their radical new techniques and subject matter. Frequently sharing subjects, these artists occasionally painted each other throughout this period of fruitful artistic exchange. Both Manet and Renoir painted Monet's wife Camille sitting in a garden with her son, Jean; and Manet also painted Monet and Camille aboard the artist's studio boat. It has been suggested that in the present work, Renoir also used Monet and Camille as his models, picturing them here as Parisians enjoying a day of leisure in the unspoilt suburbs of Paris.
Though they were working closely during this pivotal summer of 1874, Renoir, Monet and Manet continued to pursue their own artistic interests and distinctive styles. Unlike Monet, who was at this time focusing primarily on the landscape itself, depicting the river and the surrounding environs, Renoir remained committed to his impressions of figures within the landscape, portraying scenes of modern life—of which Le pêcheur à la ligne is a key example—that involved both pictorial aspects. As Christopher Riopelle has written of these works, "The pleasure to be derived from sunshine, open water, conversation and the quiet and informal rhythms of summer life are all manifest here" (Renoir Landscapes 1865-1883, exh. cat., The National Gallery of Art, London, 2007, p. 142).
Capturing in a single composition the reflections of light upon the water, the nuances in pose and gesture of the two figures, as well as the dappled sunshine across the verdant setting, Renoir has in the present work achieved a seamless integration of these separate aspects into a single whole. Each compositional component is depicted with the same handling, a wholly radical and entirely new approach to painting. This technique stood at the heart of Impressionism, as Renoir and his fellow artistic pioneers sought not to render nature with specific, stultifying detail, but to instead capture the overall sensation of the landscape, the fleeting changes of light and atmosphere. Myriad strokes of color—some staccato, sparkling upon the surface of the canvas, with others softly blended—dance across the surface of the canvas, which appears almost abstract in places, particularly in the foreground, where the stippled greens of the verdant riverbank merges with the glistening droplets of water that fall from the fishing rod. The woman's dress is rendered in a symphony of broad white strokes interspersed with shimmers of blue shadow, all of which glisten amidst the tapestry of soft tones that surround her; while the trousers of her male companion seem almost to dissolve into the setting, painted with the same exuberant brushwork as the rest of the scene. Yet, Renoir never loses the lyrical delicacy that characterizes the greatest of his paintings. Amidst this luminous array of color, he has captured a number of nuanced details: the man's boating hat and gleaming white shirt cuffs, as well as the dark shadows that define his jacket.
The presence of the two figures in Le pêcheur à la ligne adds an interesting narrative to the composition. Combining the influence of the idyllic Rococo garden scenes of Fragonard and Watteau, as well as Manet's renowned Le Déjeuner sur l'herbe (Wildenstein, no. 67; Musée d'Orsay, Paris), the present work is one of a small series of paintings from this period, all of which feature a couple within a secluded, rural setting (Dauberville nos. 257 and 264). Indeed, one of these, La Tonnelle, (Dauberville no. 266; Portland Museum of Art, Maine) depicts a woman wearing the same white dress, flower-adorned straw hat and just visible bright red shoes as in Le pêcheur à la ligne. Seemingly alone amidst this quiet spot, the lovers' intimate relationship is clear, and yet, the young woman is unmarried and also unchaperoned, facts that in late 19th-century France would have made this scene somewhat shocking to a contemporary audience. If the present work is regarded in the same context, the same enigma befalls the couple's relationship. Unlike Manet's purposefully provocative Le Déjeuner sur l'herbe however, Renoir's depictions of couples enjoying the countryside together are altogether more innocent, thanks primarily to the fluid handling, soft colors and picturesque compositions. It is, in Riopelle's words, this "combination of the light-hearted and the revolutionary—both in subject matter and technique—[that] is unique to Renoir" (ibid., p. 154).
While the First Impressionist Exhibition of 1874 had attracted the attention of critics and the public alike, financially it was far from a success. As a means to make some much needed sales, as well as to continue the exposition of the group's work, the Impressionists organized a series of auctions held at Hôtel Drouot, the leading auction house in Paris at this time. It was Renoir who supposedly conceived the unusual though not entirely unprecedented idea of holding an Impressionist auction at Drouot in 1875 (see M. Bodelsen, "Early Impressionist Sales 1874-94 in the light of some unpublished 'procès verbaux'" in The Burlington Magazine, vol. 110, no. 783, pp. 330-349).
And so, on 24 March 1875, with the dealer Paul Durand-Ruel serving as the expert, Renoir together with Monet, Morisot and Sisley held the first Impressionist auction, which was also the very first time that these Impressionists were shown together in isolation. The public reaction to the sale was extreme and at times even riotous; "The fine arts students even paraded by in single file to demonstrate against our painting," Renoir recalled, "and the intervention of the city police was necessary. From that day on, we had our defenders, and, even better, our patrons" (quoted in B.E. White, Renoir: His Life, Art, and Letters, New York, 2010, p. 54).
While the prices that the artists' work fetched were low, the sale was enormously successful in exposing the Impressionists to a new group of collectors and patrons. Along with Durand-Ruel, who bought eighteen paintings, including Renoir's Pont neuf (Dauberville no. 118, National Gallery of Art, Washington, D.C.)—one of twenty works by the artist included in the sale—several now famed Impressionist supporters made their first Impressionist purchases at this seminal auction. One of these was the young publisher, Georges Charpentier, who purchased the present Le pêcheur à la ligne for just 180 francs, as well as two other works by Renoir. After buying these paintings, Charpentier sought to meet the artist, and, following this initial encounter, the pair quickly became lifelong friends. Charpentier and his wife would become Renoir's most important and influential patrons and Le pêcheur à la ligne remained in their legendary collection until 1907.
Christie's. Impressionist and Modern Art Evening Sale, New York, 13 May 2019