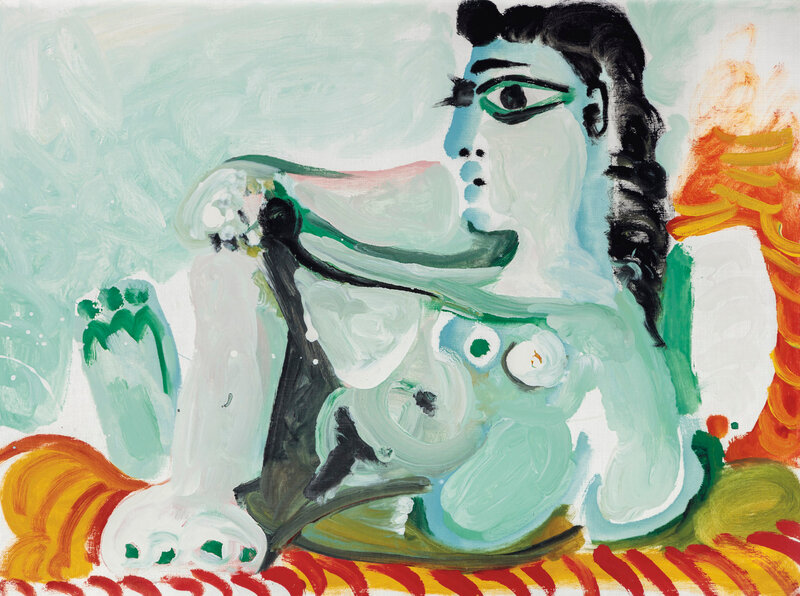 Lot 32. Pablo Picasso (1881-1973), Nu assis appuyé sur des coussins, dated and numbered '19.12. 64. III' (on the reverse) oil on canvas 21 ¼ x 28 ¾ in. (54 x 73 cm.) Painted on 19 December 1964. Estimate USD 2,500,000 - USD 3,500,000. © Christie's Image Ltd 2019.
Provenance: Estate of the artist (until at least 1980).
Private Collection, Europe.
Private Collection, United States.
PaceWildenstein, New York.
Acquired from the above by the present owner, 14 December 1999.
Literature: C. Zervos, Picasso, Paris, 1971, vol. 24, no. 337 (illustrated, pl. 132).
Exhibited: Paris, Galerie Claude Bernard, Picasso: Peintures 1901-1971, June 1980, no. 42 (illustrated in color).
Note:
The stately presence of the subject in the present work, a model of stoic classicism, stands at the beginning of Picasso's great late phase. As if by presentiment and instinct, Pablo Picasso inaugurated the final decade of his career by concentrating his efforts on a theme that would encompass virtually every subject thread in his art thereafter, to the very end. He made the studio his stage, he cast himself and his wife Jacqueline as the players—an artist and his model. During 1963-1965, Picasso completed a series of paintings that depict a surrogate creator at work with or without his model. Many more show the model alone—nearly always nude, as she lounges on her plush divan in this canvas dated 19 December 1964.
Jacqueline was a compelling, but casual muse. She did not pose for this Nu assis; her presence around the house was inspiration enough to spark the artist's sensual passions and fantasies, to set loose his Mercurial powers of creative imagination and pictorial invention. Picasso universalized Jacqueline in his art as l'éternel féminin. He invoked in this Nu assis a tradition that included Titian and Velázquez, Goya's La Maja Desnuda, the odalisques of Ingres and Delacroix, and most lately, the art of his one-time rival and admitted sole peer, Henri Matisse. The Fauve contrasts of fiery reds and yellow against cool, pale tints of viridian and blue in this nude model's figure emphatically suggest a nod to the latter. "When Matisse died [in 1954]," Picasso told Roland Penrose, "he left his odalisques to me as a legacy" (quoted in Picasso: His Life and Work, Berkeley, 1981, p. 396).
The sensual overtones in Picasso's treatment of the nude are—like his handling of the paint itself—feverish, impulsive, and blatantly direct. The model awaits expectantly, her black eyes glaring, her alluring charms on open display. "For Matisse, the sex slid, disappeared in the thighs of the odalisque," Hélène Parmelin observed. "The admirable nudes of Matisse have no sex, just as they have no glances. The nudes of Picasso have a glance and a sex. The sex of a nude is for him an essential part of the body whose reality he seeks" (Picasso: The Artist and His Model, New York, 1965, p. 158).
From this moment of visual contact, the relationship between artist and model proceeds quickly to a point of consummation, in which the creative act and the sexual act are conjoined. "The more Picasso painted this theme," Marie-Laure Bernadac explained, "the more he pushed the artist-model relationship towards its ultimate conclusion: the artist embraces his model, canceling out the barrier of the canvas and transforming the artist-model relationship into a man-woman relationship" (Late Picasso, exh. cat., The Tate Gallery, London, 1988, p. 77). As the late John Richardson wrote, Picasso had come "to see sex and art as metaphors for each other" (Pablo Picasso: Meeting in Montréal, exh. cat., Montreal Museum of Fine Arts, 1985, p. 90).
.
Christie's. Impressionist and Modern Art Evening Sale, New York, 13 May 2019