Lot 35. A rare and large 'Fahua' 'Bajixiang and dignitaries' jar and cover, guan, First half of the 16th century; 44cm (17 1/4in) high. Estimate £ 30,000 - 50,000 (€ 35,000 - 58,000). Unsold. © Bonhams 2001-2019.
Of compressed globular form, the central band decorated with scholars on horseback followed by a boy-attendant carrying a qin, amid gnarled pine trees, clouds and rocks, all between the Eight Buddhist Emblems on the shoulder and a band of lappets around the waisted base, all picked out in white, purple and turquoise on a dark blue ground.
Note: The present jar is a classic example of the vibrant Fahua-decorated vessels manufactured at Jingdezhen during the mid Ming period. These wares were produced using raised slip lines to produce small areas in which differently coloured, low-fired, glazes could be applied. Fahua vessels were usually decorated with detailed designs of figures which would have been more time-consuming to make than large-scale simplified floral motifs.

Compare with a similarly decorated turquoise-glazed Fahua jar, circa 1500, in the collection of the Victoria and Albert Musuem, illustrated by J.Ayers, Far Eastern Ceramics in the Victoria and Albert Museum, London, 1980, no.55. Another example, decorated with the Eight Immortals on a turquoise-glazed ground, is in the Freer Gallery of Art, Washington D.C., acc.no.F1907.75. Finally, a turquoise-glazed Fahua jar, Ming dynasty, decorated with figures on horseback, was sold at Sotheby's New York, 2 March 2011, lot 99.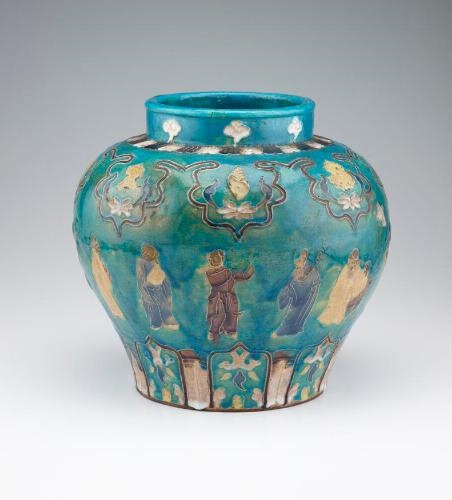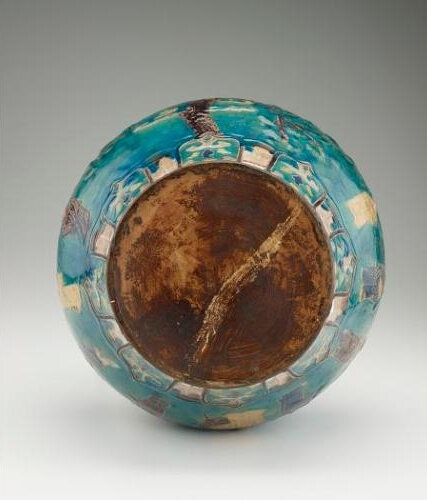 Fahua ware wine jar with design of the Eight Immortals, Ming dynasty, late 15th-early 16th century. Stoneware with trailed slip decoration under lead-silicate glazes. H x W: 26.6 x 28.9 cm (10 1/2 x 11 3/8 in). Gift of Charles Lang Freer, Freer Gallery of Art, Washington D.C., acc.no.F1907.75. © 2019 Smithsonian Institution.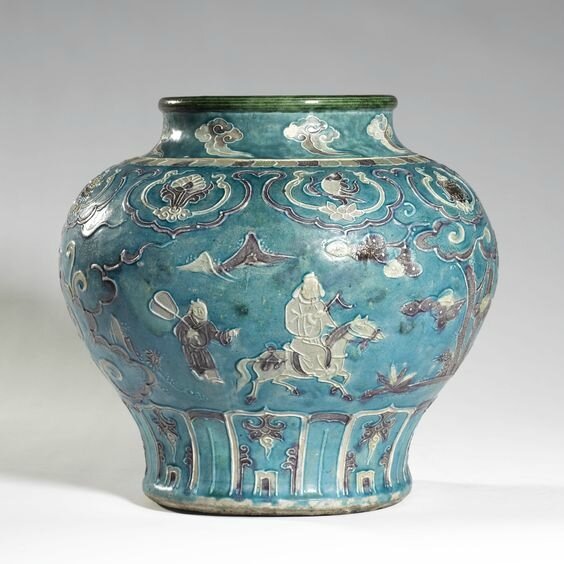 A turquoise-ground 'Fahua' jar, Ming dynasty; height 12 1/2 in., 31.8 cm. Sold for 56,250 USD at Sotheby's New York, 2 March 2011, lot 99. photo Sotheby's 2011
Cf. my post: A turquoise-ground 'Fahua' jar, Ming dynasty
Bonhams. Fine Chinese Art, London, 16 May 2019