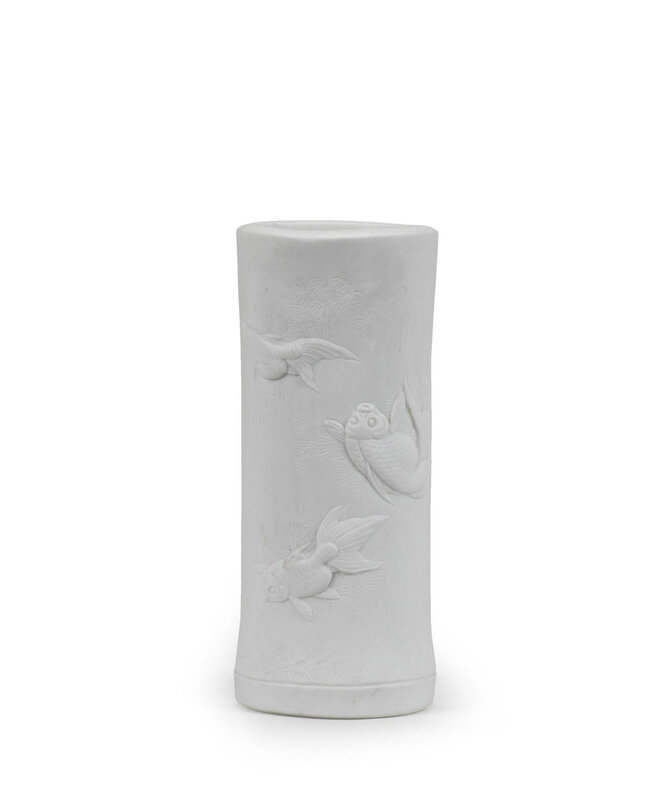 Lot 33. A rare carved biscuit porcelain 'bamboo' tool holder, Signed Chen Guozhi, 19th century; 7.7cm (3 1/8in) high. Estimate £ 1,000 - 2,000 (€ 1,200 - 2,300). Sold for £ 18,812 (€ 21,300). © Bonhams 2001-2019
Deftly and naturalistically formed in the shape of a hollowed bamboo tube with nodules and incised grain on the rims, finely carved around the exterior with three goldfish in low relief amidst finely incised water plants, box.
Provenance: an English private collection.
Note: Chen Guozhi 陳國治 (circa 1820-1860) was a native of Qimen, Anhui Province, and was renowned for his ability to carve designs on porcelain with the intricacy and elegance of those found on paintings. He was active during the Daoguang and Xianfeng reigns. The unique quality of Chen's workmanship was described as similar to 'carved porcelain bottles with the technique of a painter...just as they might appear in an album of paintings done by the Song-era Painting Academy... although there are others who try to imitate his work, no one ever manages to match it.' See H.Moss, V.Graham, and K.B.Tsang, A Treasury of Chinese Snuff Bottles. The Mary and George Bloch Collection. Vol.6. Part 3. Arts of the Fire, Hong Kong, 2008, pp.759-762.
Bonhams. Fine Chinese Art, London, 16 May 2019