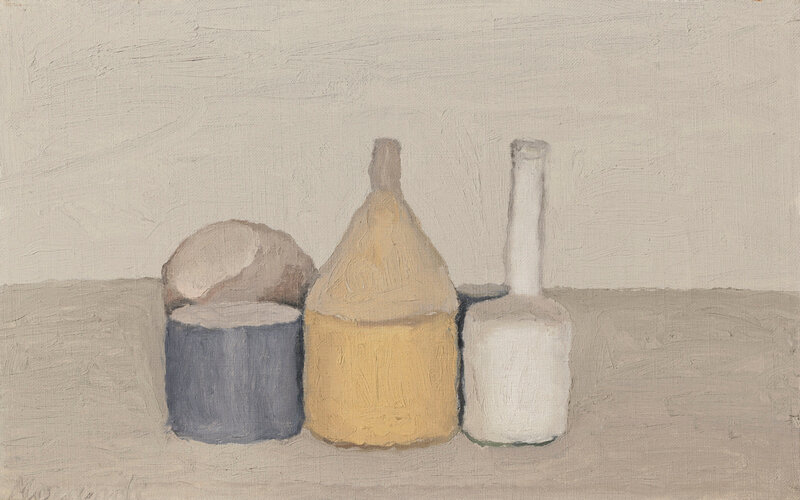 Lot 5. Giorgio Morandi (1890-1964), Natura morta, signed 'Morandi' (lower left), oil on canvas, 10 1/8 x 16 in. (25.7 x 40.6 cm.) Painted in 1955. Estimate USD 500,000 - USD 700,000. Price realised USD 1,695,000. © Christie's Image Ltd 2019.
Provenance: Acquired from the artist by the late owner, 19 June 1956.
Exhibited: Pittsburgh, Carnegie Institute, The 1955 Pittsburgh International Exhibition of Contemporary Painting, October-December 1955, no. 201.
Edinburgh, Ingleby Gallery, Resistance and Persistence, November 2015-January 2016.
Note: The Comitato per il Catalogo di Giorgio Morandi has confirmed the authenticity of this work.

"I am essentially a painter of the kind of still-life composition," Giorgio Morandi told Edouard Roditi, "that communicates a sense of tranquility and privacy, moods which I have always valued above all else." Comprising objects of a common, domestically functional kind—simple bottles, vessels, canisters, and other containers—Morandi's late still-life paintings magically transform such mundane things, projecting a mystique that has attracted devotees with divergent interests in modern and post-war art, whether representational or non-figurative. The artist pondered the very essence of visual phenomena: "I believe that nothing can be more abstract, more unreal, than what we actually see," he explained to Roditi. "We know that all we can see of the objective world, as human beings, never really exists as we see and understand it. Nature exists, of course, but has no intrinsic meaning of its own, such as the meanings we attach to it" (quoted in Dialogues on Art, Santa Barbara, 1960, pp. 48 and 51).
Each object, as Morandi recreated it on canvas, is a miracle of conjured presence, as form and color revealed in the softly suffused, glowing light characteristic of Italian painting since the Renaissance. He took pleasure in the artifice of the painter's method, by which he evoked the "unreal" reality of the seen. Dryly devoid of any suggestion of emotive expression, calling for only modest scale in presentation, the character of Morandi's picture-making ran counter to many tendencies in post-war art, while nonetheless anticipating aspects of Arte Povera and Minimalism. In the sheer inwardness of his rapt immersion in this exploration of sensation, Morandi revealed a Zen-like capability for profoundly contemplative focus and concentration, and from such narrowly chosen subject matter generated a pictorial world of continuously unfolding and subtle variety.
Morandi's modernism stemmed from the art of Cézanne, whose cogent advice to Émile Bernard in 1904 remained as usefully insightful a half-century later: "Treat nature by means of the cylinder, the cone, and the sphere… Lines parallel to the horizon give breadth… Lines perpendicular to the horizon give depth" (J. Rewald, ed., Paul Cézanne Letters, New York, 1976, p. 301). Here hand-made objects—five, counting the lid of a canister mostly hidden behind the two bottles—take the place of nature, organized and related according to similar principles, but as if within a human, social context, in the arrangement of individual entities among related others. Morandi encourages the viewer to intuit an affirmative cohesiveness to his rendering of visible reality as fundamental, essential forms in space, which the painter chooses, contrasts, and harmonizes—as the elements in both his art and life.
Christie's. Impressionist and Modern Art Evening Sale, New York, 13 May 2019