Lot 143. Émile Bernard (1868 - 1941), Bretonnes ramassant des pommes. Signed E. Bernard and dated 89 (lower left). Oil on canvas, 33 3/4 by 21 1/2 in., 85.7 by 54.6 cm. Estimate $400,000 - $600,000. Lot sold $1,940,000. New world auction record for the artist. Courtesy Sotheby's
NEW YORK, NY.- Scott Niichel, Head of Day Sales and Deputy Co-Head of Impressionist & Modern Art at Sotheby's, New York. said "The Impressionist and Modern Art Day sale results reaffirmed the health and depth of this market following yesterday's stellar Evening auction. Almost a third of the lots offered came from the same long-established private collections that formed the core of last night's auction, and they included many of sale's standout pieces - not least Émile Bernard's idyllic countryside scene which established a new world auction record for the French artist, and Modigliani's charcoal which achieved one of the highest prices for a drawing by the artist. Private collectors in particular responded to quality, rarity and provenance across the wide spectrum of categories this sale has to offer, and we very much look forward to presenting our next sales in London in June."
Today's sale was led by Émile Bernard's Bretonnes ramassant des pommes, which soared above its pre-sale high estimate of $600,000 to sell for $1.9 million – a new world record for the artist at auction. Offered from the Collection of Joe R. & Teresa L. Long, Bretonnes ramassant des pommes is undoubtedly one of the most important works by the artist ever to appear at auction. Its ravishing colors, flattened perspective and pastoral subject matter embody the Nabis vocabulary that Bernard helped to create, underscoring a striking contrast from the modern bustle of a rapidly industrializing Paris.
The Joe R. & Teresa L. Long Collection also featured Amedeo Modigliani's Tête profil gauche which fetched $1.1 million (estimate $400/600,000). Distilling the profile of a woman to its most fundamental geometric forms, this work on paper is representative of Modigliani's exhaustive pursuit of pure artistic fulfilment and synthesizes the ancient traditions of Egyptian, Greek and Roman art.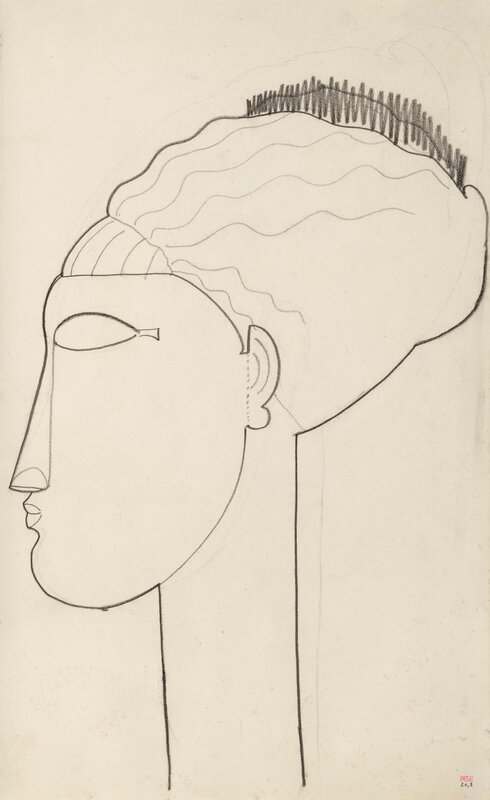 Lot 134. Amedeo Modigliani (1884-1920), Tête profil gauche. Black crayon on paper, 16 5/8 by 10 1/2 in., 42.3 by 26.6 cm. Estimate $400,000 - $600,000. Lot sold $1,124,000. Courtesy Sotheby's.
Following Tuesday night's sale of Marc Chagall's enchanting Le Paysan, which achieved $7.6 million, healthy competition for the artist's work continued in today's auction. Completed in 1967, more than two decades after his beloved Bella's death and at a time when Chagall enjoyed international fame as a painter, Paysage de Paris en bleu is replete with symbols that pay homage to the love in the artist's iconic dreamscape style. Coq et femme à l'éventail showcases Chagall's mastery in assembling an array of folkloric images in a dense and colorful composition. This work contains several of the most crucial elements in the artist's pictorial iconography, including the violinist, the dancing peasant and the goat. It was painted during a period when Chagall was experimenting with stained glass, the influence of which can be seen in the kaleidoscopic colors.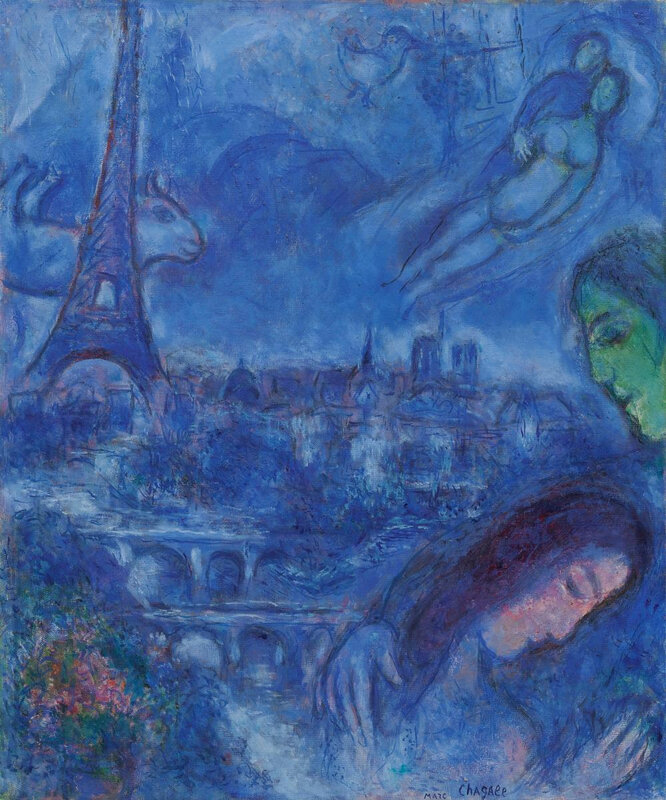 Lot 212. Marc Chagall (1887 - 1985), Paysage de Paris en bleu. Signed Marc Chagall (toward lower right); signed Marc Chagall (on the reverse). Oil on canvas, 25 3/4 by 21 1/4 in., 65.4 by 54 cm. Painted in 1967. Estimate $1,200,000 - $1,800,000. Lot sold $1,340,000 . Courtesy Sotheby's.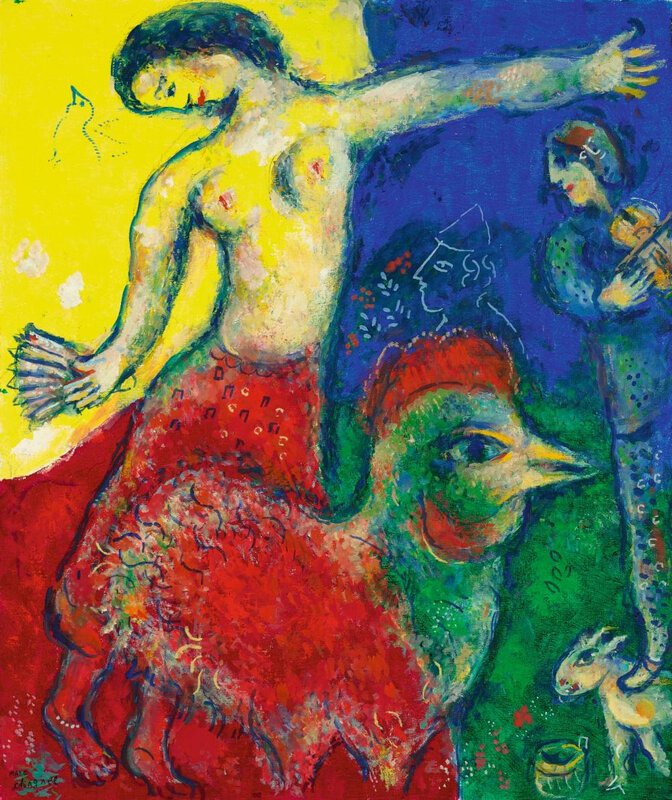 Lot 174. Marc Chagall (1887 - 1985), Coq et femme à l'éventail. Stamped Marc Chagall (lower left). Oil and acrylic on canvasboard, 23 1/2 by 19 5/8 in., 59.7 by 50 cm. Painted circa 1978. Estimate $700,000 - $1,000,000. Lot sold $956,000 . Courtesy Sotheby's.
Lynn Chadwick's monumental and majestic Sitting Figures led today's offering of sculpture in the sale. Conceived in 1979-80 and cast in an edition of 6, the present version was acquired directly from the artist's studio in 1989 and has previously never appeared at auction.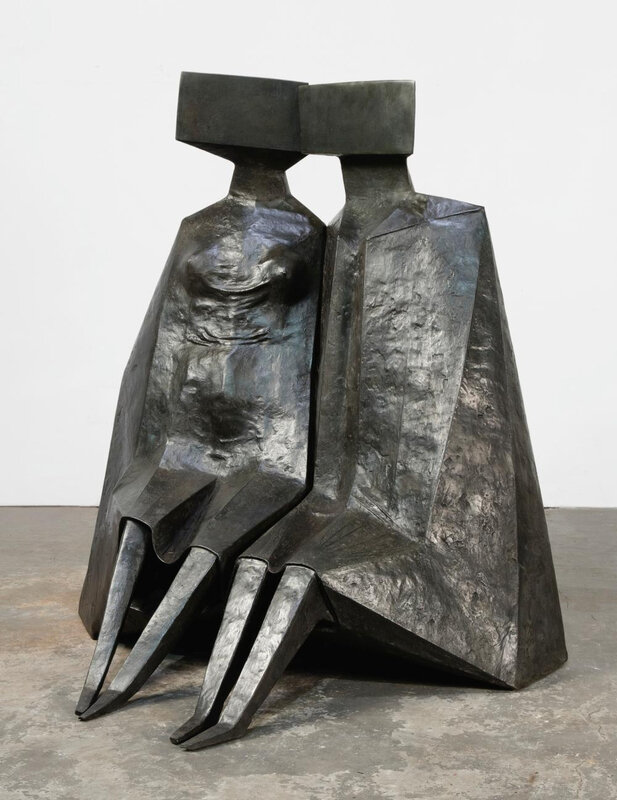 Lot 341. Lynn Chadwick (1914-2003), Sitting Figures. Inscribed Chadwick and numbered 786 6/6. Bronze. Height of male: 71 5/8 in.; 181.9 cm. Height of female: 72 1/2 in.; 184.2 cm. Conceived in 1979-80 and cast in an edition of 6. Estimate $600,000 - $800,000. Lot sold $1,004,000. Courtesy Sotheby's.
One of the standout classic Impressionist offerings of the sale, Pierre-Auguste Renoir's Jeune fille en rose is a charming example of the artist's portraits of women, which were lauded amongst his contemporaries just as they are today. Dominated by a range of bright tones of greens and blues, this palette underscores Renoir's understanding of the natural variations of light and his dexterity as an Impressionist portraitist.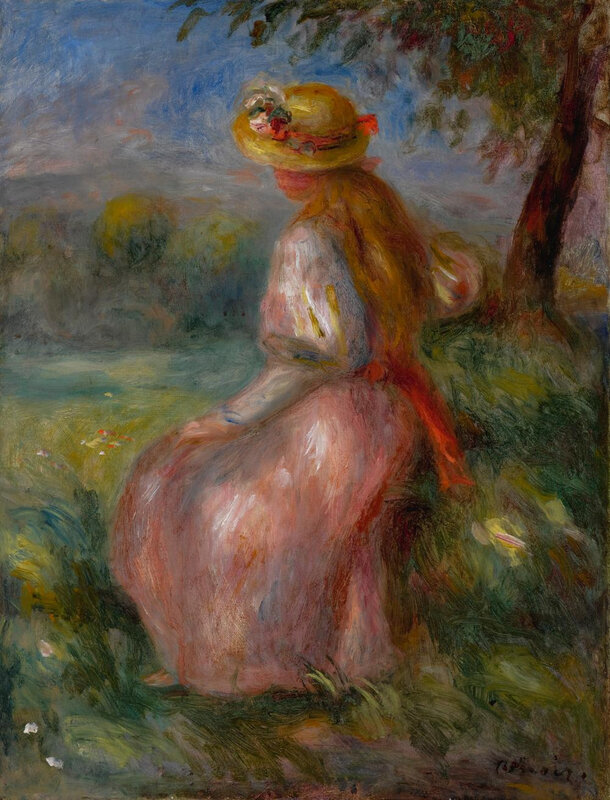 Lot 119. Pierre-Auguste Renoir (1841 - 1919), Jeune fille en rose. Signed Renoir (lower right). Oil on canvas, 16 1/8 by 12 1/4 in., 50 by 31 cm. Painted circa 1890. Estimate $700,000 - $900,000. Lot sold $956,000. Courtesy Sotheby's.
The Sleep of Reason: A Private Collection of Surrealist Art Online
Open for Bidding through 20 May
Unparalleled in its breadth, this enigmatic private collection of paintings, collages, works on paper and books, was carefully curated by a true connoisseur of Surrealist theory and history. French, Belgian, European, American and Latin American Surrealists are represented in the collection, speaking not only to the dedicated vision of the collector, but also to the worldwide prevalence of Surrealism within the context of the 20th century zeitgeist. Highlights include works by Dorothea Tanning, Leonora Carrington and Kay, Man Ray, Yves Tanguy, and Georges Hugnet.