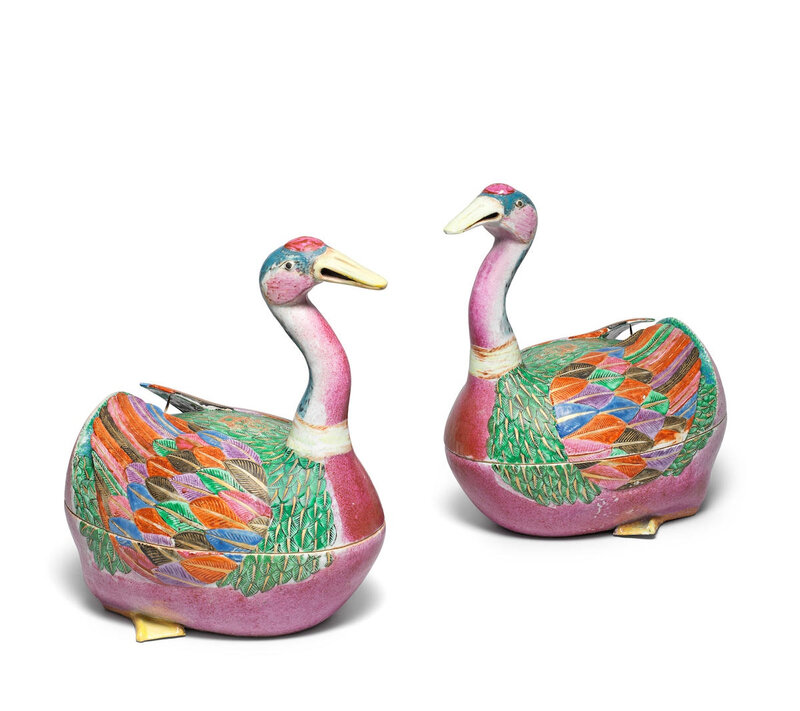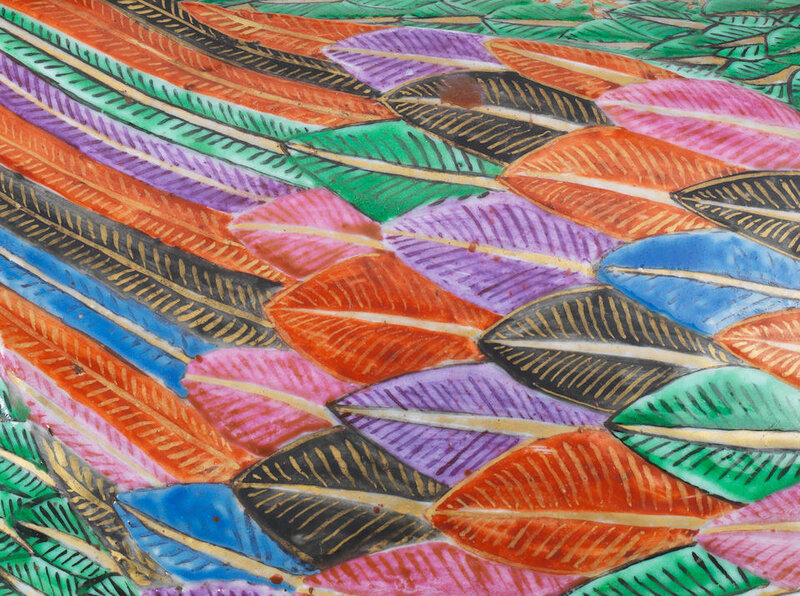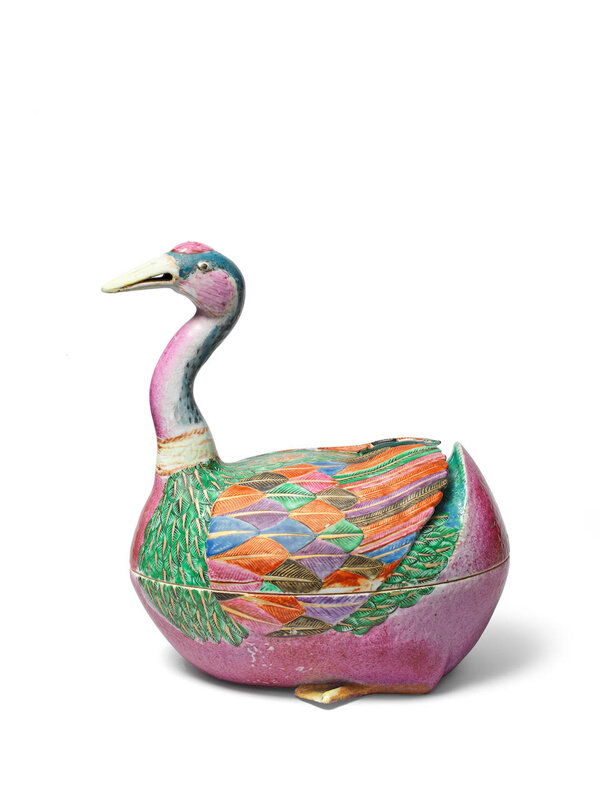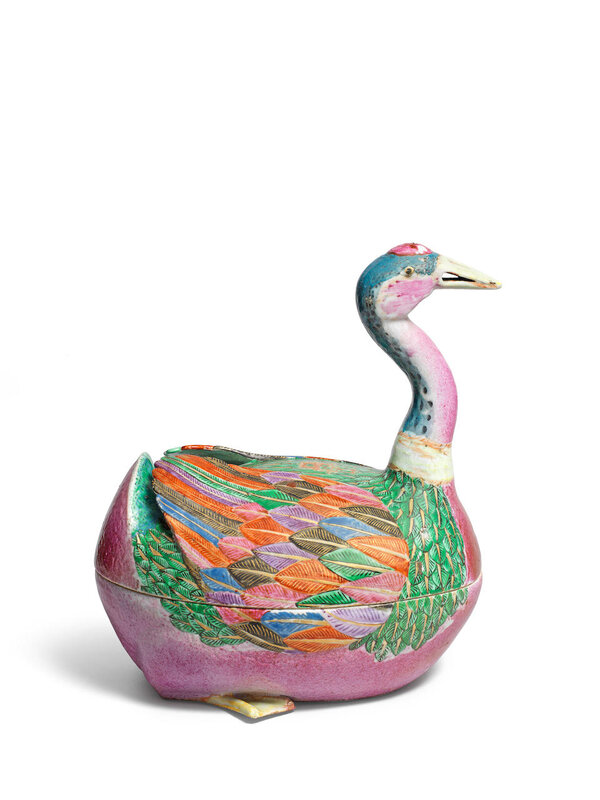 Lot 247. A very fine and rare pair of famille rose 'goose' tureens and covers, Qianlong period, circa 1760. Each 41cm (16 1/4in) high. Estimate £150,000 - 200,000. Sold for £ 187,562 (€ 214,124). © Bonhams 2001-2019
Each naturalistically and boldly modelled, the raised head supported by a long elegantly curving neck, the body finely enamelled with sepia and purple plumage, the folded wings moulded with overlapping feathers in green, iron-red, rose, and crimson, with details picked out in gilt, the webbed feet tucked under the body.
Provenance: a distinguished European private collection.
Note: Goose tureens are exceptionally rare due to their extremely delicate forms and the difficulty involved in both modelling and firing them successfully, as well as transporting them back to Europe. Goose tureens, in general, have frequently been celebrated as one of the most spectacular and recognisable forms of Chinese porcelain made for the West. Intended to be extravagant centerpieces for table settings, fashionable in Europe in the 18th century, geese, along with roosters, quail, fish, boar heads, ox heads and crabs (examples of which are included in this sale) are examples of animal and bird-shaped tureens used for such displays.

The Dutch East India Company ordered 25 long-necked goose tureens in 1765, and according to W.R.Sargent, 'examples for the French and Danish markets were also very popular, but generally did not include arms in their decoration', see Treasures of Chinese Export Ceramics from the Peabody Essex Museum, Salem, 2012, p.379. A similar goose tureen with no coat of arms, Qianlong, but decorated with more muted enamels is illustrated by D.Howard and J.Ayers, China for the West: Chinese Porcelain and other Decorative Arts for Export illustrated from the Mottahedeh Collection, London, 1978, pp.590-591.

Goose tureens that bear coat of arms generally seem to have been made for the Portuguese and Spanish markets. A similar goose tureen with the coat of arms of the Basque family of Asteguita is illustrated by W.R.Sargent, Treasures of Chinese Export Ceramics from the Peabody Essex Museum, Salem, 2012, pp.378-379, no.206. Another similar goose tureen, with the arms of Cervantes, is illustrated by Rocío Díaz, Chinese Armorial Porcelain for Spain, London, 2010, no.26. Another with the arms of Domingo Esteban de Olza, is illustrated by Rocío Díaz, ibid., no.36.

Compare with two very similar goose tureens and covers, Qianlong, formerly in the collection of Nelson and Happy Rockefeller, which were sold at Sotheby's New York, 18 January 2019, lot 322 and 323.

A very fine and rare pair of famille rose 'goose' tureens
The Chinese have had a long tradition of creating figural ceramics (xiangsheng taoci 象生陶瓷, porcelain made in the shape of living forms). These three dimensional pieces were created with slabs of clay pressed into multiple moulds, the separate elements then luted together with slip to create the completed form (see note 1). Chinese potters made extensive use of this technique for creating tomb sculptures, religious figures and hollow forms that could not be thrown on the wheel, among others.

The first Western observation of the use of moulds was made by Pere d'Entrecolles, the Jesuit missionary Father d'Entrecolles (1664–1741) in 1712 (see note 2):

This has relations chiefly to the China-ware that is made in Moulds, or by the Hands only, such are those Pieces that are follow, or have an odd Shape, as animals, Idols, Grotesque Figures, Busts, of which the Europeans give Patterns, and others of the same nature. These sort of Works are made in three or four Pieces, which they add one to another, and afterwards finish with Instruments proper to hollow, polish, and trace the different Strokes which the Mould has not impressed... (see note 3)

The technique is illustrated in one of twenty-four early 19th century China trade gouache paintings depicting ceramic production (see note 4). In it, various moulds dry in the sun between use, and completed human and animal figures are set aside to dry as well. Various objects are being worked on, including a model of a crab on a leaf-shaped base, not unlike the crab tureen in this sale (lot 250). Molding included not only the overall form, but in the case of these tureens, a subtle relief of feathers, which added texture and a semblance of realism, and would have guided the enameller in decorating.

While some figural ceramics made for the Chinese market found a market with foreign customers for their curiosity factor, it did not take long for Europeans to demand forms specially made for Western use. Although crab shaped containers were initially made for the domestic market as water droppers and scholars objects, versions for the European market were recorded as being used as butter dishes (see note 5).

Goose tureens had been produced throughout Europe in tin-glazed earthenware and porcelain at the Höchst, Strasbourg, and Meissen factories, among others. Chinese potters would have responded with a knowing nod when asked to produce versions of these European tureens. They had, after all, been making various forms of boxes and incense burners in the form of birds for millennia, and have continued doing so for their own markets in porcelain, bronze and cloisonné enameled wares.

How the replications were ordered is not specified in the records, although we know the Dutch East India Company (VOC) and its individual merchants brought models of some forms to be copied, and that drawings and written specifications were sent as well.

The VOC first ordered animal shaped tureens in 1763 when twenty-five boar head tureens and twenty 'in the form of a goose' were ordered. They wrote, of the tureens in the form of a goose there were certainly more to be had, but the stands were not very well painted and yet the dealers were not willing to lower the price. We did not order these, because we were afraid that it would be impossible for this article to bring in a reasonable profit in view of the high purchase prices and great volume. Large and complicated forms such as these tureens were notoriously difficult to successfully make and fire and so they were expensive to acquire, though undoubtedly less expensive than their European counterparts.

In 1764 nineteen boar head and four goose tureens were shipped by the VOC, and in that year the directors asked for thirty more, but the supercargoes considered them too risky and did not fill the order. It is probable that future orders were made through private trade and not through the company. They were also ordered by the Spanish, undoubtedly through the Manila galleon trade.

These models are a particularly distinctive and elegant form that sets them apart from other bird-form tureen such as the standard goose, rooster or duck form. They are frequently referred to as a 'ring neck geese', 'long necked geese' or 'swan geese'. However, there is no such thing as a 'ring-necked goose'. The ring at the base of the neck, the distinctive length and bend in the neck and the knob above the head are not found in nature. The knob resembles a whooping crane or a red headed crane and the neck is more like a crane or swan, though the bill, body and web feet are those of a goose.

Geese appear in nature in brown and white, not the almost psychedelic colouring in opaque enamels and gilding followed in the enameling of these tureens. The smaller and more realistically modeled goose tureens tend to follow realistic colouring. The deviation from a naturalistic form and colouring is inexplicable, but result in a joyful and immensely engaging sculptural, and useful, object d'art.

Tureens with coats of arms were made for the Spanish or Portuguese markets, and because of their histories are often easy to date. If not bearing armorials, occasionally one might find another European design, such as a pendant medallion on the breast.

On this rare pair the enamellers have introduced, in gilding, a distinctly Chinese basket of flowers with a typical high bail handle on the back of each tureen. A basket of flowers is the attribute of Lan Caihe 藍采和, one of the Eight Immortals. He granted longevity, so his basket of flowers is a symbol of longevity.

Most serving pieces of this type were meant to be sold as a pair, with one presented at each end of a banquet table. While is not uncommon to find two standard goose tureens with realistic coloring being sold as a pair, it is rare to find a pair of highly decorated examples that constitute a pair.

These are exquisite examples of the Chinese potter's capabilities, and the decorator's imagination, a reminder of the fantasy of dining in the eighteenth century.
1. Until recently the Chinese did not use a slip-casting, which uses moulds. The use of slip casting is a mass production process that generally results in a poor quality product.
2. François Xavier d'Entrecolle was a French Jesuit missionary who arrived in China in 1798 and died in Beijing in 1741. His letters to superiors describing ceramic production were published by Jean-Baptiste du Halde.
3. Jean-Baptiste du Halde, A Description of the Empire of China, London, 1741, pp.332–33.
4. Artists in Guangzhou, China, Hand modeling and moulding, circa. 1825, Gouache on paper, 53.023 x 39.053 cm., Peabody Essex Museum, Museum purchase, 1983, E81592.10.
5. Maria Antónia Pinto de Matos, The RA Collection of Chinese Ceramics: A Collector's Vision, Vol.II, London, 2011, p.104, no.252.
6. Christaan J. A. Jörg, Porcelain and the Dutch China Trade, The Hague, 1982, pp.143 and 167.
8. Jörg Ibid., pp.117, 124, 130.
9. William R. Sargent, Chinese Porcelain in the Conde Collection, Madrid, 2014, p.77, no.9.
10. Terese Tse Bartholomew, Hidden Meanings in Chinese Art, San Francisco, 2006, p.195, no. 7.34, and C. A. S. Williams, Outlines of Chinese Symbolism and Art Motives, Rutland, Vermont, 1976, p.155. While depicted as a man or woman, Williams said this immortal is generally regarded as a woman who 'continually chanted a doggerel verse denouncing this fleeting life and its delusive pleasures'.
11. Bartholomew, Ibid., p.167, no.7.2.
Bonhams. Fine Chinese Art, London, 16 May 2019