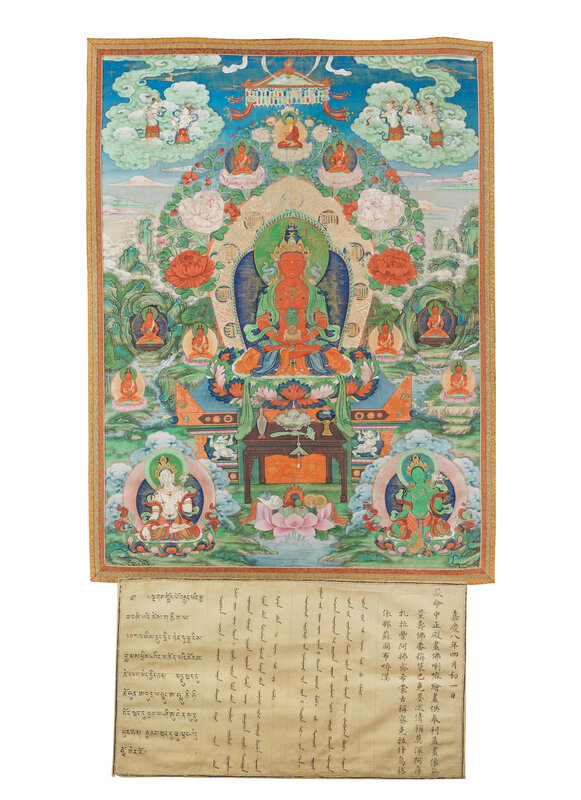 Lot 181. An Imperial thangka of Amitayus, Dated by inscription to the 8th year of Jiaqing, corresponding to 1803 and of the period; 126cm (49 1/2in) long x 73cm (28 3/4in) wide. Estimate £20,000 - 30,000. Sold for £ 75,062 (€ 85,692). © Bonhams 2001-2019
Distemper on silk, with calligraphic inscription In Chinese, Manchu, Mongolian and Tibetan underneath, framed and glazed.
Provenance: a distinguished Italian private collection formed circa 1930s-1940s, and thence by descent.
Note: The important Italian collector lived and worked in Shanghai between 1932 and 1936, as representative of his Italian company and in 1937, following the Sino-Japanese war, was transferred to Dalian in Southern Manchuria. After a brief period spent in Italy in 1938, he returned to Shanghai where he lived between 1939 and 1940. He then moved to Beijing where he lived between 1941 and 1946 and formed the vast majority of his collection of Chinese Art.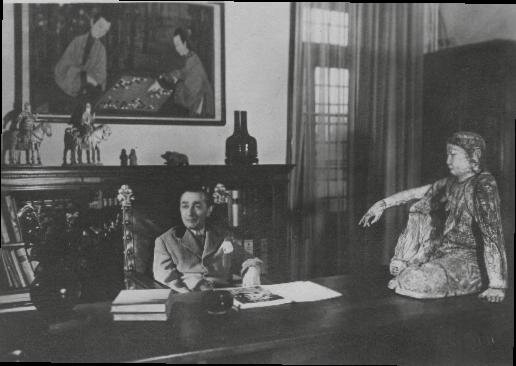 The deity is depicted in his Sambogakaya appearance, red in colour and seated in vajraparyankasana on a lotus throne standing on a tiered rectangular base before a table laid with offerings, wearing a shawl exposing the bare chest and a five-pointed crown surrounding the high chignon, holding the golden-long life vase with both hands and surrounded by a retinue of emanations set within a lush green landscape, the upper register with four offering goddesses standing on vaporous clouds flanking a fluttering chhatri, the lower part with the five enjoyments issuing from a blossoming lotus besides the White and Green Tara, the inscription in Chinese, Manchu, Mongolian and Tibetan languages dated 1803 reading:

On the first day of the fourth month of the eighth year of [the] Jiaqing [period], a lama-artist from Zhongzheng Hall painted an image of the blessed Tsepame by official decree. In Manchu he is called Mohun Akhu Drala Phunga Phu Chihi; in Mongolian he is called Dragla Shi Ughe Nasu Thupur Han, [and] in Chinese he is called Duwu Liang She'u Pho.

Zhongzheng Hall was the centre of a Buddhist Painting Academy which produced sculptures and paintings for the Imperial Family. See R.W.Dunnell, et al, New Qing Imperial History: The Making of Inner Asian Empire at Qing Chengde, Oxford, 2004, p.129.

Compare with a thangka of comparable size, depicting Amitayus, Jiaqing period, bearing the same inscription, which was sold at Sotheby's New York, 16 September 2015, lot 408.
Bonhams. Fine Chinese Art, London, 16 May 2019