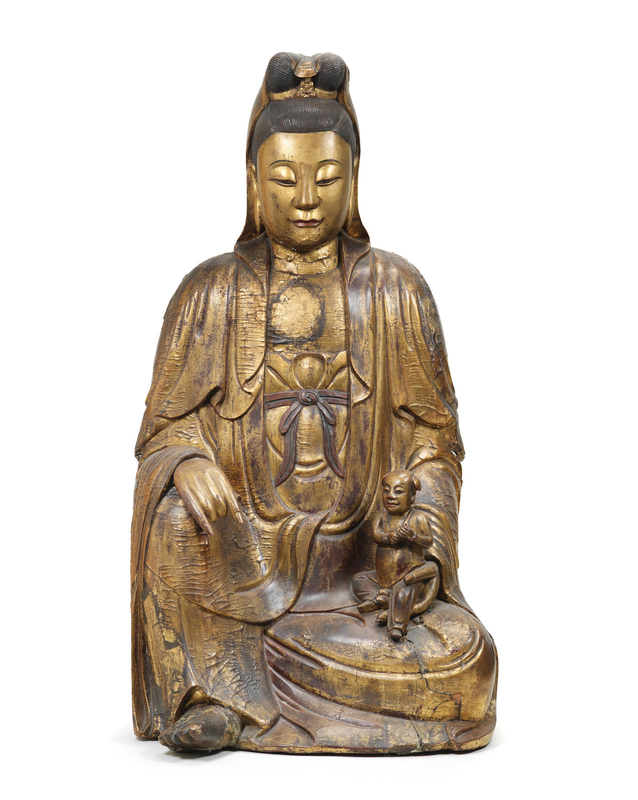 Lot 170. A large gilt-lacquered wood figure of Guanyin and boy, 17th-18th century; 114.3cm (45in) high. Estimate £10,000 - 15,000. Sold for £ 37,562 (€ 42,874). © Bonhams 2001-2019
The Goddess of Mercy and giver of sons seated in the relaxed posture of royal ease, with her right hand resting on her raised right knee, a child sitting on her left knee, wearing long flowing robes over her shoulders, tied at the chest, the face with a serene expression, flanked by pendulous ears, the hair arranged in a high chignon bun and draped with a hood.
Note: The striking wood figure of the Goddess of Mercy is expertly carved demonstrating superb craftsmanship, naturalistically rendering the soft folds of the robe cascading over the shoulders and legs, the face gracefully conveying the benevolence of the deity. The imposing size of the present lot suggests it would have been worshipped in a temple or shrine. See a related gilt and lacquered wood figure of Guanyin in the British Museum, ref.no.OA+.7339 (illustrated on the museum's website).

Compare with a similar gilt-laquered wood figure of Guanyin, 17th/18th century, which was sold at Bonhams London, 14 May 2015, lot 64.