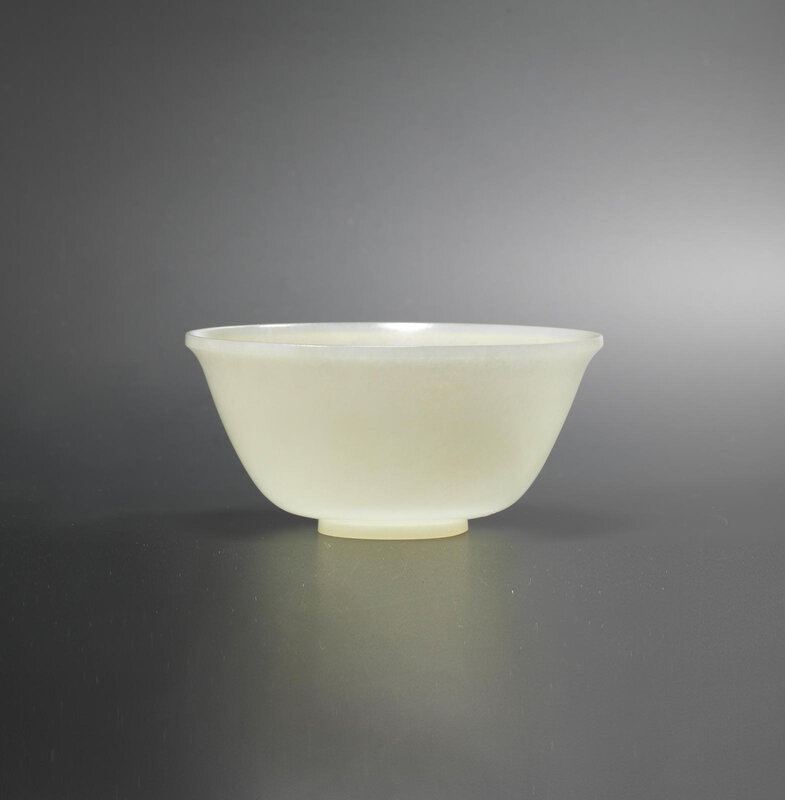 Lot 142. A rare white jade bowl, Qianlong four-character mark, and additional incised jia mark and of the period; 12cm (4 3/4 in) diam. Estimate £6,000 - £8,000. Sold for £ 27,562 (€ 31,285). © Bonhams 2001-2019
Deftly carved with rounded sides rising from a short tapered circular foot ring to an everted rim, the well-polished translucent stone of even-white tone, the foot ring carved with a jia character, wood stand and zitan box.
Provenance: a distinguished Italian private collection formed circa 1930s-1940s, and thence by descent
Note: The important Italian collector lived and worked in Shanghai between 1932 and 1936, as representative of his Italian company and in 1937, following the Sino-Japanese war, was transferred to Dalian in Southern Manchuria. After a brief period spent in Italy in 1938, he returned to Shanghai where he lived between 1939 and 1940. He then moved to Beijing where he lived between 1941 and 1946 and formed the vast majority of his collection of Chinese Art.

The white jade bowl with its translucent tone perfectly finished with a lustrous sheen, and carved with gently-rounded sides and flaring rim, reflects the high quality of jade made available after the Qianlong emperor's conquest of Khotan in Xinjiang. Compare with a white jade bowl, Qianlong mark and period, illustrated in the Compendium of Collections in the Palace Museum: Jade, vol.10, Beijing, 2011, pl.164; and a pair of white jade bowls, 18th century, of similar shape and size, in the British Museum, illustrated by J.Rawson, Chinese Jade from the Neolithic to the Qing, London, 1995, p.400, no.29:13.
Bonhams. Fine Chinese Art, London, 16 May 2019