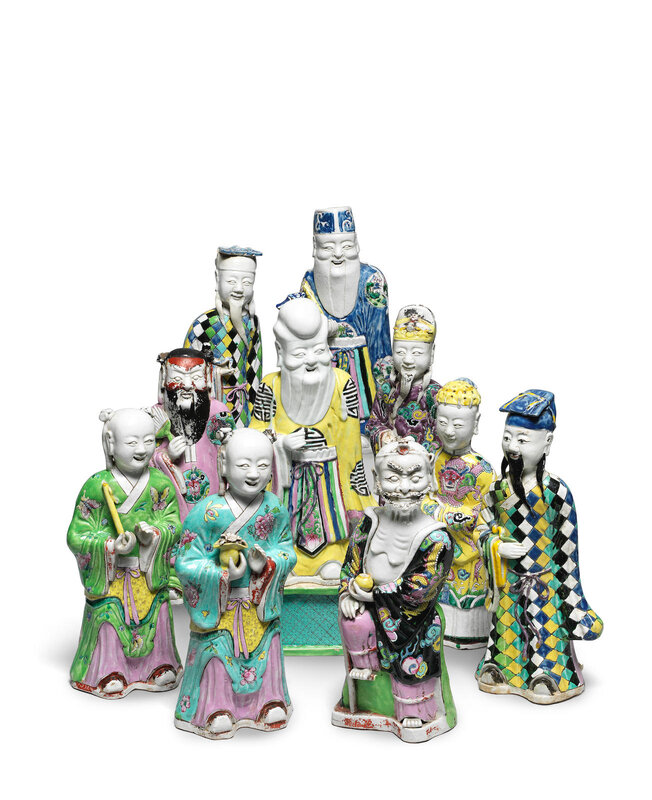 Lot 251. A set of ten large famille rose standing Immortals, Qianlong-Jiaqing period (1736-1820). The tallest 32cm (12 1/2in) high. Estimate: £20,000 - £30,000. Sold for £ 25,062 (€ 28,447). © Bonhams 2001-2019
Each modelled standing wearing brightly enamelled robes and holding their attribute, comprising Shoulao, Cao Guojiu, Zhang Guolao, Lan Caihe, He Xiangu, two figures of Lü Dongbin, Han Xiangzi, Li Tieguai and Xiwangmu.
Provenance: one figure of Lü Dongbin acquired from Bonhams London, 22 March 2005, lot 193
A distinguished European private collection.
Note: The group comprises the Eight Immortals, popular deities who appeared often in paintings and porcelain. Each figure has a symbolic object into which the Immortal's powers can be channelled. Lü Dongbin with a flywhisk and a magical sword on his back for destorying evil spirits is often depicted as the leader of the group and is the most popular. He Xiangu is the only female among the Eight Immortals. She is often shown with a lotus blossom and represents virtue. She brought to the group by Lü Dongbin after he saved her from a demon. Li Tieguai is recognised by his iron crutch and double-gourd. Zhongli Quan was a general from the Han dynasty, often depicted with a fan, he represents the military. Han Xiangzi is shown with a flute. He is the patron of musicians. Cao Guojiu is often shown with castanets and is the patron of actors. Zhang Guolao carries a bamboo tube or fish-drum. He is an alchemist associated with the comprehension of profundity. Shoulao is the God of Longevity, often depicted with a peach and large forehead. Lan Caihe is usually depicted as a youth carrying a flower basket and emblematic of innocence and happiness. Xiwangmu, the Queen Mother of the West, grows peaches in her mysterious orchard which once eaten, grant immortality.

Sets of this type were very popular for export. See a similar set of nine figures of standing Immortals, Jiaqing, illustrated by M.Cohen and W.Motley, Mandarin and Menagerie: Chinese and Japanese Export Ceramic Figures, Surrey, 2008, p.64, no.2.1
Bonhams. Fine Chinese Art, London, 16 May 2019